Spice up your typical salt and butter popcorn with three recipes for homemade vegan popcorn seasonings - cinnamon sugar, chocolate coconut and cheesy garlic popcorn!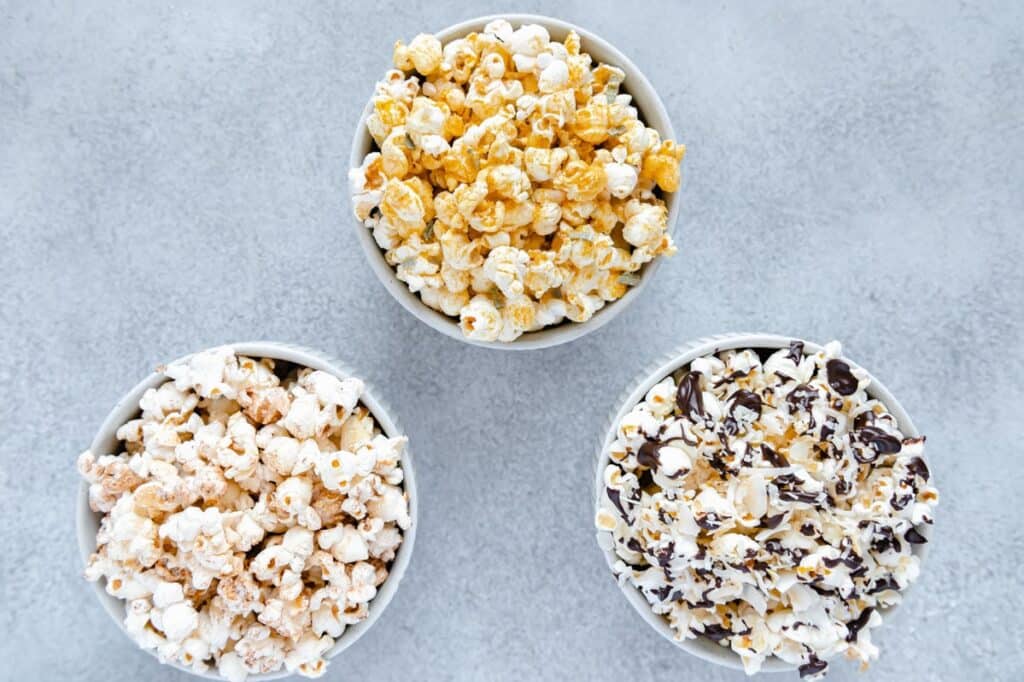 It is no secret to those that know me that I am a popcorn fanatic! I think it is a crime to watch a movie without a big bowl of popcorn by your side (bonus points if you still have popcorn in your bowl by the time the movie starts).
I'll admit that I used to be a microwave popcorn gal. It wasn't until I was introduced to stovetop popcorn that my world completely changed, and my addiction went through the roof!
Is Homemade Popcorn Healthy?
I am happy to report that popcorn is actually one of the healthier options for crunchy, salty snacks! According to Healthline, popcorn is a whole grain that contains a bunch of good vitamins and minerals like iron, magnesium, and zinc. Want even more good news? Popcorn is jam-packed with fiber! There is a whopping 15 grams of fiber in a half cup of popcorn.
A study conducted even found that popcorn is more satiating than potato chips. It really is a win, win!
However, once you step into the movie theater and microwave popcorn varieties, the many additives make it not so healthy—another reason why I am a stovetop popcorn gal. If you are making homemade popcorn, you can control exactly what is going into it!
Popcorn Nutritional Information
Below is the nutritional information for the three popcorn seasonings I will show you how to make today. The recipe makes four servings.
Cinnamon Sugar Popcorn Seasoning:

143 calories

Chocolate Coconut Popcorn Seasoning:

203 calories

Cheesy Garlic Popcorn Seasoning:

139 calories
How to Make Popcorn on the Stovetop
Once you switch to stovetop popcorn, you aren't ever going to want to microwave your popcorn again. Making stovetop popcorn is a much cheaper and much taster option. Here are my tips to ensure you get perfectly popped popcorn every time:
Use a heavy-bottom pot with a lid to distribute heat evenly.
Heat the oil first on medium-high heat (you can use any oil you like, I tend to use coconut or olive oil). After a few minutes, throw one popcorn kernel in as a test - if it sizzles and bubbles form around the kernel, then your oil is ready.
Tip the lid just enough to allow steam to come out but not enough that popcorn kernels go flying everywhere! This will ensure your popcorn isn't steaming itself and maintains its crunchiness.
Have a bowl handy in case the popcorn starts overflowing. Take off the lid, pour some popcorn into the bowl, and return the pot to the stove to pop the remaining popcorn.
Stovetop Popcorn Q&A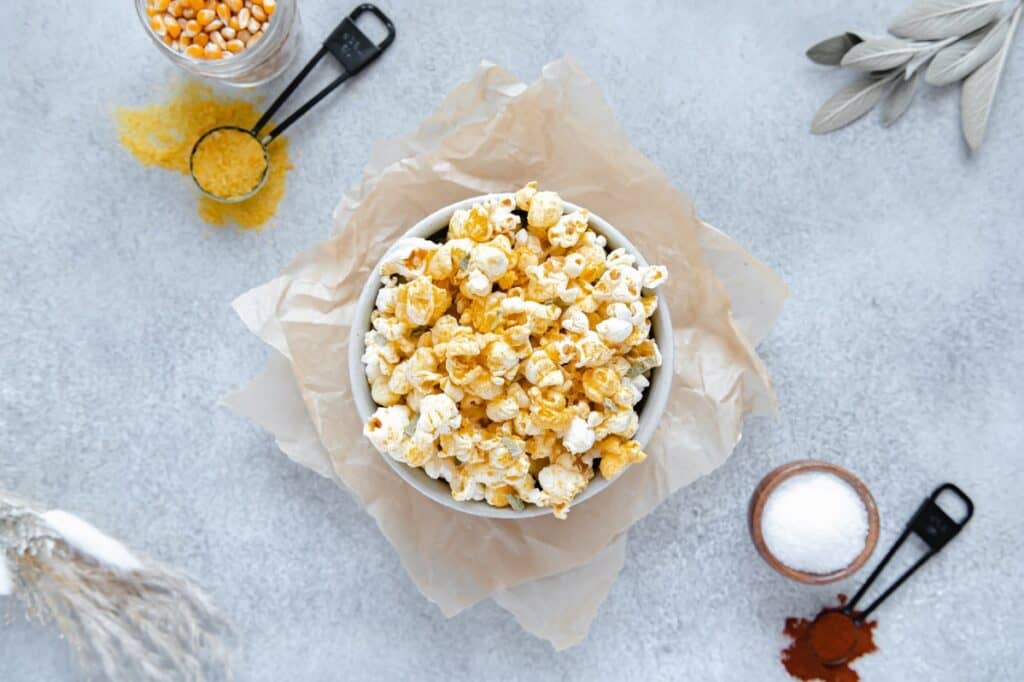 If you are a stovetop popcorn newbie, here are some common questions you might have:
What oil is best for stovetop popcorn?
You can't really go wrong when selecting an oil to make your stovetop popcorn with. Olive oil is the easiest option that most of us have on hand. Canola oil is another great option but burns a little quicker than other oils so keep an eye on your popcorn and constantly shake the kernels around. Coconut oil is what a lot of movie theaters pop their popcorn in, but is slightly higher in calories and fat from other oils. You can also use peanut, sunflower, and avocado oil if you like their distinct tastes.
Can I make oil-free stovetop popcorn?
If you want to make stovetop popcorn, it requires oil. To make an oil-free popcorn, you can use an air popper.
How do I get the seasonings to stick to the popcorn?
Once your popcorn is ready to be tossed in seasoning, spray a light layer of an oil of your choice over the popcorn. This will coat the popcorn and allow the seasoning to stick to every piece!
Ingredients to Make Homemade Popcorn Seasonings
I have three different recipes for popcorn seasoning for you! Each recipe is fairly simple, and you most likely already have the ingredients you need sitting in your pantry.
Cinnamon Sugar Popcorn Seasoning
White sugar
Cinnamon
Salt
Dark Chocolate Popcorn Seasoning
Cheesy Garlic Popcorn Seasoning
Garlic powder
Smoked paprika
Fresh sage
Salt
Which Popcorn (Microwave, Pre-Popped and Movie Theater) is Vegan?
Don't feel like making stovetop popcorn? You can easily add these homemade popcorn seasonings to microwave, pre-popped, or movie theater popcorn as well. Come back to Best Served Vegan later this week for a post all about which popcorn brands are vegan!
Print
📖 Recipe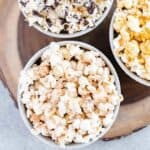 Three Homemade Popcorn Seasonings
---
Author:

Total Time:

10 minutes

Yield:

4

Servings

1

x
Description
Spice up your typical salt and butter popcorn with these three homemade popcorn seasonings!
---
For the Base
½ cup

popcorn kernels

2 tablespoons

olive, coconut, or avocado oil
Seasoning #1: Cinnamon Sugar
2 tablespoons

white sugar

1 teaspoon

cinnamon
Salt to taste
Seasoning #2: Chocolate Coconut
Seasoning #3: Cheesy Garlic
2 tablespoons

nutritional yeast

½ teaspoon

garlic powder

¼ teaspoon

smoked paprika

1 teaspoon

finely chopped fresh sage
Salt to taste
---
Instructions
Pour oil into a heavy-bottomed pot over medium-high heat. The oil should cover the bottom of the pot.
Wait a couple of minutes and then place one kernel in the center of the pot. If the kernel sizzles and bubbles form around it, then your oil is ready to pour all of the kernels into the pot.
Place the lid on fully and give the kernels and the oil a little shake. Keep shaking the popcorn every 15-30 seconds until the popcorn begins to pop.
Once you hear the first kernel pop, tip the lid just enough to allow steam to come out but not enough that kernels fly everywhere! This also is a good time to grab a bowl and place it near the stove in case the popcorn overflows.
Continue cooking the popcorn until the popping begins to slow and then transfer the popcorn to a bowl.
Select which of the three seasonings you are feeling for today and mix all the ingredients of the seasoning in a small bowl.
Drizzle a little oil on the popcorn to lightly coat the outside of the popcorn. Add in seasoning mixture and toss for evenly coated popcorn.
Light up the fireplace, turn on your favorite movie, and enjoy a movie night at home with your delicious homemade popcorn!
Notes
Some people love really salty popcorn while others prefer a little less salt. I used ½ teaspoon of salt in each seasoning, but feel free to add or subtract the amount of salt based on your taste buds!
Prep Time:

5 Minutes

Cook Time:

5 Minutes

Category:

Snacks

Cuisine:

Snacks
Keywords: snacks, popcorn, stovetop popcorn, salty, sweet