Transport yourself to the sun-kissed shores of Greece with every spoonful of my tantalizingly simple Vegan Avgolemono. This divine Vegan Greek Lemon Orzo Soup promises to whisk you away on a Mediterranean culinary adventure, all with just 12 simple ingredients! 
Love all things lemon? Check out my plant-based recipes for Panera Greek Dressing, Cucumber Watermelon Lemonade, Pasta al Limone, and Lemon Poppyseed Donuts next!
Jump to:
What makes this Greek orzo soup recipe truly special is the heartfelt legacy behind it. Hailing from a family with deep Greek roots (according to 23andme, I'm exactly 50% Greek!), I was determined to uphold tradition while maintaining my commitment to a vegan lifestyle.
Drawing inspiration from my beloved Yaya's cherished recipe, I embarked on a mission to craft a vegan version that would earn the unanimous approval of our entire family. I'm happy to report that I succeeded in making this lemon orzo soup vegan while still tasting like my childhood! 
Bursting with the vibrant flavors of fresh lemon, al dente pasta, and a creamy, dreamy texture, this plant-based rendition stays true to the original with just 12 simple, guilt-free ingredients. Join me as I uncover the secrets of this cherished Avgolemono soup with orzo, passed down through generations and reinvented to cater to the plant-based lifestyle. Kali orexi kai stin iyia mas!
What is Avgolemono?
Today, we're diving into the wonderful world of Greek cuisine, with a special focus on a sauce that's truly a game-changer: Avgolemono (pronounced ahv-goh-LEM-uh-noh).
This delightful sauce has been a staple in Greek cooking for ages, gracing everything from veggies and rice to meats. And guess what? We're going to use it to whip up a lip-smacking lemon orzo soup, perfect for those cozy days or whenever you're craving some Mediterranean magic in a bowl!
Traditionally, you whisk eggs and lemon juice together until they become frothy and happy, then you gently add hot broth to the egg mix, a little at a time, to avoid any accidental scrambled egg surprises. Once the eggs are all warm and cozy, they are reunited with the soup, and voilà—pure creamy dreaminess!
As a kid, I fondly watched my Yaya (grandma) work her magic, whipping up this Greek lemon soup with orzo like a professional kitchen maestro. It was a family tradition, especially during Easter, to have this divine soup grace our dinner spread. Now, I'm thrilled to share my journey of reinventing Yaya's cherished recipe to be completely vegan-friendly!
So, let's roll up our sleeves, gather our ingredients, and pay homage to the flavors that hold a special place in our vegan hearts. Together, we'll create a plant-based version of this classic Greek lemon soup that's bursting with zest and goodness. Trust me, it's a bowlful of love and nostalgia, all rolled into one.
Recipe Ingredients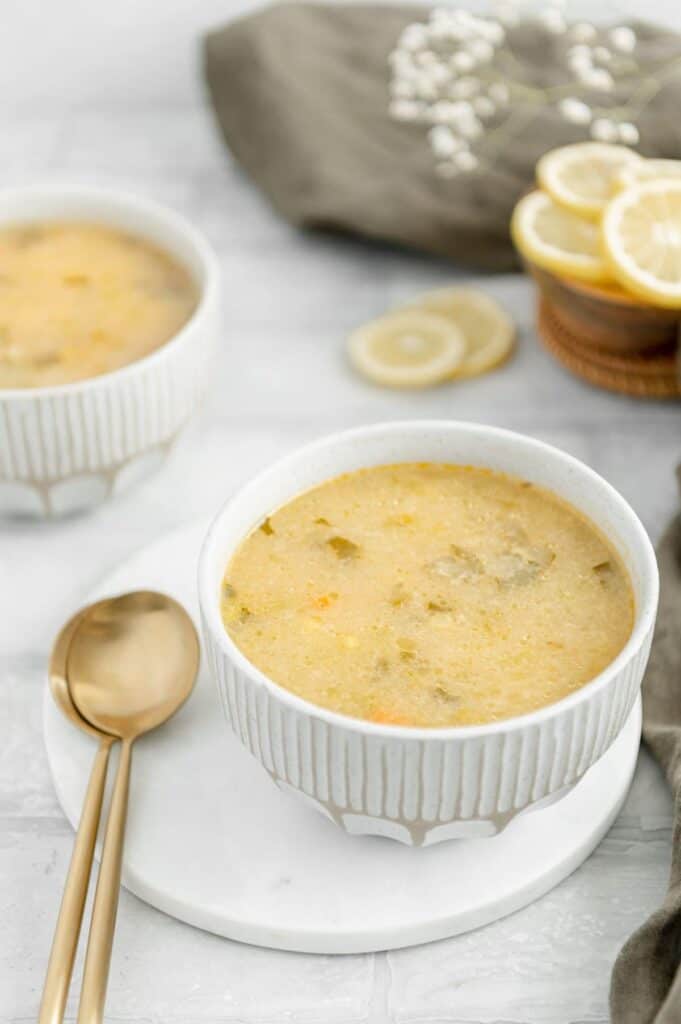 I am going completely authentic with this vegan greek lemon orzo soup recipe. We are sticking with the basics here - broth, lemon, "eggs," carrots, celery, and herbs. Here are all the ingredients you'll need for this recipe:
Olive Oil - Just your normal cooking oil is perfect.
Green Onion - Separate the whites/pale greens and dark greens so you can get all the tasty flavor AND a pretty green garnish in one go.
Carrots - For adding sweetness. Any color – yellow, orange, or purple – will work. You can also use white parsnips if needed!
Celery - For a lovely earthy, vegetal undertone.
Vegetable Better Than Bouillon - This is easily one of my favorite vegan pantry ingredients. If you have a membership, it's totally worth getting the giant Costco-sized jar!
White Pepper - With a subtle, creeping heat and pale color, white pepper helps elevate this Greek orzo soup without stealing the show visually, allowing that vibrant yellow color to shine!
Lemon - You'll need both the zest and the juice to make this vegan-ized authentic Greek avgolemono soup recipe.
Thyme - This delicate herb has lemony undertones, perfect for complementing our vegan recipe for avgolemono soup. If you only have dried thyme on hand, use 1 teaspoon. 
Dill - I love the citrusy, grassy undertones of dill. If you only have dried dill, use about ½ teaspoon.
Bay Leaf - These peppery, piney, minty powerhouses add tons of flavor with just a leaf or two. Just make sure to fish them out before serving.
Orzo - This rice-shaped pasta is traditional for avgolemono soup, but you're welcome to swap in either rice or gluten-free pasta if needed.
Water - I wanted to keep this vegan Greek recipe as accessible as possible. Feel free to swap in vegetable broth for the water and Better Than Bouillon!
For the vegan avgolemono sauce, you'll also need:
Bob's Red Mill Egg Replacer - Or any other vegan egg replacer you prefer.
Tahini - Made from puréed sesame seeds, tahini adds a subtle creaminess that mimics eggs in the most beautiful way.
Optional Add-Ins/Variations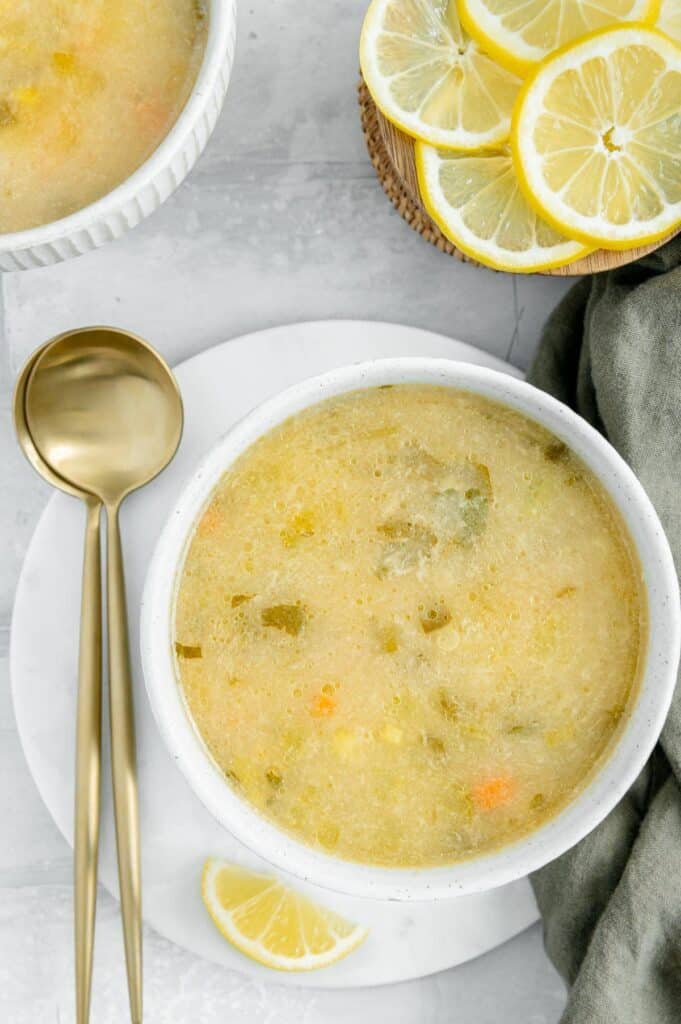 This vegan and vegetarian lemon orzo soup is lovely as is, but there are definitely a few ways you can tweak it to fit your own needs. Here are a few ideas to get you started:
Gluten-Free - Swap in your favorite GF orzo (or any other small pasta shape), or use rice instead. Just make sure to adjust your cooking time to reflect whatever grain you choose!
Extra Protein - Bulk up your avgolemono by turning it into a lemon chickpea orzo soup. Simply drain a can of chickpeas and give them a quick rinse, then toss them in the pot to warm through! Oh, and don't toss the liquid they were packed in; aquafaba is excellent for making vegan pavlovas, whipped cream, and even mayo!
Pro Tips
If you don't have a loose-leaf tea bag to put the lemon peel and herbs in, it's easy to make one using cheesecloth! You can also totally fish these out at the end as well, but tying it all together makes everything easier to find.
You can use rice or another shape of noodles instead of orzo if you prefer. You might have to cook the soup slightly shorter or longer, depending on the cook time indicated on the package.
When making the lemon and "egg" mixture, whisk in one direction to maintain ultimate fluffiness.
FAQ
How to thicken vegan avgolemono soup?
Thickening vegan Avgolemono is a cinch without using eggs! Simply whisk together a couple of tablespoons of cornstarch or arrowroot powder with a small amount of cold vegetable broth until it forms a smooth slurry. Then, gently stir the slurry into your soup while it's simmering, and let it cook for a few minutes until it reaches your desired thickness. Easy, peasy, lemon squeezy!
What's the best way to store avgolemono? How should I reheat it?
Once it has cooled to room temperature, transfer any leftover soup to an airtight container. Pop it into the refrigerator where it'll stay fresh and flavorful for up to 3-4 days.

When it's time to reheat your vegan Greek lemon soup, there are a couple of methods you can try. The gentlest way is to warm it on the stovetop over low to medium heat, stirring occasionally to ensure even heating. If you're in a hurry, you can use the microwave—just be sure to use a microwave-safe bowl and reheat in short intervals, stirring between each one to avoid uneven hot spots.

Whichever method you choose, remember not to bring the avgolemono to a boil, as this can alter the soup's texture and may lead to separation. Once it's nice and warm, grab a spoon and savor the deliciousness all over again!
Why You'll Love This Recipe
Aside from being a bright bowl of sunshiny goodness, this plant-based Greek lemon orzo soup is:
Made With Only 12 Simple Ingredients - Despite bursting at the seams with delicious flavor, you only need a few easy-to-find ingredients.
Rooted In Tradition - This vegan-ized recipe is based off my Greek Yaya's recipe and is a dead ringer for the soup I loved making with her as a kid!
Light & Lovely - And yet still rich and creamy. Honestly, it's my favorite soup around.
Let me know if you try this vegan Greek lemon soup, and please leave a comment and rating below if you do. This recipe would be a perfect addition to your Easter dinner or on a cold winter day. Make sure you are also following along on Instagram and Pinterest for more food inspiration!
Related Recipes
If you are looking for more cozy soup recipes, try these next:
Print
📖 Recipe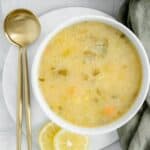 Vegan Greek Lemon Soup (Avgolemono)
---
Author:

Total Time:

1 hour

Yield:

4

Bowls of Soup

1

x
Description
You need this healthy recipe for vegan Greek lemon soup with orzo in your life! This recipe uses no eggs but is as creamy and delicious as the original.
---
For Soup Base:
2 tablespoons

olive oil

½ cup

white part of green onions, diced

⅓ cup

carrots, diced

⅓ cup

celery, diced

1 teaspoon

salt

11 cups

water

1 tablespoon

Vegetable Better Than Bouillon

¼ teaspoon

white pepper

½ cup

green part of green onions, diced
Peel from

1

lemon

2

sprigs of thyme

1

sprig of dill

1

bay leaf

1 cup

orzo
For Lemon "Egg" Mixture:
The equivalent of 2 eggs using egg replacer (I used Bob's Red Mill egg replacer)

¾ cups

of lemon juice

1 tablespoon

tahini

1 teaspoon

salt
---
Instructions
Heat a large-bottomed pot with olive oil over medium heat.
Add the white part of the green onions, carrots, celery, and salt to the pot. Let them sweat for 10 minutes. 
After 10 minutes, add water, Better Than Bouillon, white pepper, and green part of green onions to the pot. Bring to a boil.
Once the broth boils, reduce the heat to medium and add the lemon peel, thyme, dill, and bay leaf. You will remove the herbs and lemon peel before adding the orzo, so if you have a loose leaf tea bag or cheesecloth to make a makeshift bag (see notes), it will be much easier to remove them later. Place the lid half on half off to allow some steam to escape. Allow the flavors to cook together for 8 minutes for a tasty broth base.
After 8 minutes, remove the herbs and lemon peel and add the orzo (see notes). Cover the pot and let the orzo cook through (about 10 minutes).
While the orzo cooks, make the lemon "egg" mixture by whisking together the egg replacer, lemon juice, tahini, and salt (see notes). Whisk for about 30 seconds until the mixture is light and fluffy.
One by one, add a couple of ladles full of the hot soup broth to the lemon "egg" mixture. Whisk the "egg" mixture as you add the broth to temper the "eggs." 
Once the orzo has cooked through, add the lemon "egg" mixture to the pot. Bring the soup back to a boil, stirring consistently.
Once the soup boils, turn off the heat. Let the soup thicken a bit more for 10 minutes before serving! 
Notes
If you don't have a loose-leaf tea bag to put the lemon peel and herbs in, we made one using cheesecloth! You can also totally fish these out at the end as well, but this makes everything easier to find.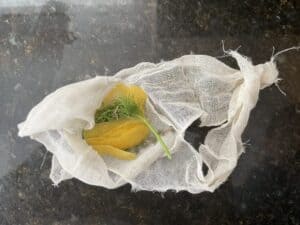 You can use rice or noodles instead of orzo if you prefer. You might have to cook the soup slightly shorter or longer, depending on the grain's cook time.
When making the lemon and "egg" mixture, whisk in one direction to maintain ultimate fluffiness.
Prep Time:

15 Minutes

Cook Time:

45 Minutes

Category:

Soup

Cuisine:

Greek
Nutrition
Serving Size:

1 Bowl of Soup

Calories:

210

Sugar:

4.3g

Sodium:

1535mg

Fat:

13g

Saturated Fat:

1.3g

Carbohydrates:

11.7g

Fiber:

4.7g

Protein:

12.2g

Cholesterol:

0mg
Keywords: soup, lemon, orzo, greek, dill