A comprehensive guide of essential vegan pantry staples you need on hand to make cooking easy, healthy, and delicious. Plus a FREE printable!
I am a sucker for a fully stocked pantry! There is nothing better than finding a delicious recipe and having all of the ingredients already on hand. It is also nice to have grains, canned goods, and sauces readily available when you don't have a lot of fresh produce. I believe a stocked pantry is the key to making affordable and healthy meals.
Today, I am laying it all out for you with my comprehensive list of essential vegan pantry staples. This is a great list for beginner vegans or anyone wanting to bulk up their pantry game. Many of these items end up costing pennies per serving and are a great base to start any meal. Whoever argues that "being vegan is too expensive" has yet to see this list!
Here are all of the categories of vegan pantry staples that we'll be covering (click to jump to a specific section):
Grains
Grains are an essential part of any healthy diet. They are extremely versatile and can either be used as a side dish or the star of a meal. Also, grains are loaded with nutrients like fiber that help keep you full throughout the day. I love starting the day off with some oatmeal, using up my fresh veggies in a noodle stir fry or adding rice or orzo to a soup to bulk it up a bit. Plus, I'm a self-proclaimed popcorn addict and buy bulk kernels, so I always have popcorn waiting to be popped!
Below are the grain staples I always like to have on hand:
Barley
Brown rice
Couscous
Corn
Farro
Rice noodles
Rolled oats
Popcorn
Orzo
Quinoa
White rice
Whole-grain bread
Whole-wheat pasta
Legumes
If you've been vegan for even a short amount of time, I've sure you've heard this question, "where do vegans get their protein from?" Legumes are a big player when it comes to getting protein in a vegan diet. In fact, one cup of cooked lentils has about 18 grams of protein and 15 grams of fiber. Even ½ cup of beans contains about 7 grams of protein which is the same amount of protein as 1 ounce of steak. Plus, legumes are high in antioxidants and fiber, which animal proteins or not. All that to say, make sure you always have legumes on hand for a nutrient-rich meal.
Below are the legume staples I always like to have on hand:
Chickpeas (garbanzo beans)
Black beans
Edamame
Great northern beans
Kidney beans
Lentils (green, red, black)
Mung beans
Peas (split or whole)
Refried beans
Nuts, Seeds and Dried Fruits
Nuts and seeds are great as a snack or thrown on top of things like soups, salads, or grain bowls. My two favorites to have on hand from this list are cashews and nut-butter. Cashews are extremely versatile and good on their own or made into cashew cream for pasta dishes, cream cheese, or vegan queso. The same goes for nut-butters! I enjoy a spoonful of peanut butter as a snack or add nut-butter to things like chia pudding, smoothies, or cookie dough bites!
Below are the nut staples I always like to have on hand:
Almonds
Cashews
Chia seeds
Dried cranberries
Flaxseed meal
Hemp hearts
Nut-butter (almond, peanut, sunflower, etc.)
Peanuts
Pecans
Pumpkin seeds
Raisins
Sesame seeds
Sun-dried tomatoes
Sunflower seeds
Walnuts
Baking and Sweeteners
Do you ever get a craving for homemade cookies, brownies, or donuts? I'm with you! That is why it's always nice to have the baking basics - flour, baking powder, sugar, etc. - on hand so you can easily make any baked goods you want, whenever you want.
Below are the baking and sweetener staples I always like to have on hand:
Agave
All-purpose flour
Almond flour/meal
Arrowroot flour
Baking powder
Baking soda
Brown sugar
Chocolate chips (I use the Enjoy Life brand because they are easily available)
Cocoa or cacao powder
Coconut sugar
Cornstarch
Jam or jelly
Maple syrup
Medjool dates
Oat flour
Powdered sugar
Protein powder
Vanilla extract
White sugar
Whole-wheat flour
Canned Goods
Canned goods are a lifesaver when you don't have a lot of fresh produce on hand or when you feel like making a lazy vegan dinner. If you have a nice stockpile of canned goods, you'll always be able to whip up something. I like to do taco bars a lot using canned beans, corn, and jalapeños, or make a homemade pasta sauce using canned tomatoes and artichoke hearts.
Below are the canned goods I always like to have on hand:
Applesauce (preferably unsweetened)
Artichoke hearts
Canned beans (black, pinto, garbanzo, refried, etc.)
Canned vegetables (carrots, corn, green beans, peas, etc.)
Coconut cream
Coconut milk (full fat and light)
Curry sauce (green, red or yellow)
Dairy-free milk (I like to get a couple of unsweetened milks for cooking purposes and a couple of vanilla flavored milks for baking and for my coffee)
Diced tomatoes
Enchilada sauce (red or green)
Jackfruit in brine
Jalapeños
Olives
Pasta sauce
Pumpkin
Tomato paste
Oils, Vinegars, and Sauces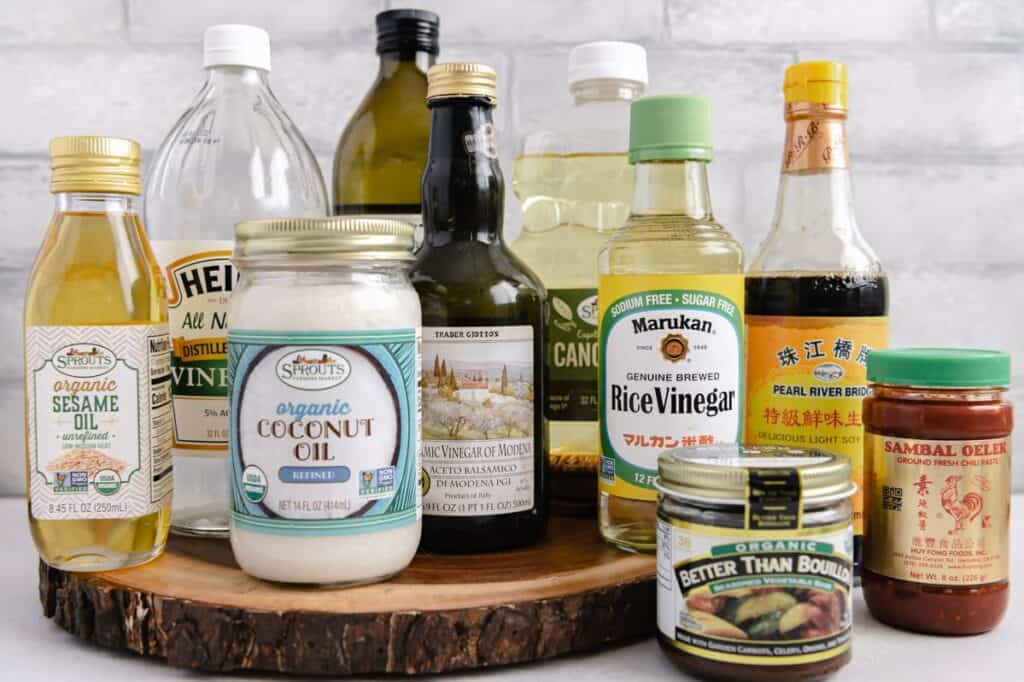 I am a BIG sauce girl! Every meal I cook at home is accompanied by at least 3-4 sauces on the table. Additionally, an assortment of oils and vinegars is always good for baking and cooking purposes or adding some tang to a stir fry or salad dressing.
Below are the oils, vinegars, and sauces I always like to have on hand:
Apple cider vinegar
Balsamic vinegar
Canola oil
Chili paste
Coconut oil
Coconut aminos
Extra virgin olive oil
Hot sauce (Cholula, Franks, Tapatio)
Ketchup
Mustard (brown, dijon, yellow)
Nutritional Yeast
Red wine vinegar
Rice vinegar
Sesame oil
Sriracha
Soy sauce (or tamari sauce if you're gluten-free)
Tahini
Vegan fish sauce
Vegetable Better Than Bouillon
Worcestershire sauce
White miso paste
White wine vinegar
Spices
Spices are what bring a dish to the next level! You could have plain vegetables and give them a whole new life with the addition of some spices. As I've spent more and more time in the kitchen, I've loved experimenting with different spices and the flavor they add. I recommend getting fresh herbs like basil, cilantro, thyme, parsley, and rosemary whenever possible, but in a pinch, dried herbs get the job done too!
Below is my full spice collection:
Allspice
Basil
Bay leaves
Cayenne
Celery salt
Cilantro
Cinnamon
Chili powder
Chinese five-spice
Cloves (ground and whole)
Cumin
Curry powder
Dill
Garlic powder
Ground cardamom
Ground coriander seed
Ground ginger
Ground nutmeg
Lemon pepper
Marjoram
Mustard seed
Onion powder
Oregano
Paprika (sweet and smoked)
Pumpkin pie spice
Red pepper flakes
Rosemary
Sage leaves
Salt (coarse, fine, Himalayan, and Kosher)
Star anise
Tarragon
Thyme
Turmeric
White pepper
Whole black peppercorns
There is my full vegan pantry staples list! Comment below anything I missed that is a must-have in your home. Make sure you are also following along on Instagram and Pinterest for more food inspiration!
Check Out Some of My Other Blog Posts