A guide for the best vegan and dairy-free holiday drinks at Starbucks. If you're craving a cozy drink this winter, you must read this list!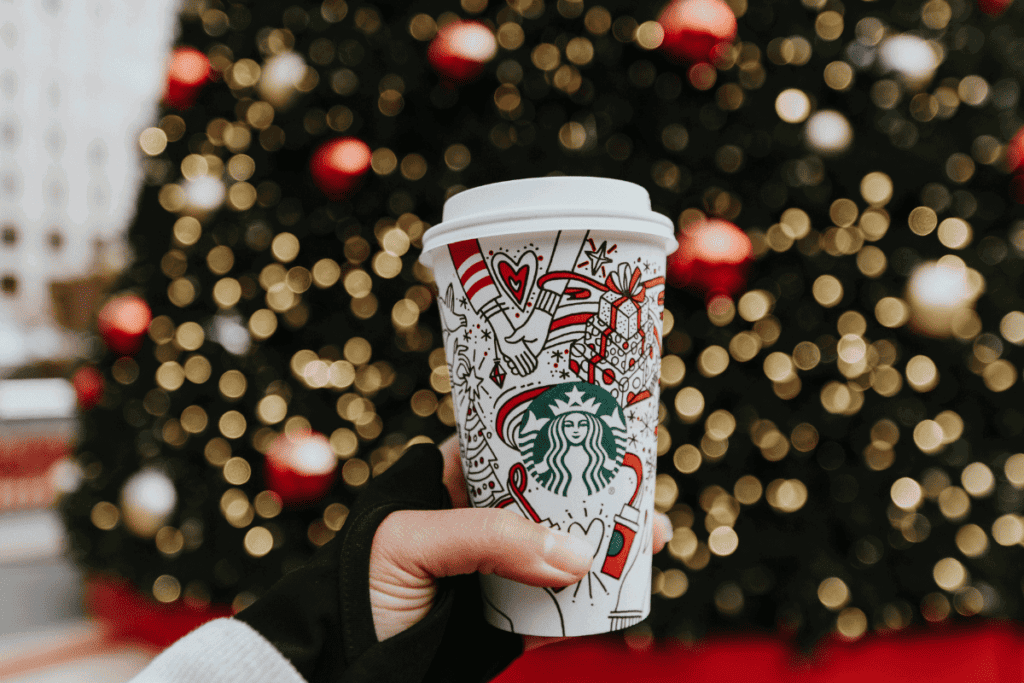 Have you gone vegan and are wondering what holiday drinks you can get from Starbucks? Or maybe you're just curious about non-dairy options, which are kinder to cows and the planet. Either way, read on to learn about the different vegan Starbucks holiday drinks you can order!
Starbucks Holiday Drinks
First off, there's cause to celebrate, as Starbucks has officially launched their very first 100% vegan holiday drink (no substitutions required)! It's called an "Iced Sugar Cookie Almond Milk Latte" and the deets are below.
As for Starbucks' other holiday drinks, luckily many of them can easily be made vegan with just one or two simple swaps! In general, you'll need to swap out the dairy for a plant-based milk. Luckily, Starbucks now offers four vegan milk options: oat milk, coconut milk, almond milk, or soy milk.
Just be aware that it may be hard to be 100% sure about these options if they involve any sweeteners or syrups that use white sugar, as in the U.S. white sugar is often not vegan, unfortunately. (I attempted to find out more info about this but didn't have any luck, but please let me know in the comments if you know more!)
Iced Sugar Cookie Almond Milk Latte
Starbucks' brand-new vegan holiday drink, also its first ever (!), starts with Blonde espresso and almond milk over ice. It's then flavored with "sugar cookie" syrup and topped with festive red and green sprinkles. While the regular menu version comes iced, you can also order it hot!
In a press release, Starbucks says that this vegan drink was inspired by spritz cookies, which come from Germany and refer to how the cookie is made by squeezing the dough into various holiday shapes ("spritzen" in German means "squirt").
Peppermint Mocha
This is a simple one to make vegan. Swap out the dairy milk for a non-dairy option and ask for it without whipped cream or dark chocolate. The mocha sauce is vegan, at least so long as the sugar used in it is made without "bone char" (and this will apply throughout the rest of this list).
Irish Cream Cold Brew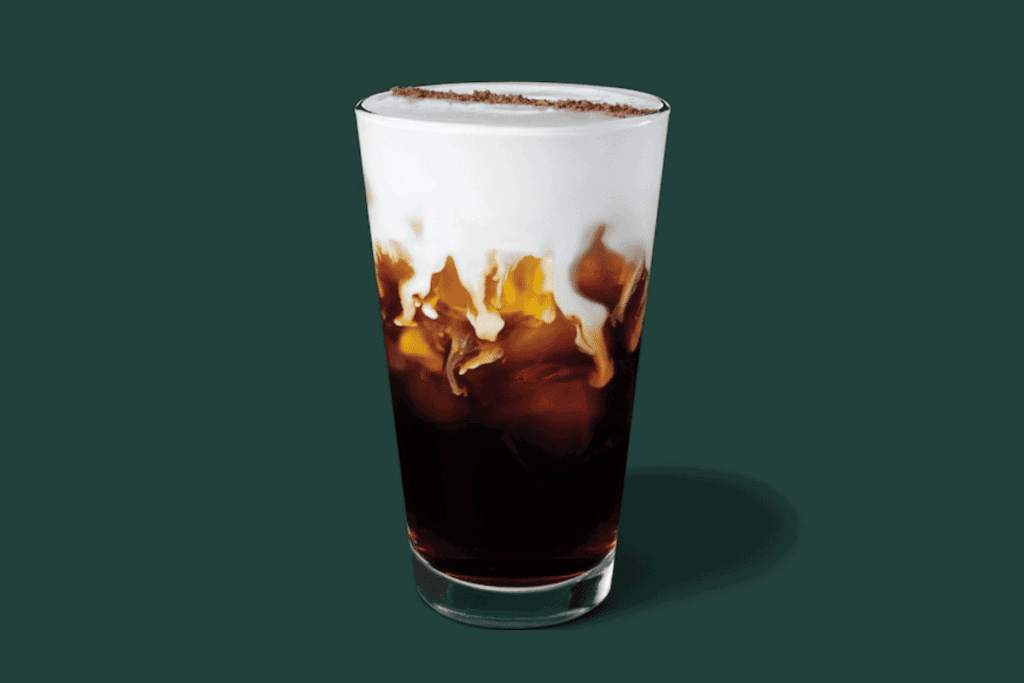 You can make this cold brew drink vegan by asking for it without the Irish Cream Cold Foam. The Irish Cream syrup and Cocoa Powder topping are both vegan friendly.
Chestnut Praline Latte
This is a great wintery drink thanks to the caramelized chestnut flavor and lots of warm spices. To order it vegan, swap out the dairy milk for your preferred non-dairy milk and ask for it without whipped cream.
Hot Chocolate (and variations)
Good news for vegan hot chocolate lovers! You can order regular hot chocolate and its many variations vegan.
Regular hot chocolate – Order this one without the whipped cream and ask for a non-dairy milk of your choice.
Peppermint hot chocolate – Once again, order without any whipped cream and sub in your favorite non-dairy milk. You'll also need to forego the chocolate curls topping.
Salted caramel hot chocolate – Again, no whipped cream and swap in your preferred non-dairy milk. You'll also need to ask for no caramel sauce. While there won't be caramel flavor, you'll still have a toffee and chocolate taste.
Toffee almond milk hot chocolate – This one already comes with almond milk! All you have to do is specify no whipped cream, and of course you're welcome to swap in a different plant milk if you prefer.
Salted Caramel Mocha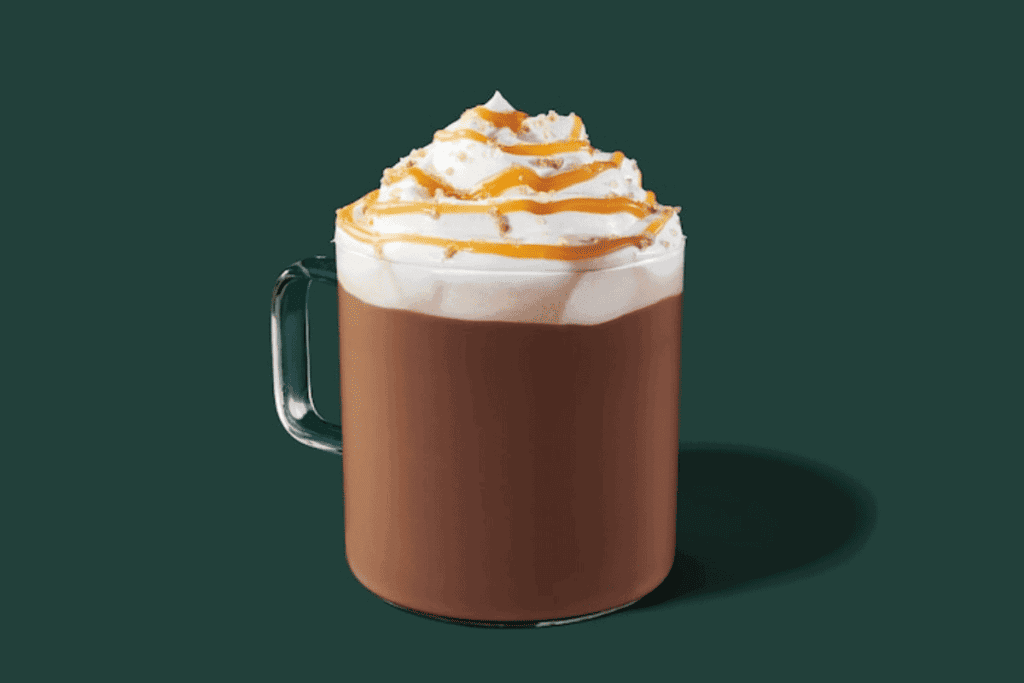 Per usual, order this one with your favorite non-dairy milk in lieu of dairy milk. Then, order without whipped cream or caramel sauce. Just like the salted caramel hot chocolate above, you'll be left without caramel but still have chocolate and toffee flavor.
Gingerbread Latte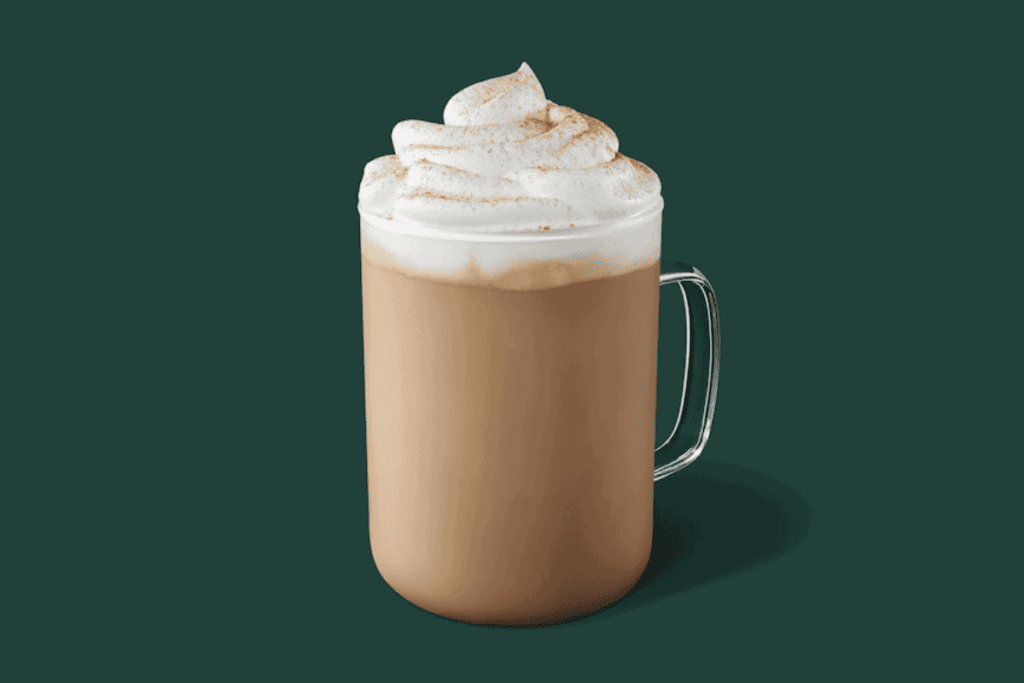 This is another one that you can make vegan simply by substituting in your favorite plant milk and asking for no whipped cream. The nutmeg and gingerbread flavors are perfect for the holidays!
Apple Crisp Macchiato
This drink is perfect for apple lovers, and all you have to do to make it vegan is to lose the dairy milk and request your favorite non-dairy milk option instead!
Starbucks Christmas Blend
The Christmas Blend is a blend of whole beans that you can buy in Starbucks stores. It's delicious on its own if you're a black coffee drinker, or you can complement it with your favorite non-dairy milk and favorite vegan sweetener and/or creamer.
Starbucks Holiday Drinks that Can't Be Made Vegan
Unfortunately, there are some Starbucks holiday drinks that can't be made vegan. Here is a partial list and why:
Peppermint White Chocolate Mocha – The problem here is that the white chocolate mocha sauce and dark chocolate curls both contain milk (which is unfortunate, as proper dark chocolate really shouldn't contain milk…)
Toasted White Chocolate Mocha – Once again, the white chocolate mocha sauce contains milk. The "holiday sugar sparkles," however, are dairy free so you can add them to a different drink!
Pumpkin Spice Latte – Starbucks pumpkin spice sauce is made using milk. The pumpkin spice topping, however, is dairy free as it's basically just spices.
Caramel Brulee Latte – The caramel brulee sauce contains milk, but you can request the caramel brulee topping on a different drink, as it's dairy free.
Wrapping Up
There you have it - a full list of vegan Starbucks holiday drinks you can enjoy this season! And don't forget to bring your own reusable cup to help make your coffee run more eco-friendly!
Thankfully, Starbucks is showing itself more committed to sustainability by offering more plant-based menu options. For example, they've tested a "Plant Powered Breakfast Sandwich" and Miyoko's vegan cream cheese at locations in Washington and Texas, but these have yet to go nationwide. They've also begun testing vegan whipped cream at two Seattle locations. Fingers crossed that these are popular and become nationwide staples!
Unfortunately, Starbucks does not guarantee that "any of our products are free from allergens (including dairy, eggs, soy, tree nuts, wheat and others) as we use shared equipment to store, prepare and serve them." So, between that and the difficulty there is in trying to figure out if their sugar is vegan, there are no guarantees that anything is 100% vegan at Starbucks.