Enjoy vegan gifts for her and him in this vegan gift guide for 2022! From beauty to cooking and everything in between, this gift guide is sure to help you check some people off your list.
If you're looking for a little inspiration on gifts for vegans, you can stop your scrolling. I've compiled a list of my Top 10 Vegan Gift Ideas for 2022! Whether you're shopping for a vegan birthday, anniversary, Hanukkah, Christmas, or any other holiday or celebration, this list of great gifts for vegans has you covered!
How To Use This Vegan Gift Guide
Chances are you have at least one friend, family member, or loved one in your circle that has embraced the vegan lifestyle. (What can I say? Being a plant-based eco-warrior is in style these days!) And, if you didn't know it, veganism doesn't just extend to what you put *in* your body, but also *on* it.
So, without further ado, here are all my favorite gifts for vegan friends and loved ones, including everything from food and clothing to self-care and home goods.
The quickest and easiest way to add some pizzaz to any homemade (or even semi-homemade) meal is a hefty sprinkling of fresh herbs. Rather than having to spend their hard-earned cash on teeny-tiny clamshells filled with a few sprigs, an Indoor Herb Garden Grow Kit means they'll always have easy access to garnish-worthy flavor boosters.
As an added benefit, they'll get the interactive satisfaction of having something green and gorgeous to tend to all year round. These homegrown flavor gardens are easily one of the best gifts for vegans who love to eat at home!
2. Donation To An Animal Sanctuary
I can almost guarantee that any vegan you meet will be a fervent lover of animals. Tug on their tender heartstrings by donating to an animal sanctuary in their name. They're sure to love it! Here are some of my favorite non-profit companies to consider:
"Self-Care" is quite possibly the fastest-growing buzzword to emerge from the early 2020s, and for good reason! Between work, social & family responsibilities, and the overall lightning-fast pace of modern life, stress and anxiety are at an all-time high.
Give your loved ones permission (and a gorgeous excuse!) to take a well-deserved spa-like break with a set of Lush's luscious bath bombs. They come in a wide variety of festive shapes and natural scents that are guaranteed to relax and recharge.
Plant-based milk is a staple of just about any vegan diet, and the Nutr and the Almond Cow Milk Maker are innovative countertop appliances that make it super simple to whip up a batch at home. Whether your vegan loves oat milk, nut milk, or hemp milk, they're sure to fall head over heels for either of these devices that dispense deliciously creamy, homemade, and preservative-free versions of their favorites at the touch of a button.
Whether you're shopping for vegan gifts for him or her, 8000 Kicks Hemp Shoes are an excellent option. Made from high-quality, extremely durable, lightweight, and flexible hemp fibers & algae, these casual, sustainable shoes are both stylish and comfortable.
Best of all, these lightweight, waterproof, and stainproof kicks are available in multiple designs and colors, giving you lots of options to choose from. They even have a wide range of accessories like socks, hats, masks, pouches, laptop cases, and backpacks, meaning there's a little something here for everyone.
I asked my friends at 8000 Kicks and they even gave me a discount code for y'all! Just use the code ELENACONTIS at checkout to get 10% off your order!
Help your friends and family look and feel their best with this incredible 3-piece set. This lovely gift set has 3 of the top-rated, most sought-after products in The Ordinary's extraordinary skincare line, all of which are designed to support healthy skin and reduce the effects of aging.
Priced at under $25, this vegan skincare set is inexpensive enough for everyone on your list. And, since it is built for all skin types, you may as well stock up. Just make sure to save one for yourself!
The Always Pan, a cult-favorite darling of Instagram, is the must-have kitchen accessory of 2022. With an innovative do-it-all design that is built to replace 8 pieces of traditional cookware available in 12 vibrant colorways, this fabulous and functional beauty is sure to win you major cool points.
Perfect for boiling, braising, searing, steaming, and sautéing and built with a genius pour-spout and spatula rest, this gorgeous eco-friendly non-stick pan is ideal for moving straight from the stovetop to the serving station.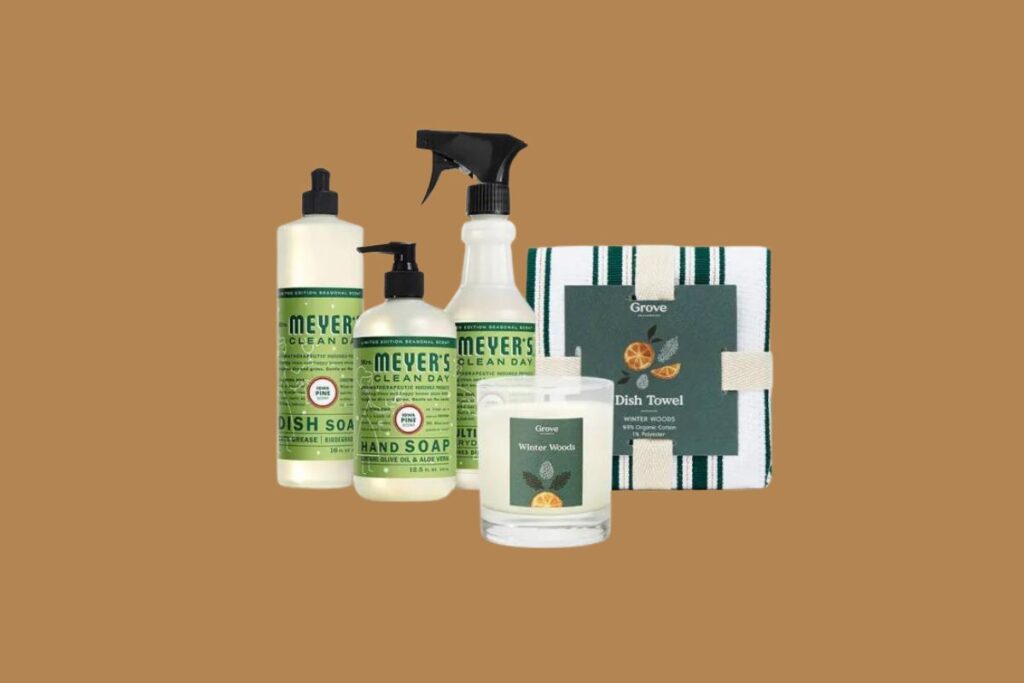 As they say, cleanliness is next to godliness. Whether you're shopping for a housewarming gift or want to outfit your spiffiest friends with the best environmentally-friendly products, a Grove Collaborative Starter Cleaning Kit is an excellent and attractive place to start.
Choose from multiple eco-friendly sets designed for cleaning laundry, the kitchen, or the bathroom, as well as tree-free paper products (e.g. toilet paper, paper towels, and facial tissues) and refillable personal care items (e.g. deodorant, lotions, soaps, etc) to make their home life a little greener.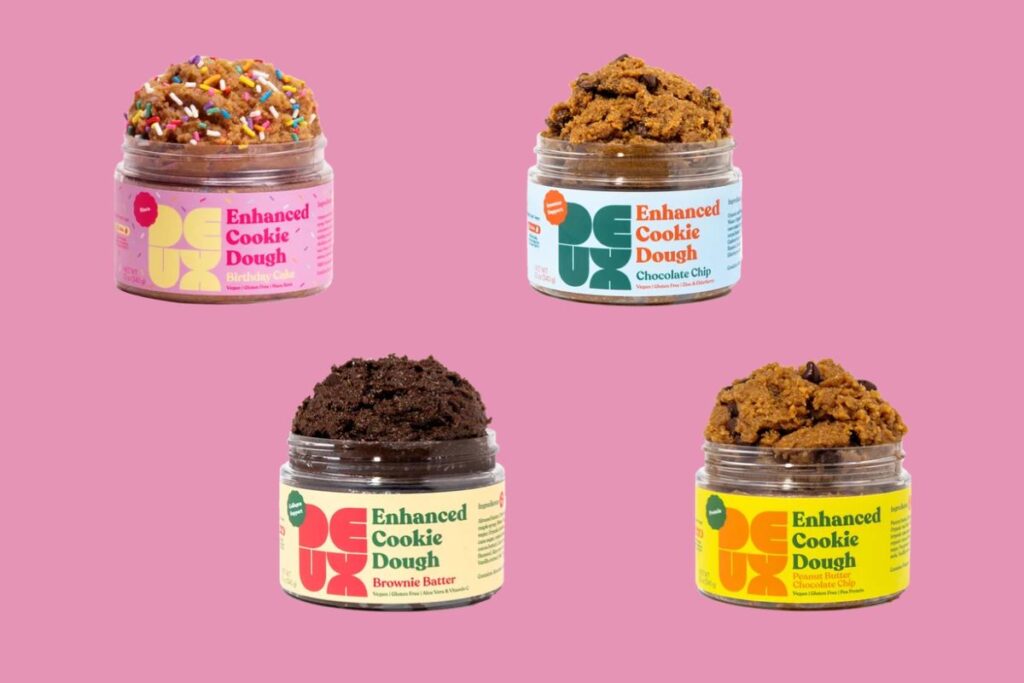 If you haven't yet jumped on the edible cookie dough train, the time is now. These deliciously spoonable bites of sweet goodness are vegan and gluten-free and taste just as good as the beaters from the bowl. Take it from me — this is one of the best food gifts for vegans around.
As if that wasn't enough to love, DEUX doughs are supplemented with functional nutrition additives like pea protein for strength, ashwagandha for stress reduction, or zinc & elderberry for immune support. Help banish their sweet cravings and give them a nutritional boost at the same time!
Choose from a variety of delectable flavors like chocolate chip, brownie batter, birthday cake, or peanut butter cup. Oh, and in case raw cookie dough isn't their thing? They bake up into gorgeously gooey treats, too!
10. DIY Vegan Gift Baskets
If none of the vegan products on this list are speaking to you, consider the best of all: a DIY Vegan Gift Basket or Gift Box filled with personalized goodies that are tailored to your favorite people. Here are a few templates to consider:
Movie Night: Add a gift card from your favorite streaming service or cineplex, plus some popcorn kernels, vegan popcorn flavoring shake (e.g. nutritional yeast), red & white striped popcorn containers, and a box or two of their favorite vegan candy.
Spa Day: Face masks, cruelty-free nail polish, homemade bath salts or bath bombs, a reusable Makeup Eraser towel, and vegan body cream makes for a fabulous self-care extravaganza.
Hot Cocoa Kit: A cute mug, vegan marshmallows, dairy-free hot chocolate mix, and a tetra-pack of plant-based milk is a cozy way to show you care.
Know more good gifts for vegans that the world should know about? Tell me about them in the comments below or tag me in your Instagram posts so I can cheer you on!
More Vegan Resources: