Looking for the best vegan cream cheese brands to add to your grocery list? I've tried them all so you don't have to so you can hopefully find your new go-to.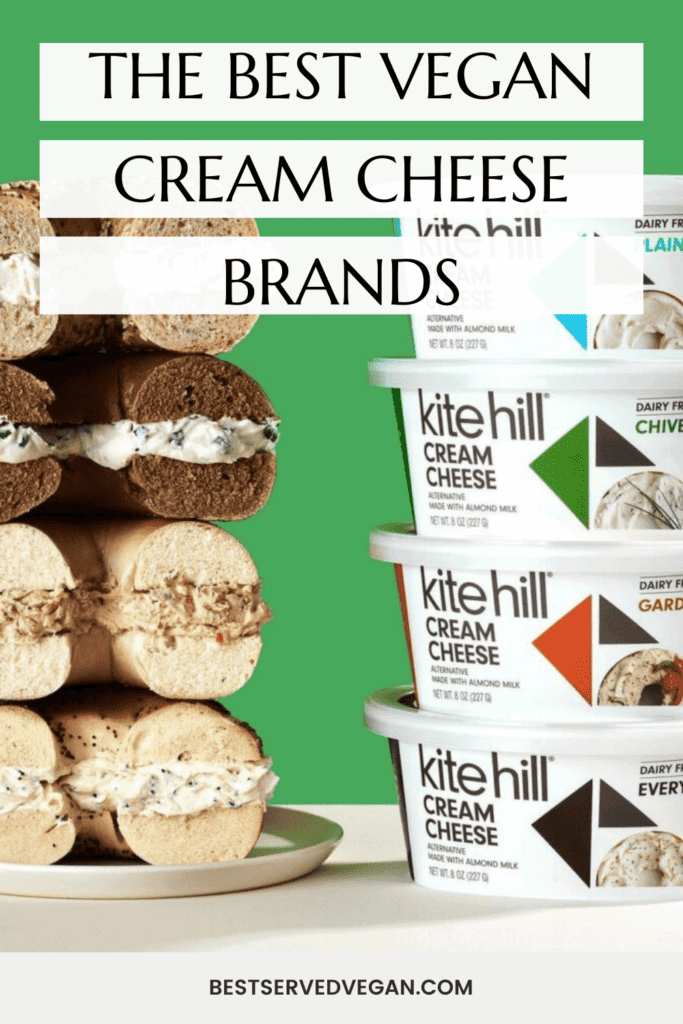 When I went vegan, certain vegan products—like vegan cream cheese—could be really tough to find. Nowadays, it seems like grocery stores everywhere are stocking multiple brands! Woohoo!
This is in part thanks to the huge increase in non-dairy products. With vegan cheese, vegan cream cheese, and vegan milks and creamers, which are all some of the easiest vegan swaps to make, it's getting easier than ever to go vegan.
Are you ready to enjoy a delicious bagel and cream cheese (vegan style)? Read on to learn about eight of the very best vegan cream cheese brands!
The History of Cream Cheese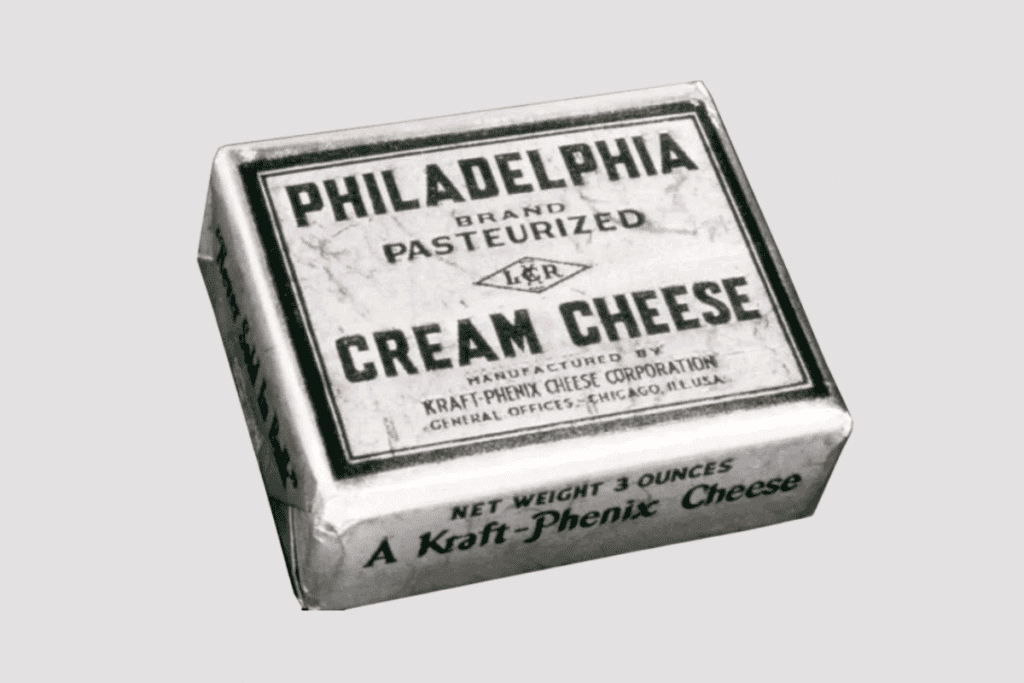 First, let's take a quick dive into the history of cream cheese, the bagel's long-time best friend!
It's commonly reported that a New Yorker, William Lawrence, accidentally created cream cheese in the 1870s. That's not necessarily the case, however, as the concept dates back centuries, perhaps even a thousand years!
How's that possible? It's all thanks to a certain French cheese, known as Neufchatel, which is a semi-soft and aged cheese.
In other words, people have long enjoyed soft cheeses. But what about the kind of cream cheese we know and love today?
That dates to the aforementioned William Lawrence and really took off starting around 1900. Lawrence and his partner Alvah Reynolds eventually began distributing their cream cheese under the name Philadelphia, which is still one of the largest and most well-known brands today.
Thankfully, we know now that dairy has nothing in it that we can't get from plants. In fact, it's much better to skip it altogether when you factor in the environmental damage as well as what happens to cows on factory farms.
Vegan Cream Cheese 101
Unlike dairy-based cream cheese, vegan cream cheese comes from the goodness of plants. Most often, they're made from either a nut base (like cashew or coconut cream) or a tofu base.
Vegan cream cheese is a super useful item to have around. Whether you want to smear it on a bagel or use it as an ingredient in baking—vegan cheesecake, anyone??—locking down one or two great cream cheese brands is essential.
So, to pick the top vegan cream cheese brands out there, I'm keeping in mind three main factors: taste, consistency, and nutrition. While of course cream cheese isn't bound to be a health food, there are definitely some vegan alternatives that are better than others when it comes to the nutrition facts.
Tips for Shopping for Vegan Cream Cheese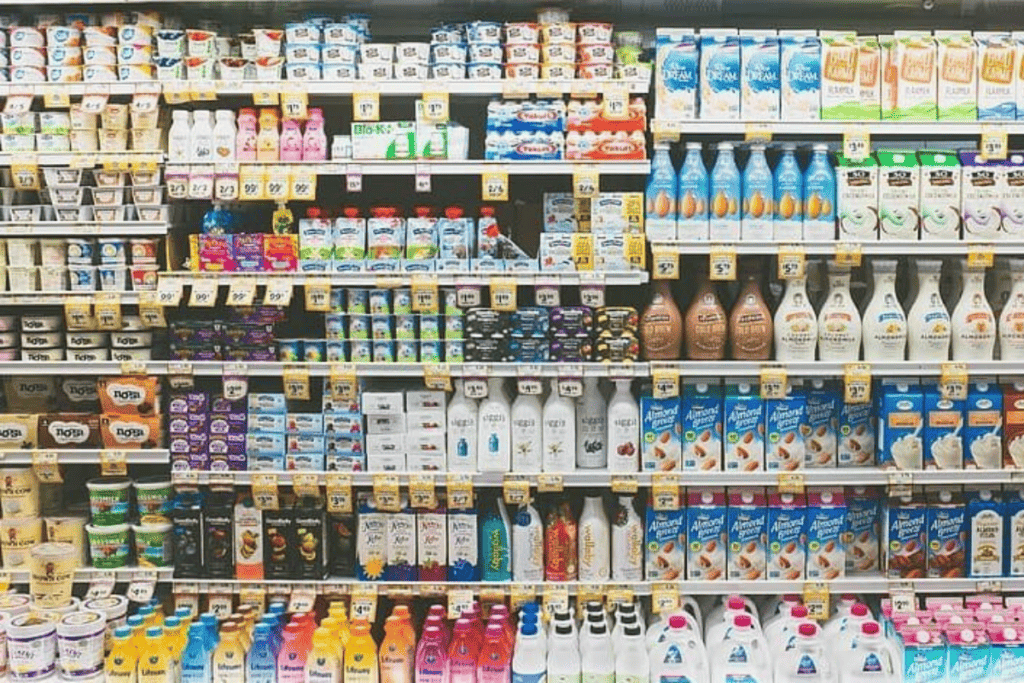 Here are some things you may want to consider when shopping for vegan cream cheese:
Fat – While fat has long been demonized, what's most important is the type of fat. Vegan cream cheeses that are made from nuts or coconut may be high in fat, but these are much more beneficial than the kind of saturated fat that comes in dairy. Philadelphia Cream Cheese (owned by Kraft) has even labeled their cream cheese with things like "70% less fat and calories than peanut butter," as if cream cheese could ever be healthier than peanut butter!
Thickeners – For many vegan cream cheeses, there's no need to fear the ingredients that you may be unfamiliar with. Unless you have a soy allergy, the soy lecithin you might see listed isn't a concern. Gellan gum? That's a plant-based alternative to gelatin, helping stabilize added nutrients in plant-based milks, creamers, and cheeses so that they don't sink to the bottom. The one you may want to avoid is carrageenan, which has been phased out of many vegan products now due to customer concern. It's up for debate, though, whether or not it should be avoided.
Base – At the end of the day, this cream cheese is for you to enjoy. If you prefer a base made from nuts, then find one made from nuts. If you prefer one made from tofu, then get that kind!
It can be good to remember that the terms "vegan," "plant-based," or "dairy-free" do not necessarily mean something is healthy. Veganism, ultimately, is about limiting the harm we cause to animals and the environment. It's really just a bonus that following a well-planned vegan diet can also be hugely beneficial for our health.
The Best Vegan Cream Cheese Brands
While non-dairy cream cheese is certainly not new, as outlined above, the vegan and non-dairy movement has really caused the number of vegan options to boom!
Plus, thanks to the increasing demand, there are now some healthier options available now in the plant-based creamer game, meaning you don't have to worry about preservatives or trans fats in many of them.
So, without further ado, here are eight of the best vegan cream cheese brands around!
Kite Hill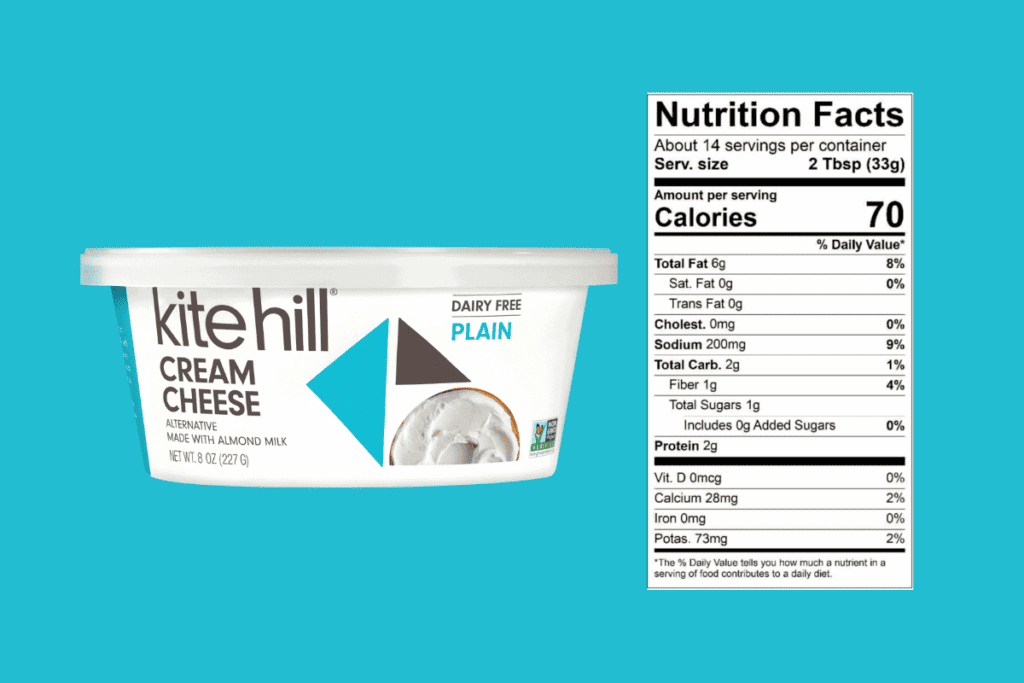 Kite Hill is a favorite of many vegans, and for good reason. One of the nice things about Kite Hill is that they've branched out and have four different kinds now: Plain, Chive, Garden Veggie, and Everything.
The base of Kite Hill's cream cheeses is from almond milk, which means it's not only dairy-free but also soy-free. They're also all gluten-free and certified kosher. Although one of the relatively newer companies on this list, Kite Hill's success is surely owed to the quality of their products.
Overall, Kite Hill cream cheese is a very solid option that may not blow your mind but is pretty likely to satisfy vegans and non-vegans alike.
Trader Joe's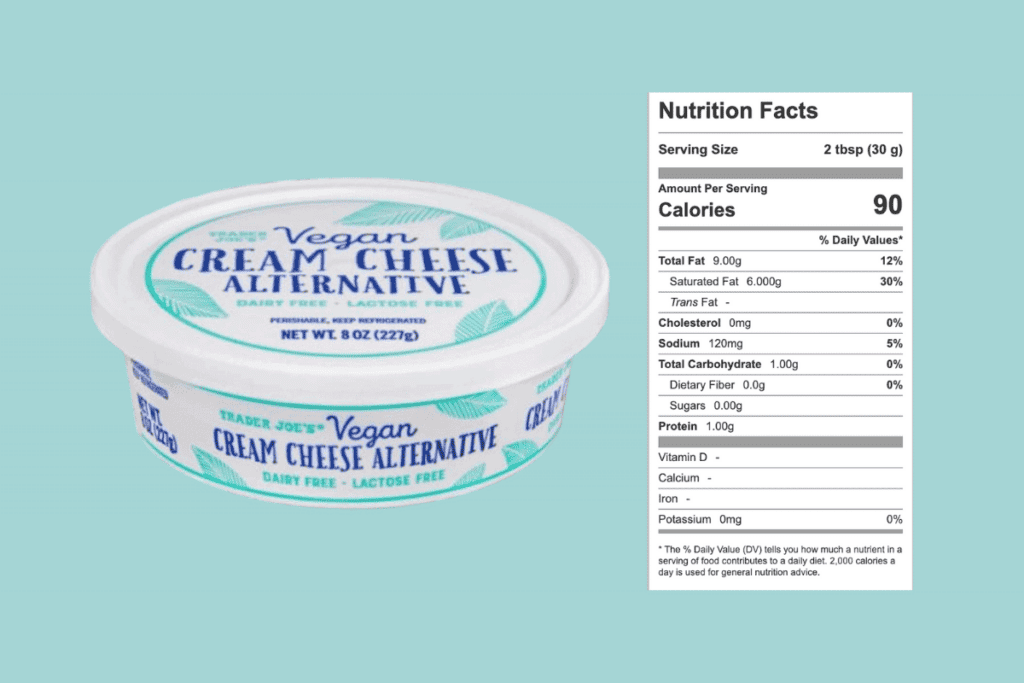 Next up, we have Trader Joe's vegan cream cheese alternative. First, it's probably important to admit that I'm a big TJ's fan and really appreciate how many vegan options they keep putting out.
As for their vegan cream cheese, it is also a very solid (and affordable) option. It used to be my favorite vegan cream cheese option because the taste and the price couldn't be beaten. However, they recently changed the formula and it has dropped much further down on the list.
With the new formula, I have had issues with consistency. You could say that they have been inconsistent with the consistency, in fact. Sometimes it's come with a lot of liquid that I have to stir in, and other times it's been really firm. This might be due to switching manufacturers, but either way, it seems to happen with a variety of Trader Joe's products from time to time.
Due to its low price and overall quality, though, I definitely recommend giving this one a try if you have a Trader Joe's in your area.
Miyoko's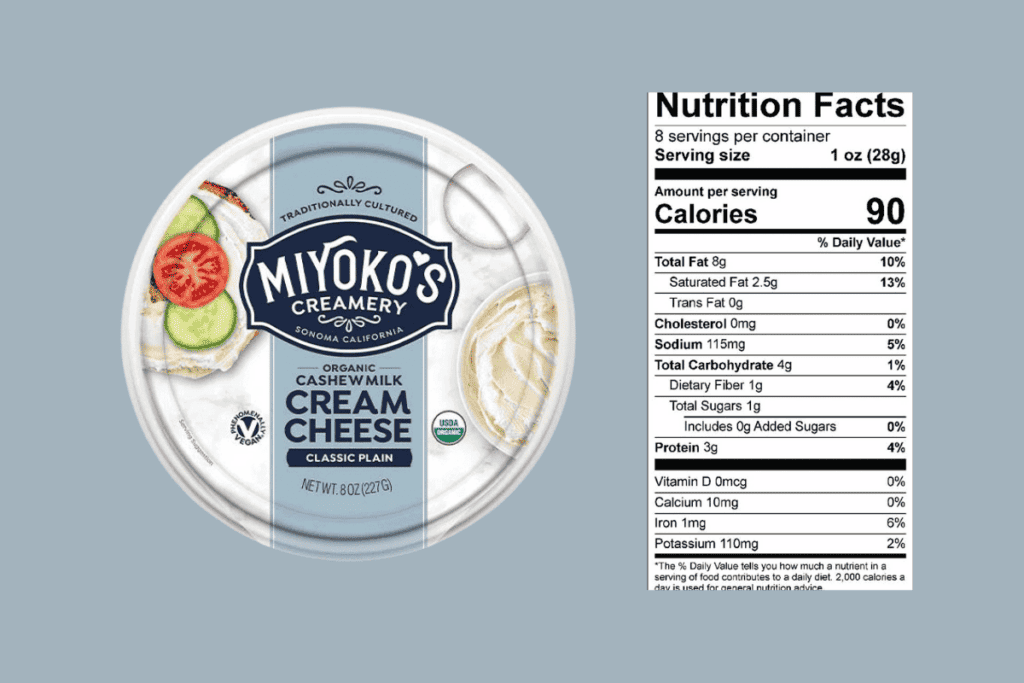 Miyoko's is a great vegan brand that is run by the very likable Miyoko herself. While there are multiple flavors—Plainly Classic, Un-lox Your Dreams, and Sensational Scallion—I've found that even the plain kind has a very strong umami taste. I'm guessing that's from trying to replicate the umami taste of traditional cream cheese.
In terms of consistency, Miyoko's cream cheese in my experience has also been very firm and somewhat difficult to spread. It's also rather expensive, though this makes sense as it's from a small company, organic, and made from an expensive base ingredient (cashews).
All in all, I have some quibbles with Miyoko's cream cheese (though I love most if not all of their other cheeses). I find it hard to spread and the umami taste to be a tad strong. If you like a kind of fish-y umami taste, though, you'll probably love it.
Violife
Violife is one of the best vegan cheese companies around in my personal opinion. I constantly have their feta and parmesan in my fridge as they keep for a long time and are a great addition to tons of dishes and sides.
All Violife products are 100% certified vegan (Vegan Society certification) and they also contain some added nutrition like B12. Their cream cheese is free from gluten and soy (as well as dairy and lactose, of course). It's also nut-free, making this one of the more allergen-friendly options on the list.
This is one of the stronger overall options on this list in my opinion, especially because the Violife cream cheese is highly spreadable. The last thing you want to do is butcher your perfectly toasted bagel when you're trying to put the cream cheese on! They also have a large range of flavors, which means you can keep mixing it up.
Tofutti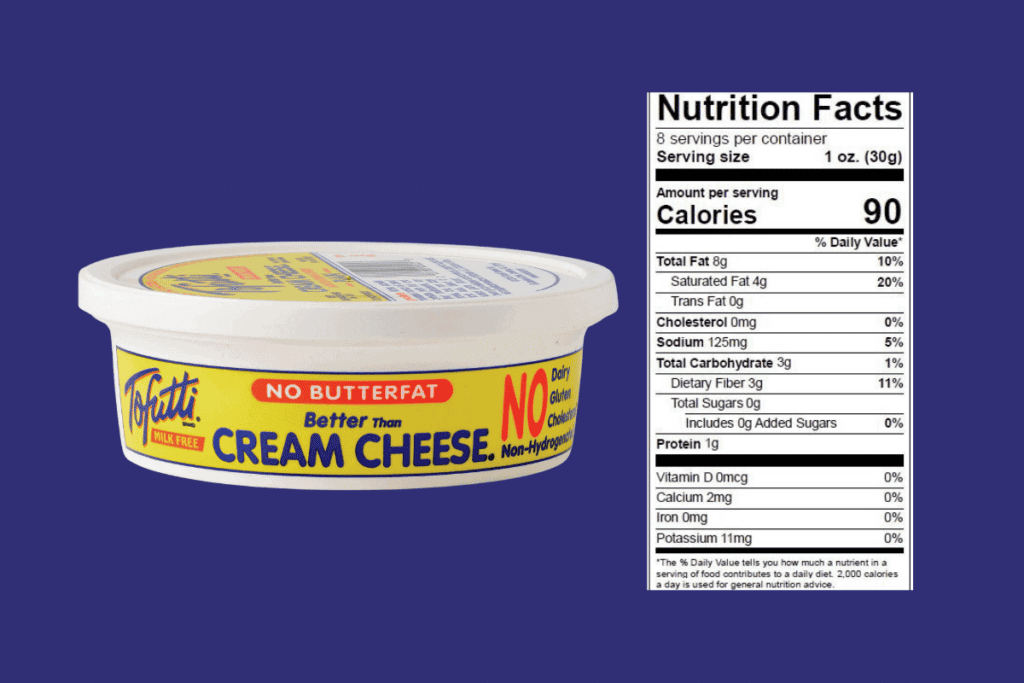 Tofutti may very well be the oldest brand on this list. They claim that it's "Better than cream cheese," and it comes in a variety of flavors: original, garlic & herb, herbs and chive, or "whipped original."
Tofutti, as the name suggests, is soy-based (tofu) and can be a good option if you have any nut allergies. It's also one of the healthier options on this list.
Overall, Tofutti can be a good option for vegans trying to replace cream cheese. It doesn't have the name recognition or popularity of many of the other vegan brands listed here, but you can find it in many large grocery stores as well as more specialty health food-type stores. I think tofutti might be one of my favorites on this list. It has a great flavor, is relatively healthy, and super thick and cream!
So Delicious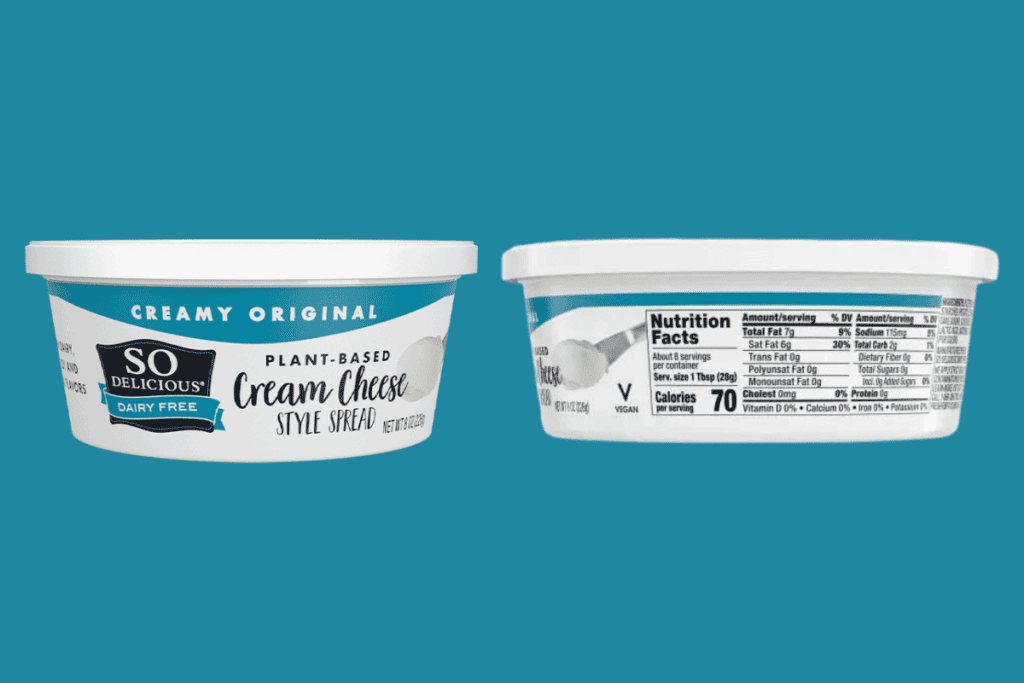 So Delicious is a vegan brand that offers a large variety of products: ice cream, yogurt, and now, cream cheese!
The cream cheese made by So Delicious is coconut-based, which explains the high fat content. The plus side is you can count on a very rich, "full fat"-style experience with the So Delicious cream cheese. There are two options as well: Creamy Original and Chive & Onion.
This is a newer release, so it's the only one on the list that I haven't yet had the chance to try. I like So Delicious products in general, though. Please let me know in the comments if you've had a chance to try it yourself!
Daiya
Daiya is a bit polarizing in the vegan community—some people love them, and some people hate them. I've had better experiences with some products than others (for example, I like their mac & cheeze but haven't always loved their cheese on the pizzas I've had when eating out).
One thing that Daiya has going for it is that it's one of the biggest brands around. That means that you can likely find at least one of their flavors—Original, Chive & Onion, Roasted Garlic & Herbs, or Strawberry—in stores near you. Think Sprouts, Whole Foods, Target, Safeway/Vons, Publix, etc.
Another benefit of Daiya is that it's affordable compared to many of the other options listed here. This one is definitely not one of my favorites though.
Go Veggie!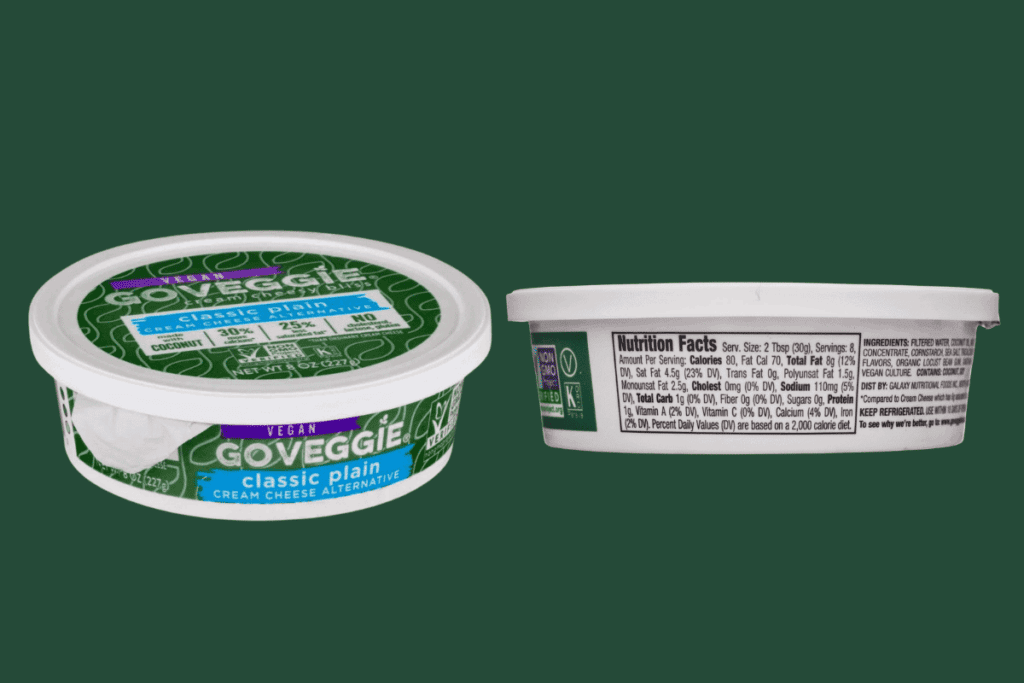 Along with Tofutti, Go Veggie! is one of the older brands listed here. Part of Galaxy Nutritional Foods, Go Veggie! tends to have a health focus, which is probably why it's one of the lower sodium options on this list.
There are just two flavors—Classic Plain and Chives & Garlic—but they're both popular. Online reviewers generally acknowledge that it doesn't taste quite like traditional cream cheese but that it does have a good consistency.
Make your own
Making your own vegan cream cheese may seem like it would be some kind of crazy effort, but that's not really the case! It's not really any harder than whipping up cashew cream or vegan sour cream. You can check out this recipe by the Simple Veganista or this herb and garlic cream cheese recipe from Hot For Food, for example.
Wrapping up
I hope this list of vegan cream cheese brands has helped you figure out what might be the best choice for you!
The amount of vegan cream cheese brands out there nowadays is seriously impressive. As many of the above brands are in stores now, it's really up to you to buy them, try them, and figure out which you prefer. After all, taste is subjective!
And if you already have a favorite vegan cream cheese brand, please let me know in the comments 🙂
Check out more vegan resources below: