Looking for some vegan resources? Here are 10 vegan Ted Talks that you need to watch right now!
There's never been a better time to be vegan than right now. Yes, right this second!
That's because with every day that passes there are more vegans, more plant-based products in stores, and more options in general for those living a vegan lifestyle.
It's an exciting time to be vegan! As a vegan, you're helping the planet and the lives of the creatures we share it with.
The famed TED Talks have given their notable platform to a number of authorities on veganism. These talks have helped spread the simple-on-the-surface idea that doing less harm to animals is better for the environment, our health, and, of course, the animals.
So, read on for an overview of ten amazing vegan TED Talks that are a must-watch! They're great for sharing with any veg-curious friends or family you might have as well!
What are TED Talks?
First, for those who may not be too familiar with TED Talks, here's a quick overview.
TED started way back in 1984 as a conference focused on Technology, Entertainment, and Design (i.e. T.E.D.). Now, the organization covers topics of all kinds and is a truly global phenomenon.
A nonprofit, TED has featured talks in more than 100 languages. TEDx events are independently run and help spread the sharing of ideas all around the world.
Many TED Talks have gone viral, and the vegan TED Talks below have collectively garnered roughly 13.5 million views! The TED Talks YouTube channel has more than 33 million subscribers. These vegan TED Talks have been an amazing way for some brilliant vegans to spread vitally important messages and help people rethink our unsustainable status quo.
Ten Amazing Vegan TED Talks
"Every Argument Against Veganism" – Ed Winters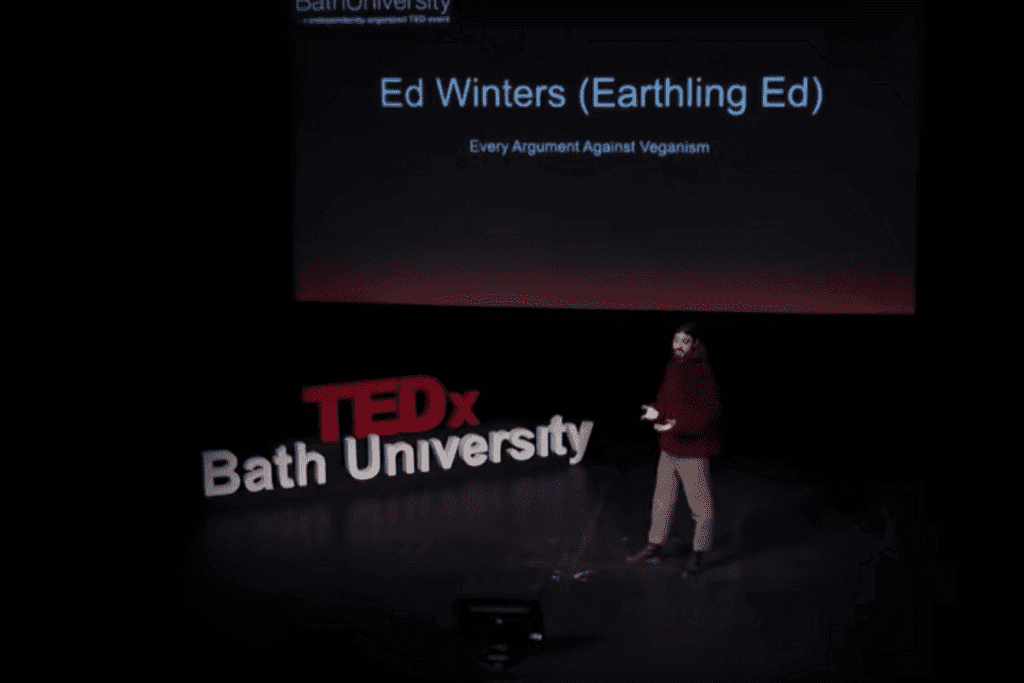 Ed Winters, more commonly known as "Earthling Ed," is a vegan educator, public speaker, and content creator from England. Ed is an inspiring figure who has worked to organize the Official Animal Rights March. He also opened Unity Diner, a non-profit vegan restaurant in London where all proceeds benefit animals.
In this talk, he runs downs an extensive number of arguments against veganism and debunks them one by one. From "it's a personal choice" to "humane slaughter," you'll come away with this video with a much better idea of how to argue against these common anti-vegan arguments. Ed also created a a free e-book that encompasses this TED Talk and much more. To dive even deeper on this topic, you might also like my article on vegan comebacks!
"Toward Rational, Authentic Food Choices" – Dr. Melanie Joy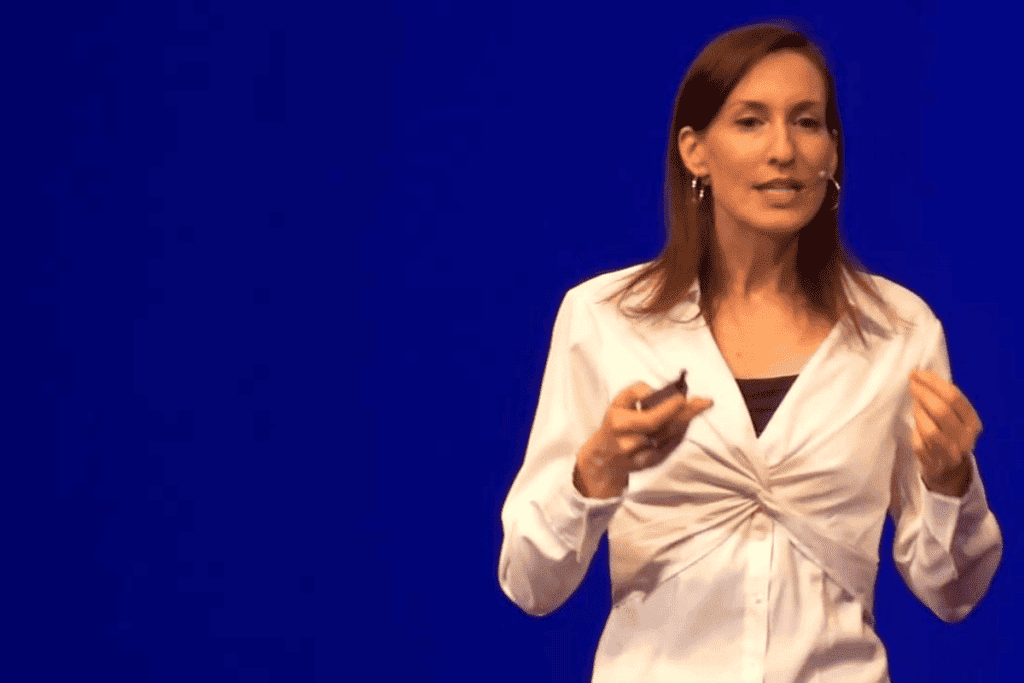 Melanie Joy is a Harvard-educated psychologist, professor of psychology and sociology at the University of Massachusetts-Boston. In addition, she is a public speaker and the author of Why We Love Dogs, Eat Pigs, and Wear Cows. She's also the founder and president of the organization Beyond Carnism.
In this talk, Dr. Joy breaks down the logic of "carnism." She coined this term herself to describe the pervasive belief system that conditions us to see some animals as food and others as pets. Her work and this video have helped many people see how our food choices may be out of alignment with our true values. This is a great video to send to "animal lovers" who still eat meat!
"What Animals Are Thinking and Feeling, and Why It Should Matter" – Dr. Carl Safina
Dr. Carl Safina has a PhD in ecology form Rutgers University, giving him important insights into animals and our relationship with them. He's received Macarthur, Pew, and Guggenheim Fellowships. Currently, he also is the inaugural endowed professor for nature and humanity at Stony Brook University. You might know him from the 10-part PBS series entitled Saving the Ocean with Carl Safina.
In this talk, Safina dives deep into the lives and minds of animals. He points out that many species show an incredible capacity for intelligence and emotion. In fact, "it" or "animal" does little to convey the profound diversity and depth of animal life on this planet. And despite the beauty of biodiversity, we are, unfortunately, harming life everywhere on the planet. This is the urgent focus at the heart of this talk.
"A Lesson in Turning Adversaries Into Allies" – Leah Garcés
Leah Garcés is currently the president of Mercy for Animals, one of the United States' largest organizations lobbying for animal welfare. Her book Grilled: Turning Adversaries into Allies to Change the Chicken Industry came out in 2019 via Bloomsbury. The book follows her efforts to reduce animal suffering in the chicken industry. She achieves this by working with whistleblowing chicken farmers to expose the horrible conditions rampant in the chicken industry.
In this talk, which is a condensed version of her book, Garcés discusses how to negotiate with adversaries so that you can work together to find a solution. Specifically, this talk focuses on how Garcés developed an ambitious plan to end chicken factory farming with a chicken farmer, the last person you'd expect her to work with.
"Olympic Level Compassion" – Dotsie Bausch
Dotsie Bausch has been on an incredible journey that has seen incredible highs and lows. She was once a model that recovered from anorexia and then became a silver-medal Olympian in cycling. She's now devoted herself to public speaking and running a nonprofit, Switch4Good. Her nonprofit is all about helping people transition to veganism for good.
In this talk, Bausch inspires listeners to be the very best version they can be by embracing compassion. This involves, of course, rethinking how we think about food and recognizing the impact that eating meat has on animals and the environment.
"Food as Medicine" – Dr. Michael Greger
Dr. Michael Greger is the founder of NutritionFacts.org, one of the most helpful sites on the internet for learning facts from fiction when it comes to nutrition. Dr. Greger is an American physician, author, and public speaker.
In this talk, Dr. Greger speaks to the incredible power of a whole foods, plant-based diet. He has seen that this diet can prevent, treat, and reverse many common diseases that affect the Western world. He suggests that food can truly be medicine. However, he points out that nutrition is hardly taught (or not taught at all) in most medical schools. "I don't mind dying. I just don't want it to be my own fault." This nugget from his talk reinforces the point that we can take control of our health and that going vegan can be incredibly empowering!
"Tackling Diabetes with a Bold New Dietary Approach" – Dr. Neal Barnard
Neal Barnard is an MD and Adjunct Professor of Medicine at the George Washington University School of Medicine. He's also the President of the Physicians Committee for Responsible Medicine, a group of doctors that advocate for preventative medicine, good nutrition, and higher ethical standards in scientific and medical research. He's the author of many books, including The Cheese Trap (the book that finally pushed me to give up cheese)!
Dr. Barnard points out in this talk that there's a lot more at play than just sugar when it comes to diabetes. He notes that there are three important ways to help prevent, treat, and even reverse diabetes:
Avoid animal products (i.e. eating plant-based)
Minimize the use of oils
Opt for whole grains
"The Most Powerful Strategy for Healing People and the Planet" – Dr. Michael Klaper
Dr. Klaper is a physician, educator, author, and public speaker who has practiced medicine for more than forty years. He helped contribute to two PBS television programs, "Food for Thought" and "Diet for a New America." In addition, he contributed to the documentary, What the Health.
In this talk, Dr. Klaper speaks of his awakening to animal suffering in the pursuit of living a more non-violent life. He also speaks to the power of plant-based eating and how it's an anti-inflammatory and antioxidant-rich diet. He argues that doctors need to begin thinking about the central role of diet when it comes to health. As he points out, "Your genes may load the gun, but it's your diet and lifestyle that pull the trigger."
"How We Could Eat Real Meat Without Harming Animals" – Isha Datar
Isha Datar is a pioneer in the growing field of cellular agriculture, which might very well revolutionize how we eat. Since publishing "Possibilities for an in-vitro meat production system" in 2010, Datar has tirelessly pursued this field. She has the idea to create animal products made without any animals at all!
Although many vegans might never want to consume lab meat, in this video Datar does an admirable job at breaking down the science behind cellular agriculture. She also explains how this could revolutionize the world and cause much less animal suffering at the same time. This is an especially good video to share with your science/tech-oriented friends!
"Plant-strong & Health Living" – Rip Esselstyn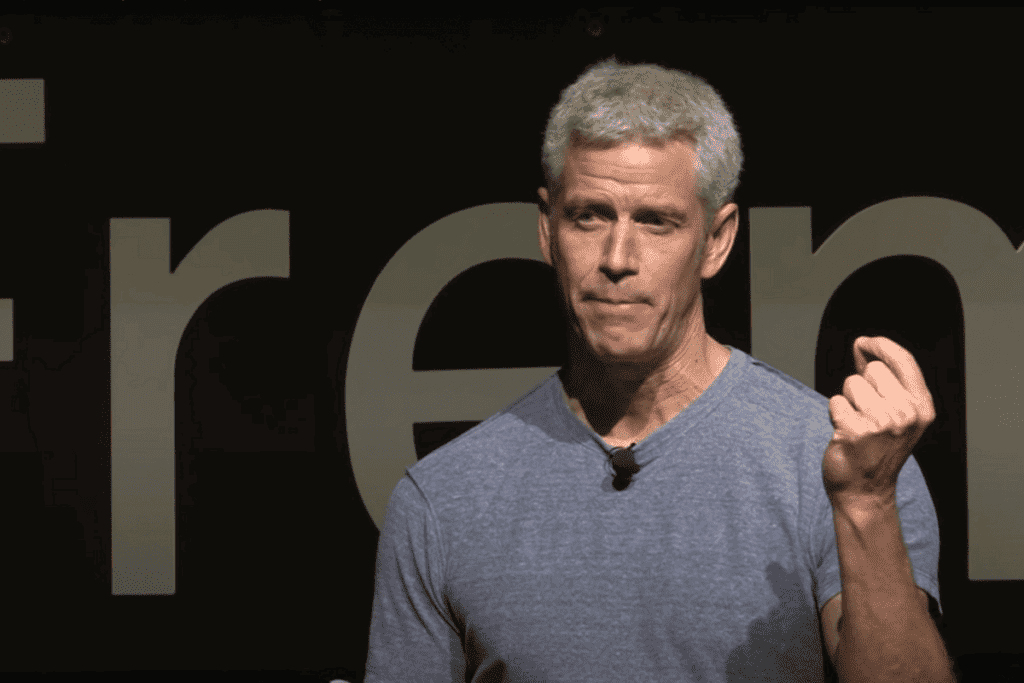 Rip Esselstyn is a former firefighter and author of The Engine 2 Diet. The book advocates for a plant-focused diet to help combat chronic diseases. Esselstyn even inspired his fellow firefighters in Austin, Texas to begin following a plant-based diet and dramatically improve their health. You can check out his website at PlantStrong to learn more about their food line, meal planner, and other programs. His father, Dr. Caldwell Esselstyn, is also a famous cardiologist (and still going strong at 87!). His father has long preached the benefits of eating plant based to prevent and reverse heart disease.
In this video, Esselstyn takes us through his journey as a firefighter where he realized that food is essential to turning around our health. Specifically, "plant-based nutrition" is key to making us healthier humans. He debunks the stereotype that "meat is manly" and shares other ways he helped his fellow firefighters see why a plant-based diet is the healthiest diet there is. Ultimately, he concludes, this way of life is not about "deprivation, but empowerment." Powerful stuff!
Wrapping Up
These TED Talks are an amazing way to educate not only yourself as a vegan (or would-be vegan) but your friends and family too! For better or worse, many people are more likely to be open to the arguments of a third party rather than someone they know personally. Exposing people to the insight of these charismatic authorities on veganism might very well convince them to go vegan or at least consider their food choices with more care!
If you enjoyed this article about vegan TED Talks, find more vegan resources below: