If you've been looking for a recipe that blends the sweetness of strawberries with the fresh herbaceousness of rosemary, look no further than these mouthwatering Vegan Strawberry Scones. And, while the simple and versatile 7-ingredient vegan scone base can be used for any number of add-ins, trust me when I say, this delightful berry-herb combo will titillate your tongue!
In need of some more make-ahead, grab-and-go breakfast inspo? Check out my plant-based recipes for cranberry orange muffins, apple cinnamon rolls, vegan Starbucks egg bites, and overnight chia pudding next!
Imagine biting into a warm, tender scone, the fragrance of fresh strawberries wafting through the air, and the subtle earthiness of rosemary dancing on your palate. The vibrant red strawberries lend a burst of juicy, sweet-tart freshness, while the rosemary adds an unexpected and delightful herbal twist. This unique pairing is sure to be the talk of your next ladies' brunch.
What's even better is I've cracked the code on incorporating whole grain goodness in these delightful vegan berry scones. Using a mix of AP flour and whole wheat flour means you get just the right amount of crumbliness with an intoxicating hint of nuttiness (plus that added boost of fiber!). A vegan strawberry dessert that's tasty AND kinda healthy? Sign me up! 🙋🏼‍♀️
Scones can be a tough recipe to crack. Nine times out of ten, scones turn out dry and taste more like cardboard than a yummy treat. Luckily I have gone through many o' scone recipes to discover a foolproof recipe for perfect, buttery vegan scones.
One of the best parts of scones is that you most likely have all the ingredients you need to bake these babies up sitting in your pantry right now!
Recipe Ingredients
For the Vegan Scone Base
Remember, this basic scone recipe can easily be used to accommodate any of your favorite mix-ins. What I'm trying to say is, bookmark this recipe — you'll come back to it again and again!
Plant-Based Eggs - For binding the dough. I use Follow Your Heart's Vegan Egg or Bob's Red Mill Egg Replacer.
Almond Milk - Any unsweetened plain or vanilla-flavored vegan milk will work here. Make sure to reach for plain instead of vanilla if you opt to use the base for a savory scone recipe.
All-Purpose Flour & Whole Wheat Flour - The mixture of whole grain flour and plain flour gives this vegan strawberry recipe the ideal scone texture while adding a hint of nuttiness and the wholesome goodness of whole wheat.
Baking Powder - Not to be confused with baking soda, this leavening agent is what helps these scones puff up to perfection.
Cold Butter - By cold I mean COLD. I like to store mine in the fridge and grate it on a box grater to make it super easy to mix into the dough without over-mixing. 😉
Salt - It's wild as heck, but adding a touch of salt makes sweet things taste sweeter.
For the Add-Ins
These vegan strawberry rosemary scones are the pinnacle of flavor sophistication. Here's what you'll need to make the magic happen:
Ground Cloves & Allspice - For warmth. If you only have whole cloves or allspice berries, try blitzing them in a clean coffee grinder.
Nutmeg - If possible, grab whole nutmeg and use a microplane to rasp it in fresh. The flavor is so much more potent, plus the whole spices are way more shelf-stable than pre-ground ones!
Fresh Rosemary - In a pinch, you can use dried rosemary or a 3-5 drops of food-grade rosemary essential oil.
Star Anise - This beautiful spice adds tons of personality to these vegan scones.
Strawberries - You're welcome to use either fresh berries or frozen ones. Just note that frozen ones are more likely to leave streaks of juice in your dough if they're defrosted.
Optional Add-Ins/Variations
While I love this scrumdiddlyumptious recipe for strawberry rosemary scones, you have tons of leeway to choose your own favorite fillings. Here are some other fun flavor combos to try using the same scone base:
Vegan Blueberry Lemon Scones - Swap the strawberries for blueberries and add the zest of a full lemon to the dough in lieu of the herbs and warming spices.
Vegan Chocolate Chip Scones - Use vegan chocolate chips instead of berries and omit the herbs and warming spices (or, add a touch of cinnamon for some coziness!).
Vegan Cherry Vanilla Scones - Use chopped cocktail cherries (I love Morello cherries from Trader Joe's) instead of strawberries and add a hefty tablespoon of vanilla extract to the dough in lieu of the herbs and spices.
Vegan Orange and Cranberry Scones - Swap the rosemary for orange zest and add either fresh or dried cranberries instead of strawberries.
Vegan Cheddar & Chive Scones - Go savory by adding ½ cup of shredded vegan cheddar and 2 tablespoons of chopped chives to the dough instead of adding the herbs, spices, or berries. Bonus points if you add vegan bacon!
Why You'll Love This Recipe
Aside from being an absolute delight to eat, though, this recipe for strawberry rosemary scones is also:
Versatile - One of the best parts about my simple vegan scone recipe is how you can totally transform it into dozens of delicious treats. Whether you're in the mood for vegan savory scones or vegan blueberry scones, the simple base is perfect for any of your favorite mix-ins.
Quick, Easy, & Foolproof - Don't worry, you don't need to be a master baker to create these heavenly treats — my vegan strawberry scones recipe is easy enough for even the most novice home cooks to nail.
Tender, Crumbly, & Ready for Tea Time - Some (many 🤦🏼‍♀️) of the vegan scones I've tried are dry as dust and bland to boot. Luckily, I've cracked the code on how to make the best dang strawberry shortbread scones around! If Kate & William were to suddenly drop by, you'd be totally prepared with this vegan strawberry recipe.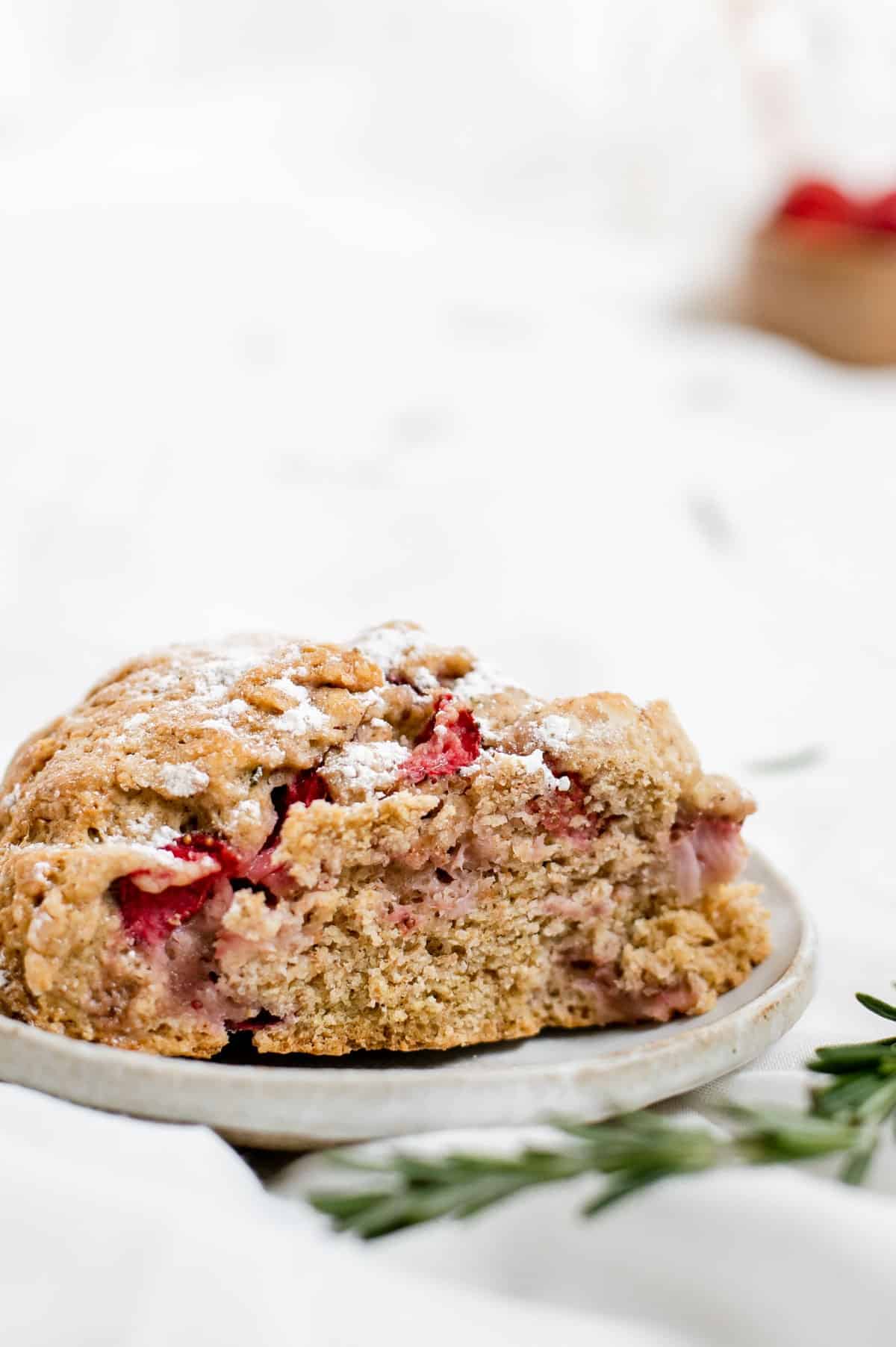 Let me know if you try out this vegan strawberry scones with rosemary, and if you do, I would love it if you left a rating and review below! Make sure you are also following along on Instagram and Pinterest for more food inspiration.
Related Recipes
If you want more fruit-filled treats, try these recipes next:
Print
📖 Recipe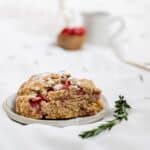 Vegan Strawberry Scones with Rosemary
---
Author:

Total Time:

45 minutes

Yield:

8

Thick Scones

1

x

Diet:

Vegan
Description
Finally – thick, flaky vegan scones that ooze with buttery goodness when you bite into them! 
---
For the Base:
For the Add-Ins:
½ teaspoon

 ground cloves

¼ teaspoon

 allspice

¼ teaspoon

 nutmeg (or to taste)

2 tablespoons

 fresh, chopped rosemary
A couple of star anise

1 tablespoon

 water

1 cup

 diced strawberries
---
Instructions
Preheat the oven to 450° and line a baking sheet with parchment paper.
In a small bowl, combine the eggs and almond milk and set aside.
In a large bowl, combine the all-purpose flour, whole wheat flour, baking powder and salt. Once the dry ingredients are mixed together, place the bowl in the freezer for 10 minutes.
While the dry ingredients are chilling, add 1 tablespoon of water, a sprig of rosemary and a couple of star anise to a small pot. Bring water to a boil and set aside off the heat for 10 minutes so the water infuses with the herbs.
Using your fingers or a pastry cutter, break up the butter and combine it with the dry ingredients. If the butter starts to feel too warm at any point, place the bowl in the freezer for a couple minutes. There should still be small pieces of butter in your mixture after you are done combining.
Remove the rosemary and star anise from the pot and combine with the egg and milk mixture.
Add the milk mixture, cloves, allspice, nutmeg and rosemary to the flour mixture and mix together with a rubber spatula. Remember to not over-mix!
Fold in strawberries and place the bowl in the refrigerator for 10 minutes.
Place the dough onto the baking sheet. Flour your hands so the dough doesn't stick to you and form the dough into a circle that is roughly 1 ½ inches thick.
Using a sharp knife, cut the disc into 8 wedges. Separate the wedges slightly so they have room to expand in the oven.
Brush the top of the scones with heavy cream.
Bake the scones for 15-20 minutes or until the edges just start to brown.
Allow the scones to cool and top with coarse salt or powdered sugar. Pair your scones with a cup of hot coffee or tea and you have yourself a delicious breakfast! Scones will keep well in the refrigerator for about 5 days or they freeze super well for up to a month.
Notes
Toss the strawberries in a little bit of flour before you mix it in with the dough. This will ensure all of the fruit doesn't fall to the bottom of your tasty treats.
Prep Time:

30 Minutes

Cook Time:

15 Minutes

Category:

Breakfast

Cuisine:

Scones
Nutrition
Serving Size:

1 Scone

Calories:

204

Sugar:

1.5g

Sodium:

162mg

Fat:

8.3g

Saturated Fat:

2.1g

Carbohydrates:

28.1g

Fiber:

2g

Protein:

4.3g

Cholesterol:

0mg
Keywords: breakfast, sweet, scones, strawberries, rosemary