A vegan tropical smoothie filled with strawberries, mangos, peaches, and pineapple. This is an easy breakfast idea or a perfect midday snack!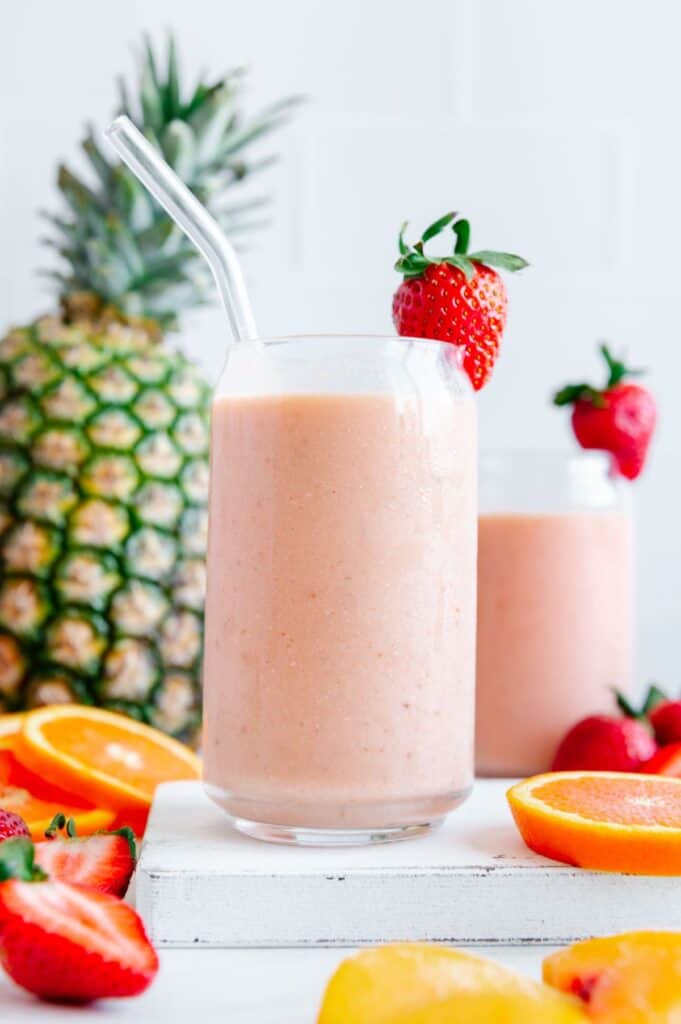 There are few things lovelier than spending time on a tropical island, eating all the fresh, delicious fruit your heart desires. That said, very few of us can afford to move to or vacation extensively in the tropics. So, what to do? Try my vegan tropical smoothie recipe! One sweet sip with your eyes closed and you'll be transported to the likes of Hawaii or Tahiti!
This vegan tropical smoothie is bursting with flavor from strawberries, mango, peaches, and pineapple. It also packs a lot of nutrition and is a healthier version of the Caribbean Passion smoothie from the smoothie chain Jamba Juice. This smoothie easily gets you your daily recommended amount of vitamin C, which is important for a healthy immune system!
You can enjoy this vegan smoothie as an easy breakfast idea or as a tasty midday snack. So, read on to learn how to make this delicious smoothie!
Are Smoothies Healthy?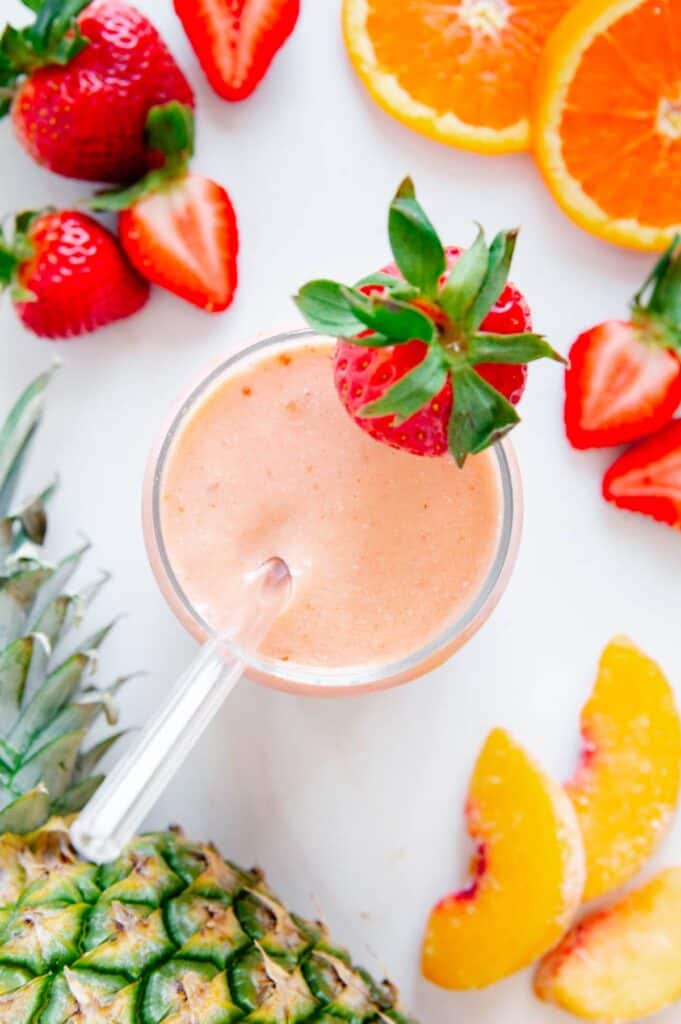 Are smoothies healthy? The short answer is that it depends! Ultimately, smoothies are only as healthy as what you put in them.
We tend to drink smoothies quickly, which can spike blood sugar levels, especially if the smoothie is particularly sweet. Smoothies generally contain fruit, which has natural sugars. So, it's a good idea to sip your smoothie slowly to avoid this spike in blood sugar. And while smoothies tend to contain lots of sugar, they're still definitely much healthier than eating things like cake, cookies, and most other sweets.
In addition, the sizes offered at most smoothie chains are often far larger than is healthy to consume at one time. In general, it pays to be particularly careful if you're buying pre-made smoothies. They often contain extremely high levels of sugar and other unhealthy ingredients that may be inflammatory, such as dairy.
Overall, though, yes, smoothies are good for you! Smoothies are also easier to digest as the "chewing" has already been done for you by the blender. They can contain a good amount of fiber, vitamins and minerals, and even protein.
Just in this recipe alone, for example, you're getting a ton of benefits from the different fruits. See the ingredient section below to learn more!
For people who may not enjoy fruits and vegetables very much, smoothies can also be an easy way to boost your intake of these vital food groups. They're also a great way to add in certain supplements that may otherwise be less enjoyable to consume (e.g. flax seeds, protein powder, etc.).
The best way to ensure that your smoothie is healthy, however, is to make it yourself! All you need is a blender, and my vegan tropical smoothie recipe is a great way for you to get started! One great thing about smoothies, however, is that they're super versatile, so you should always feel free to tailor recipes how you like and get creative.
Tropical Smoothie Ingredients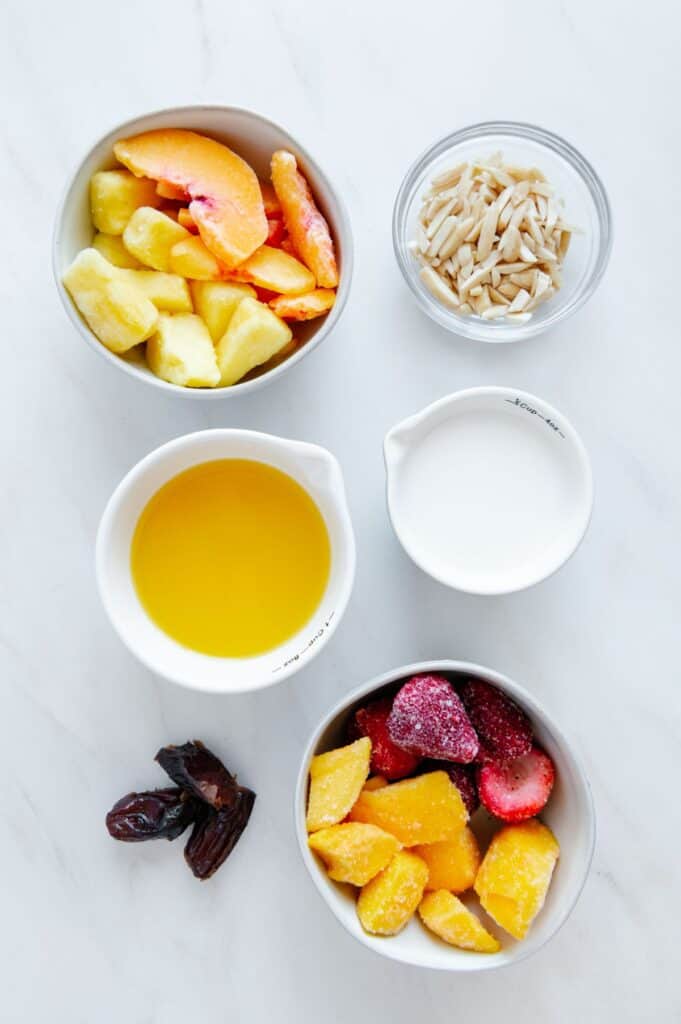 Some of these ingredients are vegan staples so you may have them on hand!
Frozen strawberries – Did you know the strawberry we all eat today is actually a European hybrid of two other varieties (Chilean and North American)? These delicious, bright red berries pack a ton of vitamin C and manganese. They're also a good source of folate (B9), potassium, and antioxidants!
Frozen mango – Mango is actually thought to be the world's most consumed fruit! It's a stone fruit, which means it has a pit (i.e. seed) in the center. Mango can take a little time to learn how to cut properly, but if you buy frozen for this recipe then they're likely already cubed. Like many tropical fruits, mango is high in vitamin C as well as many other nutrients: copper, B-vitamins (B9, B6), and vitamins A, E, and K (among others).
Frozen peaches – Peaches are another stone fruit and they're thought to have been eaten in China for at least 8,000 years! While not quite as nutritious as strawberries or mango, peaches deliver vitamin C, potassium, and vitamin E, not to mention fiber, of course.
Frozen pineapple – Pineapple owes its name to European explorers who thought it bore resemblance to a pinecone. In addition to being crazy delicious, pineapple is another nutrition-packed tropical fruit. Just one cup of pineapple delivers more than 100% of the daily recommended amount of vitamin C! It's also very high in manganese and has small to moderate amounts of many other vitamins and minerals. Some compounds found inside of pineapple are also potent antioxidants. The bromelain that they contain (the stuff that makes your mouth feel funny if you eat a lot) may also help ease digestion.
Coconut milk – Coconut milk is relatively high in calories but it also contains a lot of nutrients. This is what gives this recipe a lovely richness and creaminess. You can also use coconut cream if that's what you have on hand—just know that you'll have a richer recipe if you don't also add some water or other liquid.
Orange juice – Oranges, as you probably know well, contain a lot of vitamin C, just like other citrus fruits as well as the tropical fruits used in this recipe. While orange juice can be acidic and high in sugar, when consumed in moderation it can help us easily meet our daily vitamin C requirement. I highly recomend squeezing fresh orange juice for this smoothie if you have the time!
Medjool dates – Medjool dates are an interesting way that you can add sweetness to your smoothies and other recipes. Compared to regular sugar, you're getting many more nutrients by using Medjool dates, including selenium, magnesium, calcium, potassium, and copper. As they're also high in fiber, they'll help keep you fuller longer than regular sugar would.
Slivered almonds – I add the slivered almonds as they help make the smoothie even creamier and more nutritious. You can omit them, of course, if you don't have any or prefer that the recipe is nut free. In general, almonds are a great source of nutrients including fiber and protein. They're also particularly high in vitamin E, manganese, and magnesium.
Smoothie Tips
Whether you're brand new to making smoothies or consider yourself a smoothie expert, I've got lots of tips for you that may help you take your smoothie game to the next level!
Get a thicker and creamier (and colder!) smoothie by using all frozen fruits. You also can use less ice this way, which is good as a lot of ice can end up diluting the flavor.
Not all blenders are created equal! In fact, you'll find that some just don't have what it takes to blend up frozen fruit and/or ice effectively. This may be a weak motor or dull blades. Depending on the strength of your blender, you may need to add more or less liquid in order for it to blend properly.
Smoothies are super customizable! So, feel free to deviate from this recipe or any other and do your own thing. You can add more tropical fruits (e.g. papaya, passionfruit, guava, etc.) or switch up the liquids. You could try coconut water, coconut milk, other juices—whatever you prefer!
Boosting the nutrition in smoothies is quite easy! You can always add chia seeds, flax meal, spinach, kale, protein powder, mushroom powder, or any other supplements you have on hand.
Speaking of additions, add some nice crunch on top of your smoothie with granola, nuts, or seeds. You can also pour your smoothie into a bowl with some granola and sliced fruit to create what's known as a smoothie bowl.
Want to make enough for the whole family or have leftovers for convenience sake? Make double or triple the recipe!
If you're all about meal prepping, add the portioned-out frozen fruit and almonds to a freezer-friendly bag. In the morning, all you have to do is add the liquid and dates when you're ready! I recommend leaving the dates out of the freezer bag though or they will be really tough to blend (no matter how good your blender is!).
Step-by-Step Recipe Instructions
This recipe is just TWO steps, and your blender does all of the work!
In a high-speed blender, add all of the ingredients and blend until smooth and creamy. Add more liquid or more frozen fruit depending on what type of consistency you like.
Pour into two glasses and enjoy immediately!
Why You'll Love This Recipe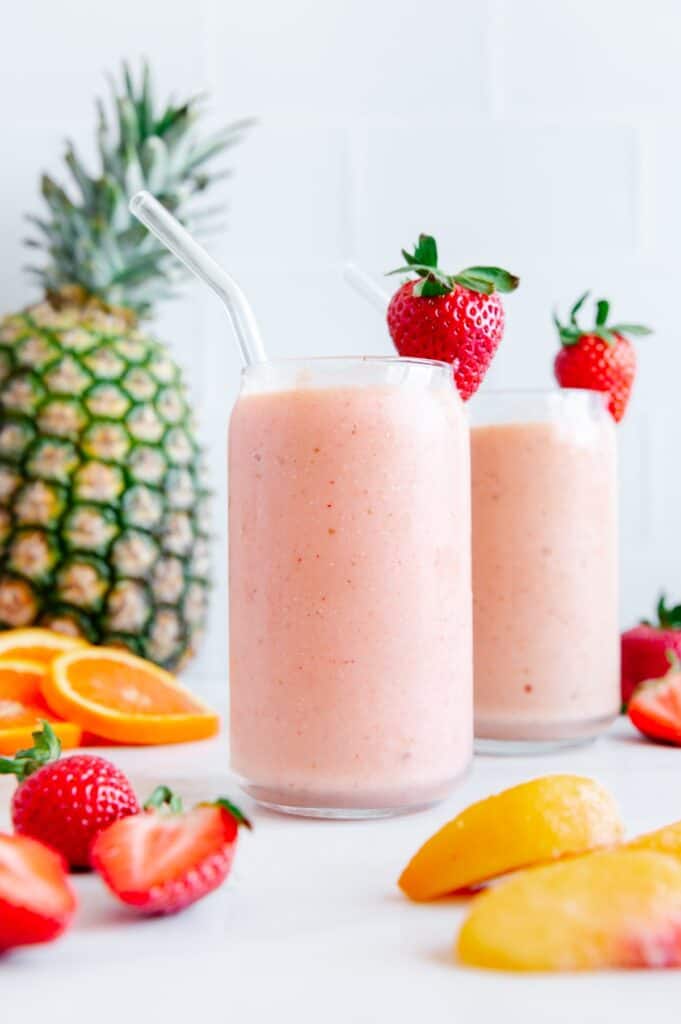 This recipe is a healthier version of the Caribbean Passion smoothie by Jamba Juice. Full of nutrition, it's also a breeze to whip up and is guaranteed to transport you straight to the tropics with each sip! This smoothie is...
Healthier – Naturally sweetened with frozen fruit and dates, this recipe is much healthier than the kinds of smoothies you get from smoothie chains and grocery stores. Plus, all the fruit helps provide you with plenty of fiber as well as an array of vitamins and minerals.
Simple – This smoothie should only take about five minutes to put together and it's a very simple process. You can even show kids how to make it as a fun and healthy activity!
Delicious – Strawberries, pineapple, mango, peaches… enough said! These fruits are all delicious on their own, but combine them and you get a wonderful tropical flavor.
Let me know if you try out this recipe for a vegan tropical smoothie, and if you do, I would love it if you left a rating and review below! Make sure you are also following along on Instagram and Pinterest for more food inspiration.
Try more vegan breakfast recipes here:
Print
📖 Recipe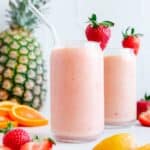 Vegan Tropical Smoothie
---
Author:

Total Time:

5 minutes

Yield:

2

smoothies

1

x

Diet:

Vegan
Description
A vegan tropical smoothie filled with strawberries, mangos, peaches, and pineapple. This is an easy breakfast idea or a perfect midday snack!
---
¾ cup

frozen strawberries

¾ cup

frozen mango

½ cup

frozen peaches

½ cup

frozen pineapple

¾ cup

coconut milk

¾ cup

orange juice

¼ cup

slivered almonds

3

pitted Medjool dates
---
Instructions
In a high-speed blender, add all of the ingredients and blend until smooth and creamy. Add more liquid or more frozen fruit depending on what type of consistency you like.
Pour into two glasses and enjoy immediately!
Notes
If your blender is having trouble blending, add a little more orange juice or coconut milk.
Prep Time:

5 Minutes

Cook Time:

0 Minutes

Category:

Drink

Method:

Blender

Cuisine:

American
Nutrition
Serving Size:

1 smoothie

Calories:

302

Sugar:

64.1g

Sodium:

32mg

Fat:

2.2g

Saturated Fat:

2g

Carbohydrates:

73.8g

Fiber:

6.4g

Protein:

2.5g

Cholesterol:

0mg
Keywords: jamba juice smoothie, tropical smoothie, mango, pineapple, strawberry, no banana smoothie
Pin the Image Below to Save this Recipe!