Hooray for the summer BBQ season! These grilled vegan tofu burgers are healthy, easy to make, and perfect for vegans, vegetarians, and meat lovers. It even sneaks in some vegetables and LOTS of fresh herbs.
Grilling season is here in full force! But, as a vegan, you might wonder what on earth do you bring to a summer BBQ? Well, this recipe for grilled vegan tofu burgers is tasty and allows you to join in on all the BBQ fun!
I have found that most plant-based burgers can be hit or miss. There are many burgers that I've tried that absolutely don't do it for me, they're dry, flavorless, and leave much to the imagination. That is exactly why I wanted to make a drool-worthy vegan burger that checks alllllllll the boxes!
These grilled vegan tofu burgers are filled with veggies like zucchini, bok choy, and spinach, so you feel good about eating them. They are also loaded with herbs to give them an incredible, fresh flavor. I can't wait for you to try these for yourself!
What Type of Tofu is Best for Burgers?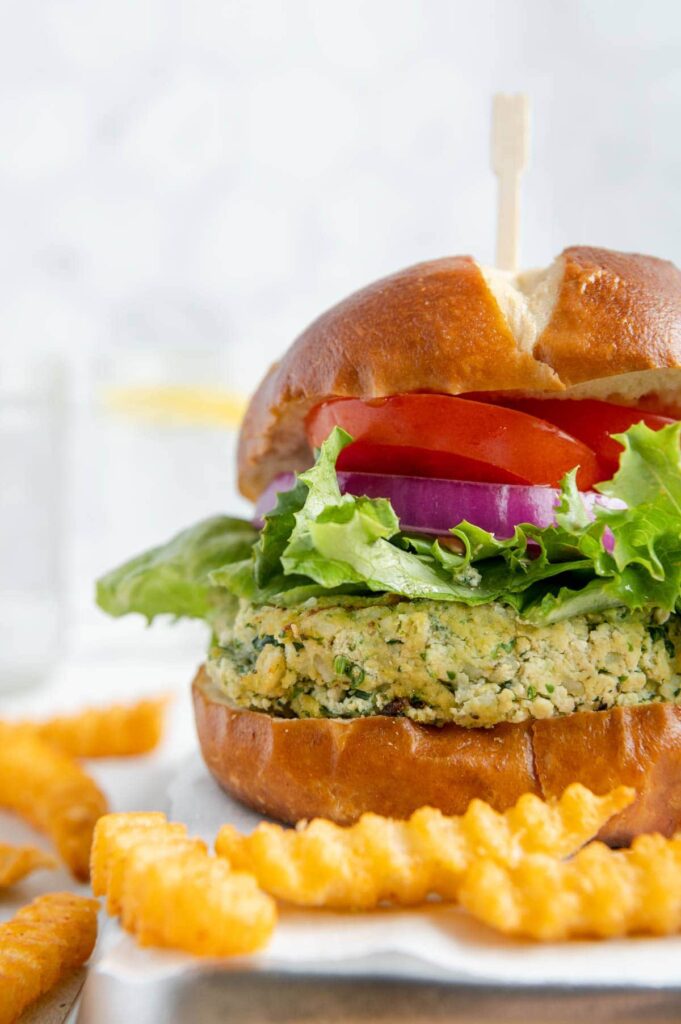 When you arrive at the tofu section of your local grocery store, there are so many options. Extra-firm tofu, silken tofu, medium tofu... why the heck are there so many different kinds of tofu, and what are they for?!
Here are the main uses for the different types of tofu:
Silken Tofu: This tofu has the highest water content and a silky smooth texture. Silken tofu is great to use in recipes that need a creamy texture like smoothies, pudding, desserts, and dips.
Medium Tofu: Medium tofu is exactly as it sounds, somewhere in-between silken and extra-firm tofu. It is studier than silken tofu but will still fall apart when handled. It is best used sliced and dropped into soups.
Firm Tofu: Firm tofu is probably the most widely available and widely used tofu. It is a great middle-ground and can hold up well when sautéed, baked, glazed, or battered. Also, firm tofu absorbs flavors well and is delicious when marinated.
Extra-Firm Tofu: This type of tofu has the lowest water content, making it stand up well if pan-frying, battering, or grilling. Its only downside is it doesn't absorb marinades as well as the other types of tofu.
I decided to go with firm tofu for this recipe since it can easily mix with the other ingredients and absorb all of the flavors we're adding to it!
How to Grill Tofu Burgers
Probably the trickiest part of this recipe - the grilling! Tofu is high in water content and low in natural fats, which is the complete opposite of real burgers. This means that tofu can easily stick to grill grates or completely fall through them.
To avoid this, here are some tips to ensure your tofu burgers make it through the grilling process:
First things first, press your tofu! I'm going to be honest, I used to completely skip this step in many recipes when I first started eating tofu. BIG mistake! Pressing the tofu squeezes out all of the water. By getting rid of all of the water, the tofu can absorb more flavors and crisp up. If you don't remove the majority of the water, it results in flavorless, mushy tofu.
Start with a clean grill. Over time, stuff can get caked onto the grill grates from your past grilling sessions. So before putting your tofu burgers on the grill, preheat it for 10-15 minutes with the lid on so it gets nice and hot. Then, use a grill brush to give everything a really nice scrub.
Make sure you have a well-oiled grill and a well-oiled patty. First, oil up the grill by brushing oil directly onto the grill grates, wait 30 seconds and repeat a couple of times so the grates get a nice layer of oil. Then, right before you are ready to grill, brush each of the patties with oil too.
If you really want to avoid any possibility of the tofu burgers sticking to the grill, pre-cook them before putting them on the grill. Simply cook the burgers on a nonstick pan for 1-2 minutes on each side. This will firm them up a bit and give them a nice outer layer that won't stick to the grill.
Recipe Tips
Why do you have to press tofu?
Pressing the tofu first is an essential part of the cooking process. By squeezing out all of the excess water, the tofu can absorb more flavor and get a crispy outer layer on the grill. Trust me, don't skip this step!
What do tofu burgers taste like?
In general, tofu is pretty bland tasting. On the other hand, tofu can absorb and blend well with the flavors it cooks with. For this recipe,
Grilled vegan tofu burgers topping ideas.
The possibilities are endless for toppings! My personal favorite is a slice of vegan cheese, lettuce, avocado, tomato, and caramelized onions. Other options include pickles, red onions, vegan bacon, barbeque sauce, whatever your tastebuds desire!
Are tofu burgers healthy?
These tofu burgers are a healthier option than beef or turkey burgers (yay for cutting out a lot of that saturated fat). One patty is less than ONE HUNDRED calories! Once you add the bun, toppings, and sides, that will definitely give you a hearty and delicious meal.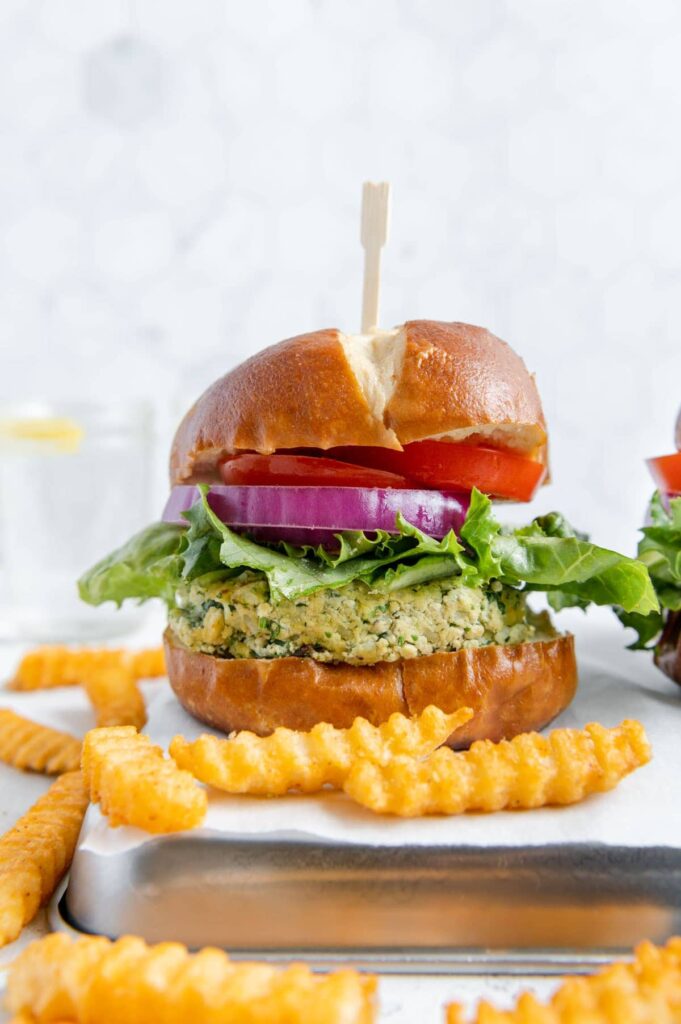 These grilled vegan tofu burgers are going to become a summer staple because they're:
Hearty
Savory
Flavorful
Packed with veggies
Smoky
Easy to make
Customizable
Perfect for summer BBQ's
Let me know if you try out this grilled vegan tofu burger recipe, and if you do, I would love it if you left a rating and review below! Make sure you are also following along on Instagram and Pinterest for more food inspiration.
Try Other Delicious Vegan Recipes:
Print
📖 Recipe
Grilled Vegan Tofu Burgers
---
Author:

Total Time:

50-60 Minutes

Yield:

12

Burger Patties

1

x

Diet:

Vegan
Description
Hooray for the summer BBQ season! These grilled vegan tofu burgers are healthy, easy to make, and perfect for vegans, vegetarians, and meat lovers. It even sneaks in some vegetables and LOTS of fresh herbs.
---
Two

14 ounce

packages of firm tofu

1 ½ cups

cooked brown rice

1 cup

spinach, finely diced

¾ cup

bok choy (white part only), finely diced

1 cup

zucchini, chopped

1 tablespoon

jalapeño, finely diced

¼ cup

parsley, roughly chopped

¼ cup

cilantro, roughly chopped

2 teaspoons

fresh mint, roughly chopped

4

garlic cloves, minced

1 tablespoon

apple cider vinegar

½ teaspoon

white pepper

2 teaspoons

salt, divided

⅓ cup

scallions (green part only), thinly sliced

¾ cup

brown rice flour

1 tablespoon

baking powder

1 tablespoon

dry marjoram

¼ teaspoon

dry dill

1 tablespoon

olive oil for grilling
Optional Topping Ideas:
Romaine lettuce
Tomatoes
Red onion
Caramelized onions
Pickles
Vegan cheese slices (I love the Violife cheddar slices)
Vegan bacon ( I love the Lightlife bacon)
Avocado
Ketchup
Mustard
Vegan mayonnaise
BBQ sauce
---
Instructions
Place each block of tofu between a couple of paper towels. Squeeze out the moisture by placing something with weight like a cookbook on top of the tofu. Let the tofu sit for about 10 minutes.
In a large mixing bowl, crumble the tofu with the brown rice. Knead together until well combined. Then, add the spinach and bok choy, and knead again until well combined.
In a high-speed blender, add the zucchini, jalapeño, parsley, cilantro, mint, garlic, apple cider vinegar, white pepper, and 1 teaspoon of salt. Blend until smooth.
Add the blender mixture to the tofu mixture and knead together.
Add the scallions, brown rice flour, baking powder, majoram, dill, and another teaspoon of salt to the tofu mixture. Knead to combine.
Form 4 ounce patties from that are a little more than an inch thick. You should be able to make about 12 patties.
If cooking on the stovetop, heat a cast iron grill pan or skillet over medium heat with 1 tablespoon of oil. Once the pan is heated through, add 3-4 patties to the pan. Cook for about 5 minutes on each side or until golden brown with beautiful grill marks.
If cooking on the grill, preheat the grill to about 375°F (medium heat). Brush each patty on both sides with oil. Place the patties directly on the grill, close the lid and cook the burgers for about 8-10 minutes on each side until they're slightly charred with beautiful grill marks.
Enjoy immediately with or without buns and your desired toppings!
Notes
The easiest and my personal favorite way to cook brown rice is in an Instant Pot. First, rinse the brown rice under water until the water runs clear. Add 1 ½ cups of brown rice with 1 ½ cups of water to your Instant Pot. Cook on high pressure for 6 minutes. Allow the steam to release for 5-10 minutes naturally, then remove the lid and fluff with a fork.
For storage, let the burgers cool completely before putting them in an airtight container. They will keep up to 5 days in the refrigerator.
Prep Time:

40 Minutes

Cook Time:

10-20 Minutes

Category:

Entree

Method:

Stovetop or Grill

Cuisine:

American
Nutrition
Serving Size:

1 Burger Patty

Calories:

87

Sugar:

0.4g

Sodium:

397mg

Fat:

2.4g

Saturated Fat:

0.3g

Carbohydrates:

14.2g

Fiber:

1.4g

Protein:

3g

Cholesterol:

0mg
Keywords: vegan burger, grilling, summer recipes, tofu, tofu burger,
Pin the image below so you can enjoy these burgers all summer long!