These vegan Whole Wheat Donuts with Matcha Glaze are about to become your new obsession. These quick and easy vegan doughnuts are the perfect beginner's baking project. They're made with just 13 simple ingredients that you likely already have in your pantry. Plus, I made this healthy baked donuts recipe with a mix of whole grains to nourish your body so you can indulge without any guilt. 
Want some more sneakily healthy treats to scratch your snacking itch? Try my Healthy Vegan Shamrock Shake, 5-Ingredient Chocolate Chia Pudding, or Banana Coffee Smoothie Bowl next!
Jump to:
If mornings aren't your favorite, I strongly suggest making a batch of homemade baked donuts. Even if you stumble out of bed just minutes before you're supposed to leave the house, a matcha donut is the perfect grab-and-go breakfast to start your day with a smile. With the soft, fluffy texture of a cake combined with the earthy-sweet green tea glaze and nutty flavor of whole grains, these green donuts are daggum irrisistible.
Don't think these baked cake donuts are just for breakfast, though; they also make for an ideal post-workout snack. Packed with good-for-you ingredients like oat flour, whole wheat flour, and unsweetened applesauce, my matcha donuts provide a sustained boost of energy to help you conquer the day.
If that's not enough to love, don't fret! These vegan donuts are incredibly versatile, giving you the perfect canvas for your culinary creativity. Feel free to customize the flavors by swapping out the matcha glaze for a variety of delicious alternatives. From luscious chocolate to zesty lemon or dreamy vanilla, the possibilities are endless!
So, if you're looking to nourish your body while satisfying your sweet tooth, this vegan baked donuts recipe is the way to go. Now, let's get to the kitchen so we can fix a batch! 🌈🌱🍩
Recipe Ingredients
As promised, you only need a few simple ingredients to make this baked vegan donuts recipe. Here's what to grab to make the whole grain donuts:
Whole Wheat Flour - I used regular whole wheat flour, but feel free to swap in finer whole wheat pastry flour if you prefer.
Oat Flour - If you don't have any on hand, simply blitz up your own by running old-fashioned rolled oats through a food processor or high-speed blender until nice and fine.
Brown Sugar - Either light or dark brown sugar will work!
Cinnamon & Nutmeg - I love this warming duo of spices. Feel free to experiment with others like cardamom or ginger.
Baking Powder & Baking Soda - You need both kinds of raising agents to get the perfect fluffy texture.
Salt - Adding salt to your sweets mysteriously makes them taste even sweeter.
Almond Milk - This is my preferred milk, but feel free to swap in your choice of unsweetened plain or vanilla-flavored plant-based milk (e.g. soy, oat, or cashew).
Unsweetened Applesauce - This tricky ingredient acts like an egg, binding the batter together and providing an extra touch of sweetness.
Coconut Oil - Use unrefined oil if you prefer the flavor of coconut, or refined if you prefer a neutral flavor. You're also welcome to swap in vegan butter instead.
Maple Syrup - For a bit more sweetness and moisture. Agave nectar can also be used.
For the matcha glaze, you'lll also need:
Powdered Sugar - Also called "icing sugar," this superfine sugar cut with cornstarch is essential to making a smooth, lump-free glaze. If you don't have any, you can easily make your own using white sugar and potato or corn starch.
Matcha Powder - This ceremonial grade green tea powder adds a lovely earthy flavor to the icing while also giving it a gorgeous green hue.
Pro Tips For The Best Vegan Donuts
Don't overfill the donut wells or you'll lose the hole in the center!
Make sure to grease your donut pan thoroughly with cooking spray or a light coating of oil to prevent sticking. Alternatively, you can use silicone donut molds for easier release.
Pay close attention to baking time and temperature. Since this vegan donut recipe has less fat than most non-vegan recipes, they are more likely dry out if overbaked. Start checking for doneness at the earliest recommended time. Remove them from the oven when they are lightly golden and springy to the touch.
Preheat your oven before you start making your vegan matcha cake donut batter. Once baking powder comes in contact with liquid, it starts to work, so you don't want to miss out on that leavening power!
Do a double dip. I find it works best to dip the donuts once in the glaze. Then, allow them to dry, and dip the donuts a second time for a more opaque glaze.
FAQ
When making homemade doughnuts, is it best to use cake flour, all-purpose flour, or whole wheat flour?
For this vegan baked donut recipe, I opted to use a mix of both whole wheat flour and oat flour. Here's why:

The choice of flour can make a significant difference in both texture and flavor for most baked goods, including baked doughnuts. While cake flour and all-purpose flour are commonly used, I decided to go with a healthier combination of whole wheat flour and oat flour. After all, I wanted them to taste like dessert, but eat like a nourishing breakfast!

Whole wheat flour provides a more substantial texture and a subtle hint of earthy nuttiness. Plus, the added fiber and nutrients of the whole grains help to achieve my vision of a world where donuts are not just a tasty choice for breakfast, but a sensible one, too!

Oat flour, which is naturally gluten-free, helps to create a delicate and tender crumb. Oats also boast natural sweetness and a slightly nutty flavor which enhances the overall flavor profile of these donuts while maintaining their 100% whole grain goodness.
How are cake donuts made? Are they baked or fried?
Most of the donuts you'd get from donut shops are fried, whether they're cake donuts or not. However, I find the process of frying to be time-consuming, messy, and generally undesirable from a nutrition standpoint. That's why I designed this vegan doughnut recipe to be baked. Healthy baked doughnuts FTW!
What is the Difference Between Cake Donuts and Regular Donuts?
The age old question when it comes to donuts - regular or cake? Regular donuts (think Krispy Kream Glazed Donuts) are made using yeast. These donuts take much longer to prepare because you have to wait for the yeast to rise, but they result in a light, fluffy and slightly tangy donut.

Cake donuts on the other hand are much quicker to make than regular donuts and include either baking powder or baking soda to act as the leavening agent. The result is a much more dense dough with a slightly crisp outer layer that can handle a lot of delicious toppings!

Now that you know the difference between the two types of donuts, which side are you on? Comment below your thoughts!
Can vegans eat donuts?
If they're eating these healthy baked donuts, they can!
Optional Add-Ins/Variations
Baked Mini Donuts - I don't know what it is about miniature things, but they have a tendency to make me go "AWWWWWW!" Feel free to turn these into mini baked donuts by using a mini donut pan and adjusting the baking time down accordingly.
Swap Your Glaze - Since the whole wheat donuts are simply flavored with sweetness and spice, they'll pair beautifully with just about any glaze or frosting you can think of. Use chocolate ganache for a more decadent treat, or swap in a lemony glaze for something a little brighter. Other options include maple, vanilla, or even pumpkin glazes, so go nuts!
Why You'll Love This Recipe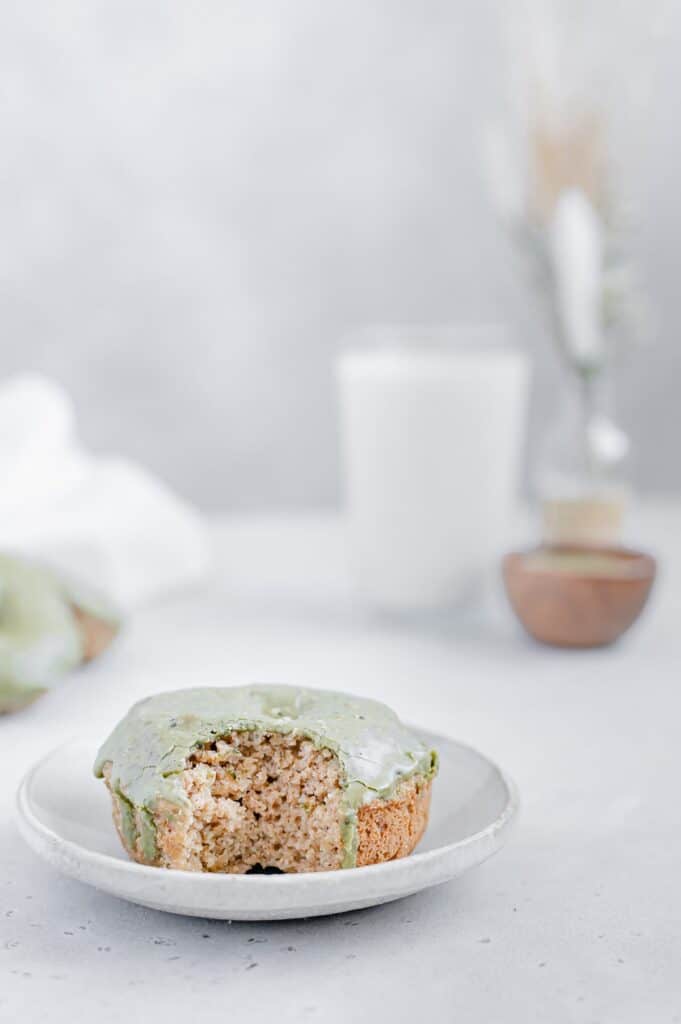 Aside from being absolutely crave-worthy, these baked vegan donuts with a matcha glaze are also:
Quick & Easy - Unlike traditional yeasted donuts, cake donuts use raising agents to give them their tender texture and lofty stature. This considerably cuts down on the prep time, meaning your donuts will be ready for the oven in just 15 minutes!
Wholesome & Nutritious - When I started following the Tone It Up girls, my newfound love for donuts began. They were always baking healthy donuts as part of their meal plans. Healthy and donuts in the same sentence... sign me up! These whole wheat donuts are made of 100% whole grain flour and have very little sugar, so you can satisfy your sweet tooth without any guilt.
Make-Ahead Friendly - If you typically find yourself running out the door without time for a proper meal, these vegan baked donuts are the perfect solution!
Related Recipes
Looking for other vegan dessert recipes like this? Try these:
Print
📖 Recipe
Matcha Glazed Donuts
---
Author:

Total Time:

25-30 Minutes

Yield:

8

Standard Donuts or

16

Mini Donuts

1

x

Diet:

Vegan
Description
These super moist donuts are baked and topped with a vibrant matcha glaze, moist and delicious on their own or with a glass of milk!
---
For the donuts
1 cup

whole wheat flour

1 cup

oat flour

¼ cup

brown sugar

1 teaspoon

cinnamon

1 teaspoon

nutmeg

2 teaspoons

baking powder

½ teaspoon

baking soda

½ teaspoon

salt

¾ cups

almond milk*

¼ cup

applesauce

¼ cup

melted coconut oil

¼ cup

maple syrup
For the glaze
1 cup

powdered sugar

½ teaspoon

matcha powder

2 tablespoons

almond milk*
---
Instructions
Pre-heat oven to 350°, grease donut tin with coconut spray or vegan butter.
Whisk together all dry ingredients (whole wheat flour, oat flour, brown sugar, cinnamon, nutmeg, baking powder, baking soda and salt) and set aside.
Whisk together all wet ingredients (almond milk, applesauce, coconut oil and maple syrup).
Slowly add dry ingredients to wet ingredients, whisking to combine.
Spoon batter into a piping bag or Ziploc bag and cut off the corner. Pipe dough into the donut tin.*
Bake for 10-15 minutes or until a knife comes out clean. I cooked the mini donuts for 10 minutes and the standard donuts for 15.
Allow the donuts to cool in the tin for 10 minutes before removing them. 
While the donuts are cooling, mix together the powdered sugar, matcha powder and almond milk to make the glaze. 
Dip each donut into the matcha glaze and get ready to devour some delicious donuts! 
Notes
Can substitute almond milk for another dairy-free milk alternative (soy, oat, flax)
Don't overfill the donut tin or else you will lose the hole in the middle of the donut
I find it best to dip the donuts once in the glaze, allow it to dry, then dip the donuts a second time
Prep Time:

15 Minutes

Cook Time:

10-15 Minutes

Category:

Dessert

Cuisine:

European
Nutrition
Serving Size:

1 Standard Donut or 2 Mini Donuts

Calories:

380

Sugar:

25.8g

Sodium:

234mg

Fat:

20.2g

Saturated Fat:

17.7g

Carbohydrates:

48g

Fiber:

2.3g

Protein:

3.7g

Cholesterol:

0mg
Keywords: baked donuts, matcha, glazed, moist, cinnamon, sweet, indulgent
Save the pin below so you have the recipe for later!