Curious about vegan mac and cheese? Here's my Daiya mac and cheese review so you can know all the things before buying!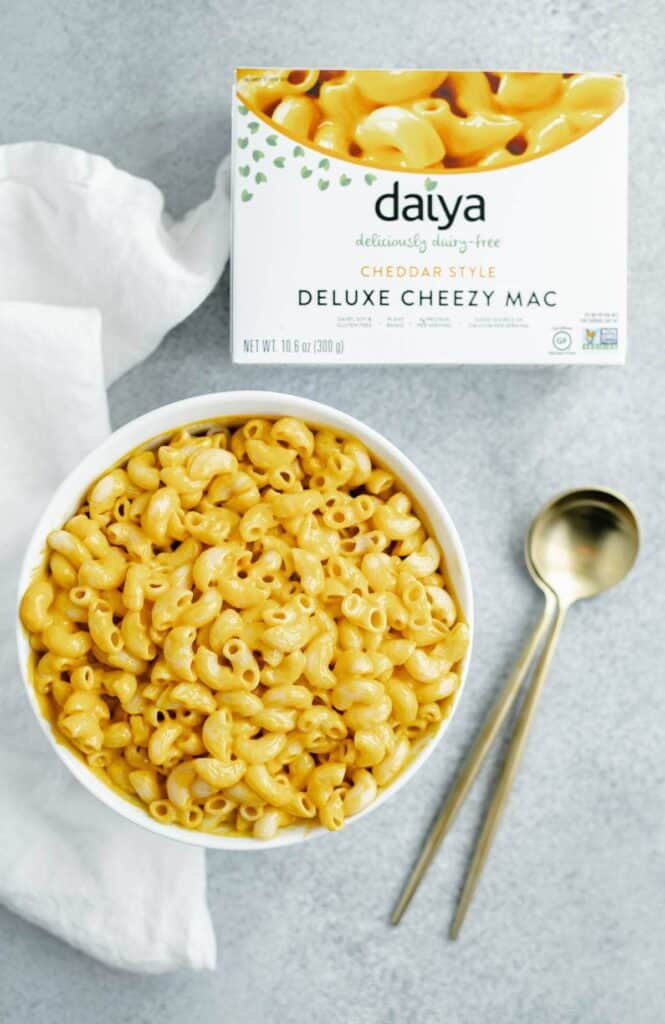 Macaroni and cheese has always held a very special place in my heart. I used to eat Kraft mac and cheese as a kid and was notorious for cooking it for my college friends after a late night. Luckily, there are so many vegan alternatives for this comfort food that I can still enjoy now that I'm vegan!
Today we are focusing on Daiya. Daiya is a popular dairy-free/vegan brand that offers everything from desserts to pizza and everything in between. The great part about Daiya is its accessibility. You can find Daiya products in most major grocery stores.
When it comes to Daiya's mac and cheese, depending on where you purchase it, it's between $4-$6 per box. There are currently five flavors: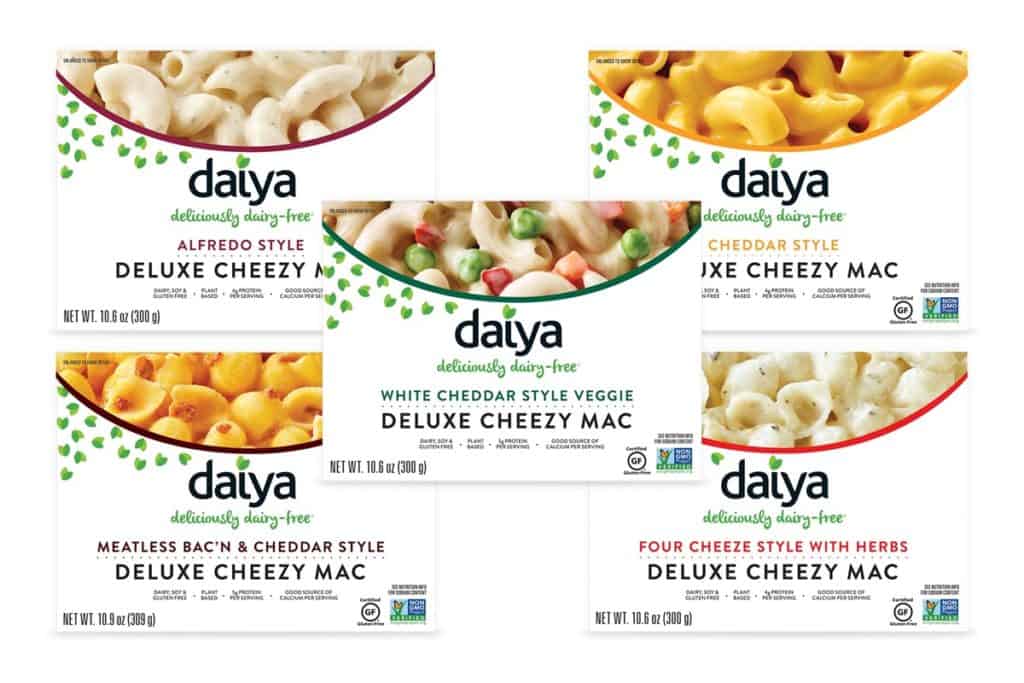 Daiya Mac and Cheese Ingredients
You might be asking yourself, what ingredients make up this mac and cheese? Straight from Daiya, the cheddar style cheesy mac contains:
Brown rice pasta (whole grain brown rice, rice brand, water)
Filtered water
Tapioca starch
Non-GM expeller pressed: canola and/or safflower oil
Coconut oil
Sea salt
Vegan natural flavours
Pea protein isolate
Tricalcium
Photsphate
Cane sugar
Lactic acid (vegan)
Xanthan gum
Yeast extract
Titanium dioxide (naturally occurring mineral)
Annatto (colour)
Onion
A positive for Daiya is that this mac and cheese is that it is not only vegan and thus dairy-free, but it is also gluten-free. A win-win for a lot of us out there!
Is Daiya Mac and Cheese Healthy?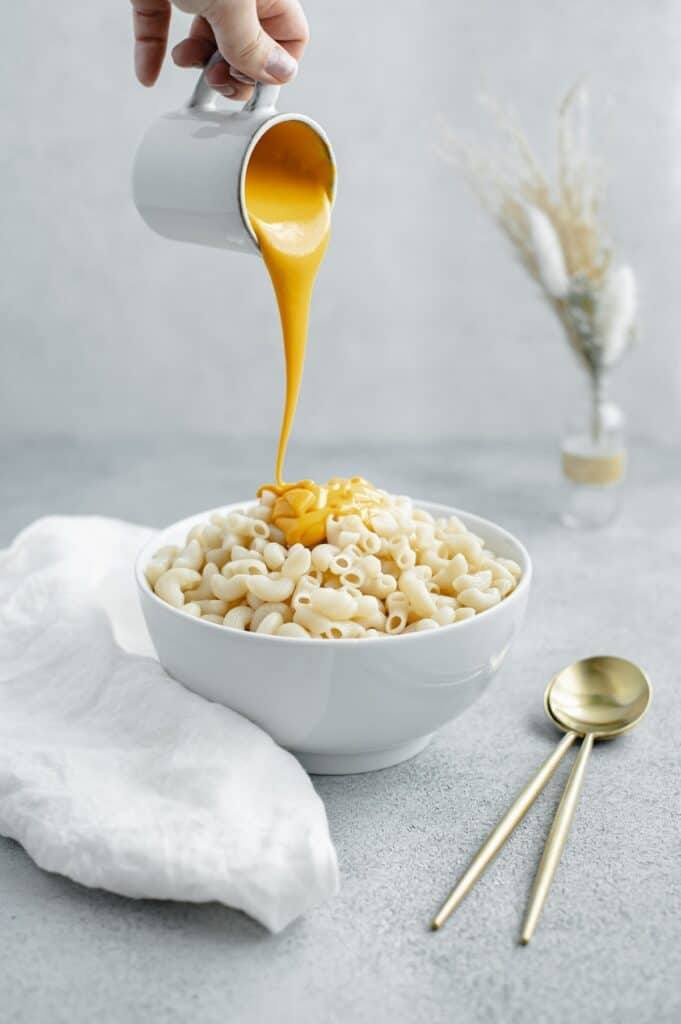 The question we are always looking for when it comes to food - is it healthy? Luckily, non-vegan mac and cheese isn't the best for you so hopefully your expectations are too high for the vegan alternative.
There are "supposedly" three servings in one box of Daiya mac and cheese. I said "supposedly" because it is much more like two servings and I am going to be completely honest and tell you that when I am in the mood for it I can definitely devour the entire box myself.
With that being said, in an entire box of Daiya mac and cheese there is quite a bit of sodium (1750mg which is 75% of your daily suggested intake). Because there are a lot of oils going on that make up the cheese, there is also a good amount of saturated fat within each box (11g which is 55% of your daily suggested intake). However, all of these numbers are pretty comparable to the OG, Kraft.
If you are looking for a healthy vegan mac and cheese, then my best suggestion is to make something homemade with veggies and lots of nutritional yeast! Comment below if you want me to share my recipe on the blog.
The Taste Test Verdict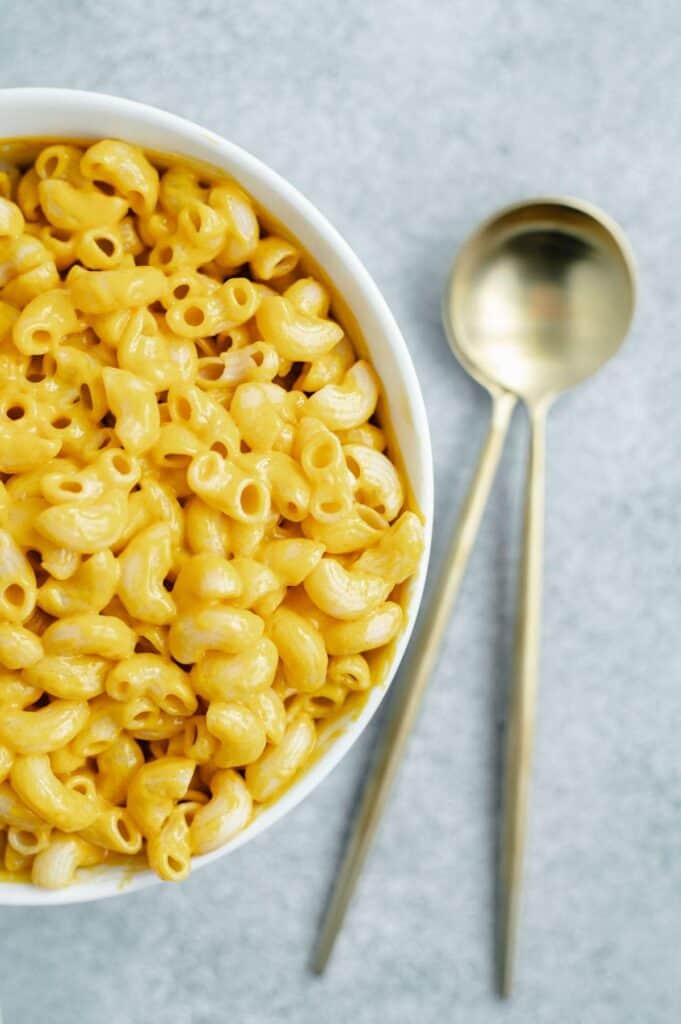 Is this the best vegan mac and cheese brand out there? For me personally, Daiya's mac and cheese is at the top of my list! For reference these are the vegan mac and cheese brands I've tried:
While Daiya mac and cheese isn't the healthiest option, I am not looking for something healthy when I am in the mood for mac and cheese. I want a gooey, cozy, comfort meal that brings me back all those nostalgic feelings. Daiya mac and cheese checks those boxes for me. Its texture and flavor are spot-on, and it makes me feel like I am a kid again.
Unfortunately, both of Annie's mac and cheese options were a bit too powdery tasting to me. They are much like Kraft where you have to add your own butter and milk, but they clumped together too much and the flavor wasn't super cheesy tasting to me. It is nice that the Daiya Mac and cheese has everything you need. There is nothing worse than wanting to make mac and cheese and realizing you don't have milk and butter.
The Amy's frozen option would probably be my second flavor. Fortunately, it has that gooey, cheesy texture I want, but I prefer the taste of Daiya's more. Finally, the Banza pasta was all kinds of wrong to me. It excited me that one box contained 6 grams of fiber and 13 grams, but the texture of the noodles is hard to get right and the taste was off for me.
All in all, I give the Daiya mac and cheese a thumbs up! I have tried all of the other flavors and really enjoy them as well. If you are looking to venture into the world of vegan mac and cheese I recommend starting with Daiya.
How to Make Mac and Cheese Even Better
Most of the time I am a classic mac and cheese kind of gal. I don't need to add any extra bells and whistles, the pasta and cheese are more than enough for me and my tastebuds. Although, sometimes I like to get a little fancy and add some extra goodies to my mac and cheese. Here are some ideas if you want to level up your traditional mac and cheese:
Extra cheese, broccoli, and bacon bits
Lemon juice and parsley
Jalapenos, onion, and garlic powder
Basil and cherry tomatoes
Broiled bread crumbs on top
I hope you felt this post was informative and gave you some direction on which vegan mac and cheese to try. Be sure to check out some of my posts/recipes on the Best Served Vegan blog: