This Just Egg review gives you all the details you need to know before buying! Learn all about Just Egg ingredients, nutrition info, where to buy it, and recipes using it.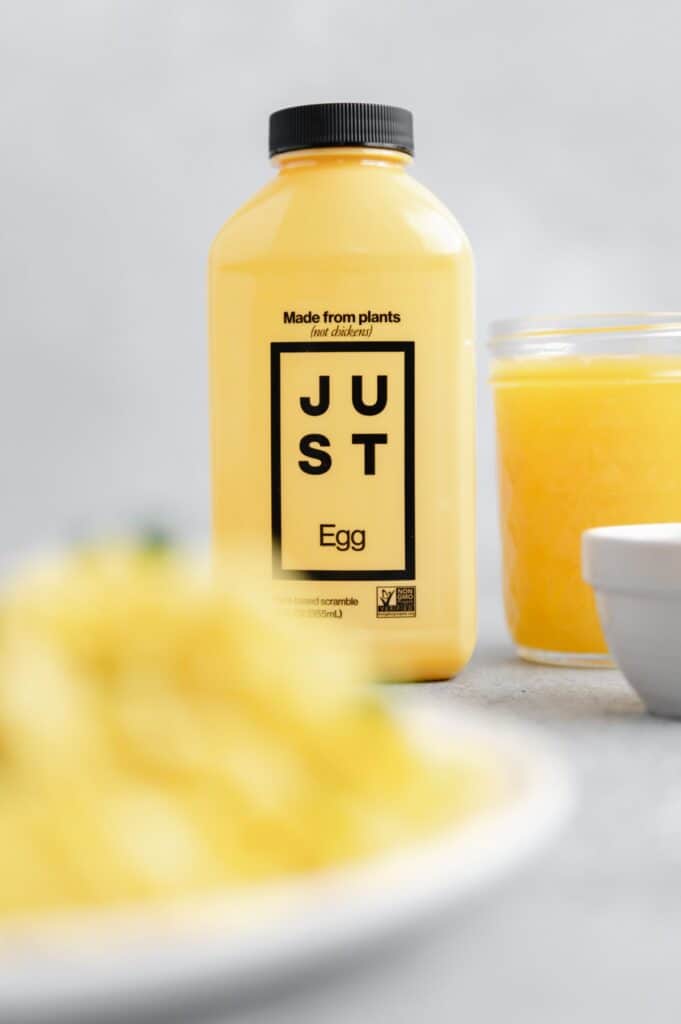 Vegan meat options like Beyond Meat and Impossible Burger are popping up in more and more places! Grocery stores, restaurants, and fast-food chains are all hopping on the plant-based/vegan train and giving us options when we eat out.
It doesn't stop at meat substitutes, though. In fact, there is an array of dairy, cheese, and egg substitutes too. While leaving behind meat was pretty easy for me, cheese and eggs were more of a challenge. Enter Just Egg - a
vegan egg substitute made entirely from plants! Made by the company, Eat Just, whose mission is to create a just food system. The company also offers egg folds, egg sous vide, and plant-based mayo. They even recently launched Good Meat which produces cultured meat, a process of making sustainable, safe meat from animal cells instead of slaughtered animals. I highly recommend reading about this fascinating new endeavor, but for now, back to eggs!
Topics Covered in This Just Egg Review:
P.S. I recently posted a French Toast recipe with Just Eggs for you to whip up after you read through this review!
Just Egg Ingredients
The first thing you're probably wondering is what this vegan egg substitute is even made out of? Just Egg's two main ingredients are water and mung beans. Mung beans are part of the legume family and are commonly found in many Asian or Indian dishes like stir-fries, curries, and soups. They are versatile because of their muted flavor that takes on whatever else they are cooked with. In addition, mung beans give off the same creamy consistency as chicken eggs and act as a great binder in baking!
Just Egg also has onion for added flavor and carrot and turmeric for the classic egg-like yellow hue. Turmeric has many benefits because its main active ingredient, curcumin, is anti-inflammatory and an antioxidant. Unfortunately, curcumin doesn't easily absorb well into our bloodstreams on its own, so make sure to add black pepper to your eggs too! Black pepper contains a substance, piperine, that makes it easier for our body to absorb the curcumin.
The remainder of the ingredients are things I can't even pronounce, like Transglutaminase and Tetrasodium Pyrophosphate. Nonetheless, I researched all of the ingredients. Luckily, no major red flags came up, and the remaining ingredients are often used to either thicken, bind and/or preserve food.
Below is the full list of Just Egg ingredients.
Just Egg Nutrition
Traditionally, eggs are seen as a healthy option even though legally, egg companies can't even advertise eggs as healthy or nutritious (this could be a whole other blog post). Anyway... this brings us to the question, "are Just Eggs healthy?"
One serving of Just Egg has 5 grams of protein. This is pretty comparable to the 6 grams of protein in a chicken egg. However, there is an upside to Just Egg. While Just Egg has a similar amount of protein to a chicken egg, it has NONE of the cholesterol. This makes Just Egg a great substitute for those that are plant-based or vegan and for those looking to cut down on their cholesterol intake.
The only nutritional downside to Just Egg is that it doesn't contain the nutrients like vitamin D, calcium, and iron that chicken eggs do. But, you could easily replace those in other areas of your nutrition or through supplements. Other than that, Just Egg doesn't contain a ton of fat, sodium, or added sugars, so it's a solid, healthy option.
Here is a full side-by-side comparison of the nutrition labels of a chicken egg and Just Egg.
Just Egg Nutrition Label
Chicken Egg Nutrition Label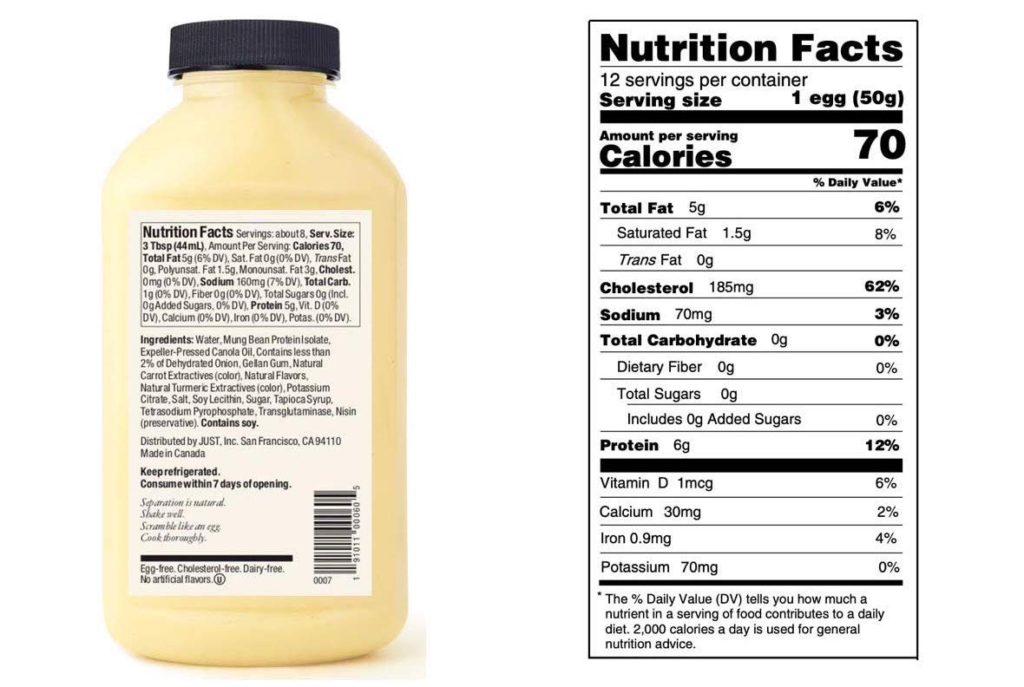 Where to Buy Just Egg?
For $4.99 (a recent price drop from the original $7.99) you can pick yourself up a bottle of Just Egg from a bunch of different retailers! I've see Just Egg at most major grocery stores like Albertsons, Safeway, Sprouts, Vons, and Whole Foods (Costco even offers Just Egg in bulk). To find a grocery store near you that carries Just Egg, click here for their store locator. Depending on the store, you can either find Just Egg right in the egg section or in the refrigerated health food section where the dairy-free yogurt and tofu would be.
Eat Just didn't stop at grocery stores and has a lot of restaurant partnerships too. Most notably, Just Egg partnered with Pete's Coffee to offer an entirely plant-based breakfast sandwich. It is made with an everything bagel, Beyond Breakfast Sausage, Just Egg and vegan cheddar cheese (BRB running to Pete's coffee right now)!
Just Eggs are in a lot more restaurants than you would think, click here for their full list of partners.
Just Egg Review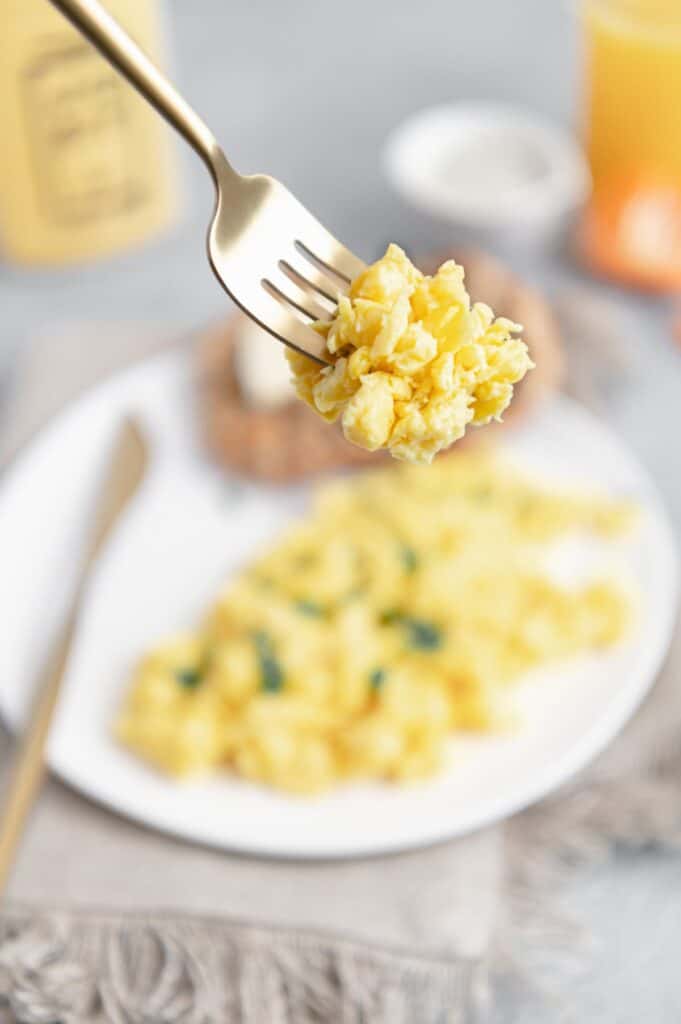 The moment you've been waiting for - the actual Just Egg review! It helps to know all of the nutrition information and where to buy Just Eggs, but how do you cook them, and do they even taste good?
When it comes to cooking Just Egg, it not only looks like the real thing but cooks like it too! Shake the bottle, toss some in a non-stick pan and move them around just as you would for scrambled eggs until they firm up. They are slightly runnier initially and take a minute or two longer than regular eggs to coagulate, but the cooking experience between them is quite similar.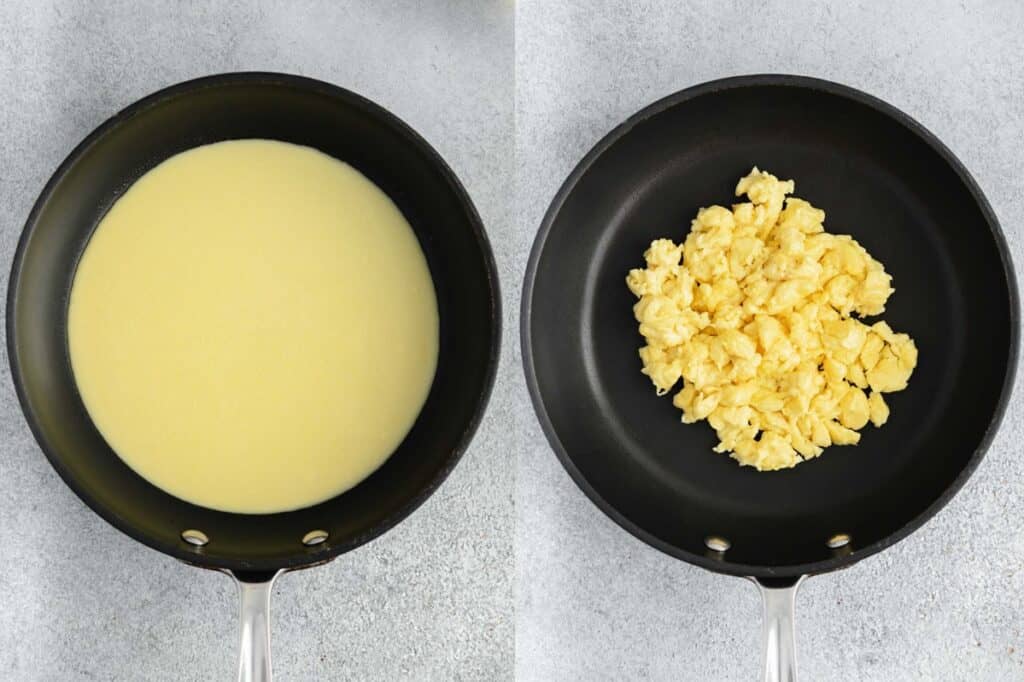 As for how they taste, I have to say, nothing compares to the texture of Just Egg! They have the same creamy, light, and fluffy texture that real eggs do. Even my boyfriend, who is not vegan, was impressed.
In addition to the texture, the flavor is also spot on! A lot of the other egg replacers I've tried taste chalky and nothing like the real thing. I use many other egg replacers for baking purposes, but if you want a good ol' classic breakfast with some eggs, Just Egg is the product for you.
The only real downfall to me is the serving size. I find you have to use a lot more than the suggested 3 tablespoons to feel like you're getting a good amount of eggs. For me, I would say I get about 5 servings out of one bottle as opposed to 8.
Just Egg Recipes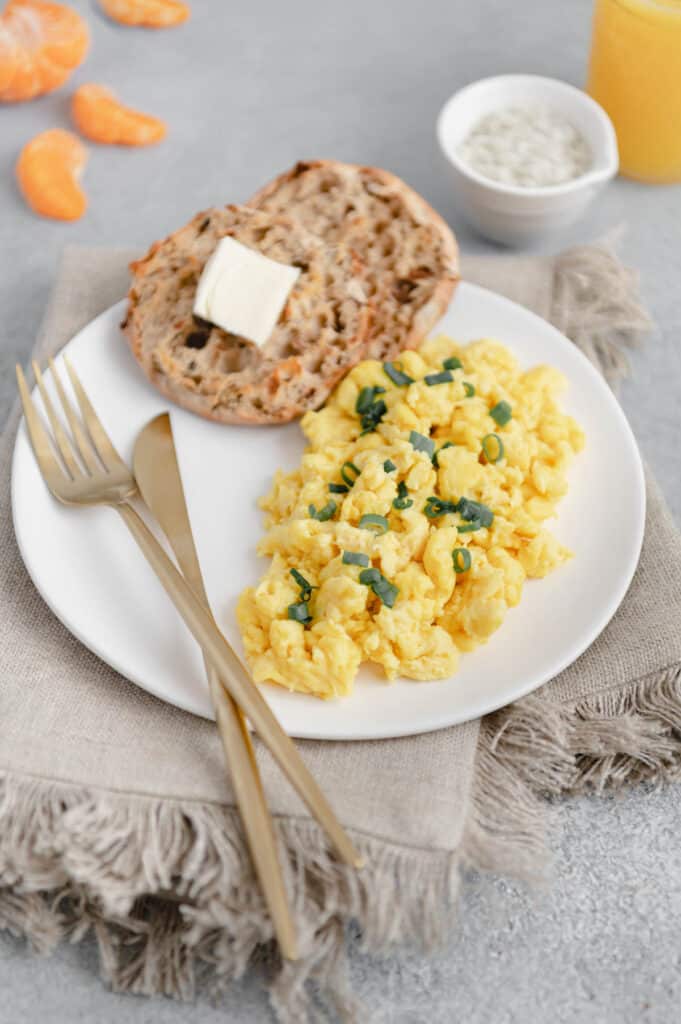 The versatility of Just Egg lends itself to a lot of recipes. For baking purposes, I personally use other egg replacers over Just Egg because I'm not looking for the best-tasting egg replacer to use in, say, a cupcake recipe. I just need something that acts as a binder which other egg replacers do a good job of. Not to mention, other egg replacers typically come in powder form, and you get a lot more product that has a longer shelf life than Just Egg. If you do use Just Egg for baking purposes, 3 tablespoons of Just Egg is the equivalent to one chicken egg.
I prefer to use Just Egg in recipes where the egg is the star. Here are some of my favorite things to make using Just Egg:
Other Vegan Egg Replacer Options
If you aren't totally sold on Just Egg yet, there are other vegan egg replacer options:
I hope this Just Egg review was helpful for you. If you've tried Just Egg too, let me know your thoughts in the comments below! Make sure you are also following along on Instagram and Pinterest for more food inspiration.
Don't want to stop reading? Check out some of my other blog posts:
Pin the image below to save this post as a reference!