A full guide on how to be vegan during the holidays so you can spend less time stressing and more time enjoying the season with your friends and family!
"What can you eat?"; "You can have butter, right?"; "How do you get your protein?"
If you've been vegan during the holidays, you've likely heard at least one of these questions (or some variation of one).
Being vegan can be incredibly difficult during the holidays, particularly if you have unsympathetic family and/or friends.
It doesn't have to be this way, though! We have tremendous power to shape our happiness and that of those around us.
After a quick overview of what it means to be vegan during the holidays, this article will run down thirteen helpful tips to help you enjoy the holidays like everyone else (except even better, because yay for being cruelty-free!)
Being Vegan During the Holidays
So, how to be vegan during the holidays? There are a few main ideas that tie together the helpful tips below:
Be prepared
Stay positive
Don't preach
The food is secondary
In general, being prepared is about doing what you need to do so that you will enjoy yourself. Maybe you're fine with eating before a holiday party. Another option could be to pick something up and bring it over. Or you can bring everything that you're going to eat. Depending on what you want, take the necessary steps so that you're not going to feel disappointed or left out.
Staying positive is crucial! If you end up disappointed and dissatisfied, you're likely to be in a bad mood and ruin what the holidays are all about—building our connection with the people closest to us. Sticking to an upbeat, positive state of mind will help ensure that everything runs smoothly and you can keep your cool—no matter how obnoxious your brother-in-law may be.
Another essential component of your "being vegan during the holidays" starter kit? Don't preach. People typically don't respond well to preaching, and the last thing they want during the holidays—a time that's supposed to be for rest and relaxation—is to hear their lifestyle being demonized. People are particularly sensitive at this time as well because holidays bring with them certain traditions. No one wants to think of their traditions as inhumane—even when it involves slaughtering millions of turkeys every year.
Lastly, in the end the food is secondary (or should be). It just isn't worth making a fuss if this will make your friends and family dislike you. If you have to go hungry for a couple of hours, or someone told you a dish was vegan but it wasn't, try to forget about it and move on. We can't control everything, but we can control how we react to any given situation. By keeping your cool, and focusing on the important part of the holidays, i.e. spending time with the important people in your life, you're much more likely to have a good time and leave a positive impression.
Being vegan can feel like a catch-22 sometimes. Talk about veganism or make food requests, for example, and people may complain and consider you an inconvenience. But if you don't talk about veganism or make food requests, people will pepper you with questions about it anyway and consider you an inconvenience . In any case, the holidays may be a good time to avoid it to the extent that you can.
It never hurts, of course, to come prepared with some easily digestible facts, like "It takes 660 gallons to produce one hamburger." If you think a little ahead of time about responding to the omnivore classics like "Where do you get your protein (or B12)?" you'll feel less flustered on the spot if the topic of veganism comes up.
13 Helpful Tips
Keep these helpful tips in mind so that you not only survive but thrive this holiday season!
Keep your expectations down
The best way to not be disappointed is to have reasonable expectations.
While I've told my family numerous times what I can and cannot eat, there is always someone who might still ask if I can eat fish. And that's okay. It would be unreasonable of me to expect everyone to understand veganism as I do.
But even for people who really should know better, try your best to have patience and don't come in with the expectation that anyone else will understand what is vegan friendly and what is not.
Be prepared
I really can't stress this enough—the more you prepare, the better off you will be in general!
Depending on your needs, this can be a lot of different things, but here's a shortlist to keep in mind:
Reach out to the host ahead of time
Prepare your own dish(es)
Know which dishes seem vegan but often aren't
Prepare simple answers to questions commonly asked of vegans
Research take-out / delivery options (see below)
Research take-out / delivery options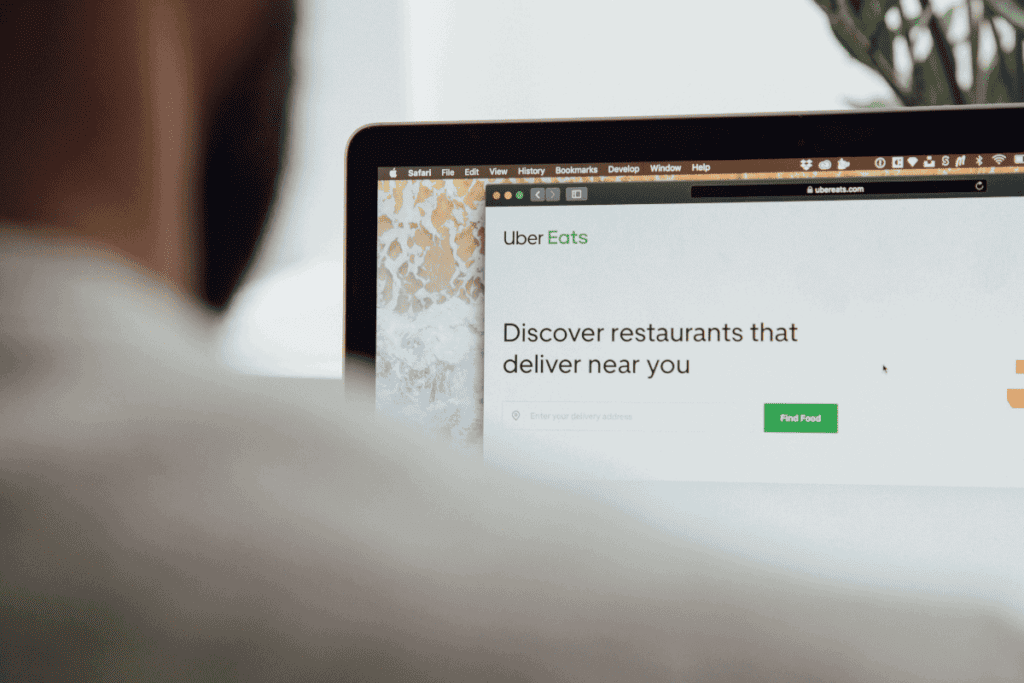 The simplest and easiest option may be to simply pick up something for yourself. Look into vegan options that might work for the particular holiday and type of gathering you're attending. Bonus points if the place has clearly marked vegan options or is close to the place of gathering.
BYOE (bring your own everything)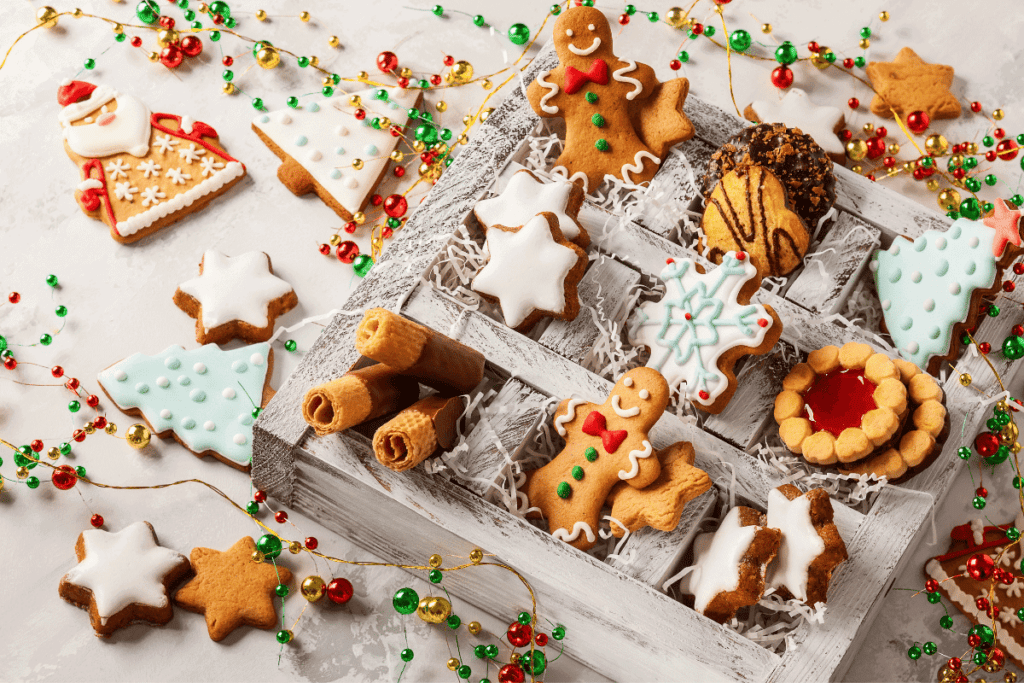 Yes, this is more of "Be prepared." If there's something vegan that you want, you probably can't count on it magically being there. The best way to ensure that you enjoy the food and drinks that you want is to bring them yourself. My recipe archive has plenty of yummy vegan dishes to bring to a holiday dinner! There's no shame in bringing stuff just for yourself—if anything, the host(s) should be pleased that you made sure you have something to eat.
Always contact the host beforehand, though, so that you're on the same page. They might go out of their way to get something vegan for you, and it would be a shame if you showed up with the exact same thing (or something very similar). By reaching out ahead of time, you'll ensure that there's no waste and that they have no issue with you bringing whatever it is you'd like to bring.
Hold back on the preaching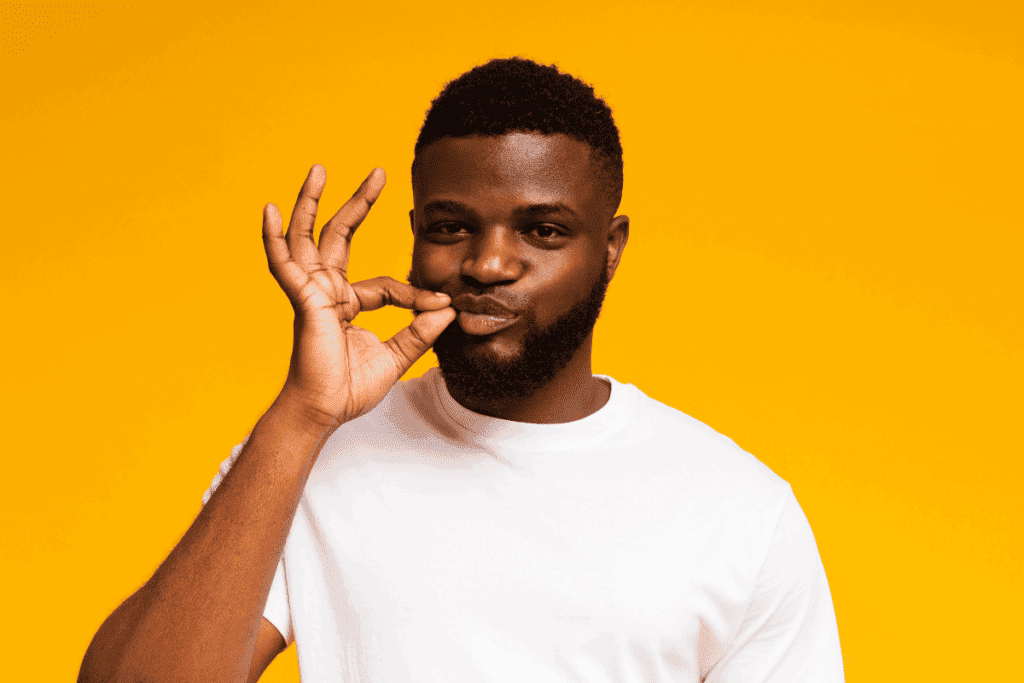 As stated, now is just not the time to get on the soapbox and rant about veganism. Admittedly, I always feel compelled to do this, but sometimes it's necessary to just suppress the urge. As a general "being vegan during the holidays" rule, simply refrain from talking about veganism unless it comes up naturally in the conversation or someone else asks you about it.
And if the conversation does get into veganism, try to speak simply and authentically about what veganism has meant to you personally. Focus on the positive—maybe you've been able to cut down on your grocery bill, maybe you've discovered new foods, maybe you've lost weight, maybe you have more energy, etc.
Keep your cool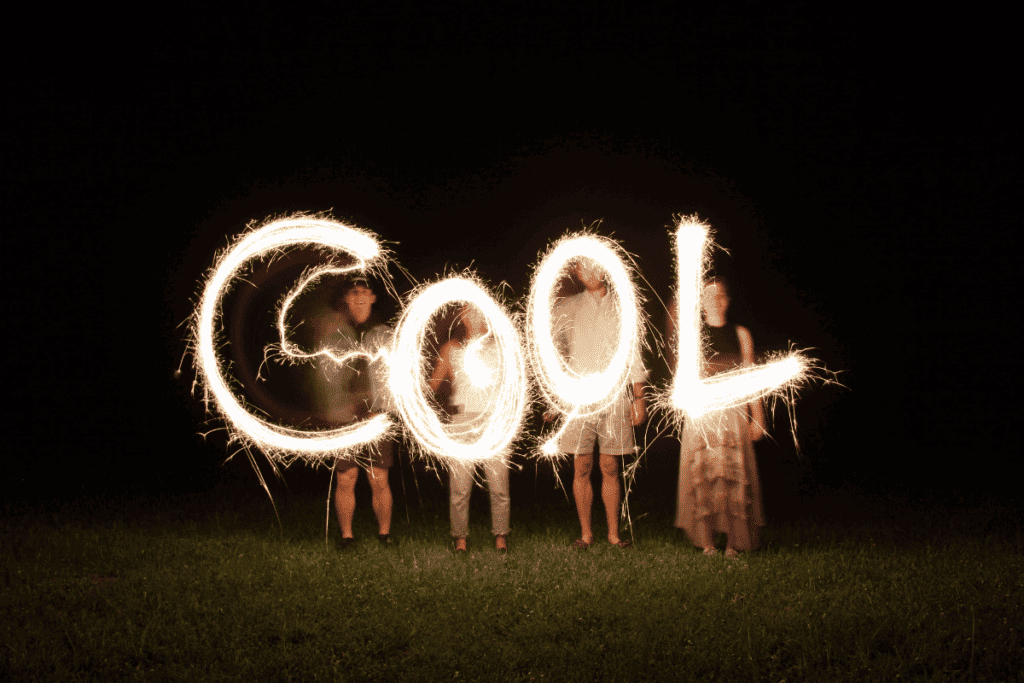 I get it. I know from experience that this can be incredibly difficult. But losing your cool is definitely not the answer. If you take the high road, you'll come away having made a better impression. Unfortunately, many people already have negative stereotypes of vegans due to previous encounters, popular stereotypes, and misconceptions.
If you keep your cool, you can feel proud about taking the high road and giving vegans a good name. For better or worse, people will judge all vegans based on their interaction with you, so try to be a model of patience.
Ensure you get your share of the vegan options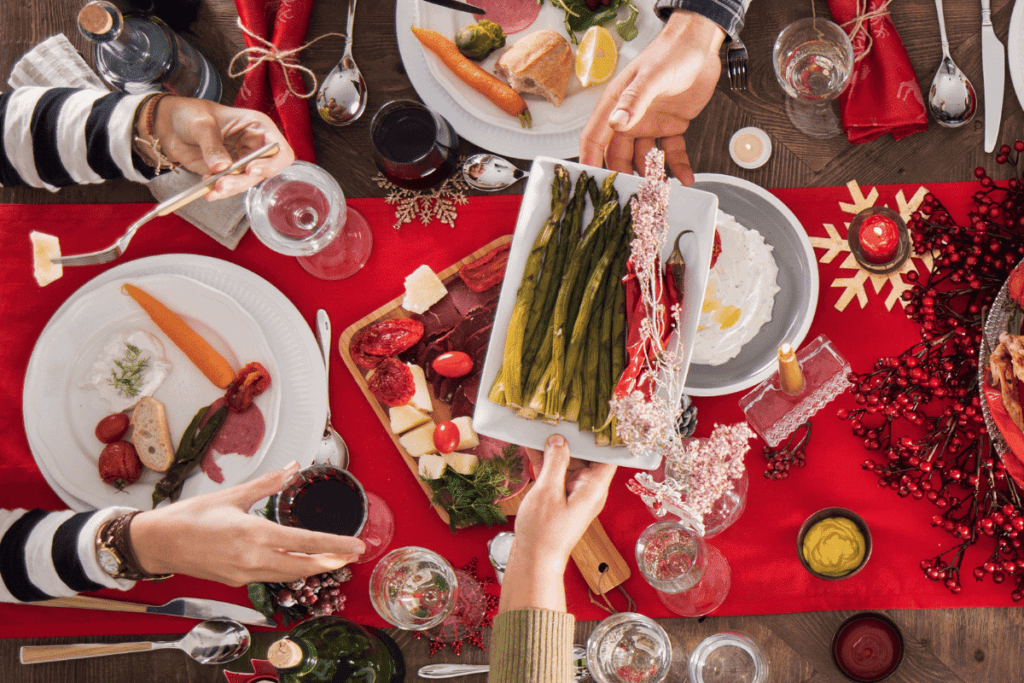 The last thing you want is to spend the time and effort making or even just buying a vegan option, only to see all of it get eaten up. It would be tragic if the mushroom gravy you lovingly prepared disappeared before you had the chance to serve yourself. Who really wants to eat a dry roast, vegan or otherwise?
To avoid this problem, bring plenty of options and make sure you fill up that plate of yours with some. You can also just give some to the hosts to set aside for you.
Focus on everything else
Yes, everyone cares a lot about food during the holidays. But as a vegan, it's often best to think of food as secondary. Ultimately, if you strive to focus on the connections you're establishing and nourishing with your friends and family, you won't worry so much about being nourished yourself.
Plus, if you have a pleasurable time with everyone, even if you were disappointed in the food options, you will come away having made a much better impression than if you dwelled on the fact that you could only eat asparagus.
Know your non-vegan culprits
Whether it's the holidays or not, it's super helpful to know what ingredients tend to "spoil" certain dishes that otherwise seem like they should be vegan. Or at least easily made vegan.
Butter – Ask the hosts to use margarine or vegan butter if possible. Or, volunteer to bring the mashed potatoes and make them yourself! You also have to watch out for butter in/on rolls, on carrots and other vegetables, and in desserts.
Milk/cream – Again, milk/cream is typically in mashed potatoes. It's also used in some green bean casserole recipes. You can also expect it in many desserts.
Gelatin – Unfortunately, cranberry sauce often contains gelatin. Look for a kind made with pectin or make your own.
Cheese – You might find cheese in the green bean casserole, on other vegetables, or even on top of biscuits.
Eggs – Most homemade or store-bought cakes and other desserts use eggs. It's probably best if you supply your own dessert if you want to ensure that you get to indulge like everyone else.
Stuffing – Stuffing is often baked inside the turkey. If you're vegan, that probably grosses you out and doesn't exactly make it very vegan friendly. You can ask the host to bake it in a casserole dish instead or simply abstain.
Gravy – Gravy is typically made from the juices produced by the cooking of the meat. If you're keen on having gravy, you'll likely need to bring your own or buy some ahead of time.
Check out these easy vegan food swaps as they might come in handy for you or your host!
Have a hosting strategy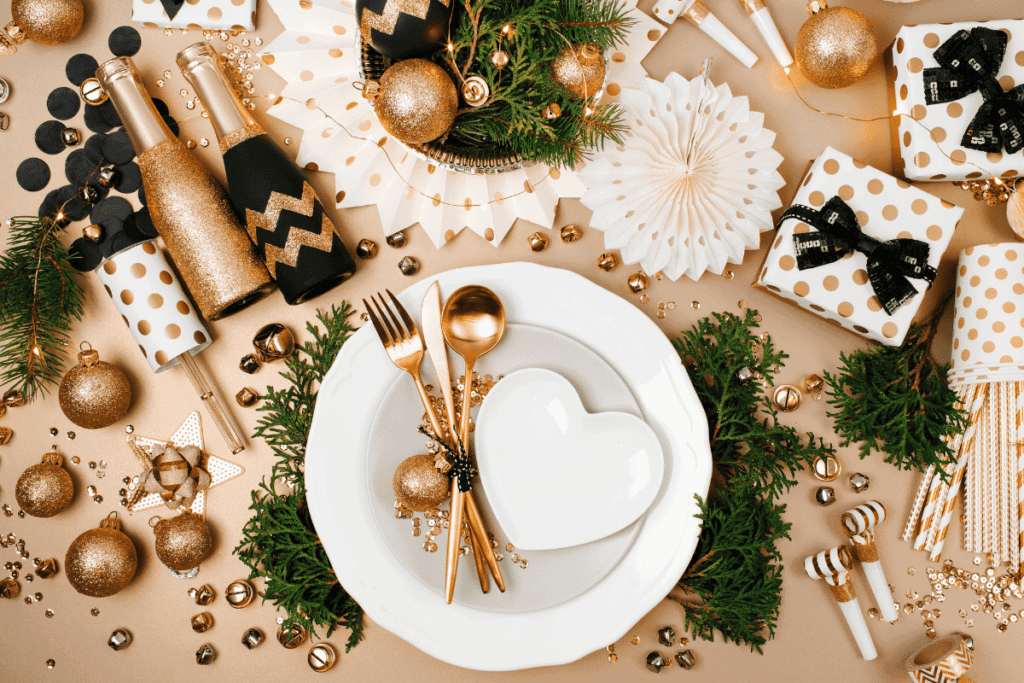 If you're taking on the admirable but daunting task of hosting yourself, you'll need to be especially prepared. The following tips should help you cover your bases.
100% vegan? – You'll need to decide to what extent you're okay with preparing and serving non-vegan dishes in your home. You should consult your guests to let them know and also share what you would prefer others to prepare/bring.
Get a plant-based roast – If you don't want to prepare or serve a turkey or ham, you can always get a plant-based roast. Check out some of your options here. The only thing, however, is that some of these may not be all that satisfactory to non-vegans. You may want to poll your guests ahead of time—if someone prefers to bring a ham or turkey, then they can do that and people can serve themselves what they prefer.
Embrace your inner chef – Sure, it may be difficult, but getting in touch with your inner chef can really pay dividends! Whether or not it gets a rousing reception, it will show that you made the time/effort, if nothing else. Plus, sharing how delicious vegan food can be is one of the best ways to convince people to try more vegan food in the future.
Don't be afraid to ask for help – Hosting can be an unforgivable duty! Ask for help from your closest family/friends to help get you through it and make for a better experience for everyone. Don't be afraid to ask people to bring dishes and make it a more potluck-style affair. This will ease your burden and ensure that people who don't want to eat vegan won't leave disappointed.
Try not to look a gift horse in the mouth
If you receive gifts during the holidays as a vegan, you will almost inevitably get something that's not vegan. It may be milk chocolate or some other food offering that contains eggs or dairy. Or it could be shoes or clothing with leather, wool, or cashmere. It could be cosmetics or other items with beeswax or carmine (aka Red #4, which is made from insects). Heck, it could even be non-vegan beer or wine.
In these situations, try not to object or say anything negative about the gift. Be polite by expressing gratitude. Later, you can decide if you want to speak to the person about the gift or simply pass it along to someone else. You can donate it, give it to a friend, or sell it. Gifts can be a touchy thing, so try to show that you appreciate the gift at the outset, even if you're less than thrilled in reality.
Eat before you go
Some people may have a complicated relationship with food and with their relatives mocking their choice to be vegan. In this (very unfortunate) case, it may simply be best for you to eat beforehand. If nothing else, your disappointment with the lack of options for you isn't likely to turn into "hanger" because you've got an empty stomach.
But remember, it's 2021. You should be able to avoid this situation by simply talking to the host beforehand and bringing whatever you would like to have.
Wrapping Up
Phew, that was a lot! Unfortunately, being a vegan during the holidays can feel a little bit like preparing for battle. Although we of course wish it weren't like that, it never hurts to prepare ahead of time and ensure that you'll have plenty to eat. That way, everyone can eat, drink, and be merry—after all, connecting with others is what the holidays should really be about!
Did I miss anything? Do you have any fun or cringe-inducing stories from past holidays as a vegan? If so, please share with the rest of us!
Get More Tips in The Articles Below: