Are you a Trader Joe's fan? Here is a comprehensive list of 20 of the best vegan fall items at Trader Joe's that you need to add to your grocery list!
It's not unusual to get a little down as the summer sun fades and the days begin growing a little shorter. But hey, at least there's one thing that makes the transition a little easier. I'm talking, of course, about all the wonderful vegan items available at Trader Joe's every fall!
After a quick breakdown of why Trader Joe's is an excellent option for vegans all year round, this article will run down twenty of the best vegan fall items offered by Trader Joe's. Plus, some honorable mentions because…well… we're Trader Joe's stans in this household!
Skip through the article by clicking any of the titles below:
Is Trader Joe's a Vegan Paradise?
Okay, so paradise may be a little strong, but there's a good reason why so many vegans swear by Trader Joe's! Not only is it generally very affordable, but there are a ton of vegan products—and seemingly more every week!
Some items are so popular that non-vegans happily stock up on them, like the Vegan Banana Bread and Soy Chorizo. Other year-round favorites include the Cashew Fiesta Dip, which is like vegan queso when heated, and the Cauliflower Gnocchi.
And how could I fail to mention the protein-packed plant-based burgers, including beefless and turkeyless versions, the grab-and-go Rainbow Wrap, and, for coffee lovers, a new coconut- and almond-based creamer (just $1.69 at my TJ's!).
Want to mix up your salad game? They have an array of vegan salad dressings, and if you can't decide on one, don't worry—they're all delicious!
There's also an excellent selection of tofu, tempeh, and other vegan meat replacements, helping make TJ's an all-around great grocery store for vegans and vegetarians.
Unfortunately, two things keep Trader Joe's from being a true paradise, at least as a vegan who strives to be eco-conscious and ethical. One, a lot of their products are pre-packaged in plastic, and two, many of their products contain palm oil, which is often cultivated in highly problematic ways that harm people, animals, and their habitats.
These issues affect essentially every grocery store, however. Still, hopefully, soon, Trader Joe's will use less plastic (it appears they're working on it) and place a ban on palm oil, as they've already done with artificial coloring and some other controversial ingredients.
The 20 Best Vegan Fall Items at Trader Joe's
All right, it's the moment you've been waiting for—twenty of the best vegan fall items at Trader Joe's. So let's get right into it, shall we?
Pecan Pumpkin Instant Oatmeal
Warm and cozy autumn vibes in a bowl! If you're a fan of both pumpkin and pecan, you're pretty much guaranteed to love this warm and creamy oatmeal.
Pumpkin Rolls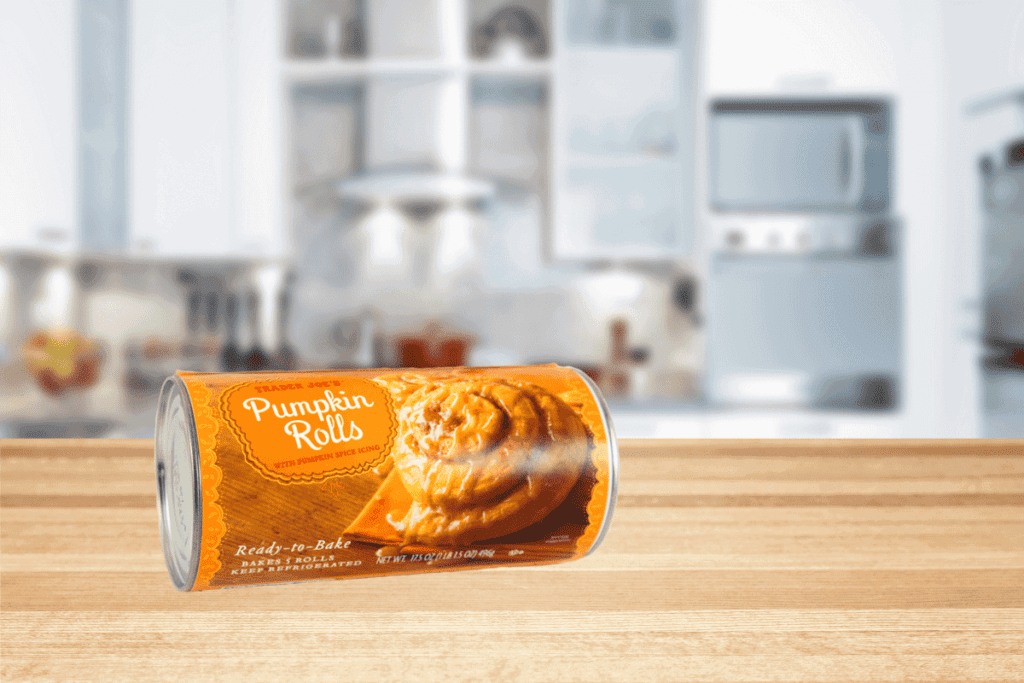 If you've got a sweet tooth and are a pumpkin fan, there's really no need to explain why these should be on your radar! Also, you should know that Trader Joe's classic jumbo cinnamon rolls are also vegan!
Pumpkin Spice Rooibos Tea Blend
This tea takes the natural vanilla taste of rooibos tea and adds a delicious fall twist with pumpkin spice. Plus, rooibos tea (a type of red tea) has some great health benefits and is naturally caffeine-free!
Pumpkin Spice Almond Beverage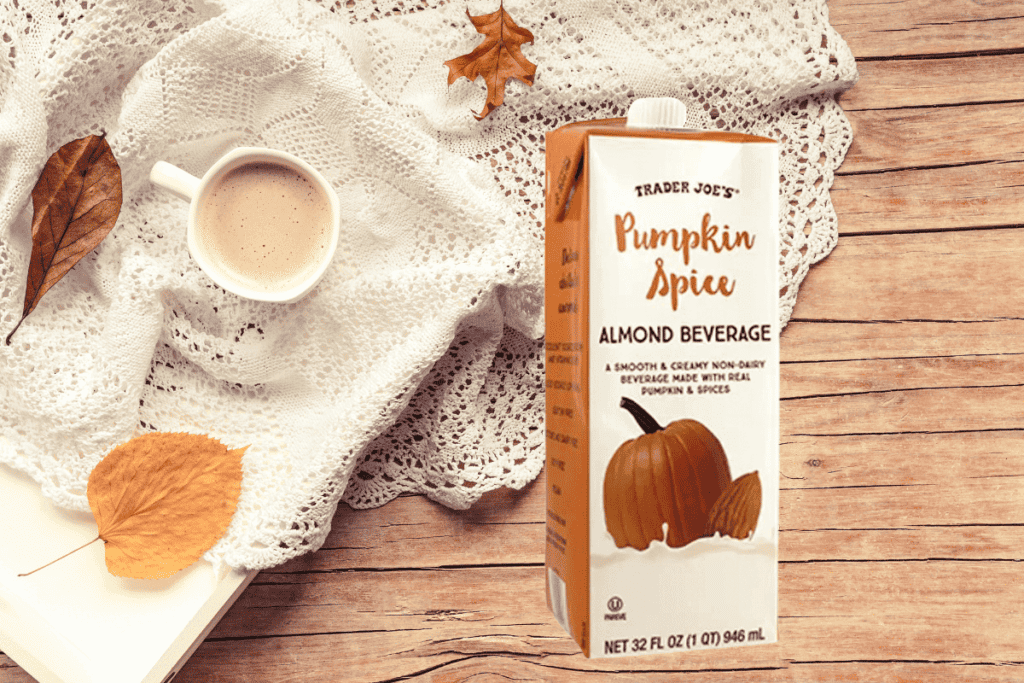 This pumpkin-tinged almond milk is delicious hot or cold and a great way to give your coffee a nice fall flavor boost. But, whether you use it for your caffeine mix, your cereal, or to make oatmeal, I'm pretty sure it'll be gone before you know it!
Maple Leaf Cookies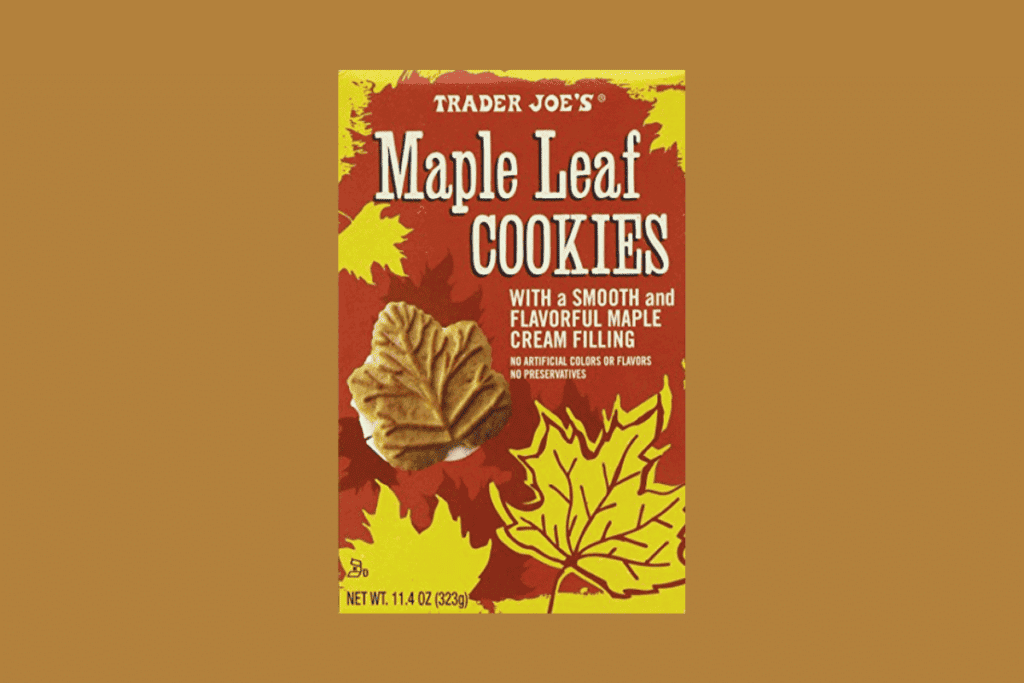 These cookies capture the essence of autumn with a rich maple flavor on the outside and a creamy interior. Plus, they pair perfectly with tea or coffee!
Halloween Joe-Joe's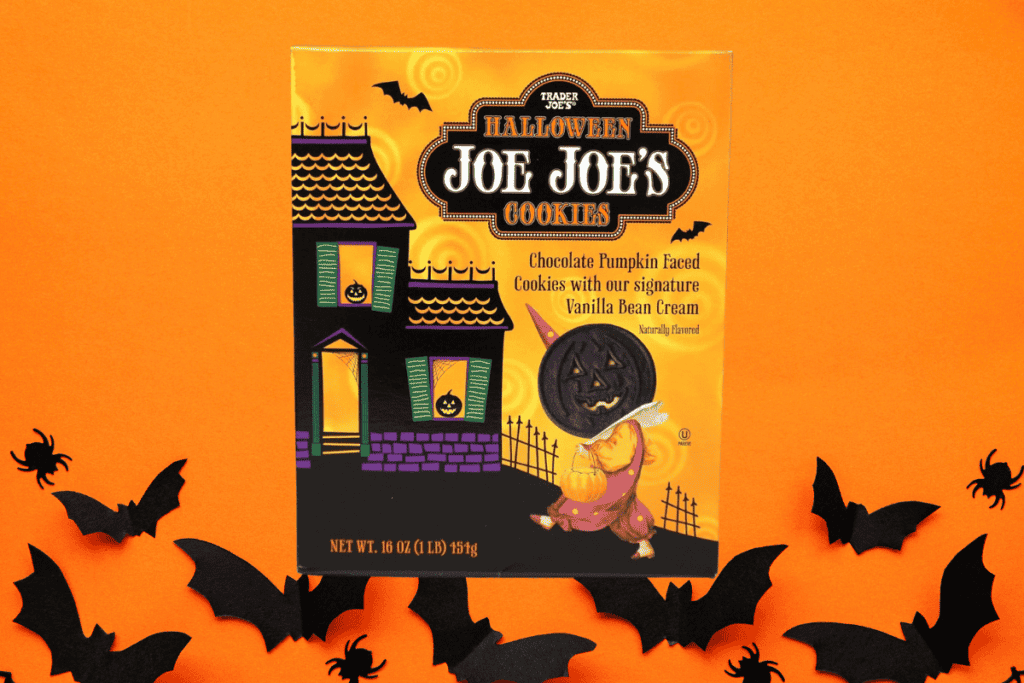 This spin on Trader Joe's classic (definitely not Oreos-inspired) cookies are fun treats that are perfect for Halloween parties. According to Trader Joe's, the exterior of the cookie is "chocolate pumpkin-faced," and the interior is classic vanilla bean-flavored cream.
Candy Corn Popcorn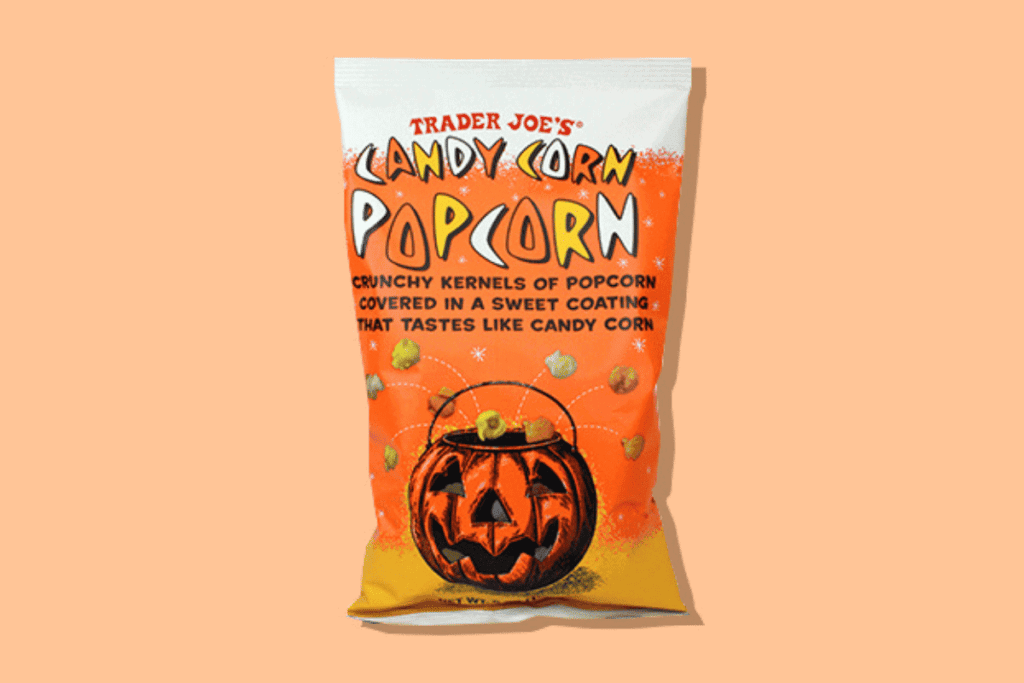 If you're on team candy corn, you're going to love this sweet popcorn treat. Just pair with your favorite Halloween movie (mine is most definitely Hocus Pocus)!
Non-Dairy Maple Oat Beverage
If you haven't tried oat milk yet, you need to get on that! It's one of the creamiest dairy replacements, and Trader Joe's uses that to their advantage with this maple-sweetened version for fall.
Pumpkin O's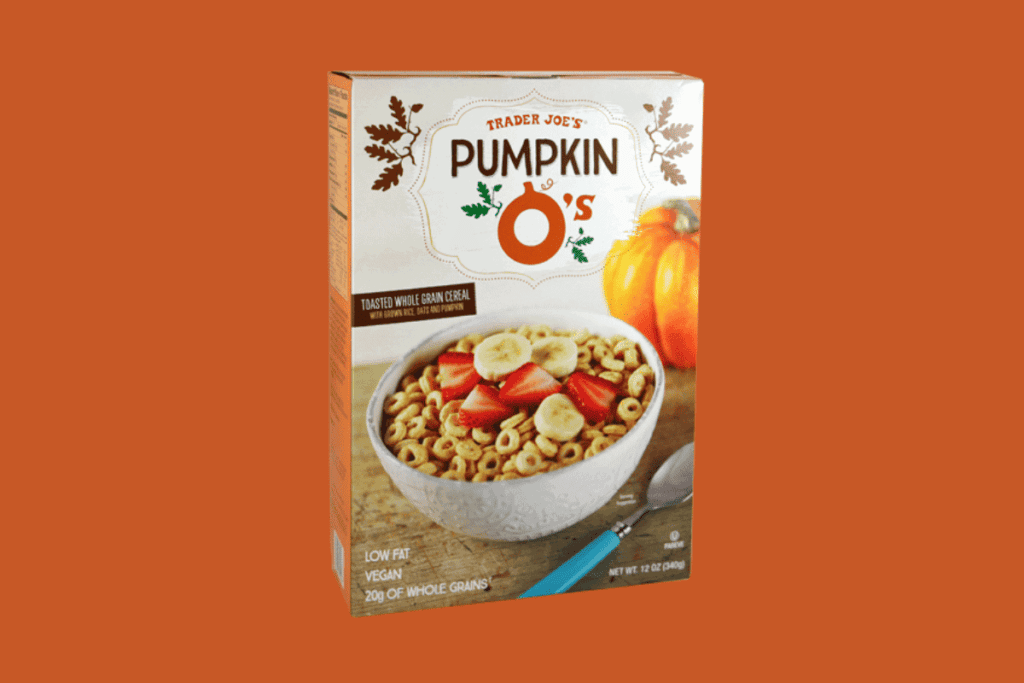 This fall-themed take on Trader Joe's toasted whole grain (definitely not Cheerios-inspired) cereal goes pretty light on the pumpkin. This means it's not an overwhelmingly strong pumpkin flavor first thing in the morning. And hey, if that's your thing, you can always pile on the pumpkin with other items on this list.
Pumpkin Bagels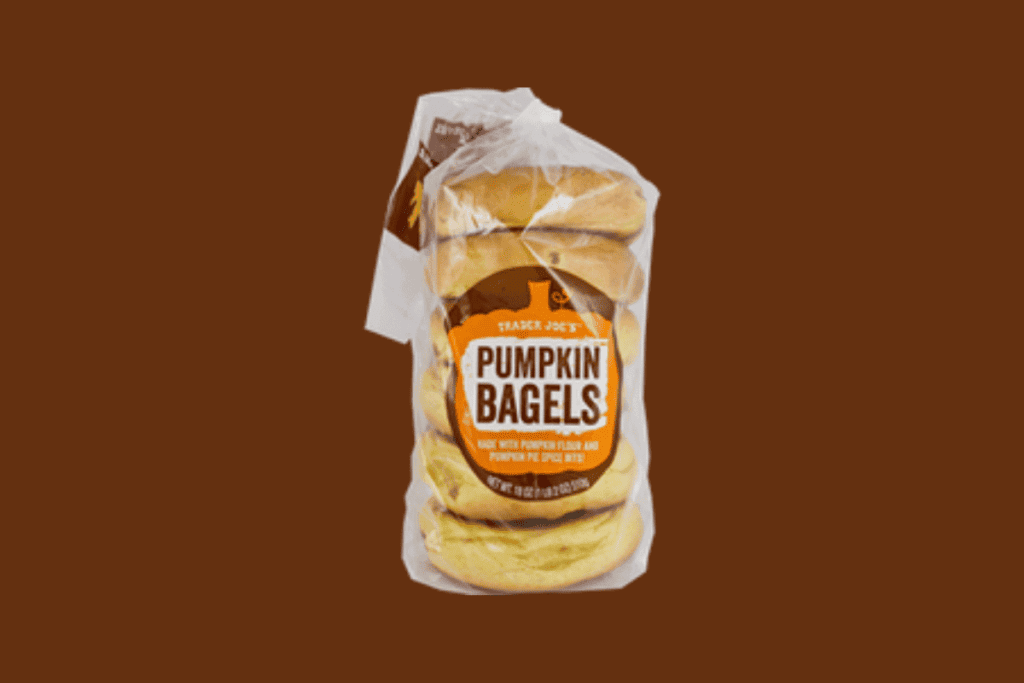 Made with pumpkin flour and pumpkin spice bits, these are just perfect for fall. It goes well with Trader Joe's own brand of vegan cream cheese! Also, in previous years, the gluten-free version was vegan as well.
Pumpkin Bread and Muffin Baking Mix
There's a regular flour version as well as a gluten-free version! Both are vegan out of the box, so just use a vegan egg replacer and your favorite plant milk!
Maple Almonds
These dry roasted almonds are perfectly complemented by a maple flavor that sneaks right up on you! They were a surprise hit last year, so they should be back for 2021.
Fall Zucchette Pasta
This funny pumpkin-shaped pasta is made from butternut squash and is sure to delight kids (and the kid in you!). I haven't tried it yet myself, but this seems like it would pair well with a vegan pesto!
Spiced Cider
Heat this baby up for a delicious and cozy beverage! Traditional apple cider, that esteemed fall classic, gets an autumnal revamp from allspice, cinnamon, cloves, and citrus peel. Yum!
Harvest Chili
There are many sweet treats and cozy beverages on this list, so here's a hearty meal in a cup made with diced pumpkin, cauliflower, and beans. At least one omnivore gives it his approval!
Spicy Pumpkin Curry Simmer Sauce
This pumpkin curry simmer sauce will get you a hearty, perfect-for-fall meal in no time! Just prep some rice, use your veggies of choice and add mushrooms, tofu, or jackfruit if you'd like some meaty texture.
Pumpkin Pie Spice
To be honest, pumpkin on its own doesn't pack a lot of flavor! It's the spices that really make the pie! Luckily, Trader Joe's gives you all the best ones packed in one handy jar. It's pretty powerful, so keep that in mind!
Apple Cider Jam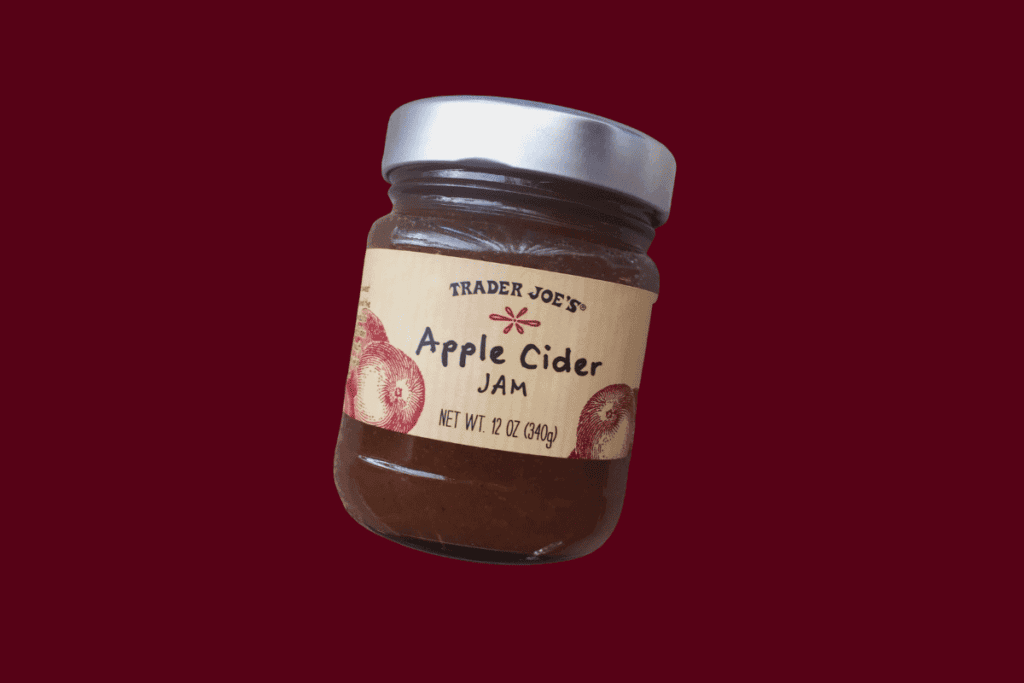 This fruit spread is made with Granny Smith and Roma apples. It makes a fall-forward topping for yogurt or ice cream. Or, just spread it on toast and add cinnamon to up the autumn vibes!
Pumpkin Pie Spiced Ginger Brew
This fizzy, nonalcoholic ginger brew is sure to tingle the senses! Its flavor comes from a mulled cider base with plenty of ginger purée and pumpkin pie spices. It also comes in an attractive glass bottle! (Yes to less plastic!) Plus, if you drink, you can also use it to make a fall-themed mule.
Harvest Blend Herbal Tea
This blend is seriously an entire season in mug-form, so brew yourself a cup and feel instantly cozier! Flavors include cinnamon, ginger, hibiscus, and orange peel.
Honorable Mentions
These may not be limited-edition seasonal items like many of the others on this list, but these tasty vegan items just feel particularly fall appropriate.
Speculoos Crunchy Cookie Butter – It's almost hard to believe this rich cookie butter is vegan, but you're sure not going to hear me complaining!
Dolmas – These stuffed grape leaves make a perfect accompaniment to a fancy vegan cheese platter or Mediterranean-themed meal.
Vegan Banana Bread with Walnuts – A huge favorite in my house, TJ's vegan banana bread is deliciously moist and flavorful.
Soft-baked Snickerdoodles – Do I really have to explain?! Along with pumpkin, cinnamon is a classic fall staple.
Cinnamon Crumb Coffee Cake Mix – Again, cinnamon is just perfect for fall. Add a can of pumpkin and a bit of plant milk for a super easy pumpkin coffee cake! Thank me later (no, really, I'd love if you let me know in the comments!).
Raw Pumpkin Seeds – While I honestly can't vouch for the health factor of many of the items on this list, pure pumpkin seeds are in fact a nutritional powerhouse!
Organic Almond Beverage Chocolate Bar – This new item is winning rave reviews and sounds perfect for making some delicious s'mores!
Wrapping Up
Well, I hope you've discovered some items on my "twenty of the best vegan fall items at Trader Joe's" list! They may just become seasonal staples for you! But, don't forget to stock up on ones you love, as there's some serious price gouging occurring on sites like Amazon for Trader Joe's fall items.
I genuinely believe that there's never been a better time to be vegan, which feels like an appropriate expression of gratitude for the season of Thanksgiving. So remember to get into the giving spirit as well and load up on these goodies for all your fall and winter gatherings—then when people remark how good something is, you can say, "Yeah, and it's vegan!"
By the way, let me know in the comments if you think I missed something! Or just drop a line to say what your own favorites are!
Get More Tips in The Articles Below:
And, if you are looking for yummy vegan recipes to add to your routine, check out my recipe archive here!