A light and refreshing salad, great for those hot spring and summer days. This vegan Mediterranean chickpea salad is full of color and topped with a simple, flavorful dressing. It can be enjoyed as an easy lunch or as a delicious side dish.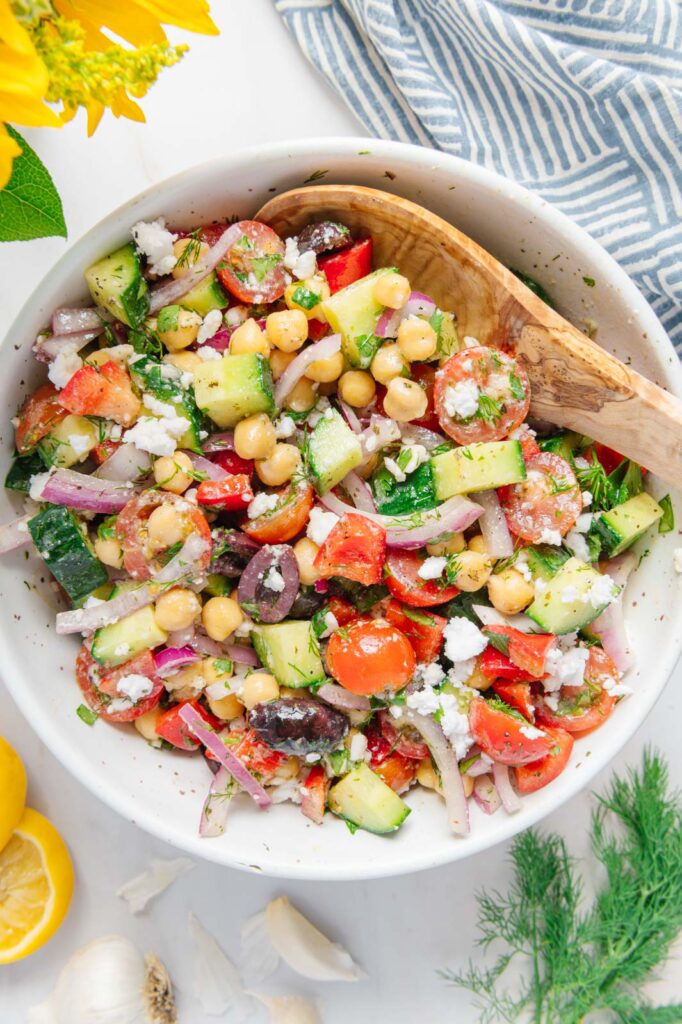 I could probably survive only on Mediterranean food for the rest of my life. Olive oil, feta cheese, falafel, olives... sign me up for it all!
Especially in the summer, I am always craving a crunchy salad. I am either switching between my pesto pasta salad or this vegan Mediterranean chickpea salad! Bursting with color and topped with a simple olive oil and lemon dressing, this Mediterranean-inspired salad is perfect for lunch or as a side dish for any summer parties, BBQ's, or potlucks.
So, read on to learn how to make my vegan Mediterranean chickpea salad recipe!
Mediterranean Chickpea Salad Ingredients
Garbanzo beans (chickpeas) – Chickpeas are a Mediterranean staple and truly one of the most nutrient-dense foods around! Not only do they have significant quantities of fiber and protein but also manganese, folate (vitamin B9), copper, iron, zinc, phosphorus, magnesium, thiamine, vitamin B6, selenium, and potassium.
English cucumber – Cucumbers are well known for being rich in water content (and thus low in calories). They're also commonly thought of as a vegetable but are fruits in actuality! Cucumbers are nutrient-dense and contain vitamin C, vitamin K, magnesium, potassium, and manganese. Since they contain fiber and very few calories, they can be a great way to fill yourself up without tons of calories!
Red bell pepper –Like cucumbers, bell peppers of any variety are technically a fruit! They're extremely nutritious, packed with fiber and vitamin C (134% DV per serving!).
Cherry or grape tomatoes – Here's yet another fruit—you could practically call this recipe a fruit salad haha. Tomatoes are a healthy option in general thanks to their high antioxidant content (lutein, lycopene, and zeaxanthin). Plus, you can count on these tomatoes to help you meet your daily amount of potassium and vitamin C!
Red onion – Red onion boasts the same benefits of regular (white) onions, plus you get extra antioxidant content thanks to the sulfur compounds they're packed with.
Kalamata olives – Olives are an absolute staple of Mediterranean cuisine and kalamata olives are among the most popular. Did you know that black olives are green before they ripen while other olives remain green even when ripe? Olives are rich in fiber, healthy fats, and water (80% is water).
Fresh dill or parsley – These herbs, in addition to their nutritional benefits, really help take the flavor of this salad to the next level!
Vegan feta – If you're wondering where the heck to get vegan feta, I recommend looking for a brand called Violife (more on that below). It's super tasty, relatively affordable (it usually lasts me a good while) and can be found in many major grocery stores nowadays. That said, you can also swap out the feta for really any vegan cheese, like mozzarella or ricotta.
Simple Mediterranean Dressing
This is a simple Mediterranean dressing that pairs well with basically anything! I like to meal prep a big batch of this dressing to have in the fridge throughout the week to add some flavor to salads, buddha bowls, or wraps!
Olive oil – Olive oil is rich in healthy monosaturated fats and also has potent anti-inflammatory properties. There's a reason why it's a staple of Mediterranean cuisine and also why the Mediterranean diet is one of the healthiest ways of eating (after a healthy vegan diet of course). That said, it's best in moderation, or better to consume whole olives if you want to be as healthy as possible.
Red wine vinegar – Vinegar in general is a healthy addition to our diet because it may aid with digestion thanks to it being a fermented product and thus gut healthy (in moderation). Red wine vinegar also gives you a boost of antioxidants since it's made from red wine. It may also lower blood sugar levels, helping keep you balanced.
Oregano – Oregano, dried or fresh, is a powerhouse of taste and nutrition. This herb is filled with antioxidants that may help fight chronic diseases such as heart disease and cancer.
Lemon – Lemons are not just aesthetically pleasing, with their bright yellow hue, but also tremendous additions to our diets thanks to their health benefits. They have high amounts of vitamin C, which help us absorb iron and have a strong immune system.
Garlic – Garlic is part of the allium family, which includes onion. You might not know, but these foods contain super healthy compounds. Garlic in particular, contains sulfur compounds that may help reduce blood pressure and even lessen the severity of colds and flus.
Salt – Just a pinch of salt will do, but you can add to taste as well. Don't hesitate to add even just a smidge, as a little bit of salt will help bring out the other flavors!
Black pepper – Black pepper is anti-inflammatory and high in antioxidants! Fresh cracked is best because it's more aromatic and thus more flavorful.
A Plant-Based Protein Salad (starring chickpeas!)
Thanks to the mighty little chickpea, or garbanzo bean, this Mediterranean chickpea salad is bursting with nutrition!
While protein is definitely a little bit overhyped, there's no doubting that it's an essential nutrient and helps keep us full.
In this way, chickpeas may help with weight management. They also may improve digestion and reduce overall risk of disease! The Mediterranean diet is well known as one of the healthier ways of eating on the planet, and this humble legume is a common ingredient in their diet!
Chickpeas have not only a ton of fiber and protein but also manganese, folate (vitamin B9), copper, iron, zinc, phosphorus, magnesium, thiamine, vitamin B6, selenium, and potassium.
It's truly no exaggeration to say that chickpeas are one of the most nutritionally dense foods around!
Of course, you can boost the protein in this salad even more by adding more plant-based proteins. That could be a whole grain like orzo or couscous, pasta, nuts, or any kind of vegan meat replacement you prefer.
How to Make This Chickpea Salad
This recipe is so easy - just chop, whisk and toss!
In a large bowl, toss all of the salad ingredients. I like to save a little of the feta to add at the very end. Set aside.
In a small mixing bowl, whisk together all of the dressing ingredients.
Toss the salad with the dressing, adjust any seasonings, and top with any additional feta.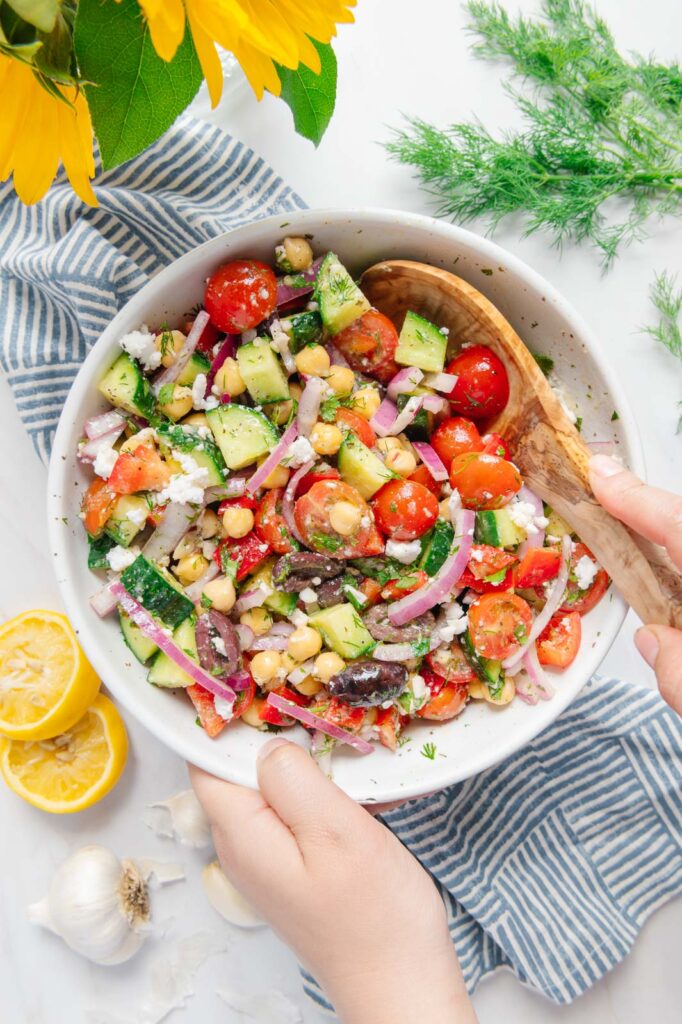 Enjoy immediately or cover and refrigerate until ready to serve!
Recipe FAQ
Can I make this chickpea salad ahead of time?
Yes! Simply store the dressing and the salad separately to keep everything fresh and crunchy. Then, when you're ready to serve, pour the dressing over the salad and you're good to go.
How should I store this chickpea salad?
This chickpea salad should stay good in the fridge in an airtight container for about a week (5 to 7 days).
How can I bulk up this chickpea salad?
The chickpeas provide some solid fiber and protein, but feel free to add whatever you like! You could add orzo, couscous, or pasta to help make it more of a meal on its own. You could also enjoy it in a wrap or pita with some of my homemade falafel for a delicious, easily transportable lunch idea!
How can I customize this chickpea salad?
However you like! This recipe tried to stay pretty true to its Mediterranean inspiration, but it serves as a great base for experimenting. Feel free to add your favorites, whether that's shredded carrots, beets, avocado, leafy greens, sun-dried tomatoes, celery—whatever you're craving or whatever you have on hand!
I don't like chickpeas. Are there alternatives?
To replace the protein and fiber of the chickpeas, you could substitute beans or lentils. White beans (cannellini beans) work well in this recipe as they help it keep its Mediterranean vibe.
Your New Favorite Summer Recipe
It's always great to have new lunch or side options on hand! This vegan chickpea salad recipe is a delicious recipe with no cooking required. It's fresh and crunchy and is sure to satisfy your cravings for healthy, nourishing food. It really has all of the things, it's...
Delicious – This Mediterranean chickpea salad recipe has quickly become one of my favorites! It's so fresh tasting and is perfect for warmer weather.
Easy – This recipe includes just four quick steps and no cooking. All you've got to do is some chopping and whip together the dressing, which is quite simple.
Customizable – You can try all kinds of add-ins and garnishes and also mix up how you eat it, whether that's as a wrap, in a pita, on its own, or as a side dish!
Let me know if you try out this vegan Mediterranean chickpea salad recipe, and if you do, I would love it if you left a rating and review below! Make sure you are also following along on Instagram and Pinterest for more food inspiration.
Other Vegan Summer Recipes to Try
Print
📖 Recipe
Vegan Mediterranean Chickpea Salad
---
Author:

Total Time:

10 minutes

Yield:

5

servings

1

x

Diet:

Vegan
Description
A light and refreshing salad, great as an easy summer lunch or as a side dish for a BBQ party! This vegan Mediterranean chickpea salad is full of color and crunchy veggies and a simple dressing.
---
1

15-ounce can chickpeas, drained and rinsed

1

English cucumber, quartered

1

red bell pepper, diced

1 cup

cherry or grape tomatoes, halved

½

red onion, thinly sliced

½ cup

pitted kalamata olives, halved

¼ cup

fresh dill or parsley, chopped

5 ounces

vegan feta cheese, crumbled or cut into cubes
For Dressing:
⅓ cup

olive oil

2 tablespoons

red wine vinegar

1 teaspoon

dried oregano
Juice from

½

lemon

1

garlic clove, mined

½ teaspoon

salt (or to taste)

¼ teaspoon

ground black pepper (or to taste)
---
Instructions
In a large bowl, toss all of the salad ingredients. I like to save a little bit of feta for a garnish at the end. Set aside.
In a small mixing bowl, whisk together all of the dressing ingredients.
Toss the salad with the dressing, adjust any seasonings, and top with any additional ingredients.
Enjoy immediately or cover and refrigerate until ready to serve!
Prep Time:

10 Minutes

Cook Time:

0 Minutes

Category:

Side Dish

Cuisine:

Mediterranean
Nutrition
Serving Size:

1 heaping scoopful

Calories:

345

Sugar:

4.8

Sodium:

764mg

Fat:

24.1g

Saturated Fat:

9.2

Carbohydrates:

29.2g

Fiber:

5.4g

Protein:

5.3g

Cholesterol:

0mg
Keywords: cucumber, Mediterranean, tomatoes, olive oil, kalamata olives, vegan feta, garlic, red onion, bell pepper
Pin this recipe to save it to make all summer long!