This healthy sugar free apple crisp has three major things going for it: it's dairy-free, naturally sweet, and vegan!
If I had to choose one dessert to eat for the rest of my life, it would absolutely be an apple crisp. The warm apples, cinnamon caramelly flavors, and crumble topping all come together to form a perfect dessert. Don't even get me started on adding a scoop of vanilla ice cream!
Unfortunately, even though I would like to eat an apple crisp every day, I probably shouldn't. However, if I
could make a sugar free apple crisp that cut out refined sugar, thus making it healthier, then I could increase my intake, right? With this thought process in mind, I hit the kitchen and started recipe testing to develop a sugar free apple crisp that satisfied my cravings!
Crisp vs. Cobbler vs. Crumble
When developing this recipe, the first thing I came across was if it would be an apple crisp, cobbler, or crumble? Of course, all of these options are delicious in their own right, but they have slight differences in their ingredient makeup and how they're prepared.
For instance, a CRISP has a streusel-like topping made mostly of oats. The oats are typically mixed with sugar, spices, and butter and spread over fresh fruit in a baking dish. As the crisp cooks, the topping becomes light and crisp. Hence the name crisp!
Likewise, a CRUMBLE is also a streusel-like topping but traditionally does not use oats. Instead, a crumble contains a combination of flour, sugar, spices, and butter. As a result, it tends to be denser and more cake-like than a crisp.
Finally, a COBBLER is topped with a biscuit-like topping. This dessert gets its name because the biscuit dough is dropped over the top of the fruit, making it "cobbled" and uneven instead of smooth like a pie crust.
After doing my research, I decided to use oats in my topping and thus choose to make an apple crisp!
How to Make a Sugar Free Apple Crisp
One of the best things about this recipe is that it is super simple to make! Here are all of the ingredients that you'll need:
For the Apple Filling
Granny Smith apples
Honeycrisp apples
Coconut sugar
Arrowroot powder
Lemon juice
Cinnamon
Allspice
Nutmeg
Ginger
Water
2 teaspoons vanilla extract
For the Crumble Topping
Rolled oats
Almond flour
Coconut sugar
Walnuts or pecans
Coconut oil
Cinnamon
Nutmeg
Salt
To Assemble the Apple Crisp
This recipe is as easy as 1-2-3... literally! You are only three steps away from your warm and cozy dessert:
Mix all of the filling ingredients in one bowl and place them at the bottom of your baking dish.
Mix all of the topping ingredients in another bowl and pour it over top of the filling mixture.
Bake in the oven at 350° degrees for 45-50 minutes.
Tips for this Recipe
Before you start baking, here are my top tips to ensure you get the most delicious sugar free apple crisp possible!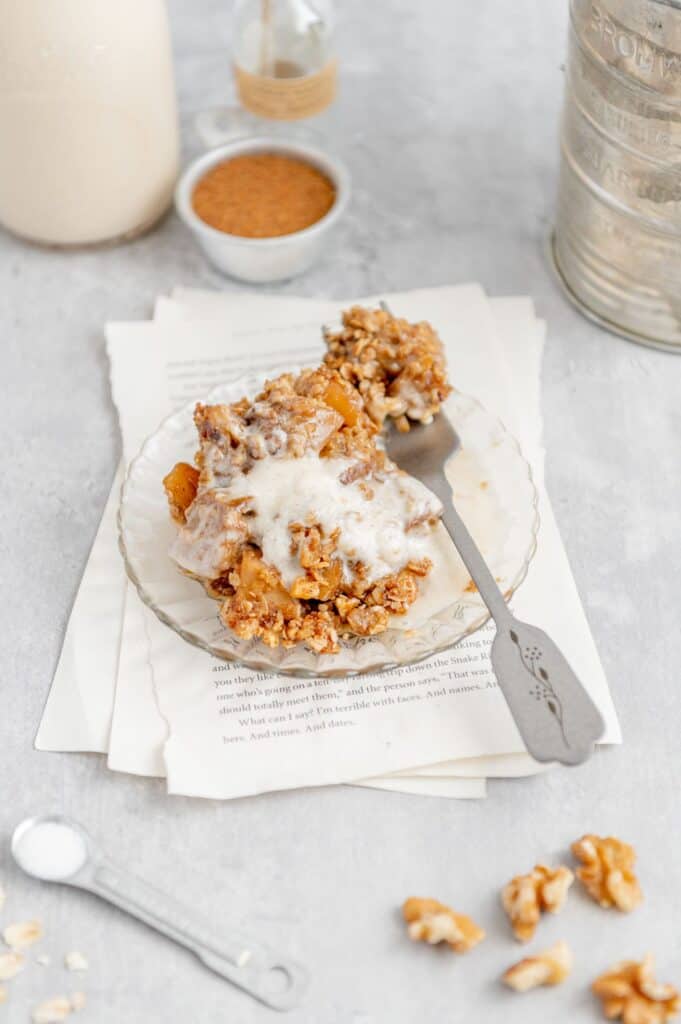 Which type of apples are best to use in a crisp?
I like to use apples that are both tart and sweet, and will stand up well during the baking process. I chose a mixture of Granny Smith and Honeycrisp apples. I think Golden Delicious or Fuji would also work well in this recipe.
How to prep your apples?
You'll want to peel and core your apples before mixing them with the other filling ingredients. Apple skin can be a little tough, so removing the skin will ensure that you have that ooey-gooey inside! Also, make sure they are uniform in size when you're cutting so they cook as evenly as possible.
What sweetener to use?
Since I wanted this recipe to be refined sugar free, I used coconut sugar and pure maple sugar. You can use other sweeteners like monkfruit sweetener if you'd like, but you might have to adjust baking times.
What to serve with an apple crisp?
Ice cream is my go-to because it perfectly compliments the warmness of the apple crisp. You could also top it with whipped cream if that's more your style!
How to store and reheat your crisp.
Allow the apple crisp to cool completely before putting it in your refrigerator or freezer. You can store it in an air-tight container in the fridge for up to five days or the freezer for up to a month. When you are ready to dive in again, reheat it in the oven at 350° for 15 minutes.
If you're an apple lover like me, you'll love this recipe because it's:
Simple
Cinnamon-y
Warm
Fruity
Sweet
Comforting
Spiced
Crumbly
Let me know if you try out this sugar free apple crisp for yourself, and if you do, I would love it if you left a rating and review below! Make sure you are also following along on Instagram and Pinterest for more food inspiration.
Craving More? Try These Other Vegan Recipes:
Print
📖 Recipe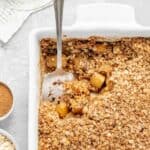 Sugar-Free Apple Crisp
---
Author:

Total Time:

1 hour 5 minutes

Yield:

8

Servings

1

x

Diet:

Vegan
Description
This healthy sugar-free apple crisp has three major things going for it: it's dairy-free, naturally sweet, and vegan!
---
For the Apple Filling:
3

Granny Smith apples, peeled, cored, and cubed

3

Honeycrisp apples, peeled, cored, and cubed

⅓ cup

coconut sugar

2 tablespoons

arrowroot powder

2 tablespoons

lemon juice

2 teaspoons

cinnamon

1 teaspoon

allspice

¼ teaspoon

nutmeg

¼ teaspoon

ginger, minced

¼ cup

water

2 teaspoons

vanilla extract
For the Crumble Topping:
1 ½ cups

rolled oats

⅔ cup

almond flour

⅓ cup

coconut sugar

½ cup

walnuts or pecans, chopped

½ cup

melted coconut oil

1 teaspoon

cinnamon

¼ teaspoon

nutmeg

¼ teaspoon

salt
---
Instructions
Preheat oven to 350° and spray a 9x11 baking pan with nonstick spray.
In a large bowl. mix together all of the apple filling ingredients (apples, coconut sugar, arrowroot, lemon juice, cinnamon, ginger, water, and vanilla extract). Pour the mixture into the baking dish.
In another bowl, mix together all of the crumble topping ingredients (rolled oats, almond flour, coconut sugar, nuts, coconut oil, cinnamon, nutmeg, and salt). Spread the crumble topping evenly over the apple mixture.
Bake for 45-50 minutes. Check on the apple crisp around 30 minutes into baking. If the topping is becoming too brown, cover with aluminum foil for the last 15-20 minutes.
Let cool for 10 minutes before serving. Enjoy the apple crisp on its own or with a scoop of ice cream!
Prep Time:

20 Minutes

Cook Time:

45 Minutes

Category:

Dessert

Method:

Bake

Cuisine:

American
Nutrition
Serving Size:

A heaping scoop

Calories:

424

Sugar:

31.5g

Sodium:

78mg

Fat:

24.1g

Saturated Fat:

13.6g

Carbohydrates:

51.1g

Fiber:

7.4g

Protein:

6.2g

Cholesterol:

0mg
Keywords: sugar-free, apples, cinnamon, apple crumble, apple crisp, dessert, healthy
Pin the below image so you can make this dessert again and again!