Whether you're a new vegan, a longtime vegan or just someone looking to make more sustainable choices when it comes to food, this list of easy vegan food swaps is for you!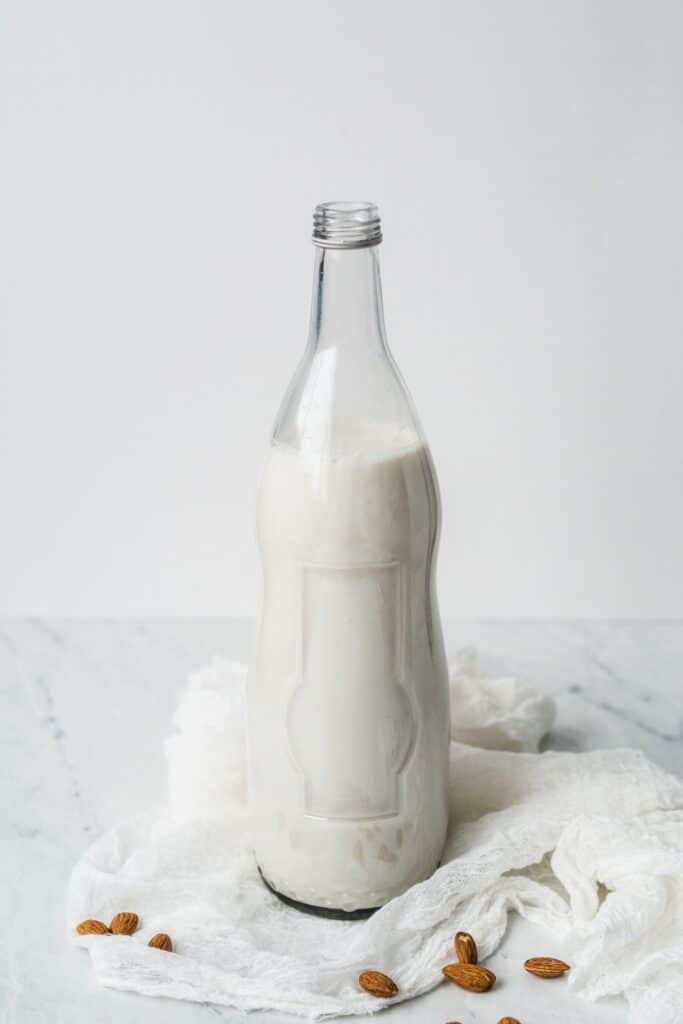 I'm not going to lie to you. As a beginner vegan, it's easy to feel overwhelmed. Initially, you might focus on all of the things you can't eat instead of all of the things you can! Even if you are trying to switch out a few meals each week to be vegan, you might not know where exactly to start.
Luckily, these days, many companies and products out there will easily fulfill just about any craving you have. Beyond Beef tastes just like a burger to me, Daiya mac and cheese still gives me the same comfort as Kraft did, and Just Eggs are insanely similar to the real deal. All of these options can be huge lifesavers when first going vegan.
Today, however, instead of talking about the obvious "faux" vegan food swaps like real bacon for vegan bacon or mayonnaise for Vegenaise. This post will cover the natural vegan food swaps that are hiding right under your nose! After reading through these vegan food swaps, I hope it becomes easier for you to choose the vegan option.
Swap Cow's Milk with Dairy-Free Milk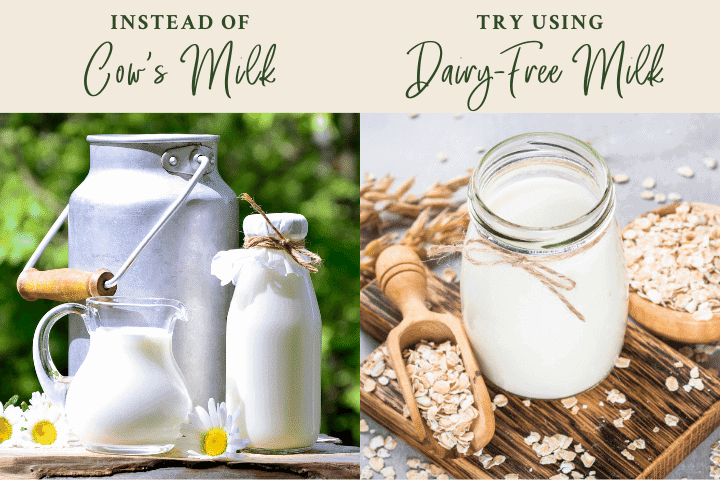 Milk is one of the easiest places to start when trying to swap things for a vegan alternative. There are endless amounts of dairy-free milk options out there. From coconut milk to almond milk, hemp milk, cashew milk, rice milk, and macadamia milk, there is bound to be a plant-based milk out there that you'll like. Most likely, you won't even taste the difference in your cup of coffee or cereal after making the switch. Plus, producing a glass of cow's milk results in almost three times the greenhouse gas emissions of any non-dairy milks, according to a University of Oxford study, so it's a decision you can be proud of!
Swap Heavy Cream with Coconut or Cashew Cream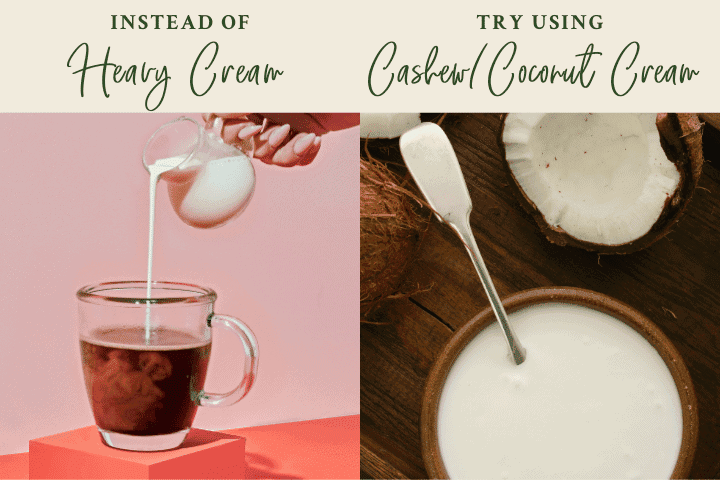 If you need something thicker than plant-based milk, use coconut cream or cashew cream. You can find coconut cream can be found in most grocery stores in either the baking aisle or the Asian section. It works great as a replacement for heavy cream in curry dishes or even baked goods.
If you don't want the coconut flavor, use cashew cream! It is super simple to make and another great substitute for heavy cream. There are only two steps involved in making cashew cream:
Soak 1 cup of cashews in filter water overnight, or if you're in a hurry, you can soak the cashews in boiling water for 30 minutes.
Drain the water and place the cashews into your blender with ¾ cups of water, and there you have it!
I add the cashew cream to pasta dishes or soup for an added thick and creamy texture. You can also add some lemon juice, garlic powder, and paprika to the cashew cream for a more savory flavor or vanilla extract and cinnamon for a sweet flavor.
Cashew cream freezes amazingly well too! I usually make a big batch and separate it into different containers to easily defrost it and add it into a recipe when I need to.
Swap Eggs with a Chia or Flax Egg when Baking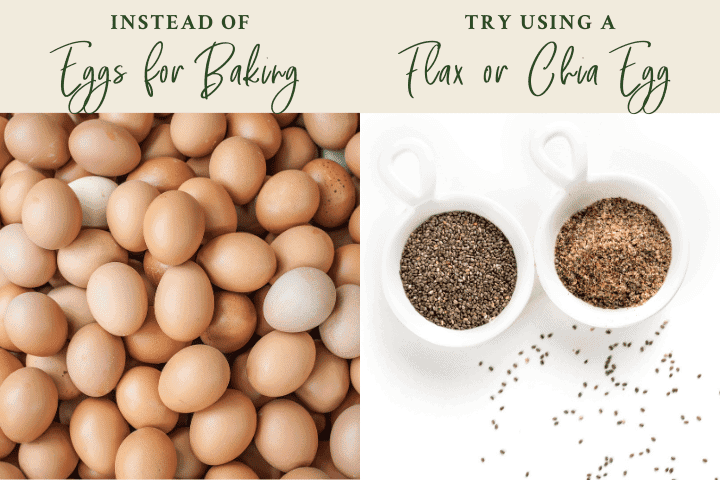 Who needs real eggs to bake up a delicious dessert when you have chia seeds and flaxseeds? To replace one egg, mix 1 tablespoon of chia seeds or flaxseed meal with 3 tablespoons of water, and let the mixture sit for about 10 minutes until it congeals. Not only do these two seeds act as great binders in a recipe, but they both have nutritional benefits. Chia seeds are a superfood rich in omega-3 fatty acids, fiber, and protein. Similarly, flaxseeds are high in fiber, omega-3 fatty acids and great for digestive health. It is important always to use flaxseed meal or ground flaxseeds because flaxseeds in their whole form are hard to digest, so your body doesn't get all of the health benefits.
Swap Scrambled Eggs with Tofu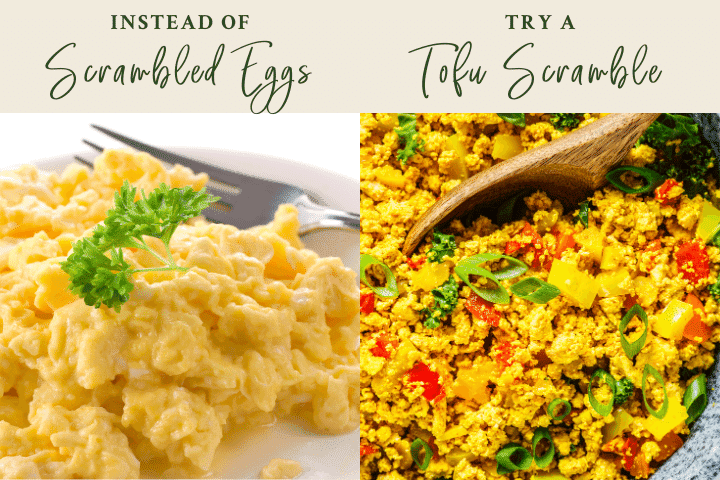 If you're craving scrambled eggs for breakfast, use tofu for a similar taste and texture. Tofu is not only an excellent source of protein, but it also contains all nine essential amino acids. To make a tofu scramble, squeeze the excess water from your tofu, crumble it into a pan, season with salt, pepper, paprika, and turmeric (for that golden yellow egg color), and cook until lightly browned. For even more flavor, add in veggies like bell pepper, zucchini, or mushrooms!
Swap Cheese with Nutritional Yeast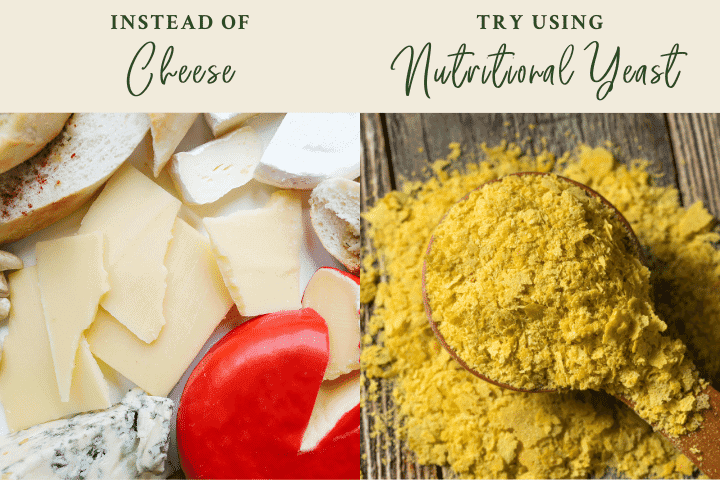 Nutritional yeast, also known as nooch, is a vegan's secret weapon! It has an addictive salty, nutty flavor similar to cheese, and you can use it in anything and everything. I sprinkle nutritional yeast on top of popcorn, pasta, or pizza. Really any situation that calls for cheese, nutritional yeast would work. The best part about nutritional yeast is that it contains vitamin B12, which isn't typically found in most vegan, plant-based, or vegetarian food.
Swap Pulled Pork with Jackfruit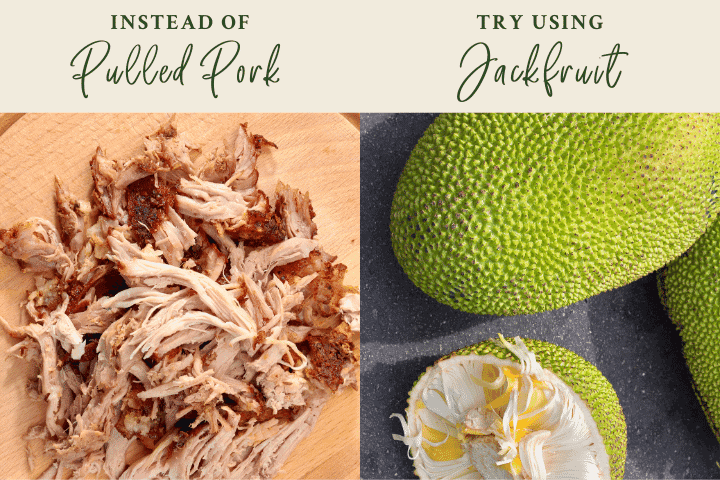 Meat lovers rejoice; you're in for a treat if you haven't tried jackfruit! Native to South India, jackfruit has a "meaty" texture similar to the real deal. It's quite hard to miss at a grocery store because it's huge, green, and spikey. But, jackfruit smothered in a yummy BBQ sauce is the perfect substitute for pulled pork in a burger or tacos. It also doesn't hurt that jackfruit is a good source of vitamin C, potassium, dietary fiber, and other vitamins and minerals. Typically, jackfruit can either been found in the produce section or the canned goods aisle.
Swap a Burger with a Portobello Mushroom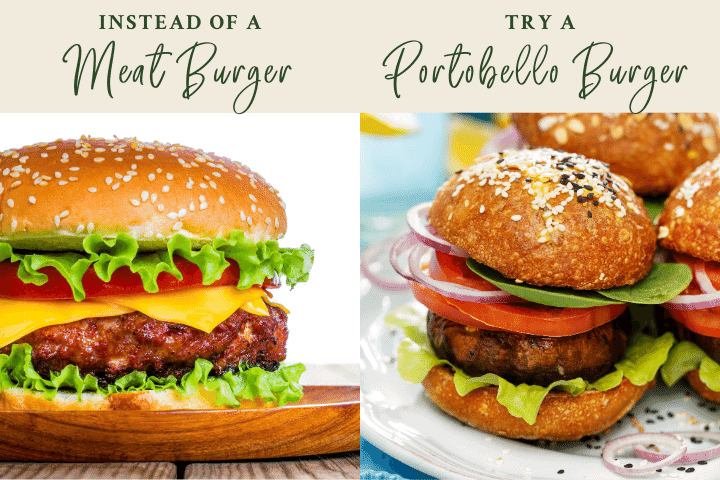 In general, mushrooms are a great replacement for meat in any dish because of their versatile, umami flavor. If you're in the mood for a burger, portobello mushrooms are a top choice. They are literally the perfect size to put between two buns and eat just like a burger! To prepare portobello mushrooms, whisk together olive oil, balsamic vinegar, soy sauce, vegan Worcestershire sauce, garlic powder, salt, and pepper. Let the mushrooms marinate in the mixture for about 10 minutes on each side. Then, grill them up for 3-4 minutes on both sides, and you have yourself a delicious vegan burger!
Swap Minced Meat with Lentils or Mushrooms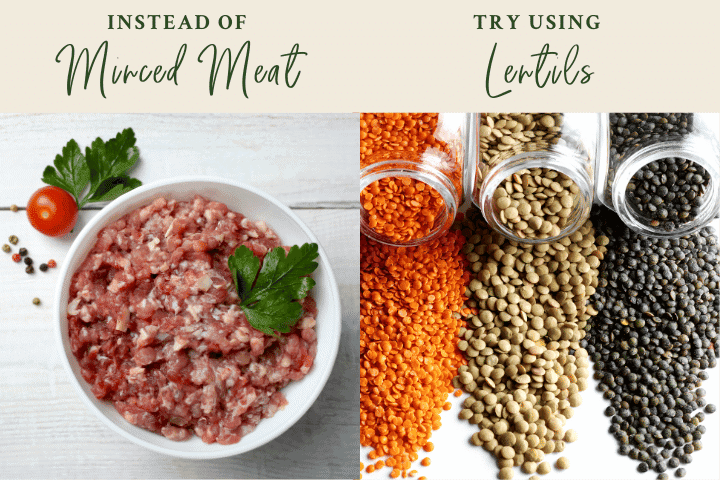 Lentils are a must in a vegan diet! They are part of the legume family and highly nutritious. Lentils are packed with protein, fiber, B vitamins, magnesium, zinc, and potassium, and super budget-friendly. What's not to love, really!? You can replace minced meat or ground meat for lentils in recipes like tacos, sloppy joes, or stews. I love using lentils to make a hearty meat sauce for pasta. I regularly make Rainbow Plant Life's 10-Ingredient lentil bolognese!
Swap Honey with Agave or Maple Syrup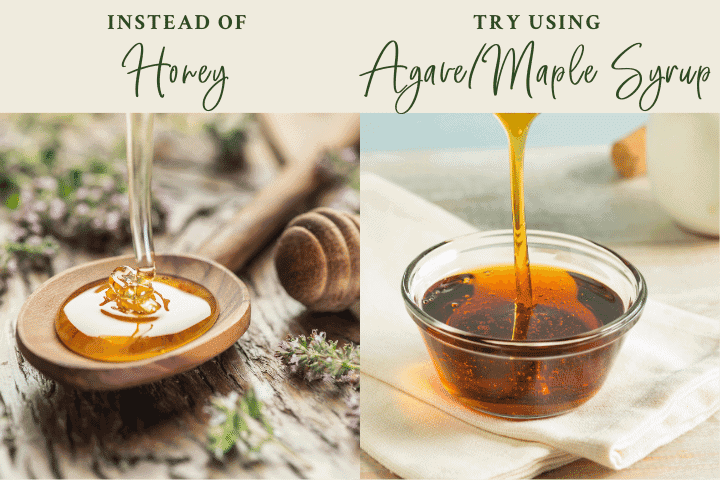 It has long been a debate within the vegan community as to whether or not honey is vegan. Personally, I think honey comes from an animal, and there are plenty of easy substitutes for it, so I avoid it. Two easy alternatives to honey are agave or maple syrup! Both agave and maple syrup have a naturally sweet flavor similar to honey. This makes it easy to substitute honey for either of these two vegan-friendly options when baking, making tea, or whipping up a yogurt parfait.
When substituting either agave or maple syrup for honey in a recipe, you can do a one-to-one ratio (i.e., if the recipe calls for one cup of honey, use one cup of agave or maple syrup). Just keep in mind that agave is slightly sweeter than honey, and maple syrup has a more woodsy, caramel taste to it, so the tastes aren't 100% matched, but either option will still result in something sweet and delicious!
Swap Mayonnaise with Avocado or Hummus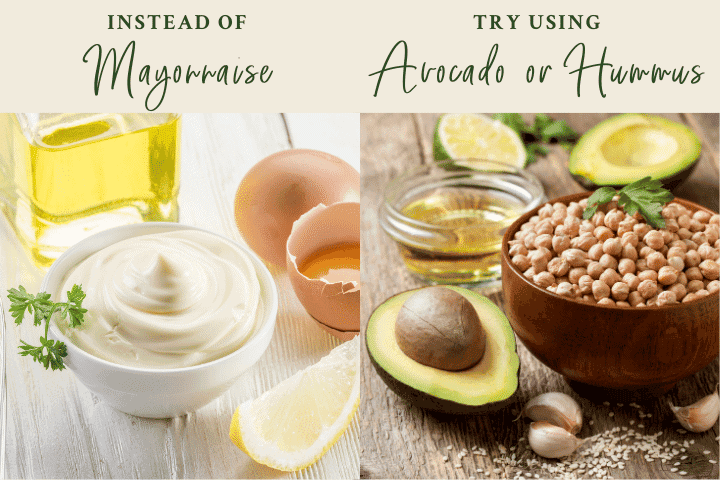 Switching out mayonnaise for avocado or hummus is not only vegan-friendly but also health-friendly. Mayonnaise is a calorie-dense condiment filled with a lot of oil and fat. Both hummus or a mashed-up avocado will give you the same creamy texture as mayonnaise with less of the guilt!
Pin the below image so you can refer back to this post!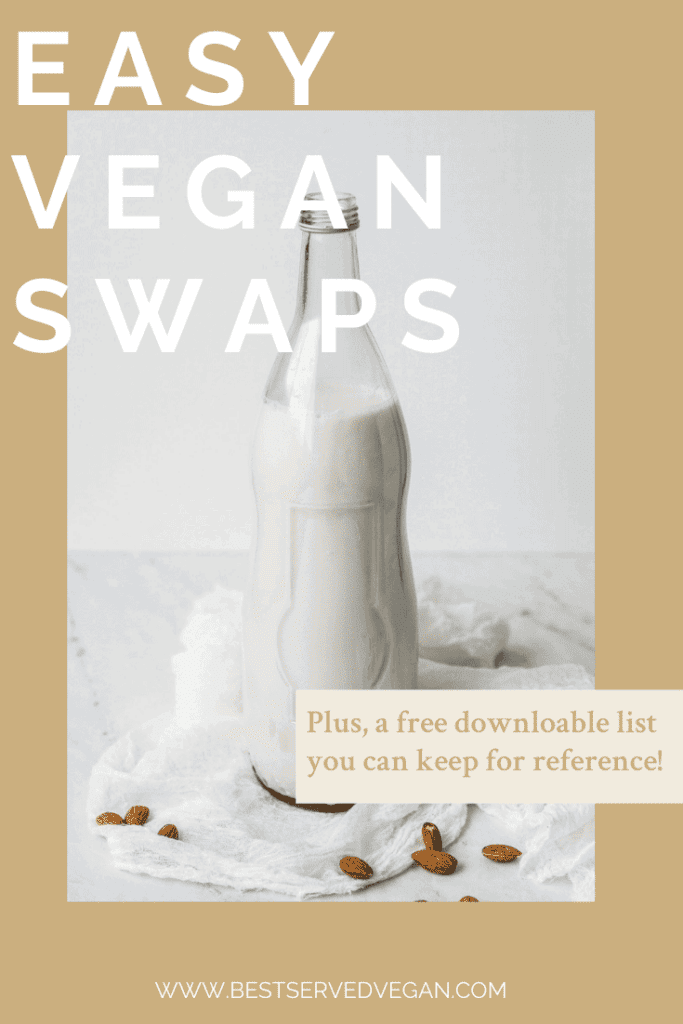 Those were my 10 easy vegan food swaps for you! Let me know if you have any other vegan food swaps I should know about in the comments below. Also, make sure you are also following along on Instagram and Pinterest for more vegan food inspiration!
Looking for More?