Save time and energy with these no-cook camping meals! These breakfast, lunch, dinner, and snack ideas are all simple, make-ahead meals that require no cooking so you can enjoy more of the great outdoors.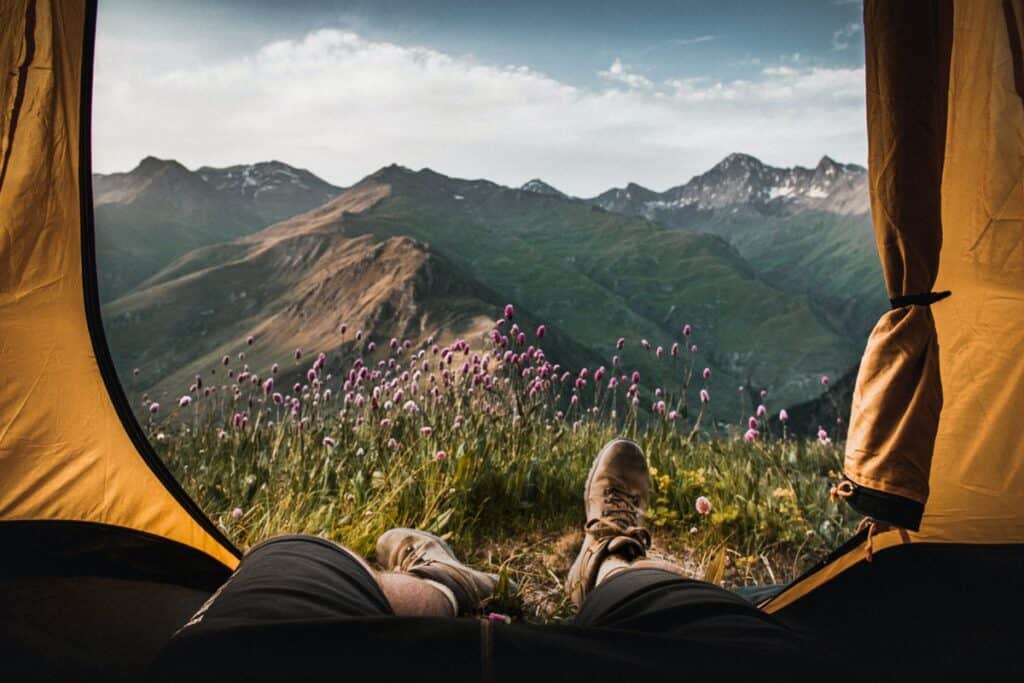 I cannot wait to go on a few camping trips this summer! Being able to put my phone away, go hiking, and enjoy some time outside completely fills me up.
There is, however, one downside to camping. After a long day on the trails, sometimes the LAST thing I want to do is worry about having to cook. But, with all of the outdoor activities, it is important to refuel your body with nutritious and delicious food! That is exactly why I do a lot of preparation beforehand to make my life easier when out camping.
I prefer no-cook camping meals because you don't have to worry about bringing or buying a stove or if your campsite will have a firepit. Also, meals that you don't have to cook are easier to clean up and require way less time, so you can spend more of your time enjoying the great outdoors!
Click through the sections you're most interested in of this no-cook camping meals post below:
Overall Camping Tips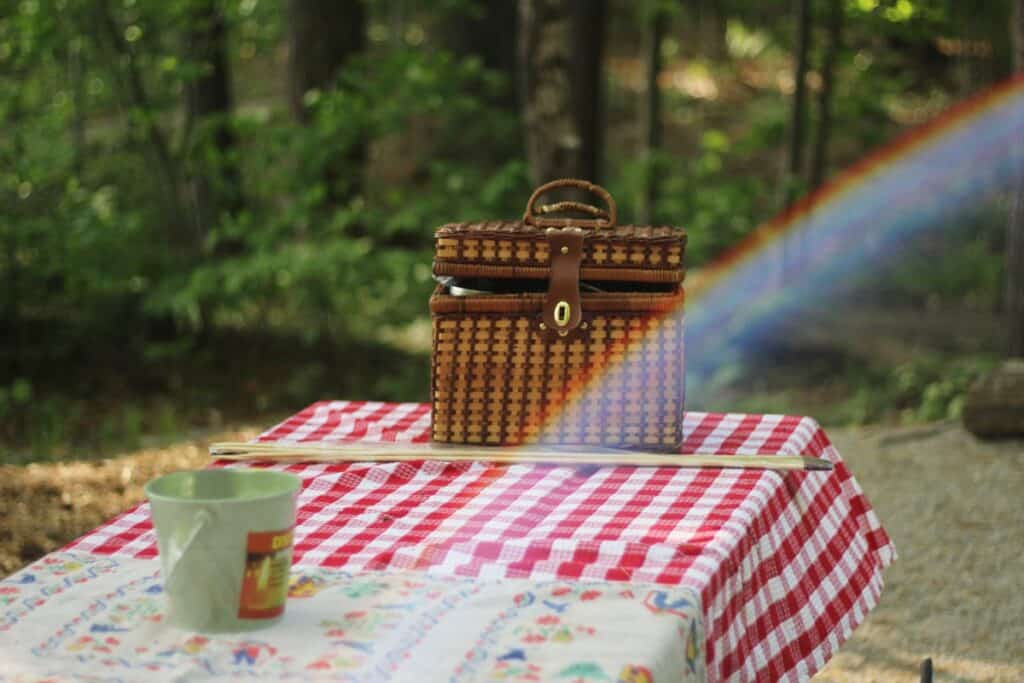 Before we hop into all of the no-cook camping meal options, I wanted to share some of my camping kitchen must-haves. If you have all of these things on hand, your meals will be the last of your worries when camping:
Cooler: a camping essential that will keep the food and drinks you plan on bring chilled and fresh.
Tableware kit: this includes plates, bowls, cups, and cutlery you'll need to enjoy all of your no-cook food. I also recommend having a couple of kitchen knives too in order to chop up anything.
Cutting board: it is nice to have a dedicated cutting board to chop anything on. A cutting board can also double as a serving tray.
Can opener: there is nothing worse than packing a bunch of food and realizing you can't get to it because you don't have a can opener. Actually, one thing worse is bringing beer and wine and not having a bottle or wine oper, so get a can opener that has all the things!
Tinfoil, Ziplock bags, or Tupperware: make sure to bring tin foil, baggies, or Tupperware in case you have leftovers or want to pack lunches for on the go.
Scissors: every time I go camping I find some need for scissors, so I always make sure to have them!
Dishtowel: I always bring a few dish towels so I can dry off clean dishes or clean up spills.
Soap: I always have Campsuds on hand because it is an all-purpose cleaner made from natural ingredients, and a little goes a long way!
Sponge: have a sponge packed so you can clean up your dishes and use them again and again!
Salt and pepper: always a must for added flavor to any camping meal!
Condiments: I save all of the packets of ketchup, mustard, soy sauce, etc. I get when I order out and bring those with me when I go camping.
If you're interested, REI has a comprehensive checklist of ALL of the things you could possibly need on a camping trip.
Camping Breakfast Options
And now, all of the delicious no-cook camping meals you can enjoy starting with my favorite meal of the day - breakfast!
Cereal
A classic breakfast that is a no-fuss choice for breakfast while camping. Bring your favorite cereal, milk, and cut up some fresh fruit, and you have yourself some breakfast in less than five minutes!
Loaded avocado toast
Go a step beyond a typical avocado toast and load it up with veggies, "meats," and sauces! This is super filling and ensures you are getting in a lot of good nutrients at the beginning of your day. I like adding Tofurkey Deli Slices, cucumber, tomatoes, sprouts, and, of course, Everything But the Bagel seasoning on top of my avocado toast.
Chia seed pudding
Chia seed pudding is a weekly staple in my household. It is easy to prepare in several mason jars and grab and go throughout the week, making it an excellent breakfast option when camping. I even mix up the toppings and spices in each mason jar to get some variety. I already have a base recipe for chia seed pudding with topping options on the blog if you click here!
Overnight oats
Similar to chia seed pudding, overnight oats are excellent to prepare ahead of time, so you can grab one in the morning and hit the trails!
Muffins or scones
The big debate - savory or sweet breakfast? This option is for all of my sweet breakfast lovers! Make muffins or scones before heading out for your adventure to enjoy for breakfast or even as a snack. I have an amazing scone recipe here!
Camping Lunch Options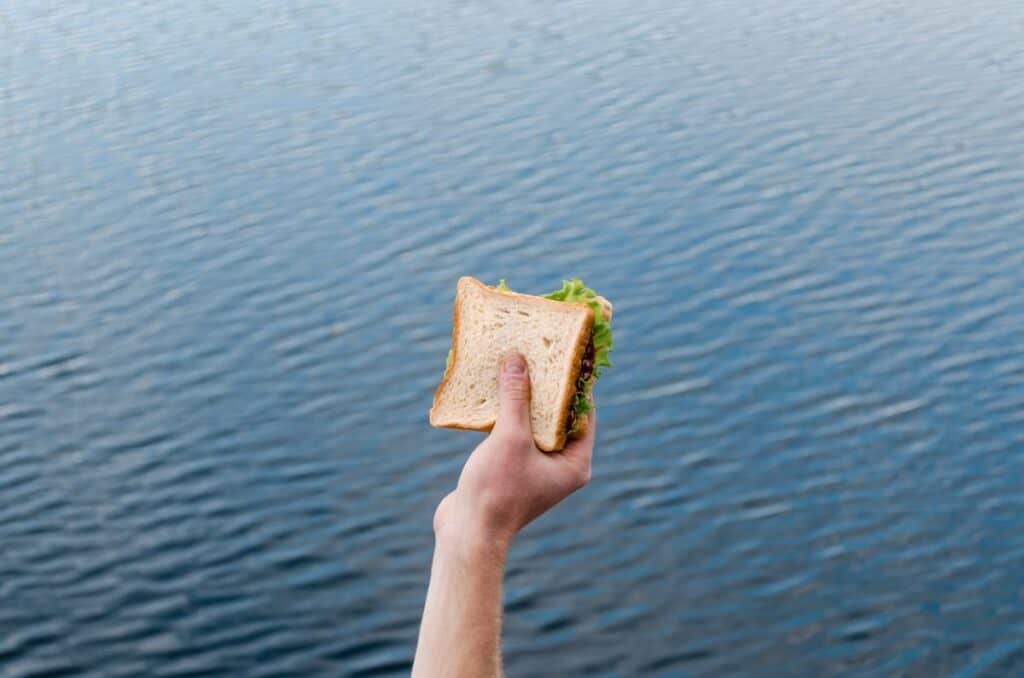 These no-cook lunch options are simple to make and best enjoyed mid-hike while you take a breather and enjoy the scenic views!
Peanut butter and jelly sandwiches
Personally, a camping trip isn't complete if I haven't had a peanut butter and jelly sandwich! If you want to level up your PB&J game, check out this article for fancier PB&J recipes!
Chickpea "tuna" with crackers
Don't knock chickpea "tuna" until you try it! My non-vegan friends love this stuff, and it is excellent dipped with crackers or on a sandwich. Here is a recipe from Hot for Food that you probably already have all of the ingredients on hand.
Pinwheel roll-ups
A simple lunch option that is made for summer! Finger food is ideal for camping because it means fewer dishes to clean up afterward. Minimalist Baker has a super tasty recipe for sun-dried tomato basil pinwheels!
Cobb salad
If you are thinking of bringing a salad on your camping trip, a cobb salad is my number one pick because it is loaded with all the good stuff! I like doing garbanzo beans, corn, avocado, cherry tomatoes, red onion, and tortilla chips on my cobb salads.
Hummus wraps
Hummus wraps are basically handheld salads! Fill a tortilla up with your favorite veggies and some hummus, and you have a flavorful on-the-go lunch.


Camping Dinner Options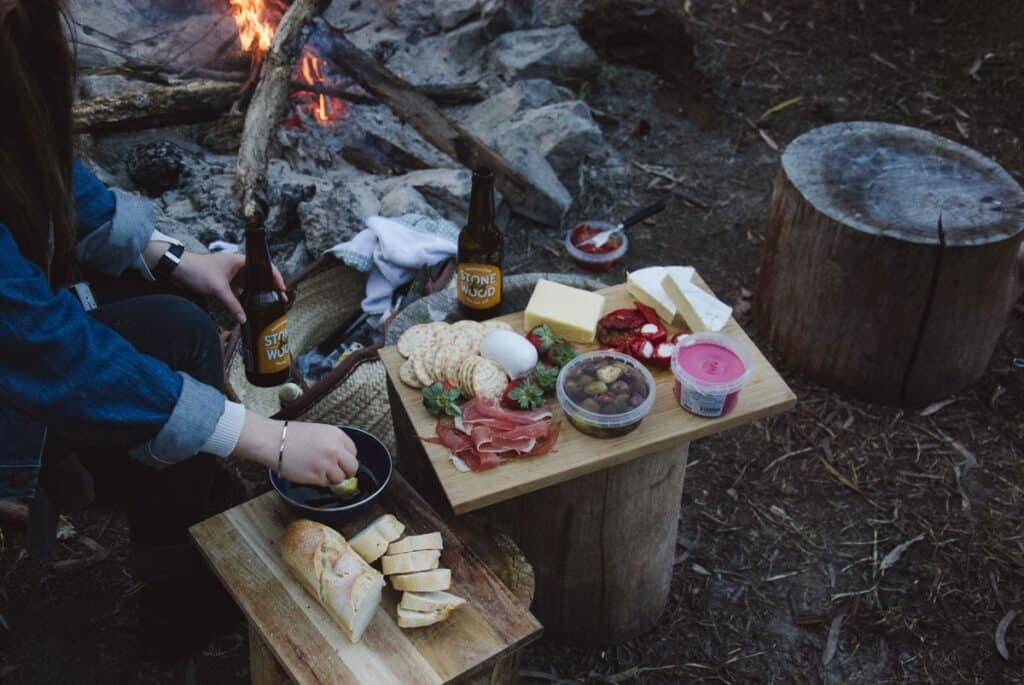 After a long day of adventuring, an easy and filling dinner is a must! Here are my top picks for a no-cook camping dinner:
Buddha bowls
I am always making buddha bowls because you can change a few things to make them taste completely different. Pack premade rice and whatever toppings you are feeling. For something Mexican inspired, bring canned beans, corn, lettuce, and pico de gallo. If you crave poke bowls as much as I do, pack sliced tofu, edamame, cucumbers, radishes, and shredded carrots. There is a buddha bowl for every mood!
Charcuterie board
My absolute favorite way to eat is to have a little bit of a bunch of different things. That is exactly why charcuterie boards and I are best friends! Bring fruits, vegetables, vegan cheese, olives, dips like jam or hummus in your cooler, and some crackers and bread too. Assemble your charcuterie board, and you'll instantly go from camping to glamping!
Pasta salad
Pasta salads are wonderful to bring along for a picnic or while camping. You can load them up with veggies, and they are extremely filling. Eating by Elaine has a bunch of incredible pasta salad recipes on her blog, but this creamy pasta salad has to be my favorite!
Asian slaw
What is not to love about a slaw? I highly recommend this recipe from Feasting at Home. It is simple to make, healthy, and deliciously crunchy! Definitely add tofu or a protein of your choice to bulk this recipe up a bit more.
Spring rolls
Can you tell that Asian food is my jam? Spring rolls are super fun to make and you can customize them to your liking. Click here for a spring roll recipe from Cookie and Kate that even includes a yummy peanut dipping sauce!
Camping Snack Options
Finally, no camping packing list can be completely checked off until you have all of your snacks packed! Here are my go-snacks to bring while camping:
Chips, vegetables, and salsa/guacamole
Crackers
Dark chocolate bars
Dehydrated or fresh fruit
Granola bars
Nuts
Nut/seed butter
Are you ready for your next camping trip now? I hope these no-cook camping meals inspired you and got you even more excited for your next adventure. Comment below if you have any other no-cook camping meals that I didn't include!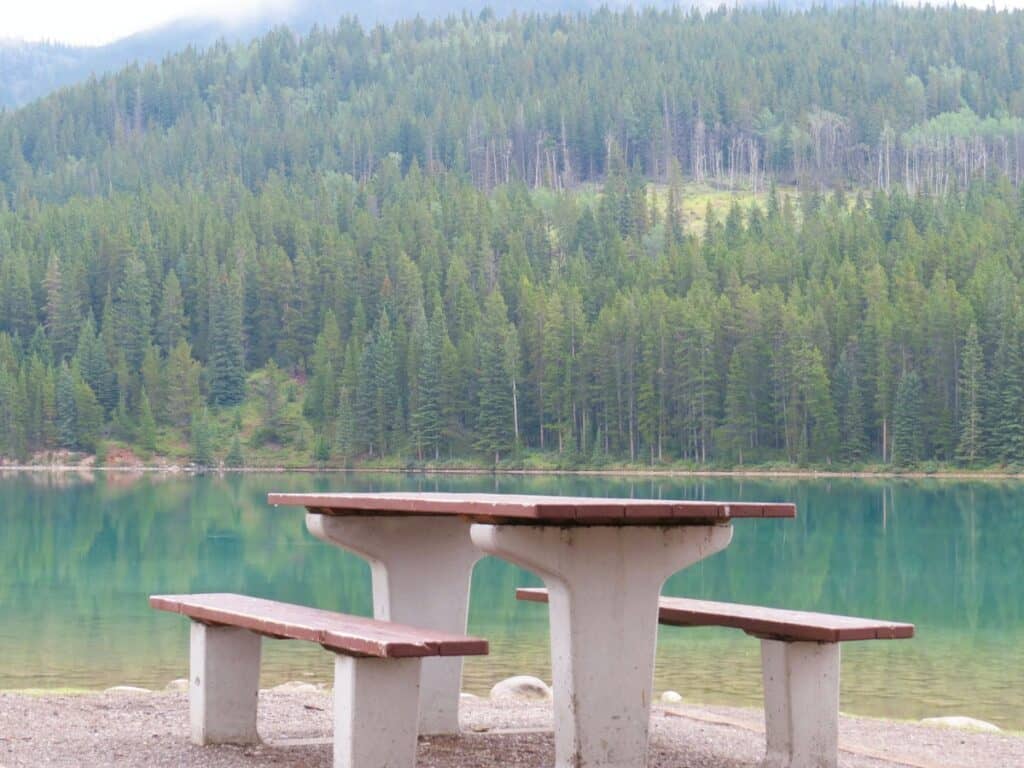 Other Posts You Might Be Interested In