Did you know that Taco Bell is one of the most vegan-friendly fast-food chains? Here is your full guide for how to order vegan at Taco Bell!
Did you know that Taco Bell is one of the most vegan-friendly fast-food restaurants out there? And no, I'm not just talking about one vegan option on the menu. The possibilities are ENDLESS for us fellow vegans! Word on the street is that Taco Bell may even be adding plant-based "meat" options to their menu soon too!
For now, whether you're vegetarian, vegan, or dairy-free, you can enjoy just about anything on the Taco Bell menu if you know how to order it right. This guide for how to order vegan at Taco Bell is all you need to get yourself some delicious Mexican grub!
Vegan Ingredients at Taco Bell
Before diving into all of the amazing vegan menu items at Taco Bell, you should know all of the ingredients available to you as a vegan. Even if a menu item doesn't seem like it can be made vegan at first, having this list will allow you to customize just about anything on the menu. Save this list in the notes app on your phone of all of the AVA certified menu items at Taco Bell:
Proteins: black beans, refried beans
Taco Shells: chalupa shell, gordita flatbread, taco shell, flour taco, tostada shell
Toppings: jalapeno peppers, lettuce, onions, potatoes, guacamole, red strips, tomatoes
Sides: hash brown, nacho chips, seasoned rice, cinnamon sticks
Sauces: breakfast salsa, diablo sauce packet, fire sauce packet, hot sauce packet, mild sauce packet, red sauce
Vegan Menu Options at Taco Bell
Sometimes ordering a vegan option at a restaurant can be quite a mouthful. "I'll take the number 5 without the meat, add beans, remove the cheese, no sour cream, no dairy anything actually, extra lettuce, and add avocado too." Sound familiar?
Thank goodness, Taco Bell makes it pretty simple for my fellow vegans! You only need to know two phrases, and most of your favorite menu items are instantly vegan.
Both the black beans and refried beans at Taco Bell are vegan, so you can switch out the meat in anything to whichever beans you prefer. Fresco style replaces any nacho cheese sauce, mayo-based sauces, shredded cheese, and/or sour cream with Pico de Gallo. This is a great option for vegans but also for those looking for a healthier, lower-calorie option.
To bulk up any menu item, I like to add guacamole or potatoes sometimes too. Thankfully, Taco Bell hastily removed potatoes from their menu for a couple of months but realized their mistake and added them back!
Now, for the reason you are probably here - all of the vegan options at Taco Bell you can enjoy! Here are some of my favorites...
Crunchwrap Supreme
Sub beans instead of beef, and make it fresco style. I also really like adding guacamole and potatoes to my vegan crunchwrap because it makes it super filling.
Crunchy or Soft Taco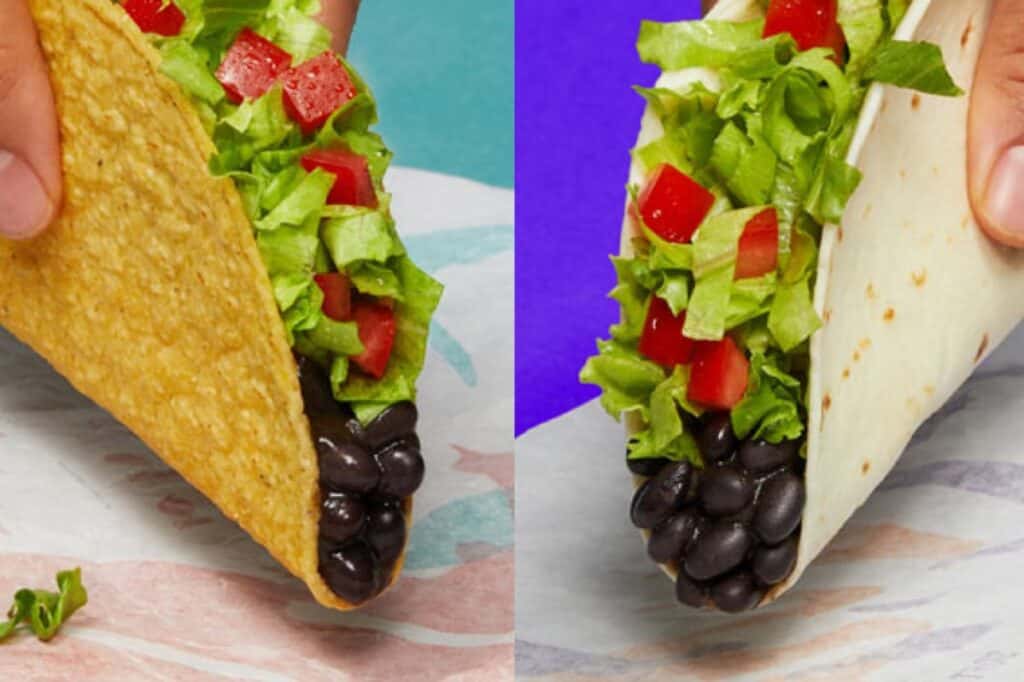 Like the Crunchwrap, make crunchy or soft tacos vegan by subbing beans instead of beef and asking for it to be fresco style. Also, feel free to add any of the toppings listed in the previous section for more flavor!
Spicy Potato Soft Taco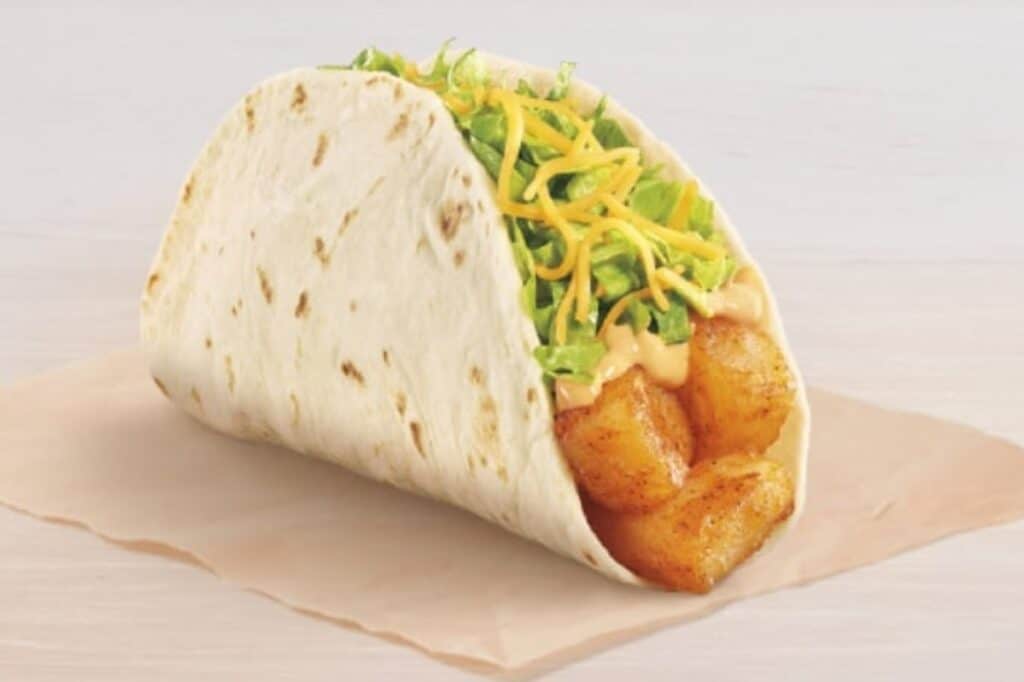 This spicy potato soft taco is perfect for those of you looking for a bean-free option. If you order it fresco style, this taco comes with just potatoes and lettuce, so definitely add more toppings for a more filling taco.
Black Bean Chalupa
A chalupa is definitely not the healthiest option on the menu, but sometimes a craving for thick, fried bread hits, and a chalupa is your answer!
Veggie Power Menu Bowl
Like a Chipotle bowl, the power menu bowl traditionally comes with rice, beans, lettuce, guacamole, tomatoes, cheese, sour cream, and avocado ranch sauce. To make it vegan, utter those magic words, fresco style! I also always double-check that they remove the avocado ranch sauce, just in case. You can also order this in burrito form if you want something handheld instead.
Bean Burrito
If you want a Taco Bell staple, order a bean burrito fresco style. You can also add any additional toppings to level up this simple burrito.
Burrito Supreme
Looking for something a little more filling than a traditional bean burrito? Try the burrito supreme! Of course, sub beans instead of beef, and make it fresco style. The burrito supreme already comes with onions, lettuce, tomato, and red sauce, but you can add any additional toppings you'd like.
Nachos BellGrande
Everyone repeat - sub beans instead of beef and make it fresco style. For these nachos, I prefer the refried beans because they hold all of the toppings better, and I add alllllllll the toppings for fully loaded nachos!
Cinnamon Twists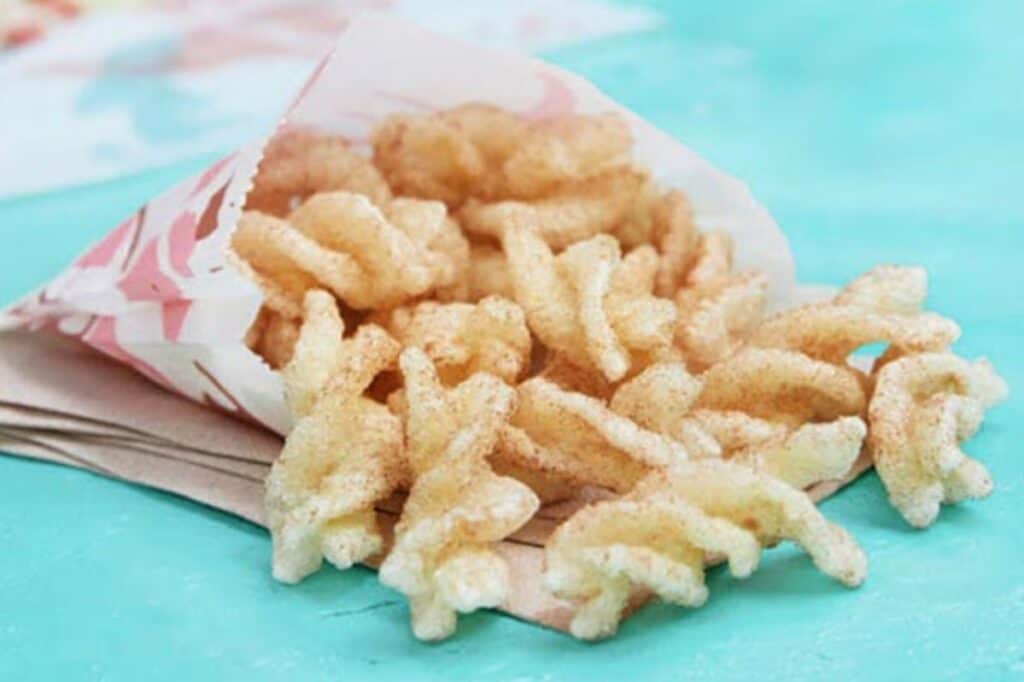 Taco Bell's light and airy cinnamon twists are the perfect way to finish off your meal, and are vegan as is!
---
There you have it - how to order vegan at Taco Bell! I hope this post is useful for you and shows you all of the delicious menu items you can enjoy at Taco Bell with only a few changes. Comment below your favorite thing to order at Taco Bell, and make sure you follow along on Instagram and Pinterest for more vegan tips and recipes!
Craving More Vegan Content? Check out my other blog posts:
Pin the below image so you can always refer back to this post when you're at the Taco Bell drive thru