Have you ever wished you had concise, persuasive comebacks to comments and questions you receive about being vegan? You may feel deep down that veganism is right for you, the planet, and its animals, but perhaps you feel flustered or unprepared when it comes up in conversation. This is especially true if you've recently gone vegan.
Today, we're going to dive into the art of the plant-based argument so that you can hold your own against anyone who might try to detract, belittle, or otherwise undermine the many benefits of veganism. After some helpful pointers about persuasively arguing for veganism in general, we'll cover ten essential vegan comebacks that will help you navigate any conversation.
The Art of Vegan Comebacks
First, you want to deliver your vegan comebacks in the best way possible. Here are some key tips that will boost both the chances that your argument will land successfully and that the person will come away with a different (ideally better) understanding of veganism.
Remember you're representing veganism – It's so easy to get frustrated with people, particularly if they make silly arguments or refuse to accept the facts that you're raising. In that moment, however, remember that you're representing veganism. So many people already have biases against veganism simply because of in-person or online encounters with vegans that they view as rude or extreme. The last thing you want to do is give them more of an excuse to dislike veganism.
Listen actively and politely – This is etiquette 101, but it's particularly important to show the other person that you're engaged and willing to listen to what they have to say. If you seem aloof and uninterested in their thoughts from the outset, or constantly interrupt them, they're much less likely to respect what you have to say yourself.
Be relatable – Since most vegans were once non-vegans, recalling this will help you appear more relatable. Saying something like, "I never thought I was going to be vegan, but it's honestly one of the best things I've ever done" will instantly make you more relatable, which means they're more likely to hear you out.
Ask questions –Asking questions helps you dictate the conversation. Instead of leaning on ready-made arguments, people will have to think critically on their feet and come to terms with the cognitive dissonance of claiming to love animals while still eating them.
Ethos-logos-pathos – These three terms come from Aristotle's theory of rhetoric, that is, the art of persuasion: ethos, or persuasion through credibility; logos, or persuasion through intellect and reason; and pathos, or persuasion through emotion and passion. By keeping in mind all three aspects, you'll have a much greater chance of convincing your listener.
Stick to the facts – While pathos can be a highly effective way of persuading people, it's hard to beat sticking to facts that the other person will have to face. Having some statistics on hand also strengthens your argument because 1) you'll seem more knowledgeable and thus more authoritative (boosting ethos), and 2) having specific facts to back up your argument will always be more convincing than using vague language—e.g. "Did you know it takes roughly 660 gallons of water to produce a single hamburger?" rather than merely saying "Eating meat is bad for the environment."
Now for what you're really here for - ten vegan comebacks to help you handle vegan criticism!
"I could never be vegan."
This is easily one of the most common excuses thrown out there.
Indeed, most of us said this at one point or another before going vegan and yet here we are! By leaning into your own experience, you'll be more relatable: "Oh man, I used to say that too"; "I could never have imagined going vegan [x amount of time] ago"; "I thought that too, but I'm so glad I realized I could make the change!"
Focusing on the positive side—that is, your ability to change for the better—is a great way to go here. After all, how horrible would life be if change was impossible and we were all stuck with our worst habits?
"Where do you get your protein?"
No doubt one of the most common questions posed to vegetarians and vegans, "Where do you get your protein?" can be so frustrating to hear.
First, that's because protein is easily one of the most overhyped nutrients around. While yes, it's vitally important (read more here), the average person (vegan or otherwise) gets sufficient protein if they consume enough calories, particularly if following a healthy, well-balanced diet. On the other hand, some 95% of Americans are deficient in fiber, while vegans tend to consume an ample amount.
If anything, vegans should be asking meat eaters where they get their fiber! It's best to stay squarely on topic though, so run down some of your favorite sources of vegan protein, some of which you can find here: "15 of the Best Vegan Protein Sources."
"Don't you have to take a ton of supplements?"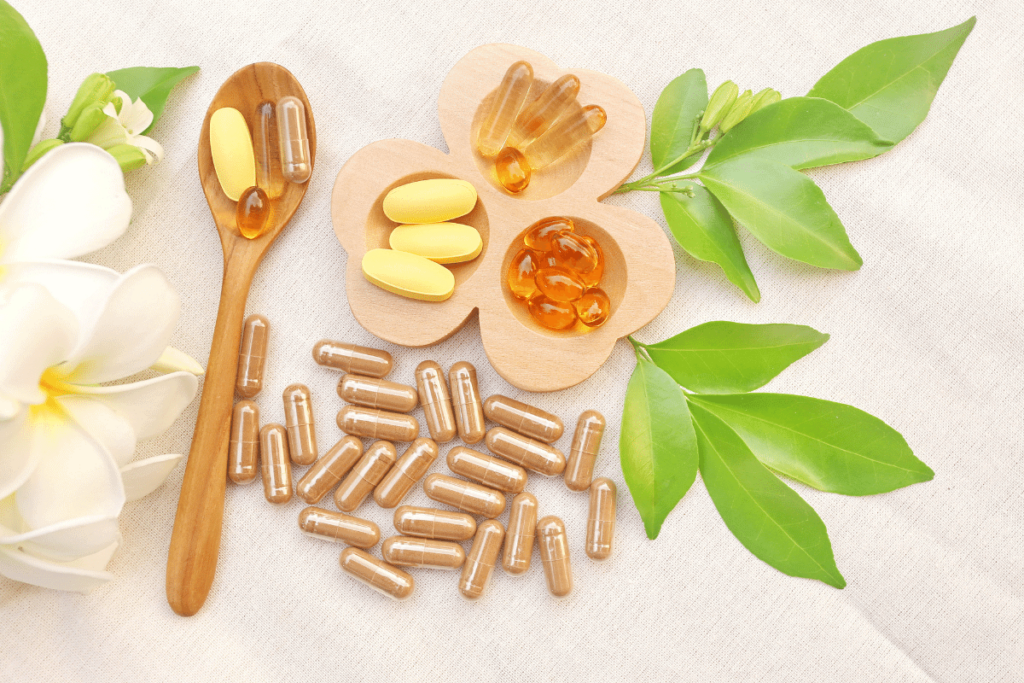 People will ask this even though they themselves take a lot of supplements! Sometimes, the irony is too much…
Nonetheless, it's important that we respond in a calm and collected fashion. You might say, "Nope, just a daily multivitamin with B12," or "I just take B12." How many supplements you may choose to take, however, doesn't really matter, because everyone is different.
The main thing is that you point out that B12 is really the only vitamin or nutrient that vegans need to be concerned with, and it's easily found in multivitamins, on its own, or in fortified plant-based milks or nutritional yeast.
"Meat is necessary for our health."
Like most or all these excuses, this one is quite frustrating because you're standing there as living proof, right?
A good way of easily refuting this one is to offer a rebuttal like, "Well, I've been vegan for [x amount of time] and I feel better than ever" (if that's true for you, of course).
You can also point to the numerous studies that have been done on plant-based eating, including the fact that the American Dietetic Association approves "well-planned vegetarian diets [as] appropriate for individuals during all stages of the life cycle, including pregnancy, lactation, infancy, childhood, and adolescence, and for athletes."
For the cherry on top, you can reference athletes who have thrived on a plant-based diet, such as NBA star Kyrie Irving, ultra-endurance athlete Rich Roll, Olympic weightlifter Kendrick Farris, and tennis champions Venus and Serena Williams (Serena is reportedly plant-based while on tour).
"What can you even eat?"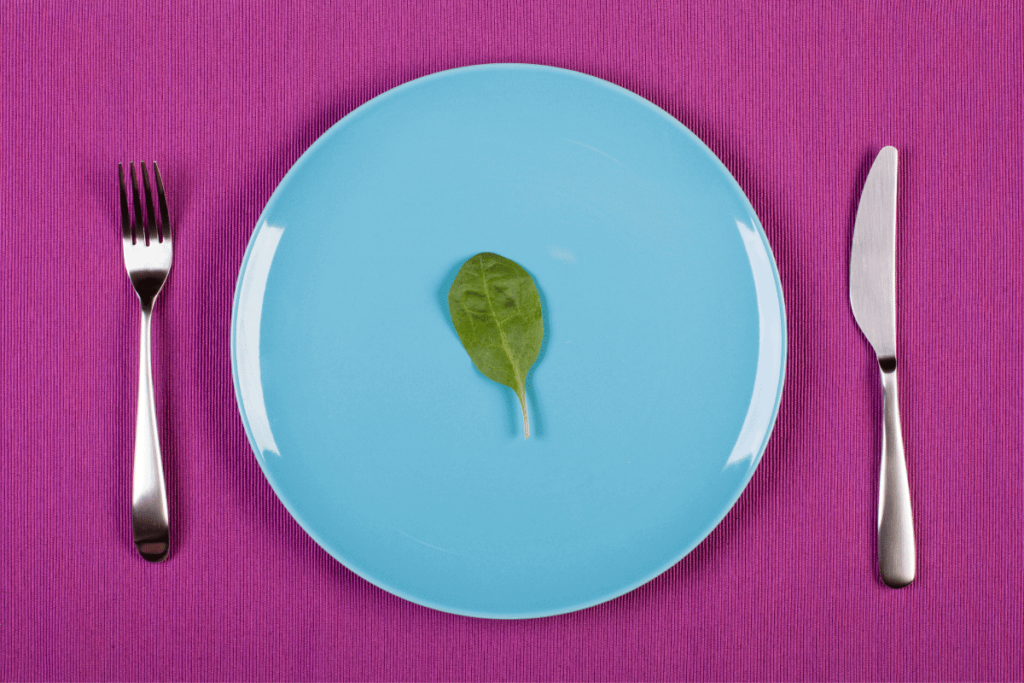 A great way to turn this around is to say something like, "Well, it's more like what can't I eat?"
Given the fact that there are tens of thousands of edible plant foods and only a few animals that people tend to eat over and over again, vegans certainly aren't hurting for variety and flavor by comparison.
Plus, with the ever-increasing amount of dairy and meat alternatives, many vegans are now happily feasting on tasty and readily available "meaty" options such as the Beyond Burger or a black bean crunchwrap from Taco Bell.
You can also point out easy vegan food swaps, such as making fettucine alfredo with a cashew-based sauce (okay, this is one of my new personal faves).
"Don't you ever miss regular food?"
Regular food?? "Um, what exactly is regular food?" you could ask.
A great strategy here is to point out all the "regular" foods that people consume all the time that happen to be vegan (or easily made vegan):
Entire food groups, e.g. fruits, vegetables, and grains
Peanut butter and jelly sandwiches
Rice and beans
Pita and hummus
Soups, e.g. minestrone, lentil, miso, or chili
Ramen
Pasta and tomato sauce
Vegetable stir fry or curry
etc. etc.
We're living in a time where there are even incredible vegan scrambled eggs available at most grocery stores, for crying out loud!
I am all about finding ways to veganize the recipes you know and love. I have recipes for burgers, paella, pigs in a blanket, breakfast hash, and french toast so you can still enjoy those classic comfort meals!
"Isn't being vegan super expensive?"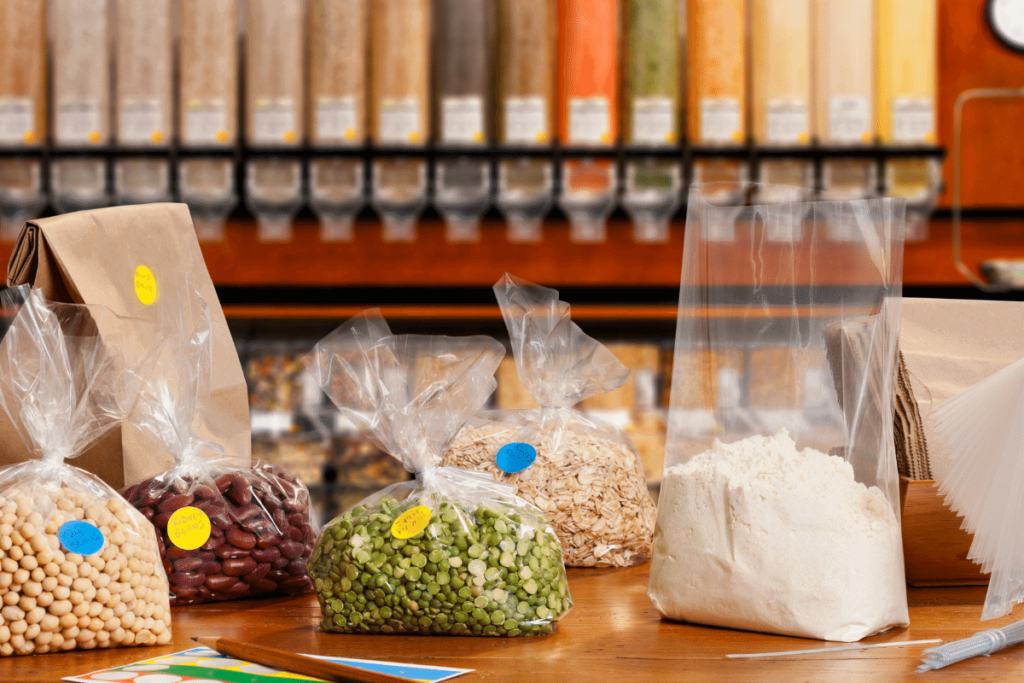 Unfortunately, many people view veganism as restrictive: you can't eat what you want, it's expensive, and just all around difficult.
Let them know that it's easier than ever to be vegan nowadays! The amount of new vegan products offered in just about every grocery store is growing seemingly every week, and thanks to this rise in competition, plus manufacturing at a larger scale, prices have dropped as well.
Plus, that's just the (often processed) meat and dairy replacements. If you stick with healthy vegan staples such as rice, beans, lentils, tofu, etc., especially in bulk, your grocery budget will surely be less expensive than the average meat and dairy consumer.
Veganism doesn't require fancy kitchen equipment and doesn't need to be any harder than you want it to be. For proof, here are some easy no-cook camping meals that are great for when you're on the go.
"Killing animals is just the cycle of life."
People love to reference the food chain and bring lions into the conversation. I swear, it's always lions!
Luckily for us, we have evolved brains that free us to a large extent from the dog-eat-dog world found in nature. This type of comment is a perfect occasion to ask probing questions. Here are a couple of suggestions:
"Don't you think that we have more of a choice than other animals?"
"What is natural about the way most humans eat meat?" (and refer to factory farming, plastic-wrapped processed meat in grocery stores, etc.)
The fact is, humans have disrupted the "food chain" in immensely harmful ways for animals and their habitats, as well as for humans and the environment in general.
Focus on the moral agency side of things—after all, shouldn't human beings pride themselves in their ability to choose options that cause less harm?
"You don't look vegan!"
What in the heck is a vegan supposed to look like?? Unfortunately, due to negative stereotypes, many people assume vegetarians and vegans will look scrawny and malnourished.
This is an example of a good comment to turn around into a question. Ask them, "How are vegans supposed to look?" Once again, you can show that you're living proof of a healthy, thriving vegan.
Moreover, it's absurd to base one's opinion of veganism on how one or two vegans look. It would be just as ridiculous to base your opinion on meat-eating based on the appearance of a few meat-eaters.
"Can't you just live and let live?"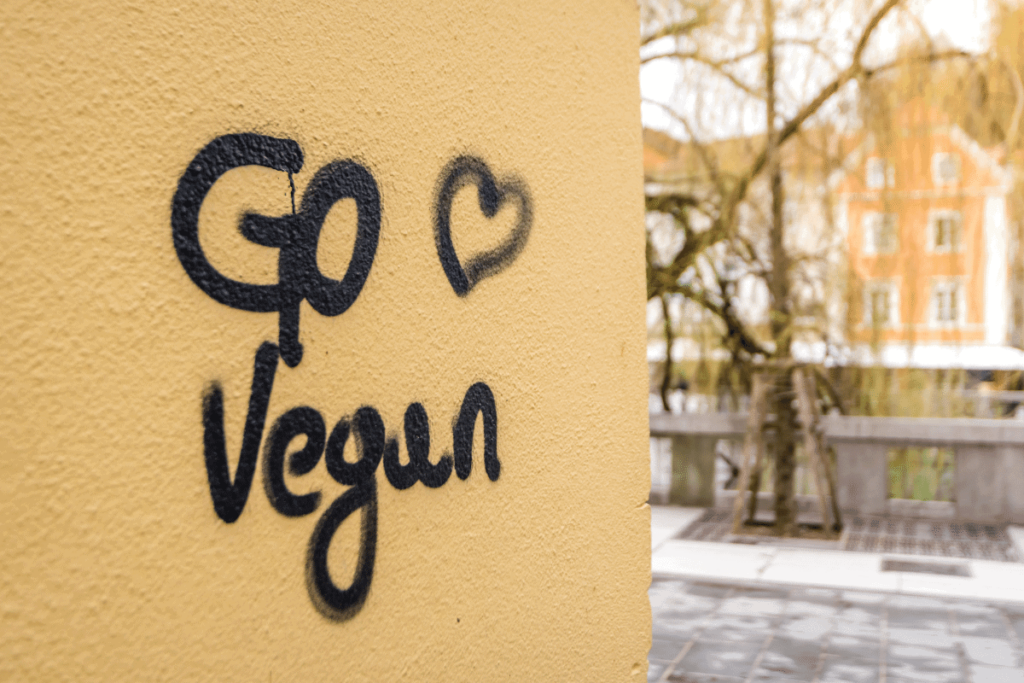 This is another great example of the unintentional ironies that anti-vegan people excel at producing.
"Well, I am trying to live and let live. I want the animals to live." Boom. They're likely to have trouble following up that one.
Summing up
People can be unbelievably cruel to vegans, when most of us simply want to do our part to make the world a better place. Although mockery and condescension are incredibly frustrating, remember to listen well and be relatable.
If you do these two things, and keep in mind the other vegan comebacks outlined above, you'll be well on your way to winning over the next person who talks to you about veganism.
Check Out Other Vegan Content!
Pin the image below so you can always refer back to these vegan comebacks!