This is the ULTIMATE beginner vegan grocery list filled with all the delicious and nutritious food you'll need for a complete vegan diet! Complete with a FREE printable for you to take on your next trip to the grocery store!
If you're new to being vegan, going to the grocery store can suddenly feel like a challenge.
Luckily for all of us, it's never been easier to shop for a vegan diet at just about any grocery store! Seemingly every week, grocery stores like Sprouts and Trader Joe's, and even Target, have new plant-based items on their shelves.
Today, I am sharing a beginner vegan grocery list for you so you can crush it as a beginner vegan! And even if you're not brand new to the plant-based life, you will likely find some inspiration below!
Skip to a specific section below:
Getting Started
It's important to remember that everyone is different, and your vegan grocery list will reflect your individual tastes, diet concerns, etc.
That said, this article provides a general template that you can follow and customize as you see fit. It never hurts to try something out, though—you might just find a new favorite!
In general, this beginner vegan grocery list is focused on foods that will provide a healthy, well-rounded vegan diet. Before we dive into the list, here are some general grocery shopping tips for my fellow vegans:
Check your labels – Dairy and egg are common allergens that should be listed at the bottom of the ingredients list if the item contains them, which helps save you some time. And don't worry if the packaging says "may contain milk"—this is simply because the item was produced in a factory or kitchen that also handles milk, and so there's the possibility of trace amounts of milk being present.
Eat the rainbow – In general, the more color in your cart—at least in terms of produce—the more variety of nutrients.
Plan ahead – Whether you follow this list or not, planning ahead will make your shopping trip quicker. Plus, you're less likely to go over your budget!
Follow the vegan food pyramid – This pyramid consists of nuts & seeds (2 servings), legumes (3+ servings), fruits (4+ servings), vegetables (5+ servings), and grains (6+ servings). This will give you an idea of the right amount of these different foods you should be filling your cart with.
The Ultimate Beginner Vegan Grocery List
If you want to go vegan or are new to veganism, it can be tough to adapt to a dramatic change in your diet. Luckily, thanks to the huge rise in vegan products available in most grocery stores, you can easily find meat, dairy, and even egg replacements!
We're going to look at these products first, then break down the vegan food pyramid mentioned above.
Meat, Dairy, and Egg Replacements
Transitioning to a vegan diet doesn't have to be nearly as hard as many people make it out to be! One of the easiest ways to make the transition is by "veganizing" dishes that you already love.
Since people are transitioning from either vegetarianism, pescetarianism, or eating some amount of meat, egg, and/or dairy products, their favorite meals will likely contain these products.
Here is a list, though not exhaustive, of some outstanding vegan swaps:
Meat – Jackfruit, mushrooms, tofu, tempeh, seitan, and legumes all tend to be vegan staples for getting a meaty texture. You can also find more specific meat replacement options like Tofurky slices, Tofurky brats, Sweet Earth seitan strips or slices, Litelife tenders, and a whole line of burgers and other "meaty" products from brands such as Gardein, Morningstar, Beyond Meat, and Impossible Foods.
Dairy – The variety of plant-based milks now available is remarkable: hazelnut, macadamia, rice, soy, almond, oat, etc. For cheese, some favorite brands of mine are Follow Your Heart, Chao (by Sweet Earth), and Miyoko's. For butter, Miyoko's makes two different kinds now, and they're both amazing.
Egg – There are two prominent vegan egg replacers widely available right now: Follow Your Heart's Vegan Egg and Eat Just's Just Egg. If you are looking for a scrambled egg replacement for breakfast, hands down, go for Just Egg (see my review here) because it is remarkably similar in taste and texture to real scrambled eggs. However, for baking purposes, I recommend the Follow Your Heart egg.
You should be aware that some of these products may be heavily processed. While they are convenient and particularly great for those transitioning to veganism, you may want to consider switching to more whole foods over time.
Grains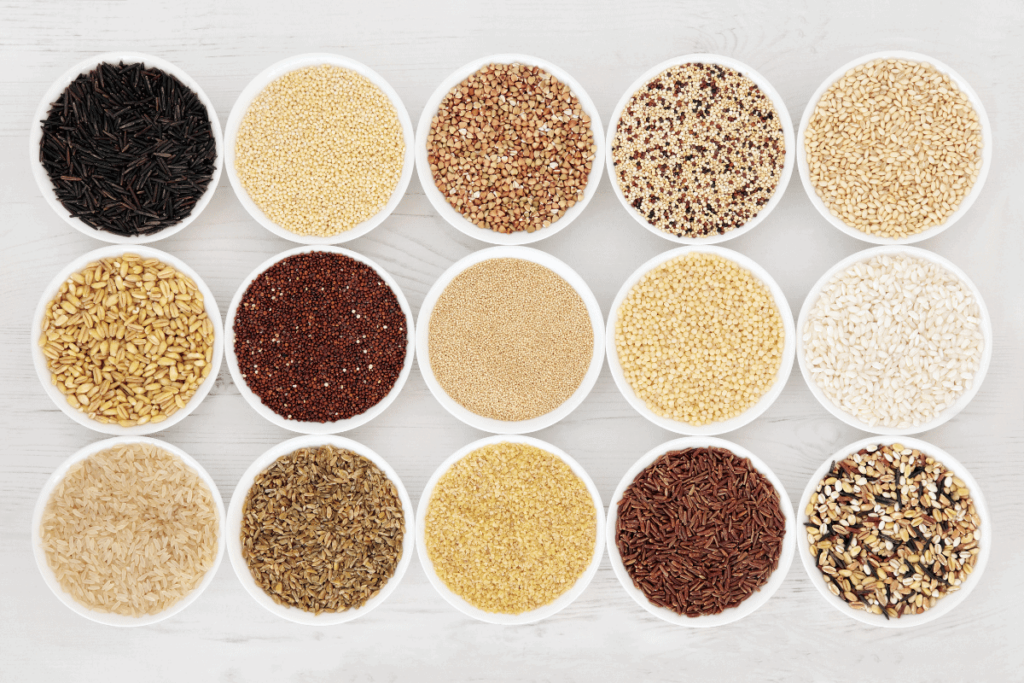 Sadly, grains have been demonized simply for being carbs! But, our bodies run on the fuel provided by complex carbs, and as long as you choose whole grains, then you can expect to maintain a healthy weight and gut, plus a reduced risk of heart disease.
Here are some great whole grain staples to add to your pantry:
Rice – especially wild rice or brown rice (also rice cakes!)
Oats – any kind you prefer (but be aware that some instant oatmeal is loaded with added sugars)
Ancient grains – quinoa, amaranth, teff, farro, spelt, millet, sorghum, buckwheat
Pasta – any whole grain varieties (many gluten-free varieties are made with whole foods)
Bread – any whole grain varieties
Corn – whole corn, popcorn, cornflakes
Flour – whole grain varieties (wheat, buckwheat, rye, oat, etc.)
Refined grains are fine as well, particularly in moderation, and if you eat them with other nutritious food (like veggies—see below!)
Vegetables
No beginner vegan grocery list would be complete without plenty of veggies! And hey, there's a reason why parents are always telling their kids to "eat their vegetables!" We know that vegetables are full of fiber and loaded with vitamins, minerals, and antioxidants.
If you aren't a vegetable lover (yet), don't worry! You can add them to smoothies or easily work them into meals in a way that you won't even notice. Plus, over time, you can learn to love these true superfoods!
It depends on your preferences, but here are some particularly tasty and/or healthy vegetables to keep in mind when you're at the store:
Leafy greens – romaine, spinach, arugula, etc.
Cruciferous vegetables – cauliflower, broccoli, kale, cabbage, Brussels sprouts
Nightshades – bell peppers, hot peppers, tomato, eggplant
Starchy vegetables – potatoes, yams/sweet potatoes, beets, carrots
Alliums – onion, garlic, shallots, scallions, chives, leeks
Misc. – celery, cucumber, green beans, mushrooms
And remember, there's nothing wrong with frozen fruits and veggies! They're usually frozen at peak ripeness and don't lose substantial nutrients in the freezing or defrosting/reheating process.
Fruits
Fruit is not only delicious but also super good for you! Try making it a part of each of your meals, as well as a snack, and you'll easily get to the four recommended servings per day. You can also have a delicious smoothie to pack a lot in at once.
Here are some possibilities for your grocery list:
Apples
Avocados
Bananas
Blackberries
Cantaloupe
Cherries
Figs
Grapefruit
Grapes
Honeydew Melon
Jackfruit (this makes for an amazing "pulled pork" replacement!)
Kiwi
Lemons
Limes
Mangos
Nectarines
Oranges
Papaya
Peaches
Pears
Plums
Pomegranates
Raspberries
Strawberries
Watermelon
It's always nice to buy what's in season as the fruit will taste better, costs will often be lower, and it's better for the environment (both a result of less shipping/handling).
Legumes
What are legumes? They are a plant family called Fabaceae and include legumes—plants whose fruit grows in pods—and beans—the seeds from different plants.
You should stock up on legumes because they're one of the best sources of plant-based protein, plus they come loaded with fiber, complex carbs, and a bunch of vitamins and minerals.
Here are some legumes to add to your list:
Beans – black beans, pinto beans, kidney beans, white beans, garbanzo beans, etc.
Lentils – green, red, yellow, brown, black
Peas – green, yellow, split peas
Soy – soybeans (edamame), tofu, tempeh, soy milk, soy yogurt, etc.
Flour – chickpea, mung bean, soy
If you're not excited (at least, not yet!) about legumes, you can always go for some chili or hummus as an entryway into these little healthy powerhouses.
By the way, eating a ton of beans and legumes may be hard for you to process if you're not used to so much fiber. Be sure to drink lots of water and work your way up to eating more and more legumes over time to avoid bloating and gas.
Nuts and Seeds
Nuts and seeds are not only rich in important nutrients like Omega-3s, calcium, zinc, iron, and more, but they're also more versatile than you might think! In addition to delicious nut butters, you can use nuts—especially cashews—as a base for all kinds of creamy sauces and dips.
Go with whatever you prefer, but here are some nuts and seeds to keep in mind next time you shop:
Nuts – walnuts, cashews, almonds, Brazil nuts, macadamia nuts, pistachios, etc.
Seeds – flax, chia, hemp, pumpkin, sesame, sunflower
Nut butters – peanut, almond, cashew, etc.
Seed butters – tahini (sesame seed), sunflower, etc.
Herbs, Spices, Sauces, and Dips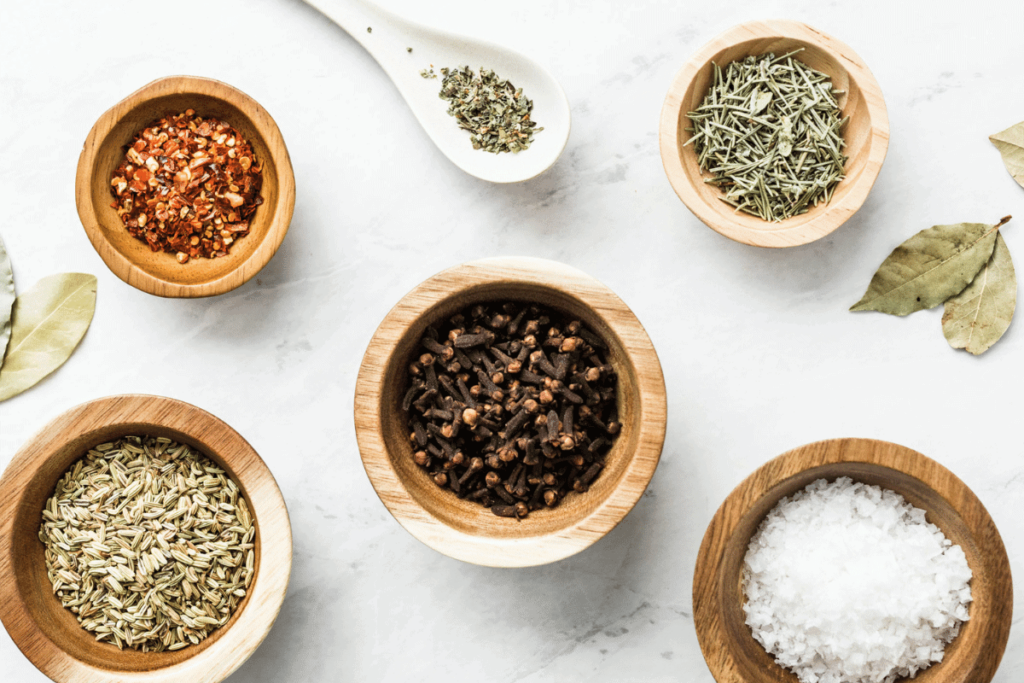 You can make a lot of delicious condiments, sauces, dips, spreads, and more at home. Luckily most things that people add to the meat they cook are plant-based: herbs, spices, ketchup, mustard, steak sauce, etc.
To help take your cooking to the next level, you may want to stock up on the following spices, sauces, dips, and condiments:
Salt and pepper
Italian spices
Red pepper
Onion/garlic powder
Paprika
Cumin
Cilantro
Parsley
Dill
Cacao
Cinnamon
Vanilla
Harissa
BBQ sauce
Ketchup
Mustard
Relish
Soy sauce or tamari
Miso paste
Vegenaise (or another vegan mayo)
Hummus
Guacamole
Vegan salad dressings
Wrapping Up
While I focused on food items in this article, most beverages that you find at the grocery store will be vegan. For alcohol, there's a handy website called Barnivore that you can check. In general, tea, coffee, kombucha, juices, smoothies, sparkling waters, sodas, etc., will be vegan—as always, just check to ensure there's no dairy or other animal products on the ingredient label!
Whether you're a new or longtime vegan, focus on whole foods or delight in the newest meat replacements. I hope this beginner vegan grocery list will help inspire you for your next grocery trip!
Get More Vegan Tips from These Other Blog Posts: