Going vegan can be a huge lifestyle change. If you are thinking of taking the plunge, read through these five simple steps to go vegan first!
With Veganuary coming up, there will be many people going vegan. Unfortunately, up to half of these people or more are not likely to stay vegan based upon previous Veganuary data.
No matter what time of year you're going vegan, there are certain simple steps that you can take that will make your transition to veganism smoother and more sustainable!
So, read on for five simple steps to go vegan!
What is Veganism?
Veganism is a way of life that tries to limit the harm we cause to animals through their exploitation, whether for food, clothing, or any other purpose. Following the definition listed on The Vegan Society's website, veganism is about avoiding harm to animals "as far as is possible and practicable"—I'll go into this a bit more below.
Vegans thus avoid all animal foods, such as meat, fish, eggs, dairy, and honey, as well as animal-derived materials, such as leather, fur, and wool.
5 Steps to Go Vegan
Remember that there's no "right" way to be vegan. The main thing is that you abstain from using and consuming animal-based products as much as "is possible and practicable."
Some vegans take a stance that's a bit hardcore because they make being vegan about perfectionism and purity. This isn't a reasonable or healthy mindset, however, and it likely keeps many people from going vegan at all.
Instead, remember that going vegan is all about causing less harm to animals by reducing overall public demand for animal-based products.
And if you need some motivation for going vegan, you might try a vegan documentary on Netflix. These have helped many people with their transition to veganism.
Now, here are five simple and practical steps that will help you go vegan for good!
Step One: Stay Healthy by Learning Some Basic Nutrition
Here's the good news: you definitely don't need to drop everything and become a registered nutritionist. That said, learning some basic facts about nutrition really comes in handy as a vegan.
For example, the most important nutrient to supplement as a vegan is B12. You can find it in vitamin form, by itself or as part of a vegan multivitamin, and in fortified foods such as plant milks.
Another important nutrient when going vegan is protein. Although this macronutrient is arguably extremely overhyped, it's true that protein has many benefits and will help keep you fuller longer. Check out an extensive list of vegan protein sources here!
In addition to protein, eating plenty of fruits, vegetables, nuts, seeds, and legumes will help keep you nice and full thanks to all the fiber.
It seems daunting, especially to those people out there afraid of needles, but it isn't a bad idea to get blood work done to see what nutrients you may need to supplement. You can also discuss going vegan with your doctor—just be aware that many primary care doctors have little to no education in nutrition—or a vegan nutritionist.
Step Two: Learn to "Veganize" Recipes You Already Love
We all have our favorite foods and dishes. If you're going vegan now or in the near future, chances are many of these dishes include animal products. Now, to really thrive as a vegan, you simply need to learn how to "veganize" those favorite recipes!
Even if you're not a master in the kitchen, there are a ton of super simple vegan swaps. Plus, it's never been easier to find substitutes for dairy, cheese, meat, even eggs! Most major grocery stores as well as many specialty, health-oriented grocery stores will have plenty of vegan options.
Many Best Served Vegan recipes are classic examples of veganizing! To start, you might try the Vegan Poke Bowl, Vegan Tofu Burgers, or Vegan Apple Pancakes.
Step Three: Take Stock of the Impact You're Making as a Vegan
Personally, going vegan has been an incredibly rewarding journey. In fact, my only regret is that I didn't start any sooner!
An easy way to remember the main benefits of veganism is to keep in mind these three main areas:
Animals – By going vegan, you're reducing the demand for meat and other animal products. Over time, and with more people going vegan, this will result in fewer animals being raised for slaughter. It's already been working, and the evidence is the fact that many major meat producers have invested into plant-based meat alternatives. Even with the pandemic, 2020 saw sales for plant-based food products increase by 27 percent to $7 billion.
The environment – Going vegan is indisputably the best diet for the environment, particularly if you focus as much as possible on whole foods and locally sourced foods.
Health – Many people who go vegan report losing weight and feeling more energetic. Plus, a vegan diet is a heart healthy diet, as only animal products contain cholesterol. Although you can easily load up on Oreos and vegan junk food, by focusing on a predominately healthy vegan diet, you will be reducing your risk for heart disease, diabetes, and cancer.
Using The Vegan Calculator, if you manage to go vegan for one month, that equates to saving...
33,000 gallons of water
1,200 pounds of grain
900 square feet of forest
600 pounds of CO2
30 animal lives
Now imagine you can keep it up for an entire year and beyond! That's a huge impact that you'll be making!
Step Four: Stay Organized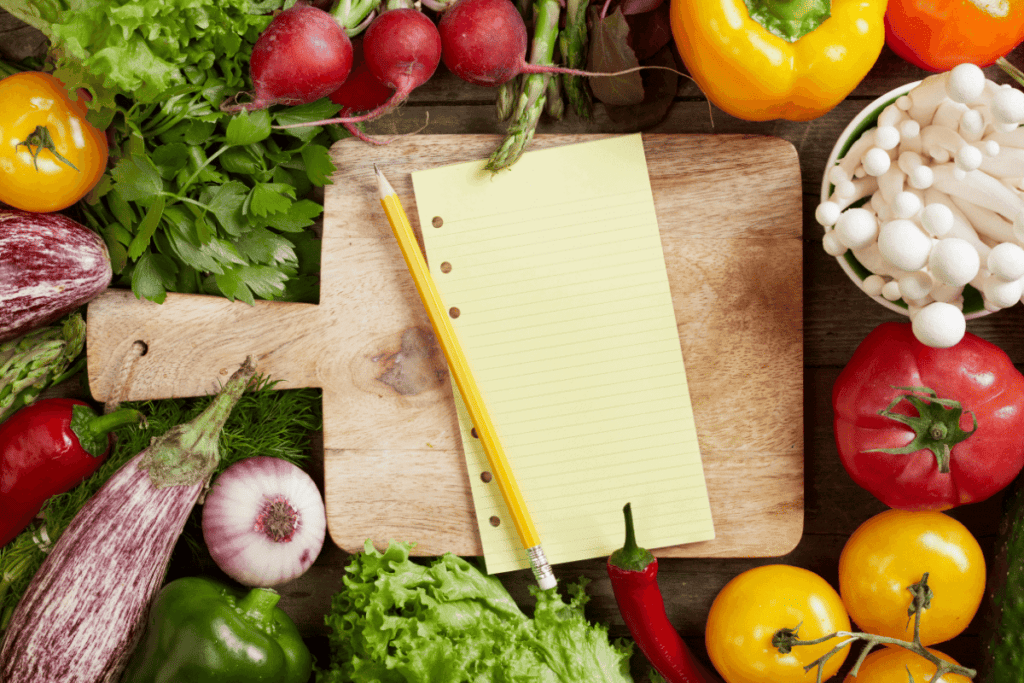 Being a vegan is pretty easy once you've got the hang of it. Part of adapting to veganism, however, is staying organized.
For example, you'll want to take the time to set up a solid vegan grocery list. For inspiration, you can check out that link and also look up some vegan recipes online. You'll also want to be sure to stock up on some classic dry good vegan staples such as beans, lentils, pasta, quinoa, etc. You can check out my list of vegan staples here!
Depending on how much you're on the go, you might want to consider making extra portions of your food when you take the time to do some cooking. That way you'll have quick and easy meals to take on the go thanks to the leftovers, saving you time and also making it less tempting to go for something convenient that may not be vegan.
Step Five: Stay Balanced
Balance is super key when you're going vegan. As I've hammered on throughout this article, veganism is not about being some flawless, perfect person. Eat some vegan junk food if it helps you make it through the month! Balance and moderation are fundamental to sustainability. If you're just starting out going vegan and you commit to being a whole foods only vegan, or a raw vegan, your chances of staying vegan will be far slimmer.
Try a basic split, maybe 75/25 or 80/20, that sees you eating 75-80% healthy, whole foods, and 20-25% vegan junk food/processed food. This is roughly what I do, and it's been very sustainable for over three years now!
In short, make sure you're eating a balanced diet. Only eating junk/processed food, even if it's vegan, will likely have you feeling pretty bleh. Make sure you include nutritious whole foods, which will energize you and keep you feeling full longer! A good way to eat a balanced vegan diet is simply to focus on incorporating all aspects of the vegan food pyramid each day: grains, vegetables, fruits, legumes, and nuts and seeds.
Wrapping Up
To sum up: going vegan will be much easier if you follow these five steps:
Learn some nutrition basics
Learn to "veganize" favorite recipes
Remind yourself of your impact as a vegan
Stay organized
Stay balanced
Taken together, you'll be much more likely to stay healthy and happy as a new vegan! Please feel free to share this with a friend or drop a comment if there's something on your mind!
Get more vegan tips by reading some of the articles below: