Tight on time or just feeling like not cooking? Here are 10 lazy vegan meal ideas that are simple, inexpensive, yet FULL of flavor!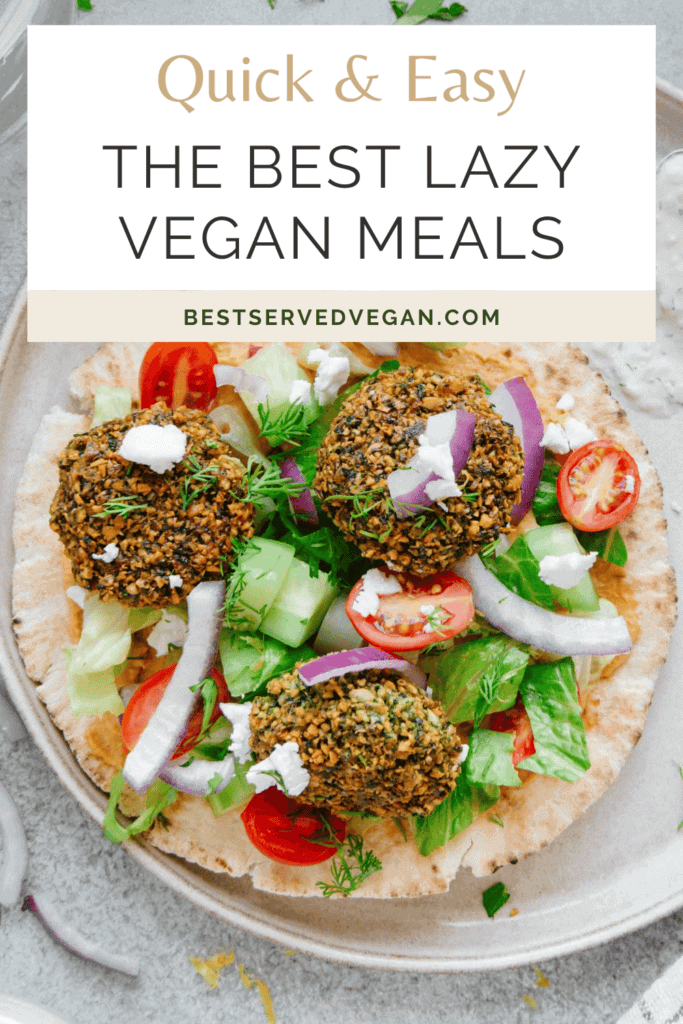 I've lived through some pretty tight budgets over the years and generally manage a super busy schedule. Why am I telling you this? Well, it's helped me master the art of the lazy vegan meal!
Making food for yourself all the time can feel daunting, and the temptation to order out is never greater than when you're exhausted. But have no fear! I've gathered a list of lazy vegan meal ideas are all cheap, healthy, and super easy. Hopefully, after reading through this you'll see that you can treat yourself to delicious, nourishing food even when you're busy and on a budget.
First, I'm going to serve up some tips for thriving on that busy and/or lazy vegan life. Then, I'll be breaking down ten different lazy vegan meal ideas to get you started! So, next time you're unmotivated to cook because you're busy and tired, or simply lazy (no judgment here!), be sure to keep these lazy vegan meal ideas in mind!
Lazy Vegan Hacks
There's a true art to being vegan when you have limited time, money, and/or effort to put into preparing food. These tips will definitely help you out, though!
Stock up on non-perishables – Bags of rice or other grains, bags/cans of beans or lentils, plenty of dry pasta… these are the kinds of foods that you will thank yourself later for having stocked in your pantry! You can pretty much always whip up a solid meal by starting with a good, carb-heavy base, whether that's potatoes, pasta, rice and beans, quinoa, etc.
Stay organized and plan ahead – I'm not saying that you need to meal prep the entire week—I definitely don't do that myself. But let's say you have some free time Tuesday night, and you know you'll be busy the rest of the week. If you make extra of whatever you're having that night, then your future self will be thank you. After all, what's a lazier meal than leftovers?? You should also focus on having a basic grocery list down pat.
Know thyself – To a (very) large degree, we like what we like and we are how we are. There's no point buying specialty ingredients for a fancy recipe if you know deep down it's highly unlikely that you'll actually find the time/energy to make it. Instead, have plenty of the staples that you do like to eat on hand. It's generally much more time-efficient to make food that you've already made umpteen times.
Invest in a Crock Pot or Instant Pot – One-pot recipes are a lazy/busy vegan's best friend. The recipes are generally easy to follow, and you only have one pot to wash after. Win-win! To step up your one-pot game, a Crock Pot will allow you to safely prepare food during the day or overnight while you're busy or sleeping. And Instant Pots have all kinds of other features that make preparing food more efficient.
The sauce is boss and spice is life – The best way to ensure your food doesn't end up bland and unappetizing is to invest in your seasoning and sauce game! Always have homemade or store-bought dressings and sauces on hand. No matter how basic a bowl you might make, a tasty sauce will always elevate it!
10 Lazy Vegan Meal Ideas
Trust me, these lazy vegan meal ideas are all as yummy as they are easy! There won't be proper recipes included here, though some will give you a basic idea. Just do a quick Google search, though, and you should pretty much find all of these! And if you want even more recipes, be sure to check out my full recipe index here!
Apple Cinnamon Oatmeal
Let's start with a breakfast idea! Oatmeal is simple, no matter how you prepare it. And there's always instant oatmeal, of course. With just a little bit of extra effort, you can sauté some delicious apples to take your oatmeal to the next level. My vegan apple pancake recipe has the ingredients and steps to make your very own sauteed apple topping. Don't forget to top it off with some walnuts for more texture and nutrition if you've got 'em!
If you have a little more time, this baked apple oatmeal is perfect to meal prep! Just pop it in the oven and you'll have breakfast for the whole week. Can you tell that I'm a little obsessed with oatmeal and apples?
Lentil Bolognese
Lentils should be a staple for every vegan, lazy or otherwise! They're loaded with fiber, protein, and other nutrients such as iron. Make your regular pasta in tomato sauce a little more exciting by using them as a beef substitute for a Bolognese sauce. You can also opt for "beefless crumbles," which you can find at a wide variety of grocery stores now. I have tried Rainbow Plant Life's recipe for lentil bolognese and it is delicious!
Falafel Wrap
Stock some pre-made falafel in your freezer and you can add them to salads or wraps in no time. I like to microwave them to thaw, and then finish them in the pan in a bit of oil to get crispy! Simply add to a pita pocket or wrap with red onion, lettuce, tomatoes, kalamata olives, or anything that sounds good to you. Then top with creamy tahini dressing (and harissa, if you like some heat!). I have a full step-by-step recipe for homemade falafel and falafel sandwiches here!
Flatbread Pizzas
Simply take a flatbread or naan and you can have a delicious pizza in no time! Add some kind of sauce—tomato, BBQ, pesto, for example—and your favorite toppings (I like artichoke hearts, red onion, bell pepper, and spinach!). A general guideline for baking a regular-sized flatbread or naan is 10 minutes at 350 degrees Fahrenheit.
Hummus and Veggie Sandwich
This is a vegetarian/vegan staple! Though you may be sick of a veggie sandwich as an option when you're eating out, it can be really tasty when you have the craving. Plus, at home you're the one in control! I like to do some Vegenaise, hummus, and fresh veggies—usually shaved carrot, bell pepper, arugula, and a bit of red onion! 
One-Pot Spinach Curry
This won't be a formal recipe, but I'm going to give you a rough idea of how I make this modification of "Palak paneer," an Indian dish that traditionally uses goat cheese. Instead of goat cheese, I use cubes of firm tofu. Sometimes I like to add cauliflower instead or in addition. In essence, though, this is simply coconut milk, green curry paste/powder, onion, garlic, and a bag of frozen spinach. It's so easy, tasty, and healthy, and there are always leftovers. I love pairing it with naan and veggie samosas (frozen, from Trader Joe's). If you are a curry lover, I also have a yellow curry with potatoes and tofu recipe here!
Bonus tip: take a boring store-bought naan to the next level by basting it with olive oil, sprinkling it with paprika and garlic powder, and grilling it on a griddle or regular pan. It's so much better!
Veggie Stir Fry
To make a veggie stir fry, get some rice or noodles going and throw a bunch of veggies in a pan! I'm oversimplifying, of course, but this really is a lazy vegan meal, and one that I love to make because it's always so good. Just make sure you have a flavorful sauce on hand or whip one up! Sriracha or another Asian-style hot sauce is also a must in my household.
Chili
Chili is a wonderful invention that practically begs to be made as soon as the temperatures begin to drop. A classic one-pot recipe, a vegan chili should load up on beans and lentils or faux beef crumbles for lots of protein and texture. Make plenty so that you'll have leftovers! You can also top with avocado and/or vegan cheese shreds to make it extra filling.
If you love cozy soups like me, try some of these recipes:
Buddha Bowls
Have you ever heard of a buddha bowl before? It is basically a rice bowl with a bunch of yummy toppings and sauces over top (think Chipotle). I am a hardcore buddha bowl fan because they feel so fancy, but are loaded with pantry staples that I always have on hand.
I have several buddha bowl recipes already on the site:
Smoothies
This is kind of a borderline one, since smoothies don't really seem like they should count as a meal. That said, they can be incredibly filling due to all the fiber. You can also boost the filling factor by adding some plant protein, such as hempseed or plant protein powder. Plus, throwing some stuff in a blender and pressing a button definitely fits the bill in terms of low effort!
Just be sure to stock your favorite frozen fruits and smoothie additions on hand—and try adding a vegan yogurt for added creaminess and a gut health boost!
Wrapping Up
I hope you've enjoyed these lazy/busy vegan tips and meal ideas!
This is only a list of ten, so there are plenty of other meal ideas I didn't include here, such as peanut butter and banana toast, avocado toast, pasta with store-bought sauce, etc.
What are you go-to lazy vegan meal ideas?? I'd love to hear them, so please leave a comment below! 
Get more vegan tips by reading some of the articles below: