A list of the best vegan documentaries on Netflix that you need to watch! Whether you're a meat-eater, considering veganism, or already vegan, you'll find something inspiring in these films.
Documentaries can be incredibly powerful. When I first started out as a vegan, I watched allllllll the documentaries! They helped me solidify why I wanted to be vegan, and gave me the knowledge and confidence to be able to explain my choice to be vegan to friends and family.
Streaming services like Netflix have made it super easy to get your hands on many different shows, movies, and documentaries. If you've been looking for a documentary to watch or have a ~plantcurious~ friend that needs a recommendation, Netflix has you covered!
After first giving a general overview of documentaries, this article will dive into the best vegan documentaries on Netflix.
Skip to A Specific Section Below:
Vegan Documentaries: An Overview
Vegan documentaries can be extremely effective. I've heard of plenty of people watching one documentary and deciding to go vegan cold turkey. I even became curious about vegetarianism and the source of the food we eat after watching the documentary Food Inc. in high school.
That said, all documentaries have some kind of bias. This applies pretty much across the board, so vegan documentaries are not really an exception here.
So, while the "best" vegan documentaries on Netflix will be selected below for their overall quality, success, and accuracy, it is possible that some of them may present content in a sensationalized fashion.
I am mentioning this because it is important to keep bias in mind when watching any documentary. Equally as important is doing your own due diligence after watching a documentary.
So, without further ado, here are the best vegan documentaries on Netflix (as of mid-2021).
Top Vegan Documentaries on Netflix
The Game Changers (2018)
This documentary set out to send a powerful message to a world obsessed with protein.
With major star power involved—James Cameron, Arnold Schwarzenegger, Jackie Chan, Novak Djokovic, and more—The Game Changers follows the journey of different vegan athletes while arguing for the benefits of a plant-based diet. They break down the idea that being strong and athletic must mean consuming meat and dairy.
The documentary stresses that a properly planned vegan diet provides ample amounts of nutrients, including iron and B12. It also highlights that a vegan diet can be extremely heart-healthy, which research backs up.
While it's obvious the filmmakers are biased toward veganism, The Game Changers has made an enormous impact. They are even committed to spreading their message off-screen too! They have a website with more information as well as vegan recipes, showing how truly invested they are in helping people go vegan!
What the Health (2017)
What the Health is another film that has generated a lot of buzz. It's produced by two animal rights activists, Kip Andersen and Keegan Kuhn, who are also responsible for Cowspiracy (reviewed below). The documentary shows the disturbing connections between big food, big pharma, and governmental and non-governmental organizations.
One instance of this corruption is the fact that the American Heart Association takes money from the beef industry. This clearly conflicts with our scientific understanding of heart health.
Like The Game Changers, the team behind What the Health also has a website that has a meal planner as well as a cookbook. These are excellent resources, especially for beginner vegans. The website also has interviews with many vegan doctors and celebrities, including Neal Barnard, Michael Klaper, and Caldwell Esselstyn.
Cowspiracy (2014)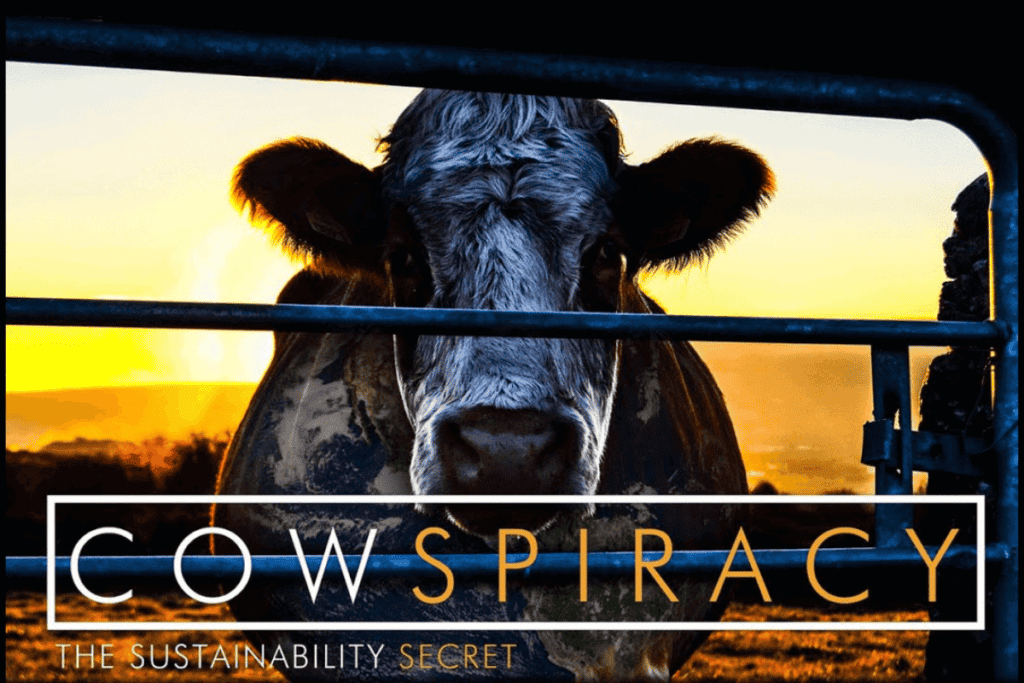 One of the first pro-vegan documentaries, Cowspiracy, had to make it on this list! The documentary shows how animal agriculture serves as a massive source of pollution and other environmental problems with hardly anyone talking about it.
You should know that the film may be a tough watch for younger kids and people who are sensitive. It has several clips showing violence against animals, so I wanted to make sure to provide a disclaimer. Despite this, it's very informative.
Cowspiracy has opened many peoples' eyes to the horrors of factory farming and the environmental havoc that accompanies it. The film criticizes environmental organizations and environmentalism in general for failing to speak out against factory farming. Film director Darren Aronofsky, of Black Swan, calls it "A documentary that will rock and inspire the environmental movement."
It is clear that the creators of the film are committed to its message. They even have a section on their website responding to criticisms of the film.
If you like Cowspiracy, you'll also want to check out Seaspiracy (2021), their most recent film.
The Milk System (2017)
This German documentary examines the long-standing claim that milk is a "natural" and healthy drink. Through interviews with farmers, dairy owners, lobbyists, politicians, NGOs, and scientists, the film uncovers many surprises (although maybe not too surprising for informed vegans).
This documentary, directed by Andreas Pichler, is refreshing as it offers a lot of information about the global dairy industry. A lot of the other documentaries on this list center around the dairy industry in America specifically. This film, however, includes information on Germany, Italy, China, and more!
The Milk System shows how farming has truly become a global issue in terms of economics and consumption. It highlights how China, a country that isn't traditionally a dairy milk-consuming nation, has become both a massive importer and producer of milk.
This is a great documentary to share with friends and family, especially those who are skeptical about veganism, because it forces its viewers to rethink the scale and costs associated with the dairy industry from a relatively neutral lens.
David Attenborough: A Life on Our Planet (2020)
David Attenborough is a beloved English historian and presenter. He is most known for his work on the BBC nature series Life.
A Life on Our Plant is Attenborough's most recent documentary. It mixes nature documentary with climate change activism as well as a look at his personal life over the past century.
Although the film doesn't focus exclusively on veganism and animal agriculture, Attenborough is critical of humanity's reckless behavior. He stresses that practices like deforestation, excessive farming, etc. are ruining our planet.
Toward the end of the film, Attenborough urges that we transition away from fossil fuels and encourages people to consider veganism. Ultimately, the documentary makes clear that the planet's resources are finite, and we better start acting like it.
Seeing as veganism is one of the best ways to use less of the Earth's resources, the message of A Life on Our Planet definitely aligns with the vegan lifestyle. It's also a great film to show to vegan skeptics because it's not overtly pro-vegan.
explained
In this Netflix docuseries by Vox, there's an episode entitled "The Future of Meat."
They use experts such as science journalist Michael Spec to imagine the future of the meat industry and how humans will live moving forward.
Viewers may be surprised to learn just how much R&D the meat industry is investing into plant-based food, including the experiment of "cultured meat," also sometimes known derogatorily as "lab meat."
As the series title suggests, this Vox series does an excellent job covering material concisely. This specific episode of explained is a great source of digestible information (pun intended) about the future of meat. Plus, it might appeal in particular to your more science/tech-oriented friends and family.
Special Mention: Okja (2017)
Although not a documentary, Okja is a film that both vegans and non-vegans can appreciate.
It is directed by Bong Joon-ho, the same man that directed Parasite. Okja follows animal activists waging war with a corporation that is trying to unethically develop and market lab-grown pigs for meat.
The film does feature child actors, but it might not be suitable for children. There are a lot of disturbing images of animal abuse and plenty of F-bombs.
In any case, Okja has been a hit among viewers! It has an 87% on Rotten Tomatoes' Tomatometer.
Wrapping Up
I hope you have a new documentary to add to your list after reading through this article. I'm glad Netflix has so many readily available documentaries that might inspire you and/or your friends and family to go vegan!
I'm curious—how many of these have you seen? Any you'd recommend? If so, I'd love to hear from you in the comments below!
And if you're new to veganism or curious about transitioning, check out my guides for "How To Go Vegan" and "Beginner Vegan Tips!"
Check Out Even More Articles Here: