Vegan coffee creamers are popping up at more and more grocery stores. In this article, I am diving into the ones you NEED to try and those you can skip.
There's truly never been a better time to be vegan! Grocery stores and supermarkets everywhere are stocking more and more vegan options by the day.
Thanks to the huge boom in non-dairy products, which make for some of the easiest vegan swaps, it's never been easier to enjoy your morning or afternoon coffee with a delicious vegan creamer.
Today we are going to run through some of the best vegan coffee creamers out there. Your coffee game is about to reach a whole new level!
Skip to a specific section below:
The History of the Non-Dairy Creamer
The history of the coffee creamer is actually pretty fascinating, believe it or not. For example, it might be surprising to learn that the idea of a non-dairy coffee creamer has existed since the 1950s!
Dairy-based cream, however, has existed for much longer. Interestingly, milk separates into protein and whey at around 170F in the presence of an acid. So, when acidic, hot coffee is mixed with dairy, curdling can occur.
This no doubt inspired the movement toward a non-dairy creamer. The first non-dairy creamers experimented with a form of soybean protein that would not curdle. To accomplish this they made cream that was free of lactose and usually used hydrogenated vegetable oils instead (to replicate milk fat).
In the 1950s, the Carnation Company substituted the majority of milk fat with vegetable oil. In 1961 they released the brand known to this day as Coffee-Mate.
Unfortunately, many of these so-called "non-dairy" creamers still contain milk protein casein (lactic acid is the culprit for curdling). Plus, many creamers, regardless of dairy content, are rather unhealthy.
So, for this ranking of the top ten vegan creamers, I'm keeping in mind three main factors: taste, mouthfeel, and nutrition. While it's pretty safe to assume that creamer isn't necessarily healthy, there are definitely some that are "healthier" than others.
Things to Keep in Mind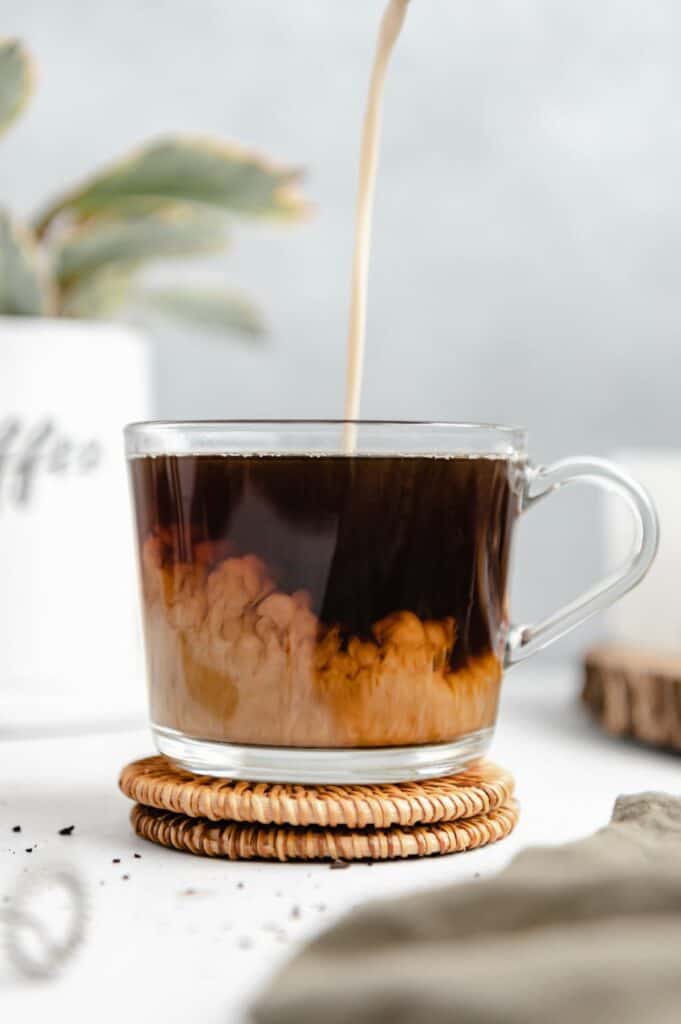 Here are some things to pay attention to when shopping for your next vegan creamer:
Dairy – You may be thinking "well, duh," but it's important to double-check. Some "non-dairy" creamers may not have lactose but will still contain casein.
Calories and sugar – The fat and sugar content of creamers can vary massively. One of Starbucks' flavored almond/oat milk creamers has 30 calories and 5 grams of sugar per tablespoon. On the other hand, Califia Farms BetterHalf (Original) only has 10 calories and a half-gram of sugar per tablespoon.
Fat – While fat has been demonized since the 1990s, what's most important is the type of fat. The fats you intake from an avocado, for example, are much more beneficial than the hydrogenated or partially hydrogenated fats found in some creamers. Why? Hydrogenated oils contain trans fats, which increase "bad" cholesterol and lower "good" cholesterol.
Thickeners – For many vegan creamers, there's no need to fear the ingredients that you may be unfamiliar with. Unless you have a soy allergy, the soy lecithin you might see listed isn't a concern. Gellan gum? That's a plant-based alternative to gelatin. It helps to stabilize added nutrients in plant-based milks and creamers so they don't sink to the bottom. The one you may want to avoid is carrageenan. However, it has been phased out of many vegan creamers due to customer concern. It's up for debate, though, whether or not it should be avoided.
Serving size – If you like more than just a tablespoon or two of creamer in your coffee (and who can blame you?), keep this in mind when you look at the label. The numbers can quickly multiply if you like to go heavy on the creamer.
Creamer type – At the end of the day, this creamer is for your enjoyment—if you prefer soy, almond, cashew, hemp, coconut, etc., well, get that kind!
In general, remember that "vegan," "plant-based," or "dairy-free" does not necessarily mean something is healthy. Veganism, ultimately, is about limiting the harm we cause to animals and the environment. It's really just a bonus that following a well-planned vegan diet can do wonders for our health, too.
The 10 Best Vegan Coffee Creamers
While non-dairy creamers aren't anything new, the vegan and non-dairy movement has caused the number of vegan creamer options to explode!
Plus, thanks to such overwhelming demand, there are healthier options available now. So, you don't have to worry about preservatives or trans fats in many of them.
Without further ado, here are ten of the best vegan coffee creamers (in no specific order)!
Califia Oat Creamer
Califia is heavily invested in the plant-based milk and creamer niche. They have over twenty different kinds listed on their website (though some are more of a milk than a cream, like the "barista blends").
The Califia Oatmilk Creamer receives high ratings for its smooth, creamy texture. Plus, its oats are grown in North America and are GMO-free. It's also a healthier option, with only 10 calories per 1 tablespoon serving and zero grams of sugar.
Califia Better Half Coconut Cream & Almondmilk
Califia gets another entry on this list thanks to their highly popular coconut cream & almondmilk creamer.
This cruelty-free version of half & half will only set you back 15 calories! and contains zero grams of sugar per 2 tablespoon serving.
Silk Sweet & Creamy Almond Creamer
Califia gets another entry on this list thanks to their highly popular coconut cream & almondmilk creamer.
This cruelty-free version of half & half will only set you back 15 calories. It also contains zero grams of sugar per 2 tablespoon serving!
Nutpods Almond + Coconut Creamer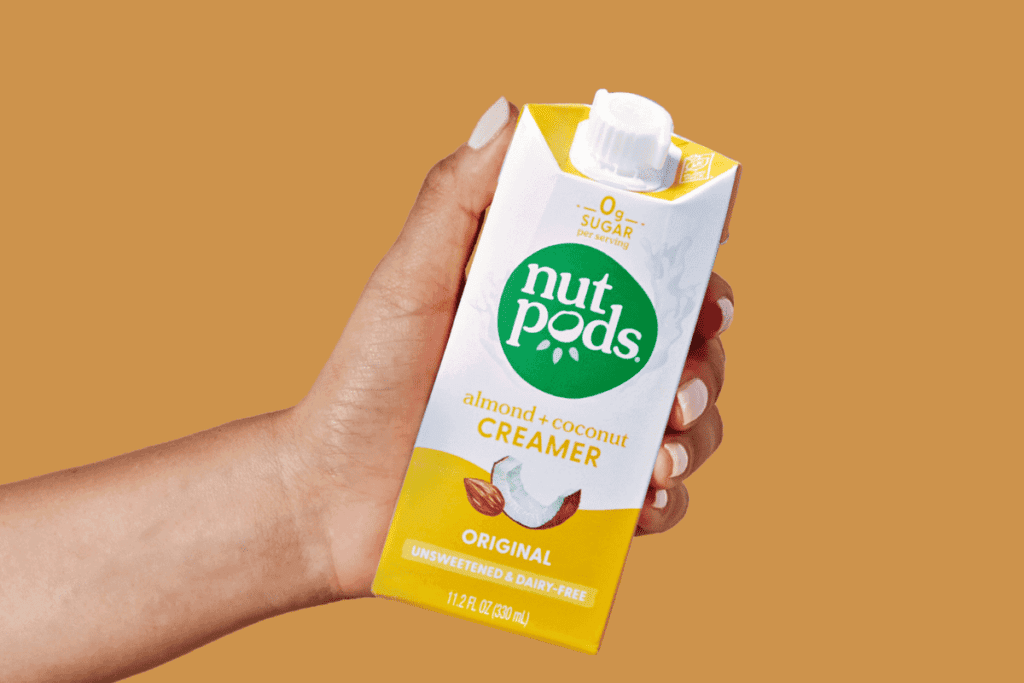 Like Califia, Nutpods has a lot of creamer options. They also have some flavored creamers, such as French Vanilla, Caramel, Spiced Chai, and Cinnamon Swirl, among others.
Their original almond & coconut creamer is one of their most popular for a reason. It contains only 10 calories and zero grams of sugar per 1 tablespoon serving. These unsweetened creamers are nice because you can always add your own vegan-friendly sweetener at home.
Almond Breeze Original Almond Creamer
Another almond-based creamer option is from the Blue Diamond almond company. It has both almond milk and almond oil that helps replicate the mouthfeel of dairy-based creamers.
It may not be the creamiest on this list, but it also won't set you back too many calories. There are only 10 per 1 tablespoon serving and zero grams of sugar.
So Delicious Original Coconutmilk Creamer
This So Delicious creamer gets its creamy texture from coconut milk.
This is one of the few creamers on the list that's organic and only has a handful of ingredients. That is good news for my health and environmentally conscious vegans. The French Vanilla flavor is one of their highest-rated creamers that is organic, so it might be worth a try!
The unsweetened one comes in at just 15 calories and zero grams of sugar per 1 tablespoon serving.
Elmhurst Unsweetened Oat Creamer
All of Elmhurst's creamers are highly rated and for good reason. They have just a few ingredients and tend to be low in calories and sugar.
Plus, they're shelf-stable, making them a convenient option for buying online or stocking up. This creamer has only 10 calories and zero grams of sugar per 1 tablespoon serving. It is one of the lightest calorie-wise on this list.
Ripple Dairy-Free Half & Half
With Ripple, you get a delicious and creamy cruelty-free creamer (say that five times fast!).
All Ripple products use pea protein and sunflower oil. This helps give a slight protein boost and an all-around creamy texture. Their Original Half & Half has 20 calories and zero grams of sugar per 1 tablespoon serving.
Milkadamia Macadamia Creamer Unsweetened Vanilla
This brand, as the name suggests, use macadamia milk in their products. For the creamer, they add in coconut cream to deliver a smoother and creamier beverage perfect for your coffee.
At only 10 calories and zero grams of sugar per 1 tablespoon serving, it's another one of the healthier options on this list.
Starbucks Non-Dairy Caramel Flavored Creamer
Inspired by their caramel macchiato, this creamer is almond milk-based and also incorporates coconut oil.
However, the second ingredient is sugar. It comes in at 30 calories and 5 grams of sugar per 1 tablespoon serving, making it one of the more unhealthy creamers on this list.
By the way, if you're a Starbucks fan, check out this guide for ordering vegan at Starbucks!
Honorable Mentions: Barista Blends
While not creamers per se, these are great to have in your coffee arsenal. Especially if you're into creating some cool latte art to impress your friends, these are a must!
Califia Oat Barista Blend – Califia's Barista Blend is a smooth and delicious oatmilk that's highly rated online.
Oatly Barista Edition Oatmilk – Oatly's Barista Edition froths up super nicely and features Oatly's trademark creaminess.
Elmhurst Barista Hemp Milk – Not only does this steam, foam, and pour perfectly, but it also only has a few, natural ingredients. Plus, the hemp base gives you 650 mg of Omega-3 ALA per serving! It does have a slight greasy taste to it, so it may not be for everyone. You can help mask the greasy tast with a little sweetener or other flavoring, such as cacao powder.
Vegan Coffee Creamers to Avoid
Here are a couple of plant-based creamers that I personally cannot recommend:
Wrapping Up
The amount of vegan coffee creamers out there nowadays is staggering!
In fact, there are so many that it can be a bit overwhelming. I know that when I pop into Sprouts to grab a couple of vegan 'meat' options (my current obsession is the Sweet Earth bacon) I'm a bit overwhelmed myself by all the plant-based options.
So, hopefully, this list has helped you somewhat in figuring out what might be the right vegan creamer for you!
And if you already have a favorite vegan creamer, drop it in the comments!
Check Out Other Articles You Might Be Interested In: