Learn some surprising foods that aren't vegan. This is a great comprehensive list to have on hand as a beginner vegan or vegan veteran!
Being vegan can sometimes feel like a never-ending mission to figure out what you can and can't eat. Especially if you are a beginner vegan, it can be challenging to know what to look for on the food label.
It doesn't have to be this way, though! Once you've transitioned to veganism and have your grocery list down, you'll love knowing that your kitchen is 100% vegan.
Often when we go out to eat, travel, attend a potluck, etc., we might be unsure about what may or may not be vegan. But, as all vegans discover, there are many surprising foods that aren't vegan and many surprising foods that are vegan! Case and point: Oreos (yes, you can still enjoy Oreos as a vegan woohoo).
What about the other way around though? It can be frustrating when you think a given food will be vegan but actually isn't.
So, today I'm breaking down fifteen surprising foods that aren't vegan.
Surprising Non-Vegan Foods
As a vegan, you start to discover all kinds of exciting things about food. I couldn't believe that some of these foods aren't vegan!
Let's see how many of these fifteen surprising foods that aren't vegan you already know!
Wine
It sure feels like wine should be vegan. After all, it's just grapes, right?!
The answer is not necessarily. Unfortunately, there are certain substances used in the winemaking process that—at least traditionally—have been animal-based.
The substances in question are called "fining agents." Winemakers use these to lessen the natural haze of wine. Traditionally, common animal-based fining agents have included gelatin (from various animal parts), albumin (egg), casein (milk protein), and isinglass (fish bladder protein).
Luckily, there are many vegan wines available! If you visit the site Barnivore, you can check which wines are vegan next time you're shopping.
Beer
Beer is similar to wine in that many beers, particularly those made in the UK, depend on isinglass, or fish bladder protein, for the filtering process.
Luckily, many Mexican beers are vegan, as well as German and Belgian ones. Plus, some prominent UK beer companies, such as Guinness and Heineken, have stated they will transition to 100% vegan-friendly beer.
Again, you can use Barnivore to check to see if your beer (or wine, cider, etc.) is vegan!
McDonald's French Fries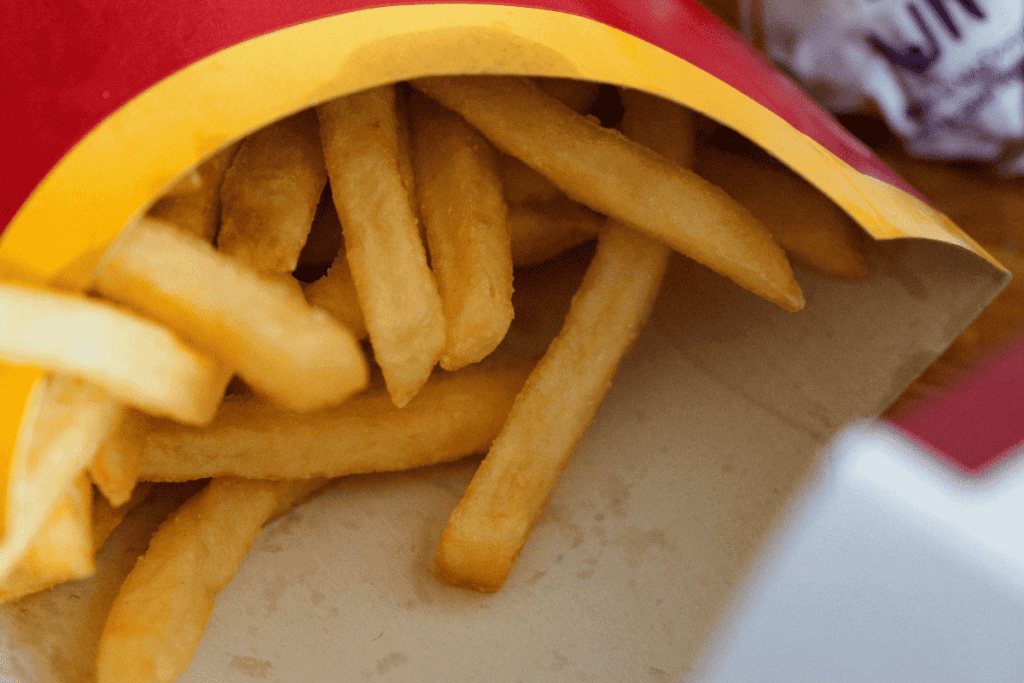 It's a sad day when every vegan discovers that McDonald's fries aren't vegan! This is because they use "natural beef flavor" in their oil, making their fries unsuitable for vegans and vegetarians.
While McDonald's continually disappoints compared to other fast-food chains, places like Taco Bell, Del Taco, and Carl's Jr., have all jumped on the plant-based bandwagon! So hopefully, McDonald's will join the party and eventually make their fries vegan.
Veggie Burgers
There are few things more frustrating than ordering a veggie burger and finding out that it's vegetarian but not vegan. Ironically, this happened to me a year or two ago at Subway when I asked about their veggie patty.
The primary culprits for non-vegan veggie burgers are egg whites (the case with Subway) or dairy. So, it's important to ask or check the label the next time you're craving a veggie burger.
On the bright side, there are more vegan-friendly veggie burgers than ever before! I'm sure you can find at least one vegan veggie burger at your local grocery store. Or whip up your own, like this Grilled Vegan Tofu Burger recipe.
Sugar
I find sugar one of the most frustrating non-vegan ingredients because it is found in so many things. Believe it or not, sugar companies, at least in the U.S., use charred bones (known as "bone char") to whiten their sugar.
Even worse, this goes for brown sugar as well, since brown sugar is simply regular white sugar with molasses added in.
While this is one of the toughest things to avoid, as the source of sugar is rarely specified on the packaging, you can opt for coconut sugar, turbinado sugar, agave syrup, or maple syrup to sweeten your food and beverages. Plus, vegan-friendly sugars do exist! Some of my favorite vegan sugar brands that are widely available are Trader Joe's, Bob's Red Mill, and Wholesome Organic.
Red Food Coloring
It's hard to imagine that in 2021 food producers would still be using crushed bugs to make red food coloring, but that's exactly what we're dealing with in this category.
Cochineal beetles are dried, crushed, and boiled to yield carminic acid, which then serves as a bright red dye.
To spot this dye, you should look for "cochineal extract," "crimson lake," "natural red 4," and "E120." Unfortunately, you can find this ingredient in not only food, but also in cosmetics such as blush, lipstick, and eye shadow.
For a plant-based alternative, look for dyes made from beets or strawberries. Red #40 is synthetic but not produced from carmine, so it's a suitable vegan option.
Fresh Pasta
Pasta (or, more broadly, noodles) is easily one of the world's most favorite foods.
However, as a vegan, you may be surprised to learn that some pasta contains eggs, particularly fresh pasta.
Luckily, most dry pastas you find at the grocery store will be vegan—just check the label to be sure.
Curries
Curries are likely among many vegans' favorite dishes, as they're absolutely delicious with tofu and vegetables.
Restaurants traditionally make Indian curries with cream. Thai curries can make a great alternative since they typically use coconut milk.
The problem with Thai curries, though, is that they often use shrimp paste and fish sauce. So, when you're ordering Thai food, you'll want to ask if it's possible to have your curry made without any fish ingredients.
Refried Beans
Mexican food is the best because you can easily make this cuisine vegan. So many of the delicious flavors in Mexican food are naturally vegan: black or pinto beans, rice, avocado, onion, cilantro, salsas, etc.
When it comes to rice and beans, at least refried beans, vegans have to be careful, however. Many restaurants make their rice with chicken stock and their refried beans with lard, so ask to be sure.
Soft Candies, Jelly, etc.
Most of us have a little bit of a soft spot for sweets. If your favorite kind of sweets are soft, well, you'll have to pay attention to the label.
Many soft candies, as well as jams and jellies, contain gelatin, which is made by boiling leftover animal tissue, bones, etc.
So, when it comes to gummy bears and jam, look for carnauba wax and (fruit) pectin, respectively.
Chips
Ah, potato chips. These are mainly just potatoes, so most kinds should be vegan, right?
Well, unfortunately, there are many flavors that you would think are vegan, but take a look at the label aaand… milk powder.
You'll often find dairy hiding in chip varieties such as jalapeno and barbeque, even though you can easily make barbeque flavor vegan (it's essentially sweet and smoky ketchup after all).
Somewhat making up for this is the fact that there are a bunch of chips out there with flavors such as "maple bacon" or "smoky bacon," which contain no actual animal products—the "bacon" part is usually just liquid smoke.
Soups, Salads, and Sandwiches
Many vegans and vegetarians are very familiar with the soup-salad-sandwich side of the menu. After all, there are many items there that are already vegetarian and can easily be made vegan.
The problem, however, is that many of these items may have sneaky ingredients that aren't always listed.
With soups, for example, the main culprit will be chicken stock and/or cream in the soup base.
For salads, watch out for cheese added on top, bacon bits, and creamy dressings (e.g. caesar, ranch, thousand island, etc.).
Usually, sandwiches will have every ingredient listed, but be aware that most places use the standard, egg-based mayonnaise rather than a vegan alternative like Follow Your Heart's Vegenaise.
Dark Chocolate
Dark chocolate feels like a cheat code when you find out that there are actually many health benefits—at least, if it's proper dark chocolate.
What do I mean by that? Unfortunately, many "dark chocolate" bars contain milk, which is not an ingredient in traditional dark chocolate and obviously not vegan friendly either.
Luckily, you can easily find vegan dark chocolate (a powerful source of nutrients and antioxidants). Again, make sure you read your labels (by now you're noticing that's the move!).
Worcestershire Sauce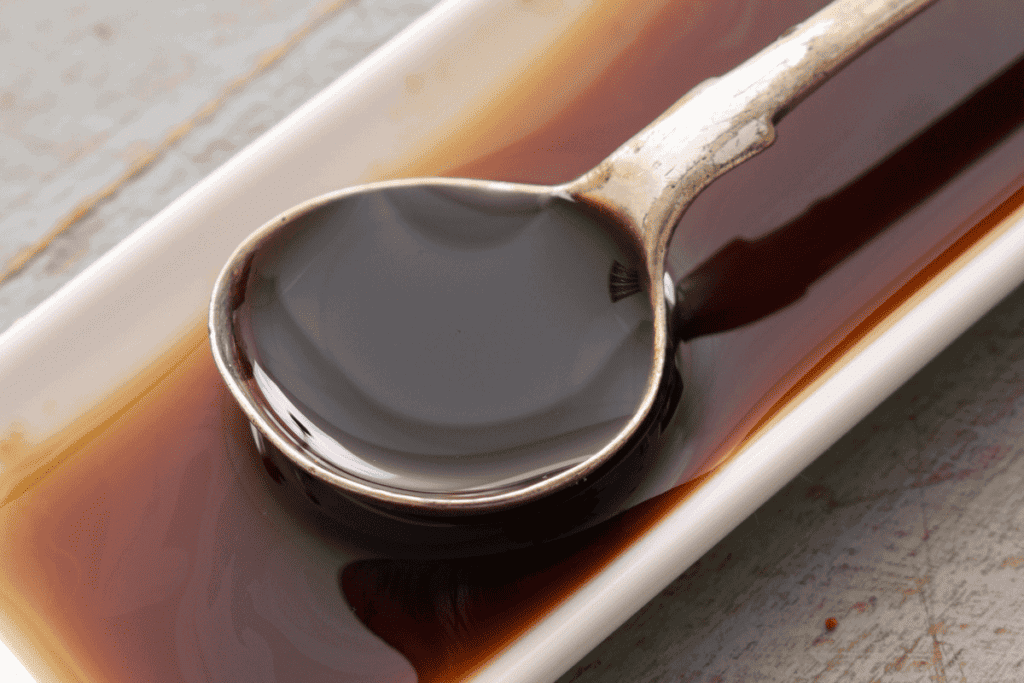 People use this British condiment often for things like Caesar salad dressing, deviled eggs, or Bloody Marys.
While you might not expect this brown sauce to be fishy, it is—literally. That's because it drew influence from an ancient Roman fermented fish sauce known as garum. As such, traditional Worcestershire contains anchovies.
Luckily for us, there are many anchovy-free varieties now, including one clearly labeled vegan by the brand Annie's.
Pesto
Pesto is a delicious sauce and can be a nice change of pace if you're tired of pasta with tomato sauce.
Vegans have to be careful, however, because this basil and pine nuts-based sauce usually contains parmesan. Check the labels on most brands you find at the store and, sure enough, you'll see parmesan and/or rennet, which is an enzyme found in the stomach lining of goats or calves.
You can always make your own, though (like this nut-free vegan pesto) or search your local grocery stores in hopes you find a vegan version. Luckily, companies are making more and more products without dairy, so there's a better chance than ever to find dairy-free versions.
Wrapping Up
This article may be a tad depressing, but please don't shoot the messenger!
As always, I'm hoping to help share what I've learned in my many years of being vegan. Once you have some basic ingredients remembered that aren't vegan, you'll be reading food labels like a pro! And if you need help transitioning to a vegan lifestyle, be sure to check out these handy guides here and here.
Which of these surprising foods that aren't vegan did you already know about? Please let me know in the comments!
Get More Vegan Tips in The Articles Below:
And, if you are looking for yummy vegan recipes to add to your routine, check out my recipe archive here!