A vegan Halloween candy guide so you enjoy any celebration and satisfy that sweet tooth! This comprehensive list includes all of the vegan chocolate, chewy, and hard candy.
Ah, Halloween. I'm sure that when October rolls around, you're instantly reminded of all of your childhood memories trick-or-treating and eating waaayy too much candy.
Fast forward a few years (okay, maybe a lot more), and you're living a vegan lifestyle now. You might now be wondering how you can still participate in the festivities as a vegan. Or maybe you're just unsure what kind of candies are vegan.
Well, either way, read on, because this is the ultimate vegan Halloween candy guide!
Skip to a specific section below:
Check the Label!
As a vegan (or parent or friend or partner of a vegan), you'll want to be on the lookout for these common animal-based ingredients. Some of them are sneaky, so read on and always be sure to check the label for the following ingredients:
Milk products – Watch out for milk, milk powder, lactose, casein, and other possible milk byproducts.
Beeswax – Like milk products, this is considered vegetarian but not vegan. Worker bees make beeswax to build their hives, and vegans abstain from animal products "as far as is possible and practicable."
Carmine – Carmine? It sounds kind of nice, right? Well, this red food coloring comes from beetles (technically "cochineal insects"). They're ground up and the carminic acid they produce is mixed with other substances to create carmine dye.
Shellac – You may know of shellac as a wood finish. Wait, so it's in food, too? Yep. This resin secreted by the lac bug is processed and also used as a food colorant and glaze. It's often an ingredient in confectioner's glaze as well, so watch out for that one, too.

Sugar – Wait, sugar?? Yes, unfortunately. This is a more complicated one than those above. Many of the sugar companies within the U.S. use bone char as a whitening agent. Unless companies mark their products as vegan, it can be a challenge to know for sure though. If you're unsure and concerned about it, you'll need to research items individually online and/or contact the manufacturer. Or, play it safe with items clearly marked "Vegan." Some of my favorite vegan sugar brands that are widely available are from Trader Joe's, Bob's Red Mill, and Wholesome Organics.
Okay, now for ingredients you DO want to see:
Plant milks – These can help give a wonderful creaminess to chocolate, especially oat milk… yum!
Brown rice syrup – It may not sound yummy, but this sweetener will always be suitable for vegans, unlike some kinds of sugar.
Cocoa butter/Cacao – You might see "butter" and think, "Dang it, that's not vegan!" Luckily for us, cocoa butter and cocoa/cacao powder are both vegan friendly! Just be careful if you're buying cheap cocoa powder, because it may contain additives such as sugar that isn't vegan friendly.

Red 40 – Many people mix up Red 4 and Red 40, which is understandable. Red 4 is not vegan friendly (see above), while Red 40 is (though it's artificial). Look for coloring from beets or strawberries if you prefer natural, vegan friendly coloring.
Chocolate Vegan Candy
In general, vegans need to avoid one type of chocolate in particular—milk chocolate. That is, of course, unless it's made with a plant-based milk.
Dark chocolate is your best friend as a vegan. As long as it's proper dark chocolate, it shouldn't contain any milk or milk byproducts. As always, though, check the label to be sure!
Here are some vegan chocolate brands for your Halloween candy list:
UNREAL – Okay, if you haven't tried this brand, get on it right away! It may be a bit pricey to distribute to trick-or-treaters, but for a Halloween treat for yourself and loved ones, you can't really go wrong!

Justin's – Justin's is another brand that has plenty of vegan options and is great for replacing your childhood favorites. Justin's has a vegan version of the classic, Reese's, that tastes just as good as the real thing! Just make sure to get the dark chocolate rather than milk chocolate options.

Cocomels – These melt-in-your-mouth caramels are 100% vegan and also happen to be free of corn syrup and gluten. Plus, they're organic!

Enjoy Life – Enjoy Life products are great not only for vegans but also for people with any of the major allergens. The brand's mission is to provide allergy-friendly and gluten-free foods. They have a range of treats that work well for Halloween, including a variety of cookies.

Alter Eco – While some Alter Eco products contain dairy, they have many vegan chocolate bars, including dark sea salt, dark salted almonds, dark crisp mint, and dark quinoa.

HU – This brand is a fantastic option for vegan chocolate lovers! They have yummy flavors like Vanilla Crunch, Almond Butter, Cashew Butter, and Hazelnut Butter.
Chewy Vegan Candy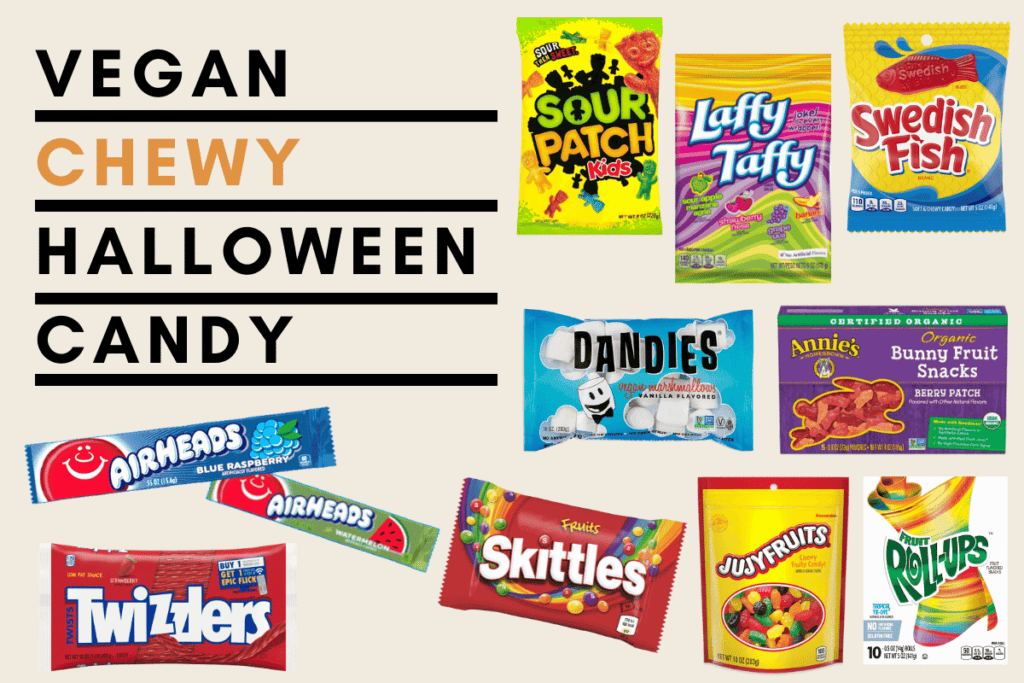 Not everyone is a big chocolate lover, and that's totally okay! Different strokes for different folks, ya know?
If chewy or sour is more your thing, check out some of these chewy candies that are totally vegan. If you're a more health or environmentally-focused vegan, however, just be aware that some of these may contain ingredients such as palm oil and artificial colors. So, if that's you, just keep in mind the vegan mantra of "check the label!"
Airheads – When it comes to traditional Airheads—the chewy, taffy-like bars—they're suitable for vegans! They are mostly made up of sugar and corn syrup. Unfortunately, they do contain palm oil. As for some other Airheads products, such as Airheads Bites, they are not vegan, as they include both beeswax and shellac. So, if it isn't a traditional Airhead bar, be sure to check the ingredients.
Annie's fruit snacks - Annie's makes their fruit snacks with fruit pectin instead of gelatin and are thus totally vegan.
Cracker Jack – The original flavor of Cracker Jack (commonly referred to as "Cracker Jack's"), caramel-coated popcorn, is vegan.
Dandies – If you're a marshmallow fan, you'll be able to enjoy them with Dandies Vegan Marshmallows!
Dots – The Tootsie company made their classic gumdrop with no animal products.
Fruit by the Foot/Fruit Roll Ups – This is a gray area type one (like many on this list) in that the sugar may not be vegan. Apart from that, though, Fruit by the Foot and Fruit Roll Ups contain no animal ingredients or byproducts.
Jujyfruits – Another old-timey gumdrop-type candy, Jujyfruits are suitable for vegans. Like many on this list, they use Red 40, which is artificial, rather than Red 4, which is made from cochineal insects.
Laffy Taffy – Traditional Laffy Taffy is vegan, but two varieties—Stretchy and Tangy—contain albumin, which is a protein extracted from egg whites.
Red Vines/Twizzlers – Red Vines products are all vegan! As for Twizzlers, it appears that most but not all of their products are vegan. See here for more about Red Vines, Twizzlers, and vegan licorice in general.
Skittles – Vegans rejoice! Starting in 2010, Skittles, among other candies, began moving away from the use of gelatin. All of the Original flavor Skittles are totally vegan, according to PETA, meaning that you can "taste the (cruelty-free) rainbow."
Sour Patch Kids – Thankfully for vegans, Sour Patch Kids aren't made with gelatin, which is the common culprit of non-vegan gummy-type snacks.

Swedish Fish – This classic chewy candy is mostly vegan, but not entirely. There are a few made with beeswax, but these are much less common. So, in general, you should be good to go with Swedish Fish.
Hard Vegan Candy
Last but not least, here are some hard candies that are suitable for vegans:
Blow Pops – Blow Pops don't appear to contain any animal ingredients, but you may care to know that they do contain BHT, a somewhat controversial preservative.
Bottle Caps – Bottle Caps are always vegan, though they contain caramel color, which may be unhealthy when created on a large scale in factories.
Brach's brand – Brach's hard candies has many vegan varieties, including Hi-C Fruit Slices, Lemon Drops, Peppermint Candy, and Root Beer Barrels.
Dum Dums – None of these classic tiny suckers contain animal products so they're all suitable for vegans.
Gobstoppers – Despite the many different colors, gobstoppers do not contain any animal-based dyes like Red 4 ("carmine").
Jolly Ranchers – Traditional Jolly Rancher Hard Candies, Lollipops, and Jelly Beans are all suitable for vegans.
Nerds – Nerds are another yummy candy you can enjoy as a vegan! The dye used is Red 40 (artificial) not Red 4.
Pez – Pez are technically vegan, but strict ethical vegans or health-conscious vegans may want to abstain considering they typically contain palm oil as well as trans fats (hydrogenated oils).
Ring Pops – All Ring Pops are vegan as every flavor includes some combination of sugar and natural and artificial flavors, but no animal byproducts.

Smarties – Smarties themselves proudly proclaim that their candies "contain no animal products, making them a tasty and cruelty-free choice for anyone looking for delicious vegan candy." All right, then!
Wrapping Up
No matter whether you're a chocolate lover, chewy candy fanatic, or a sucker for hard candies (see what I did there), you can definitely be a vegan and get your candy fix!
I hope this list has you feeling prepared for Halloween (or just a good candy splurge). Either way, enjoy! And don't forget to let me know in the comments if I missed any vegan favorites of yours!
Get More Vegan Tips in The Articles Below:
And, if you are looking for yummy vegan recipes to add to your routine, check out my recipe archive here!