Wanting to make your home greener? Here are 13 eco-friendly product swaps you can easily implement to be more sustainable for our planet!
We only have one Earth. And if you landed yourself on this little blog of mine, hopefully, that means that you care about helping protect the environment the best you can.
At the same time, many of the most convenient options are harder on the environment. For example, stores are filled with products like containers of pre-cut fruit, single-use plastic water bottles, etc.
Maybe you want to help the environment but also recognize that you're busy and can't afford to shell out tons of money.
Well, you're in luck! You can make so many simple changes that don't require spending a lot of time or money. Before you know it, you'll be living each day in a more eco-friendly way.
So, after running through basic tips on how to adopt a more eco-friendly mindset and lifestyle, this article will break down thirteen effortless eco-friendly product swaps so that you can help do your part for the environment!
Changing your Mindset
Okay, time to get real! Sometimes the fight against climate change can feel downright hopeless. It's hard to imagine that just one individual can truly make a difference.
But hey, look at Ms. Greta Thunberg and everything that she's accomplished. To fight cynicism, we have to believe that we can make a difference as well. Even small changes can lead to something bigger.
Before diving into the eco-friendly product swaps, here are some tips for shifting into a more eco-friendly mindset:
Materials matter – In general, the less plastic and Styrofoam, the better. For example, let's say you're at the grocery store and see an item you need. One of them is wrapped in plastic, and the other in glass. Perhaps the glass item is a dollar or two more expensive. If you can fit that into your budget, that's an easy way to use less plastic.
Refills and bulk – If you can find stores that sell in bulk and offer refills, you'll not only be saving money (most likely), but also be cutting way down on packaging and its associated costs!
Reflect on how you get around – Take advantage of times where you can get somewhere by walking or riding your bike rather than starting up your car. Yes, it may take longer, but in addition to helping the environment, you're also getting exercise!
Turn off your car – And while we're talking about your car, the average car engine creates a lot of carbon monoxide emissions while idling, even for just a minute or two. Instead of sitting in that backed-up drive-thru, park and run inside—you may even get your order faster!
Think local – The more you shop local, the more you'll be cutting down on transportation costs. It's a win-win-win because you're supporting a local business, lessening the environmental costs of transported goods, and likely saving money as well.
Grocery store habits – Instead of using plastic bags at the grocery store, simply place the items in your cart or use reusable ones instead. And don't forget those reusable grocery bags! (They're covered below.)
Reconsider your diet – Thinking local applies here as well. Produce that comes from your area will likely taste better and cost less. Plus, if you're not already plant-based, take a look at some of the incredible environmental benefits. (And if you need some inspiration or help going vegan, check out my two guides here and here!)
13 Effortless Sustainable Product Swaps
Here are thirteen effortless eco-friendly product swaps so that you can start making more of an impact for our planet today!
Reusable Grocery Bags
It shouldn't be a surprise to anyone at this point that we need to collectively reduce our plastic usage. One simple way is to bring your own grocery bags. Now that the pandemic is slowly easing (at least in most places), grocery stores are perfectly happy for you to use your own bags in the store again.
This swap is super easy because most grocery stores will happily sell you a reusable bag. If you want a reusable bag with more personality, check out this list.
Reusable Water Bottles & Coffee Mugs
There are so many reusable water bottles now that it's almost overwhelming if you're on the hunt for one. Though a more costly initial investment, reusable water bottles are incredibly durable and will keep your water ice cold all day. If you prefer glass, you can check out this breakdown of glass water bottles here.
As for coffee, you can check out a list of the best travel mugs (according to coffee snobs) right here. Just be sure you keep your reusable coffee cups clean, so you don't gross out your baristas!
Washable Rounds
Instead of using cotton balls or single-use cotton rounds, opt for washable cotton rounds. Just add warm water and whichever product you prefer for cleansing your face and/or removing makeup.
Refillable Cleaning Products
If you have access to a local refill store or co-op, you'll be able to reduce your waste and likely save money as well. There are also great online options, like this woman-owned and run shop.
In addition to cutting down on packaging, swapping out your typical cleaning products for more eco-friendly ones will help reduce harm to yourself and the environment.
Reusable Straws
Plastic straws may not seem like much but cumulatively have a large impact. You can see a breakdown of nine different reusable straw options here—or simply ditch the straw entirely and sip right from the cup.
Reusable Paper Towels
Ditch the disposable paper towels and opt for reusable ones instead to help lessen your impact on landfills. You can check out a breakdown of six different reusable paper towels here.
I have some from Marley's Monsters, and love them! They have a lot of fun colors and patterns to choose from.
Wool-Free Dryer Balls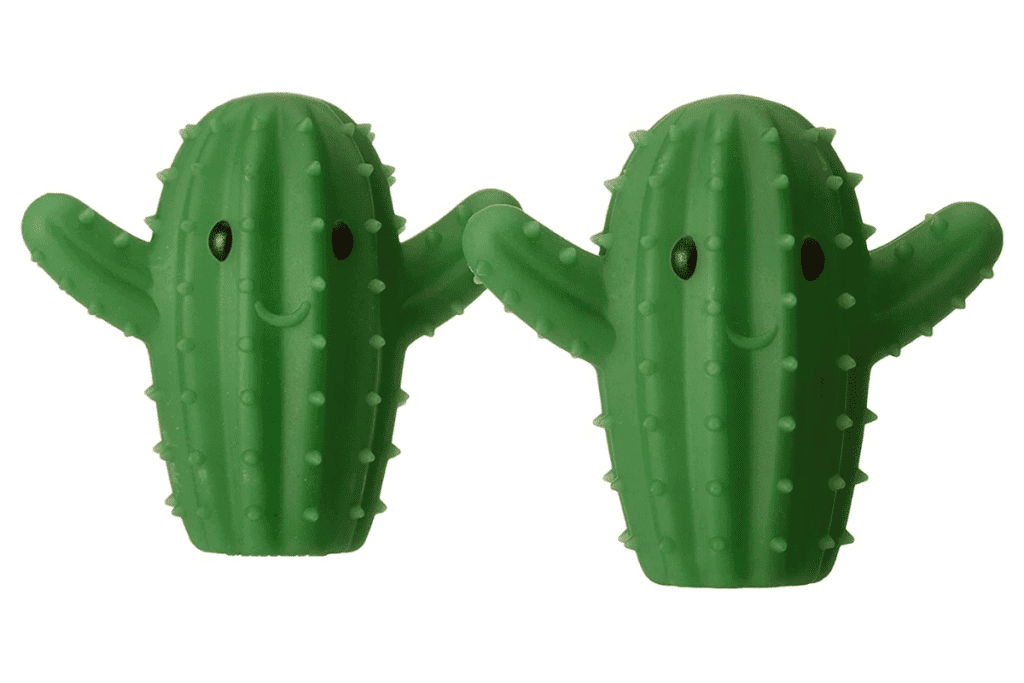 You may have heard of wool dryer balls as an alternative to dryer sheets. While this may be a step up to disposable dryer sheets, the wool industry is not so sustainable itself. I personally have these adorable cactus dryer balls!
Rethink Food Storage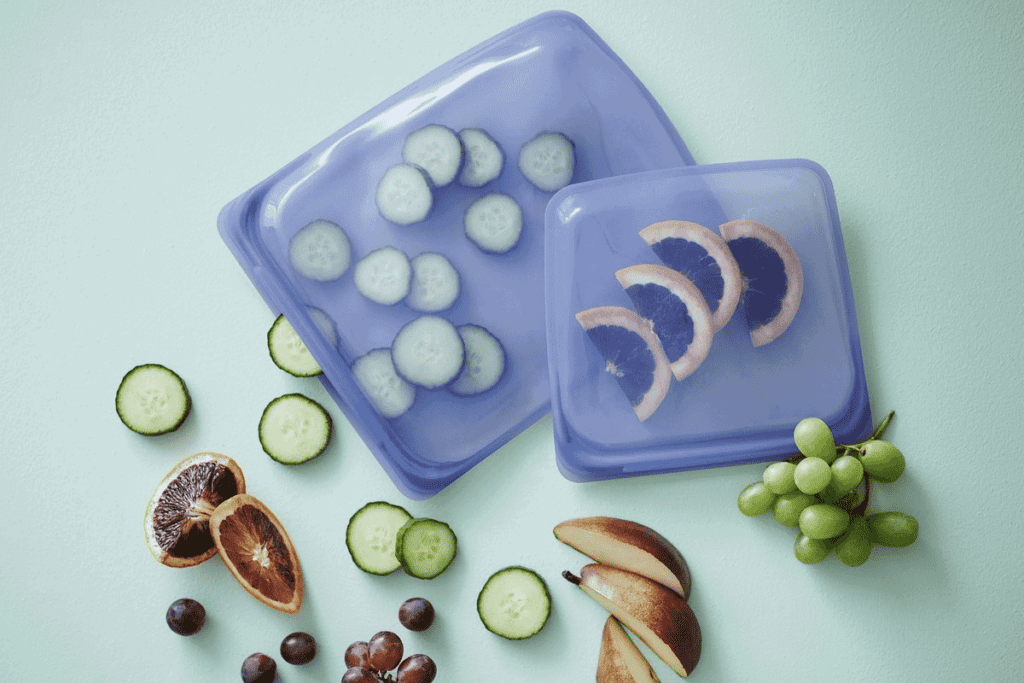 You don't need me to tell you that plastic wrap and plastic Tupperware are not good for the environment. Here are better options:
Glass containers – There are a lot of benefits to using glass! It's more durable (i.e. better for the environment) and also safer for heating up in the microwave. They are also much harder to stain compared to plastic containers.
Food wraps – You may be familiar with these, particularly the Bee's Wrap brand. Luckily, they've gotten on board with making a vegan variety by subbing Candelilla wax for beeswax! These are handy for covering bowls of food, especially if you've lost or broken a Tupperware lid.
Reusable ziplocs – It's mind-blowing to consider how many plastic baggies are getting thrown away every single day! Opting for reusable ones is a super simple way to cut down on waste. Two popular brands are Stasher and Rezip. You can also get creative with the food wraps mentioned above and pack certain foods in those as well.
Go Thrifting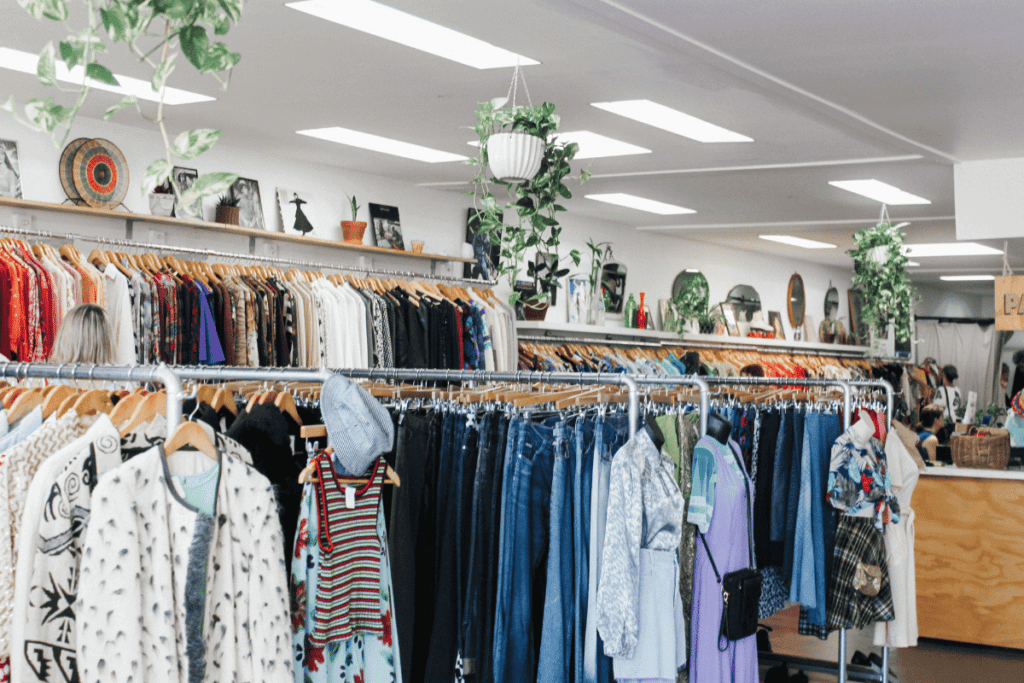 Due to the massive surge in people going online and buying and buying and buying—you get the point—it's never been easier to find clothes in excellent shape at thrift shops. You can help the environment by rejecting fast fashion. You may also help out someone less fortunate by donating your own clothes too!
Menstrual Cups
Many menstrual cups are made with durable materials like medical-grade silicone, latex, or rubber. These can last up to a decade in some cases.
In addition to helping reduce waste, switching to a menstrual cup would save you roughly 90-95% of what you would likely spend on pads or tampons over a period of ten years. Both Saalt and Lena are popular brands of menstrual cups.
E-Readers
This one is a bit complicated, as e-readers have some of their own drawbacks, such as the mining needed for their lithium batteries, the energy required at data centers, and so on and so forth.
One e-reader expert has concluded that an e-reader owner needs to read at least fifty e-books to make it a more sustainable option.
Pick your Plants (for the bees)
Do you love plants and flowers? Well, the choices you make can have a huge impact on your local wildlife. You probably need no reminder that bees are gravely threatened, but you can help by planting certain wildflowers, shrubs, and trees.
And while you're at it, you can also work to make a more bird-friendly yard or garden as well!
Drink Loose-Leaf Tea
Many commercial tea bags are bleached and contain much more tea than you need in a single serving. This means that there's a lot of waste since these are often used for only one steeping.
Instead, opt for loose-leaf tea. In addition to helping the environment, you're also likely to save money and get better-tasting tea! Click here for a beginner's guide to loose-leaf tea.
Wrapping Up
If everyone reading this just made two or three of these eco-friendly product swaps, it would have a huge impact! You can help further by sharing these swaps with your friends and family. Together, we have tremendous power to help the earth, so let's do our very best!
Do you already use these swaps? Have any tips or tricks or any others that you'd like to share? Please let me know in the comments!
Get More Tips in The Articles Below:
And, if you are looking for yummy vegan recipes to add to your routine, check out my recipe archive here!