The ultimate list of vegan travel tips that you need to know (beginner vegan or not). Learn my different travel hacks so you can have a stress-free trip!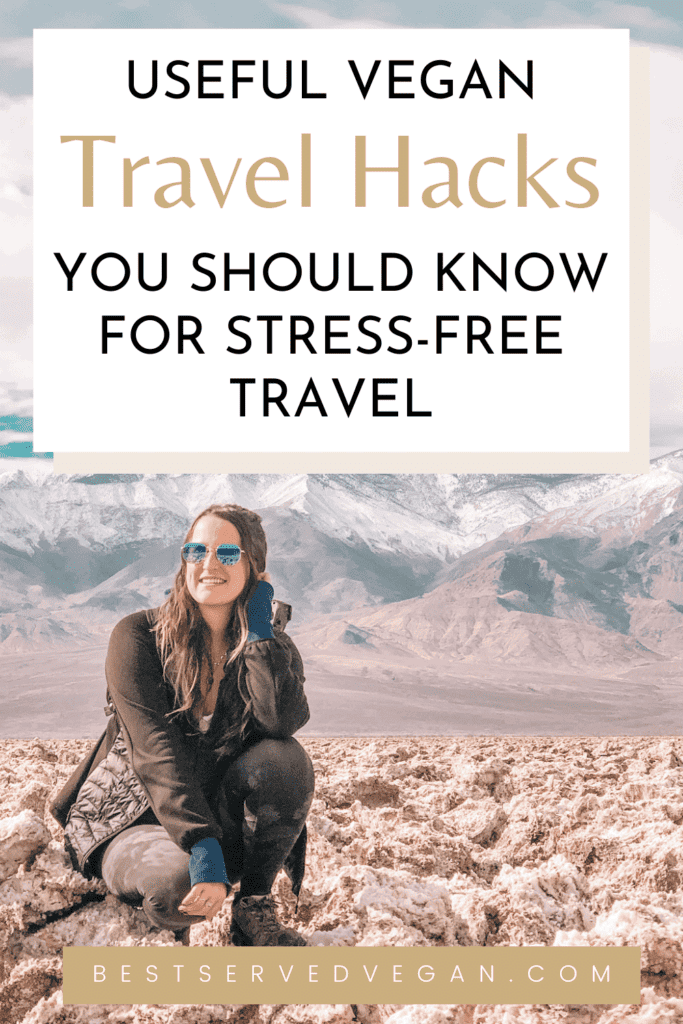 Have you ever gotten stressed out about traveling as a vegan? Well, I don't blame you, because it can be really stressful! For example, at one point, while traveling in Europe as a new vegan, my diet consisted mainly of baguettes, cucumbers, and hummus…
It doesn't have to be that way, though! There's never been a better time to be vegan, and with good preparation—and the use of this handy vegan travel tips guide—you can master the art of traveling as a vegan.
How to Travel as a Vegan
Is it easy? Not necessarily. Can it be done? You bet!
There are a few key factors to traveling well as a vegan:
Prepare like crazy
Have patience
Lower your expectations
Pick your destination (in ideal circumstances)
Prepare like crazy—why? Because the more time you put in ahead of time, the more likely you'll be enjoying yourself in vegan-friendly places rather than settling for French fries and salad yet again.
Have patience with not only yourself and your traveling companions but with everyone! Not everyone understands what is and isn't suitable for vegans, and many people aren't familiar with all the great reasons why you may choose to be vegan.
Lower your expectations so that when you do have to settle for fries and salad, you won't get into a bad mood or ruffle the feathers of any of your travel companions.
Pick your destination if possible! Your traveling will be so much more enjoyable if you know that there will be plenty of vegan options for you.
The Best Cities for Vegans
Speaking of that, here are some great places to visit if you're vegan!
Los Angeles
San Francisco
Portland, Oregon
New York City
London, England
Glasgow, Scotland
Copenhagen, Denmark
Amsterdam, Netherlands
Berlin, Germany
Barcelona, Spain
Bali, Indonesia
Tel Aviv, Israel
Taipei, Taiwan
Tokyo, Japan
Toronto, Canada
Montreal, Canada
Peru
Puerto Rico
Jamaica
Thailand
New Zealand
Useful Vegan Travel Tips
Keep in mind these vegan travel tips for the next time you hit the road!
Request a Vegan Meal for Your Flights and Train Trips
You might have the good fortune of taking a plane or train that offers a vegan meal option. Make sure you check beforehand so that you can request it if it's available!
Otherwise, you should plan on bringing your own food in case they don't have anything vegan. Oftentimes the snacks are not vegan either, so you'll want to bring along some easy options such as nuts, bananas, dried fruit, protein bars, etc. If possible, I like to eat beforehand and find something in the airport terminal I can bring aboard the flight.
Assert Yourself
Once you've arrived, you'll have to remember to assert yourself! After all, people won't know you're vegan unless you tell them.
Restaurants everywhere are much more aware of vegans than in the past, so just explain politely and try to remain patient and explain things as needed. In my experience, places tend to want to accommodate customers the best they can, so just be friendly and move on to the next place if it doesn't work out!
Locate Organic-Type Grocery Stores
When I was traveling in France, a specific chain of organic grocery stores ("Bio c' Bon") was an absolute godsend as I went town to town by train. Yes, a supermarket always has vegan options, especially in 2021 compared to 2018, but oftentimes the more organic leaning "natural food" stores will have even more options for you.
I once bought "hummus" at a supermarket in France, only to realize later that its first ingredient was fromage frais (a kind of smooth cottage cheese)… yes, really. Yet at the Bio c' Bon stores, I even found non-dairy yogurt. Unfortunately, France remains a very dairy- and meat-focused country, although there are some solid options in most major cities now.
Stay in a Place with a Kitchen
Okay, now that you've found a grocery store with the best vegan options, you can go back to your place and make a nice little meal! Of course, that is if you've got yourself a place with a kitchen. I had kitchen access most of my stay because I opted for Airbnb's. This choice also ended up saving me some good money!
The amount of money you'll save making occasional meals instead of eating out every meal is definitely something you can factor into your travel budget!
Always Pack Snacks
Always. Pack. Snacks. Okay, maybe I'm particularly bad about getting hangry, but this tip is one that I never forget. Stock up on some tasty and nutritious vegan snacks every time you're traveling, and you'll thank me later!
If you want to have snacks that may be slightly more involved, you may want to invest in some suitable travel/snack-sized containers and even a little bamboo cutlery set (they let you take these on planes as well!).
Explore Vegan Lodging Options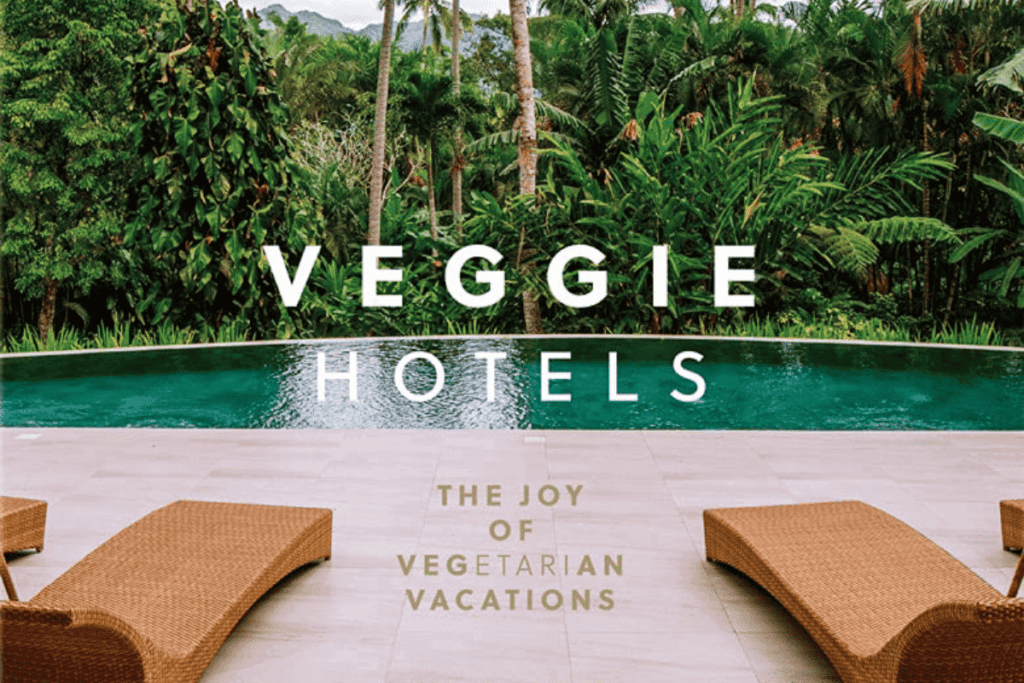 Wait, "vegan lodging?" Yes! There are amazingly some veg-centric places you can stay, from Bed and Breakfasts to hotels and even resorts. Even better, there are sites where you can peruse these different places!
There are even some animal sanctuaries where you can stay on-site! 😭
The Internet is Your Friend
As is all too clear from the last tip, the internet is a truly incredible resource for traveling as a vegan! Bookmark the following sites for future reference, and don't be afraid to use Google liberally!
Google Reviews and rating sites can also prove useful when you're looking for places to eat, especially when they allow you to search—just type in "vegan," and that will often tell you what you need to know in a matter of seconds!
Don't Forget Your Supplements
It's essential that vegans intake enough B12, which is most commonly found in animal products. To make things easy, simply pack your daily multivitamin/B12 and anything else you might take so you don't have to track it down once you're away from home.
Find Print or Digital Resources About Your Destination
Believe it or not, there are some fantastic books explicitly dedicated to vegan travel! Perhaps the Bible of these is Lonely Planet's Vegan Travel Handbook, which focuses specifically on vegan food and drink options.
You can check out this list of fourteen vegan travel books from AlternativeTravelers that includes many choices that may be more authentically vegan than the Lonely Planet offers. The Vegan Passport is also a great option so that you can confidently order vegan and ask questions no matter where you may be (and is also available as an app!).
Keep Certain Cuisines in Mind
Certain cuisines such as Thai, Indian, Chinese, Mediterranean, and Mexican (among others) are often more vegan friendly than others. Many of these cuisines have delicious plant-forward entrees that are more likely to feature mushrooms, tofu, falafel, etc., rather than meat.
While many American or British places might have you eating a plain salad with French fries, the above cuisines are more likely to satisfy you. You never know though, so try to find menus ahead of time whenever you can!
Learn Some Helpful Phrases
As mentioned, there are great resources like The Vegan Passport that will help you as you travel. You can also simply use resources such as Google Translate to ask questions such as "Does this have milk in it?" or "Is this made with butter?" Just be aware that Google Translate is sometimes wrong, but it should be fine for basic questions.
You can also write down on an index card that you're vegan and cannot eat meat, dairy, or eggs in the language of the country you're going to. This is an easy way to ensure that your server understands that you're vegan.
Wrapping Up
Well, there you have it, my top vegan travel tips! I hope you've enjoyed this vegan travel guide and that it will be helpful to you on your travels!
Is there anything you'd like to add? Have any fun or frustrating vegan travel stories? If so, please share!
Get More Tips in The Articles Below:
And, if you are looking for yummy vegan recipes to add to your routine, check out my recipe archive here! I have recently added many recipes that will help you survive Thanksgiving as a vegan even more!