Looking to make a difference? Here are 5 environmental benefits of going vegan that will make you AND the planet feel good!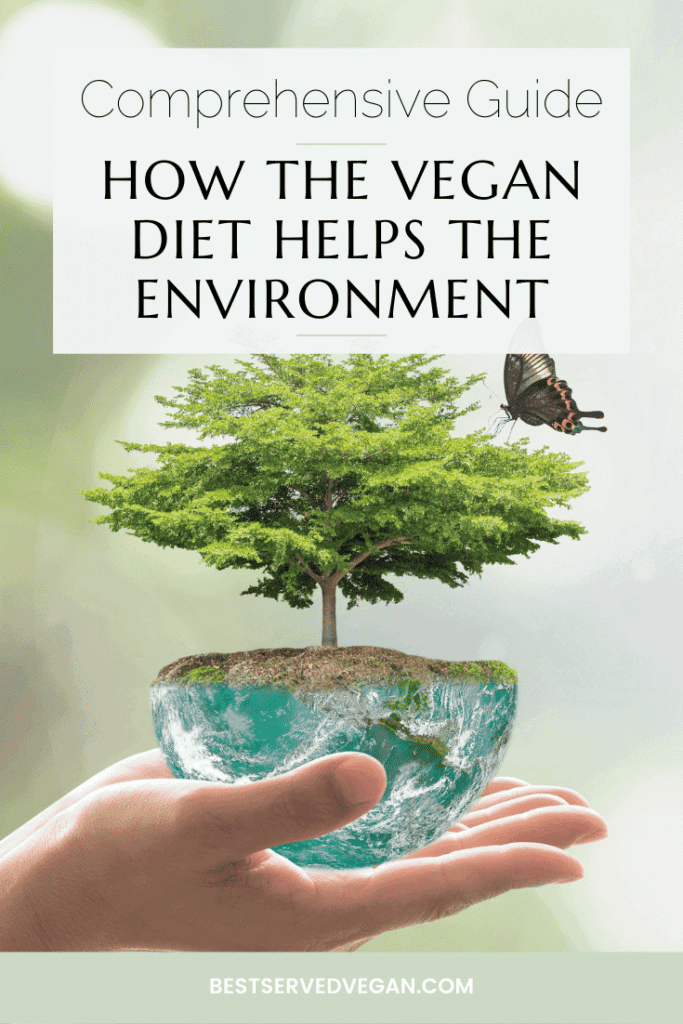 Have you ever wondered about the environmental benefits of going vegan? Have you ever felt bummed out, stressed, or unsatisfied about your impact on the environment as an individual?
Well, you're in luck! I'm here to tell you that yes, you can make a difference. And going vegan is an excellent way to limit your impact on our earth and its resources.
Is Going Vegan Environmentally Friendly?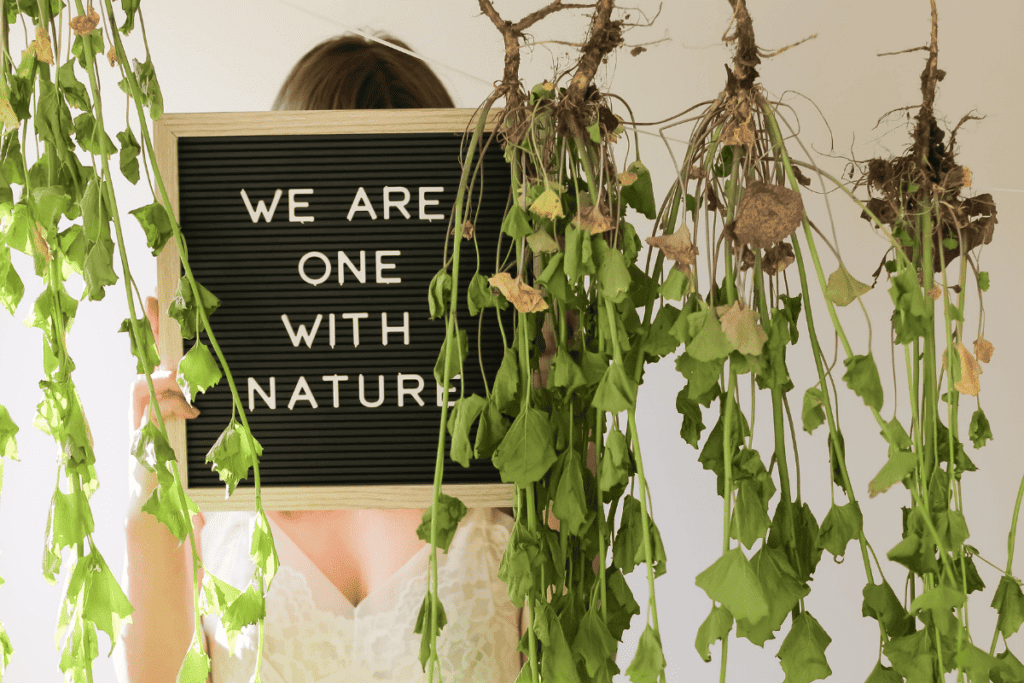 You bet ya! Another relatively environmentally friendly diet, the Mediterranean diet, has nearly twice the "global warming potential" of a vegan diet, according to one study that compared the two. This is because the Mediterranean diet, although relatively plant-centered, still contains meat, dairy, and fish. The massive land requirements it takes to produce animal products and their feed negatively impacts biodiversity.
According to the same study, our food diet choices matter when it comes to climate change. Roughly 15-30% of greenhouse gas emissions come from the food sector. When it comes to GWP (global warming potential), the food production stage has a much greater impact than cooking and transportation.
As such, the land- and resource-intensive nature of producing animal products means that even the Mediterranean diet has a negative regional biodiversity impact roughly three times higher than a vegan diet.
Ultimately, this study found that a vegan diet was much more sustainable than the Mediterranean diet. This is because a vegan diet is both healthier and carries a much lower environmental impact.
One nutrition expert, Walter Willet, affiliated with the Harvard T.H. Chan School of Public Health, agrees that we desperately need to shift away from our current eating habits: "I think if we really care about the world our children and grandchildren will inherit, we do need to shift toward [a vegan diet]. And the good news is that it's not just our planet that will be more healthy, but we will be more healthy as well."
5 Environmental Benefits of Going Vegan
The United Nations' Environment Programme has argued that we cannot meet climate objectives, such as those found in the Paris Accord, without a huge decrease in the scale of animal agriculture.
By going vegan, you'll no longer be contributing to the ethical and environmental nightmare that is factory farming and fishing. As Impossible Foods' founder Patrick O. Brown says, our current way of using animals for food is "the most destructive technology on earth."
Here are five concrete environmental benefits of going vegan—share them with an eco-conscious friend!
Reduce your Overall Footprint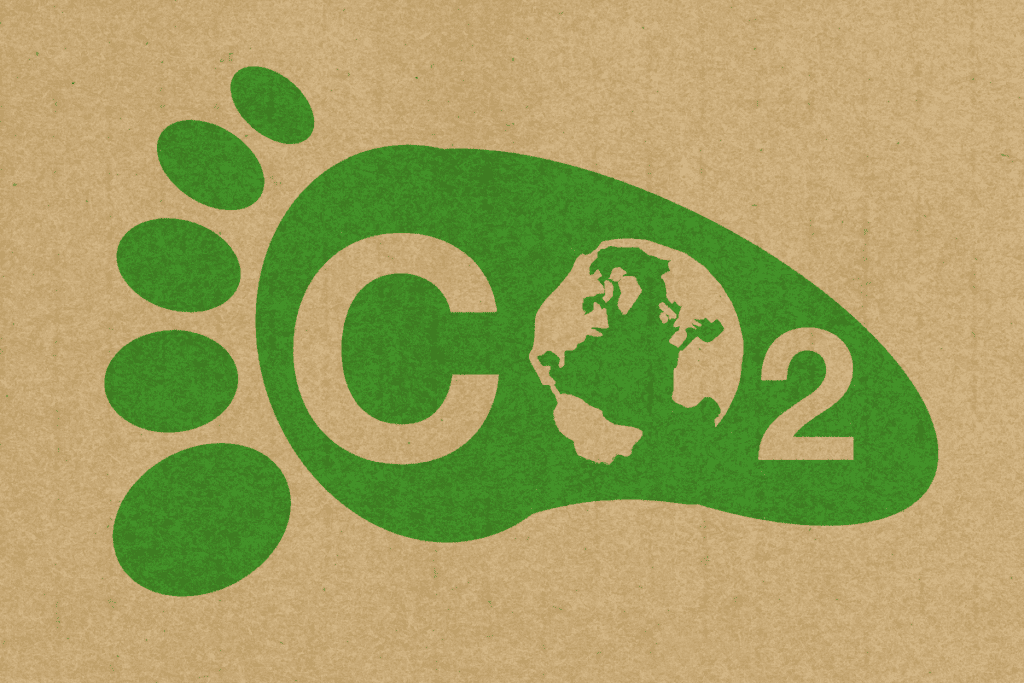 Producing meat is simply unsustainable and incredibly inefficient. We put tremendous resources—water, land, money—into growing corn, soy, and wheat, much of which finds its way into animal feed. Then, animals break that down and we turn it into meat.
If we simply grew plant proteins in place of all this animal feed, we would massively reduce the strain we are putting on the environment. In any case, by choosing not to contribute directly to this waste of resources and animal life, your own footprint will be significantly diminished.
For example, one study finds that "a strict vegan diet would nearly halve the agricultural GHG [greenhouse gas] emissions." The article does argue that we should consider the overall sustainability of the entire food chain, not just GHG emissions. But if there were more vegans, demand for animal agriculture would decrease and the environment would benefit.
Combat Hunger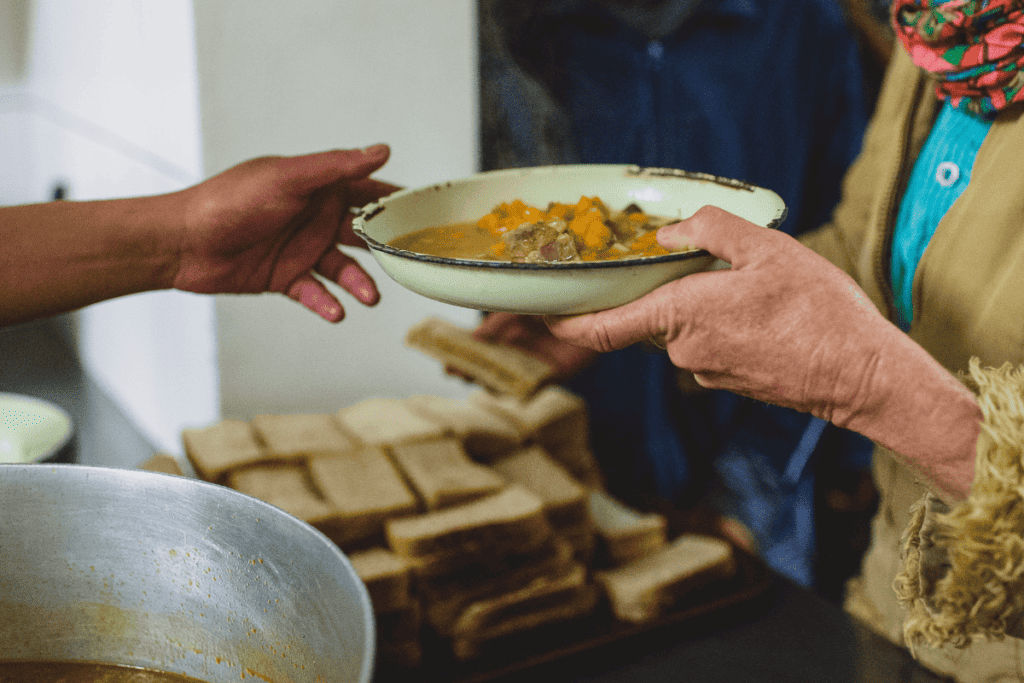 Every acre of food grown for livestock feed is an acre of food that could go to feeding one of the world's many hungry people. As animal agriculture creates such unsustainable demand for the world's resources, one study estimates that some 36% of the calories produced by global farming are used for animal feed, with only 12% ending up as part of the human diet.
The meat, dairy, and fishing industries are not only unethical due to their horrid treatment of animals but also because they deprive the developing world of crucial resources such as land, water, and food. The study cited above suggests that growing food directly for human consumption would boost available food calories by up to 70%. This would mean enough food to feed four billion more people around the globe.
Conserve Water
Many people try to take shorter showers or give up resource-intensive foods such as almonds in hopes of helping conserve water. Unfortunately, very few people realize just how water-intensive the production of animal products is.
For example, creating a ⅓-pound burger requires 660 gallons of water, with 1 pound of beef requiring 1,799 gallons of water. This is due to the irrigation of the grasses and grains in the livestock feed, as well as water for drinking and processing.
How about dairy? 1 pound of cheese requires 600 gallons of water, and 1 gallon of milk requires 880.
By contrast, an 8-minute-long shower will use roughly 17 gallons of water. Sure, it's great to reduce your water consumption however you can, but going vegan makes a much greater impact. One person who goes vegan can save roughly 219,000 gallons of water per year!
Protect Biodiversity
Adopting a vegan diet helps protect biodiversity across the board. First, because animal agriculture harms soil through deforestation and other unsustainable methods of providing for livestock.
Second, such deforestation and other environmental degradation carried out by meat and dairy producers also leads inevitably to habitat loss for wild species. Different types of monkeys, tigers, elephants, bears, lions, and many species of bird are at risk of extinction as their habitats are converted to land for livestock.
Third, farmers kill millions of wild animals, including threatened and endangered species, each year in an effort to protect their livestock. This means that birds, wolves, and bobcats, among other animals, are more at risk of dying due to animal agriculture.
Help Stabilize the Ocean
Yes, giving up plastic straws is great, and we should all try to reduce our plastic use. But if as many people gave up eating fish to save fish, well, we'd be in a lot better shape in terms of the health of the oceans.
Overfishing and damaging methods of catching and farming fish have utterly devastated the oceans. The total fish population is only half of what it was fifty years ago in 1970. Sadly, demand is only increasing.
By leaving fish and fish products out of your diet, the ocean has a better chance to stabilize and naturally replenish.
Measuring a Vegan Diet's Impact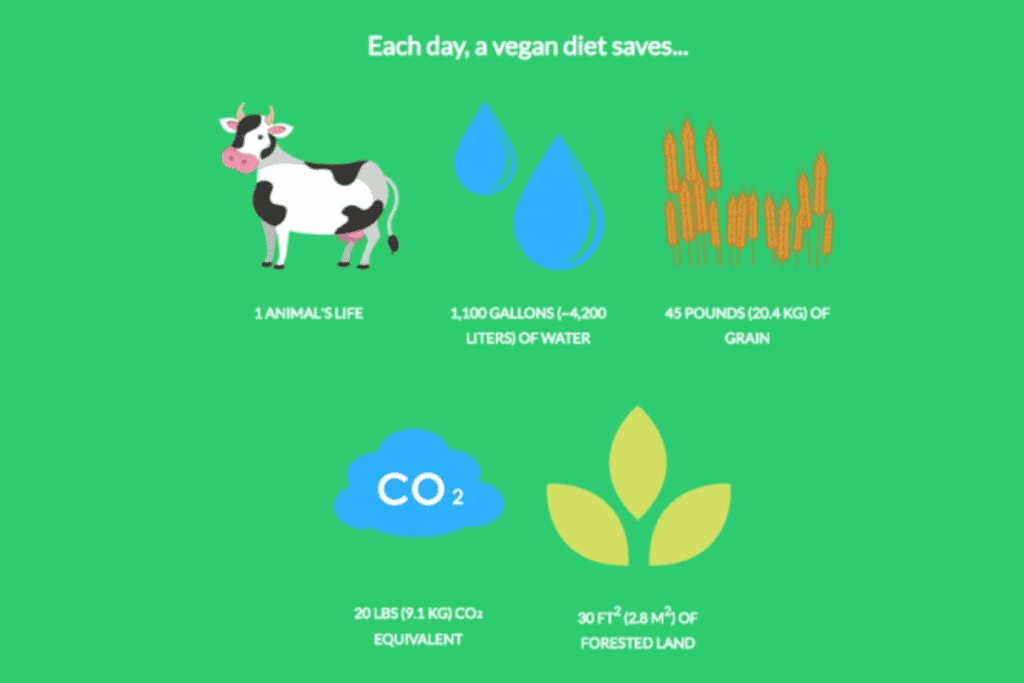 If you want to dive into the numbers of the environmental benefits of going vegan, there are resources for that!
There's the Green Eater Meter, which allows you to compare a food type to a plant-based alternative. It's really simple to use, and you can figure out in no time that one serving of beans compared to one serving of beef results in 35.85 fewer square miles of land use, 549 fewer gallons of water, and 10.39 fewer miles driven.
You can also use the Vegan Calculator to see how much you've saved since going vegan. At three years and three months, I've saved:
1.3 million gallons of water
47,400 pounds of grain
35,550 square feet of forest
23,700 pounds of CO2
1,185 animal lives
Wrapping Up
The takeaway of one comprehensive analysis of animal agriculture concluded that avoiding meat and dairy is the "single biggest way" to reduce one's impact on the environment.
So, if you care about the environment, it's time to face the music! Going vegan, or at least consuming fewer animal products, is the single best way an individual can lessen their impact.
Now, does this mean that veganism is perfect and there can be no environmental damage through plant crops? Of course not! Overall, though, it's far and away more environmentally friendly than an omnivorous diet.
I hope you've found this blog post about the five environmental benefits of going vegan educational! Are you already vegan? Did you go vegan for environmental reasons? Did you learn anything new through this article? Inspired to go vegan now? If so, please let me know in the comments!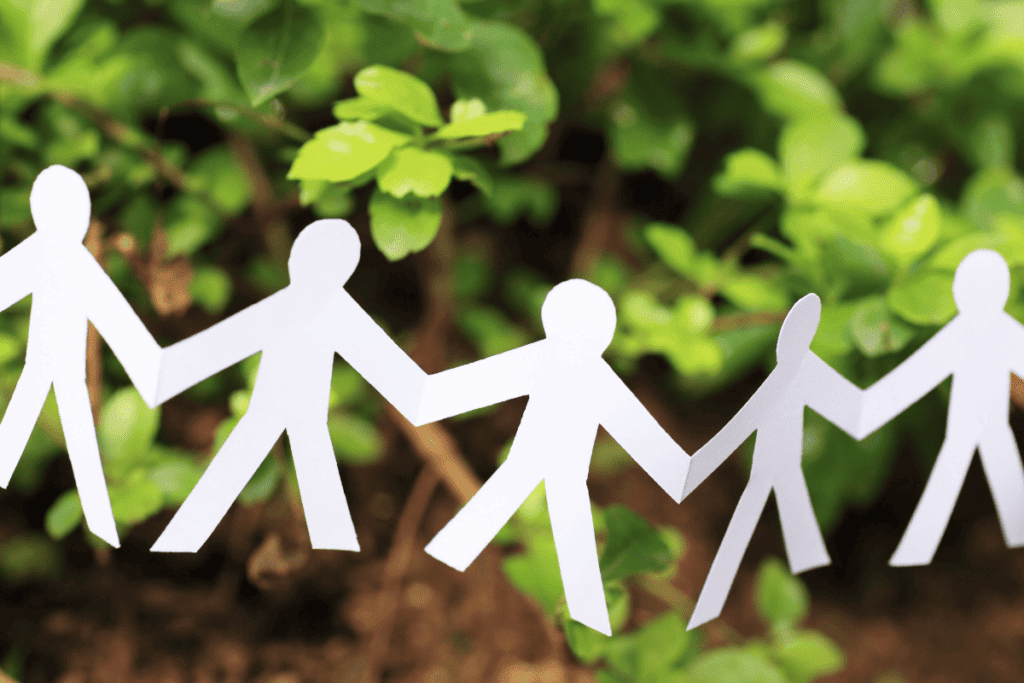 Get More Tips in The Articles Below: