Are you going vegan or just wanting to try some vegan baking? Here is a complete list of the best vegan egg substitutes for both baking and cooking.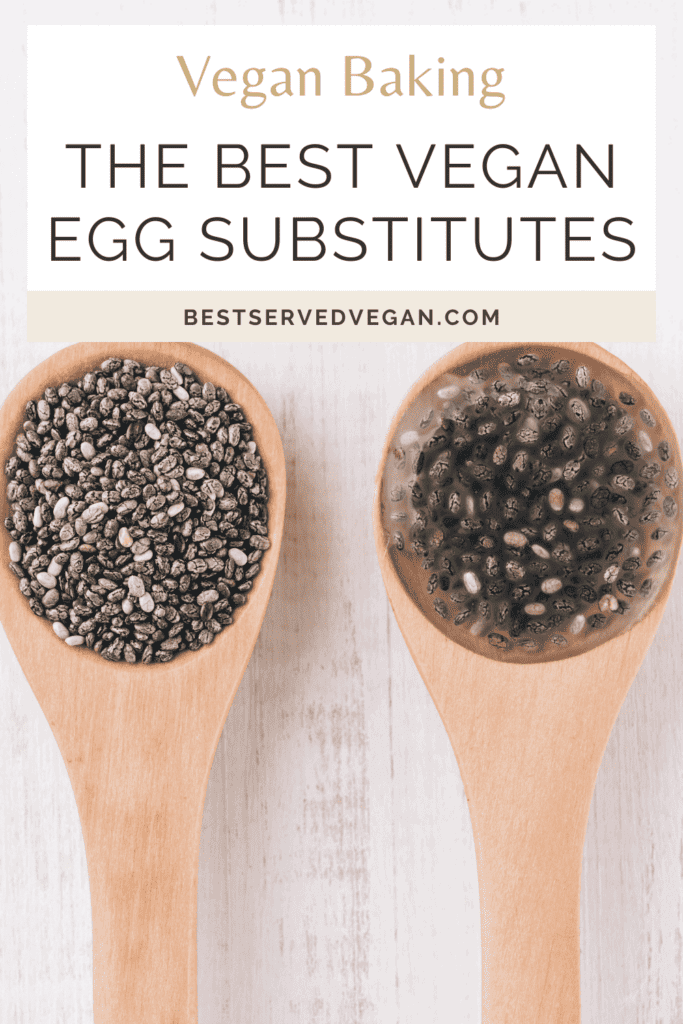 Eggs are an inescapable part of cuisines found all around the world. Once you go vegan, you'll no doubt want to veganize recipes that call for eggs. Thankfully, this isn't so hard nowadays, due to some clever vegans and innovative companies such as Just Inc., who make the popular Just Egg product.
This article will cover the two main types of vegan egg substitutes:
There's a wide range of options for vegan egg substitutes when it comes to baking. For cooking, there are fewer options to get that real eggs-in-a-pan type vibe. They're also harder to find but quickly growing in popularity, so keep your eyes peeled!
So, whether you're looking for vegan egg substitutes for baking or to replace the scrambled eggs you once made every morning, read on for my handy guide to the best vegan egg substitutes.
The Best Vegan Egg Substitutes for Baking
There's a reason why so many recipes call for eggs when it comes to baking, thanks to their foaming and binding characteristics. Egg production, however, is pretty objectively terrible, supporting a heartbreaking amount of animal abuse and environmental harm. Plus, eggs themselves pose considerable health risks.
Use the following list next time your recipe calls for eggs for a healthier, cruelty-free baking experience! Many of these items are also on my list of essential vegan pantry staples.
Flax Egg
Using flaxseed as an egg substitute for baking is a go-to method for me personally. It's super simple and tends to work quite well as a binding ingredient. Simply combine three tablespoons of warm or hot water with one tablespoon of ground flaxseed and let it sit for at least 5-10 minutes until it thickens up. This produces roughly the equivalent of one egg.
Keep in mind, however, that flax eggs will not produce any kind of rising effect with your baked goods. They work well for things like cookies where you don't necessarily need the kind of lift provided by traditional eggs.
Chia Egg
Simply follow the same process as with "flax eggs": combine one tablespoon of chia seeds with three tablespoons of hot water and give it time to thicken. (You don't have to use hot water, but I find it seems to help the flax and chia eggs thicken up better). Compared to flax eggs, chia eggs have a bit more of a gelatinous texture. They work well for pancakes, cookies, and no-bake desserts. You may want to keep in mind that flax has more of a nutty taste while chia is relatively flavorless.
By the way, it's a similar process to make chia pudding, which is a wonderful breakfast or healthy dessert idea! Flax and chia eggs are a nice way to give your baked goods a healthy boost too thanks to all their nutrients, including fiber, omega's, protein, and more.
Applesauce
Applesauce is an easy item to keep in your pantry or refrigerator for when you need it. As a vegan egg substitute, simply substitute ¼ cup applesauce for each egg you want to replace. Applesauce is often used as an oil replacement in baked goods and is great at producing super moist and yummy vegan baked goods.
Just be aware that some applesauce is sweetened, which you'll want to avoid for baked goods (or factor it in and use less sugar). The pectin in applesauce acts as a good binding agent, but be aware that sometimes your recipe will take longer to finish in the oven due to all the moisture.
Banana
Sticking with another classic fruit here, mashed banana is another great vegan egg substitute. About half of an average banana works out to an egg. This is another way to sneak some nutrition into your baked goods.
You should keep in mind, however, that banana is a strong flavor that can easily work its way into being a strong part of the overall taste. Not everyone loves bananas, so you may want to reserve bananas as an egg substitute for banana-friendly desserts such as banana bread or banana nut muffins.
Pumpkin Purée
During the Fall and Winter seasons, you might want to add a little pumpkin touch to your baked goods—plus, it works as a great vegan egg alternative! Just use ¼ cup pumpkin purée per egg you want to replace.
Pumpkin purée works well in bread recipes and adds a touch of sweetness as well as a richer color. Plus, pumpkin on its own—not talking Starbucks pumpkin drinks here—is quite healthy with lots of vitamin A! By the way, if you love pumpkin you should try my vegan pumpkin pasta recipe!
Vegan Yogurt
Like bananas, this is another item you might happen to have on hand! Vegan yogurt works especially well for cakes that are meant to be dense yet moist. Just use ¼ cup of vegan yogurt as a substitute for one egg.
Keep in mind the sugar content and flavoring of your yogurt—in most cases, unsweetened and plain is probably best for baking. Due to its high moisture level, vegan yogurt is similar to applesauce as a vegan egg replacer.
Baking Soda and Apple Cider Vinegar
This is an awesome baking hack that you'll be so glad you learned about. The combination of baking soda and an acid (like vinegar) helps provide natural lift to your favorite baked goods. Simply use ¼ teaspoon baking soda for every 1 tablespoon vinegar to replace eggs. This combination works especially well for light and fluffy baked goods such as cakes and cupcakes.
Keep in mind that baking soda reacts potently to acids, so it's best to mix the apple cider vinegar into your wet ingredients separately. Then, simply add the baking soda with the dry ingredients right before you begin baking.
Tofu
Tofu is so versatile, sometimes I can't believe it! As an egg replacer, it's best to use silken tofu, specifically ¼ cup of silken tofu for each egg.
Since the tofu is fairly heavy and dense but also packs a lot of moisture, it works super well in things like pies, puddings, or even cheesecake. However, tofu won't provide any kind of lift to your baked goods and is rather heavy/dense. To compensate, you may need to add extra baking soda or powder for more lift.
Aquafaba
You might be wondering, "What the heck is aquafaba??" Don't worry, it's just that gelatinous stuff leftover in a can of chickpeas (aka garbanzo beans). In fact, aquafaba simply means "bean water" in Latin.
Aquafaba is super light so it works well for making light and whipped things like meringue or even macarons. In terms of replacing eggs, it's most like replacing whipped egg whites. That means it works particularly well for recipes that call for those. Try 1 tablespoon of aquafaba to replace 1 egg yolk, or 2 tablespoons for 1 egg white.
Chickpea Flour
Sticking with chickpeas, this healthy food in flour form also works well in certain baked goods like scones and cookies. It helps with both binding and rising, and you can make it similarly to how you make a flax or chia egg: mix 3 tablespoons of chickpea flour with 3 tablespoons of water for each egg you want to replace.
If you're afraid you won't be able to find chickpea flour anywhere, don't worry. It's available online and also in most health-oriented grocery stores and larger supermarkets (definitely in part because the rise in gluten-free baking).
Bonus: Egg Replacers
There are many egg replacers out there that do the work for you! Many of them use some kind of flour or starch, such as tapioca flour, potato starch, arrowroot powder, or chickpea flour. So, it's not too hard to simply do it yourself with one of the ten vegan egg replacers listed above, but these store-bought replacers can come in handy. Popular brands that are widely available include Bob's Red Mill and Ener-G.
The Best Vegan Egg Substitutes for Cooking
Okay, now that you're all set for baking, how about for vegan "eggs" that you can cook in a pan like the real thing? It's 2021, and the future is now when it comes to vegan eggs!
Just Egg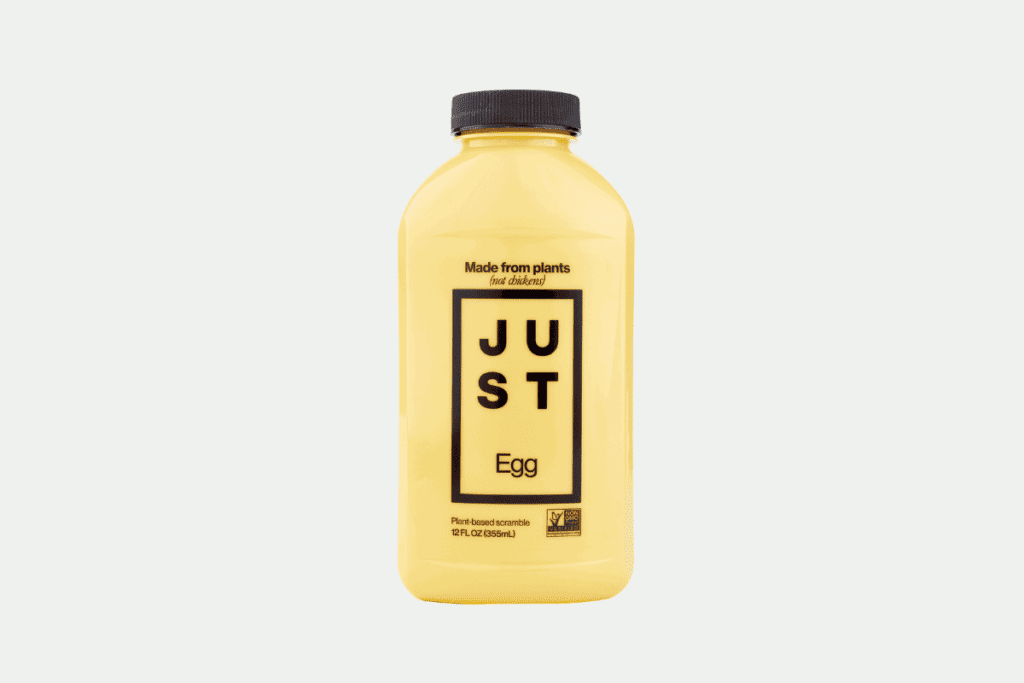 Made by Just, Inc., a self-described "food technology company," this vegan egg is pretty mind-blowing the first time you try it. With hardly any effort at all, you're quickly on your way to eating scrambled eggs that are super similar to the scrambled eggs you grew up eating. Plus, these are cholesterol free, cruelty free, and much better for the environment!
Check out my full-length review here, which is super comprehensive!
VeganEgg
From Follow Your Heart, which makes great vegan mayonnaise ("Vegenaise") and salad dressings, the VeganEgg was the very first widely available scrambled egg substitute. It uses black salt (you can read more about that down below) and algal flour/protein, which comes from algae. This helps make the Follow Your Heart VeganEgg well-rounded in terms of nutrition. It also firms up well in the pan and works well for omelets, whereas I find that Just Egg works best for scrambling.
This product does contain carrageenan, however, which some people avoid as it may be inflammatory (key word being "may"). You should also know that it has a strong smell, likely due to the black salt, which some people may find a tad unpleasant.
Vegg
I haven't personally tried this or seen it in stores, but The Vegg is another vegan egg replacement. All four of their products are always 100% vegan and gluten free. The four kinds available are the "vegan egg yolk," the "power scramble," the "French toast mix, and the "uncaged baking mix."
Hopefully I'll see these in stores soon as I try to support vegan companies when possible! Let me know in the comments if you've tried this brand before!
Tofu Scramble
In my opinion, any list of vegan egg replacements is incomplete without my beloved tofu scramble! This is totally a game-changer once you get it down. You can find a million recipes online, but my method is pretty simple:
Start by pressing semi-firm tofu 10+ minutes beforehand (leaving some moisture is good)
Sauté onion and bell pepper
Add your tofu by crumbling it into the pan (I just use my hands)
Add a mix of spices (paprika, cumin, turmeric, black pepper, whatever you like)
Stir well and cook for 10-15 minutes, stirring occasionally (there should be little to no moisture left)
My favorite thing to do with tofu scramble is to roll it up in breakfast burritos with hash browns or home fries and eat them with avocado and salsa. Yum!
Tofu Scramble Cooking Tips
Here are a couple of ingredients that can come in handy when cooking up a tofu scramble!
Black salt – Black salt (though it's really more grayish), or kala namak, is great at replicating an "eggy" taste, which is no doubt why Follow Your Heart uses it in their VeganEgg. It's quite strong, so just start with a small pinch and go from there. You should be able to find it online if you can't find it in stores near you.
Turmeric – Turmeric will give your tofu scramble a nice yellow color that will help it look more like "eggs," not that that really matters. It is a nice effect, though, plus turmeric is a super healthy spice. Just be aware that a little goes a long way!
Wrapping Up
I hope you've enjoyed this comprehensive guide to vegan egg substitutes! Whether you're cooking or baking, there's definitely something that will work well for your recipe. Let me know in the comments if you have any favorite vegan egg replacements.